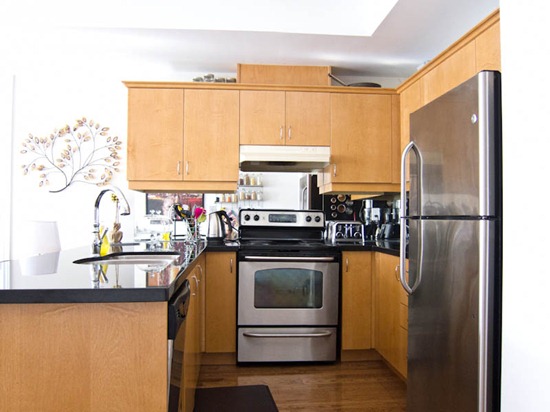 This weekend, we had just one goal:
Set up the new place. 
…with the aid of a couple beverages. =)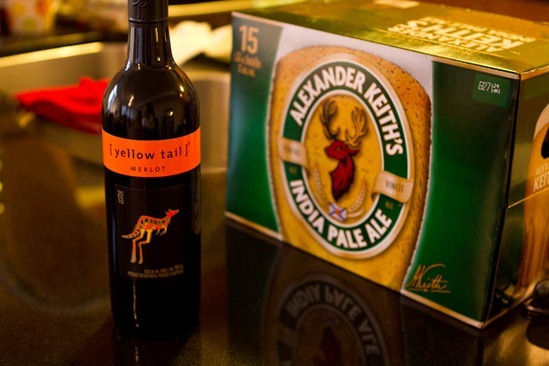 First up, in today's post: the kitchen pictures. If you recall, it looked like this last week: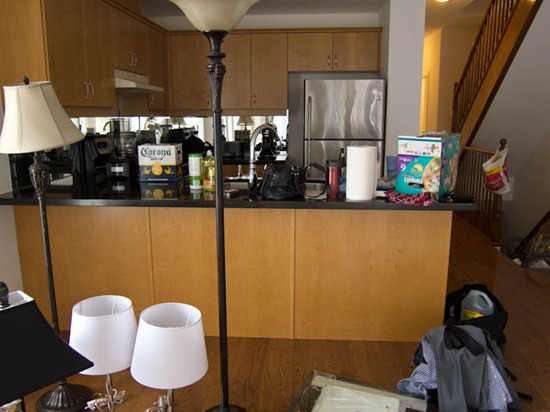 Saturday morning, I got my organization on after a trip to Solutions – a huge home organization store similar to The Container Store in the US.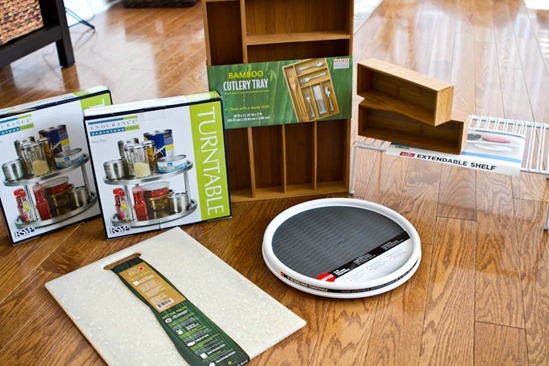 Eric took one look at my loot and laughed.
"Since when did you turn into an organizer?"
I tried to tell him with a straight face that I've always been organized, but I just couldn't.
People can change!
I also couldn't bring myself to take our old, gross plastic cutlery tray with us, so I took this opportunity to start fresh with a bamboo cutlery tray.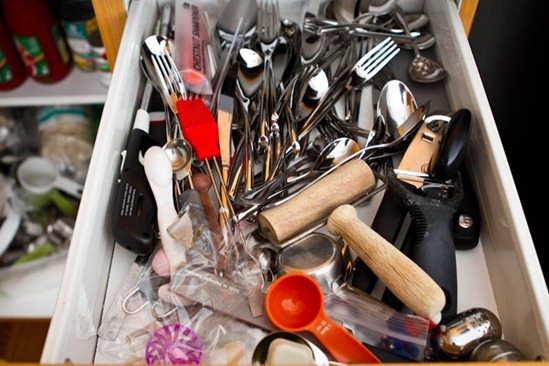 So easy…so rewarding…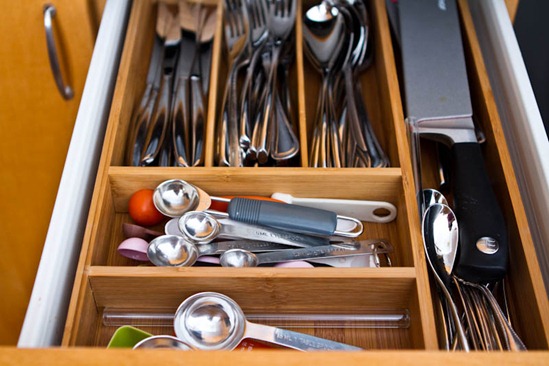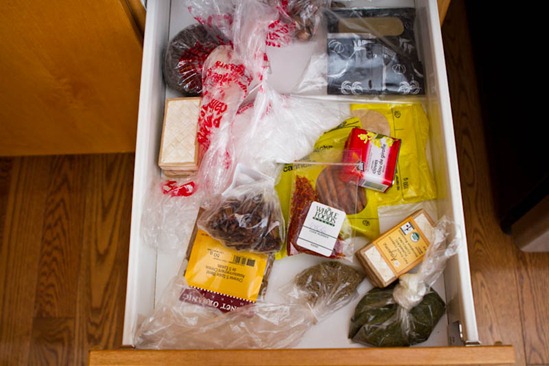 Ugly, bagged spices now hide on the side of the fridge to free up a drawer:
What do we have here? St Patrick's Day stickers, Valentine's Day cupcake liners, candy molds, and onion goggles.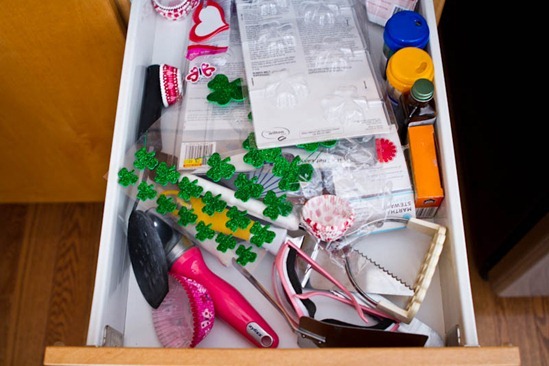 Sounds about right.
After: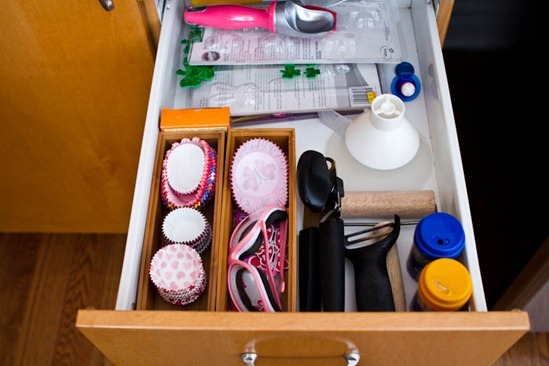 Ok, I could probably do better than that…but I won't.
Spice cabinet before: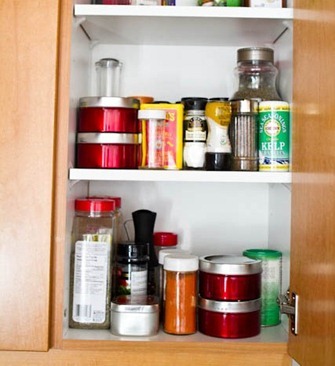 and After…with mini turn tables for easier locating spices: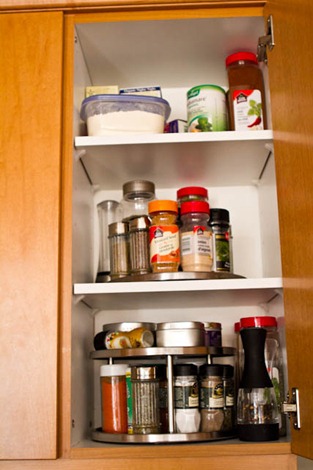 Thanks for the ideas on the turntables, by the way. Love them!
I put a shelf extender in the dish cabinet to fit an extra row of dishes. Now there is just enough space.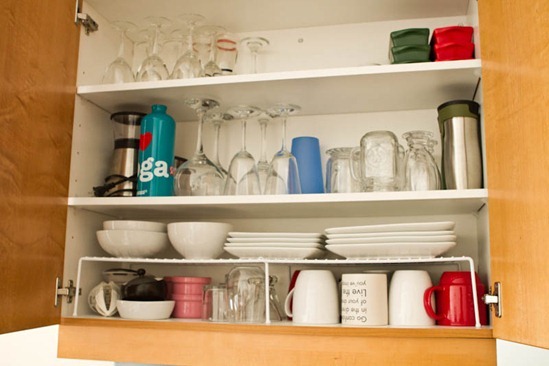 I also picked up this container to store my measuring cups and small kitchen things.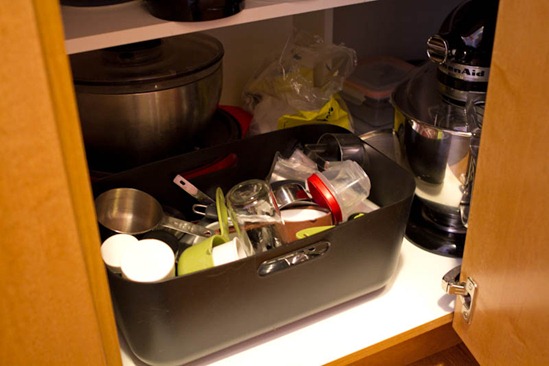 Yes, that's a lot of measuring cups! You'd be surprised though…some days I easily dirty all of them.
Eric also had this great idea to store my "rarely used" dishes on top of the cabinets, saving me a ton of cabinet space. In addition to my casserole dishes, I put a wok, huge salad bowl, and empty mason jars on top.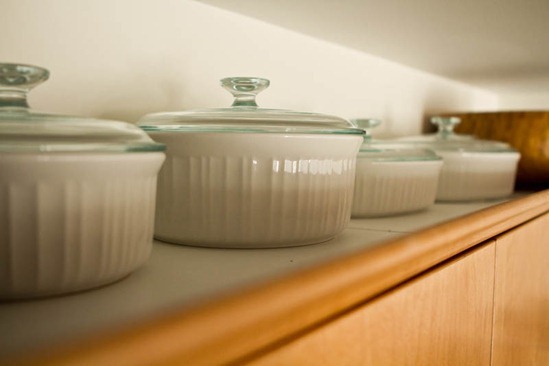 You can see the storage in this photo below: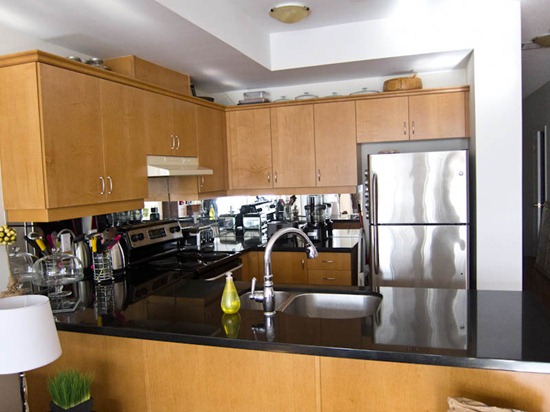 We also set up Grundtal Ikea shelves for my mason jar storage, so they didn't have to be crammed in the cupboard anymore (thanks to Emily for the idea!!).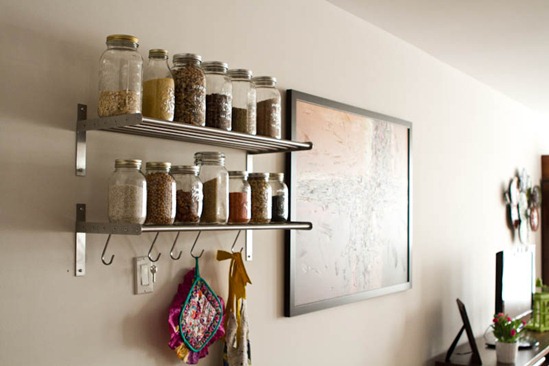 They come in 120 cm and 80 cm lengths and we opted for the 80cm. I grabbed matching hooks for the bottom so I could hang my apron and other things. Apparently, Eric is using it for his sunglasses and keys too….you're on my turf, Liddon. ;)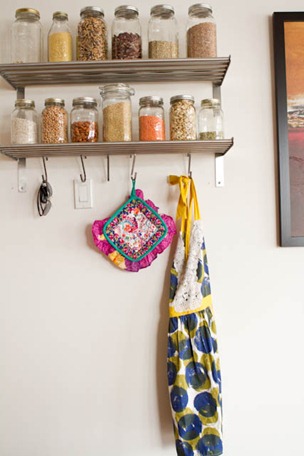 I was so nervous that the shelves were going to break, but they are very sturdy. I just hope Sketchie doesn't try to jump up…
Top shelf (left to right): Rolled oats, millet, walnuts, pecans, raw buckwheat groats, speltberries
Bottom shelf: Pearled barley, dried chickpeas, raw almonds, short grain brown rice, red lentils, raw cashews, and hemp seed.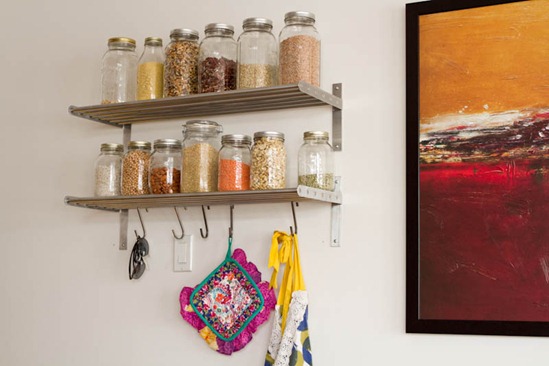 I have a few more jars stored in the cupboard, but it has opened up a lot of cupboard space. Two thumbs up!
You know, initially I was worried about transitioning into a smaller kitchen (I was spoiled with the size and storage space in our old house), but with a few adjustments I've cozied right into this space and love it more each day.
I ended Day #1 with Sketchie cuddles on his favourite "blankie" (Eric's sweater), and he was a happy cat once again.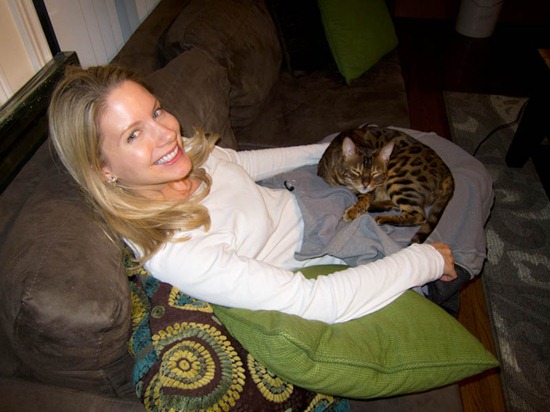 Coming up: Living/dining area, laundry, and hallways.