Leave it to Old Man Winter to arrive promptly before my first race in almost 16 months.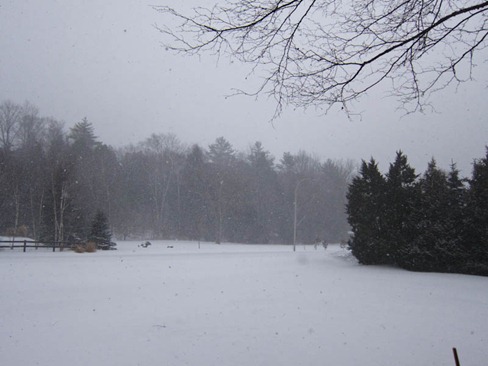 Impeccable timing, Old Man.
I swear, it was mild and there was no snow on the ground when I booked the race. As soon as I booked, a storm moved in on the weekend and the temperature plummeted. Go figure. I guess that is the thrill of racing during the winter. You never know what the conditions will be like.
After waking up to the blowing snow and a nasty –14C windchill, I was clearly overjoyed to be racing…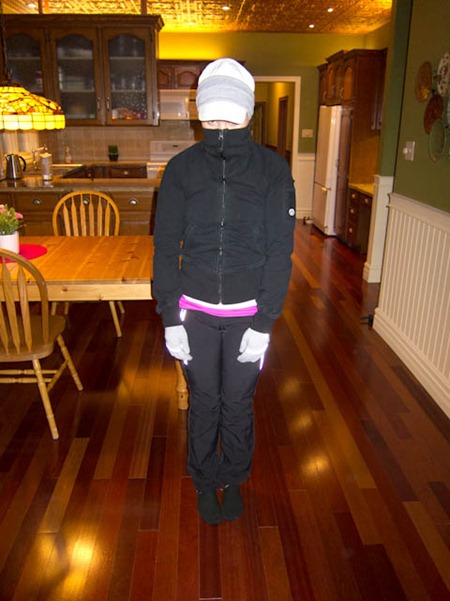 bahaha. Where is that runner's high when you need one? I swear to you, if I hadn't blogged about running this race, I probably would've bailed on it. Nothing like online accountability.
For warmth, I wore 4 layers on top (tank, long sleeved shirt, pullover, and zip up jacket), one layer on bottom, two pairs of socks, gloves, hat, headband. For "entertainment", I brought my ipod shuffle and Garmin. For breakfast, I had a smoothie with frozen berries. I figured I could acclimatize myself with a cold drink! No such luck. I also had a ginger tea for the car ride as my stomach was feeling a bit jittery.
One good thing about this race was that it didn't start until 10am, so I got to sleep in a bit longer than most races.
Thankfully, Eric still wanted to come despite the weather. And he drove us as well. I was already nervous enough about racing on snow-covered roads, so it was nice not to have to drive on them too!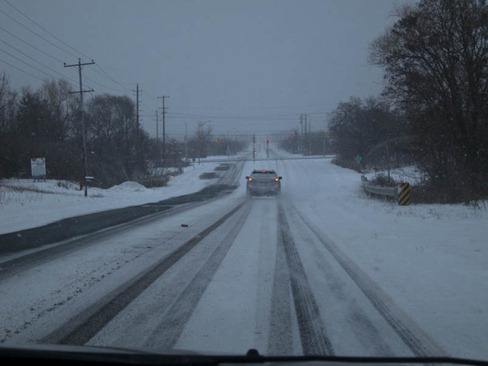 On our way, the snow was coming down quite hard. I started to get really nervous as I've never run in these conditions before!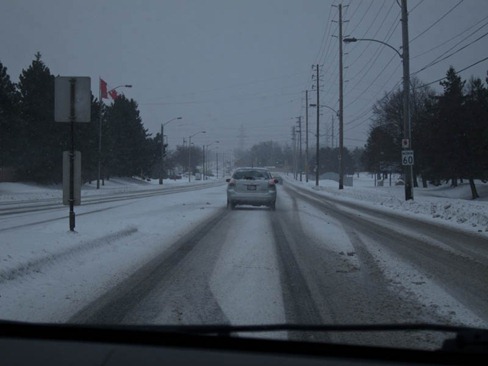 After getting my chip and bib and killing a 1/2 hour before the start, it was finally time to line up. I was freezing my tail off, but decided not to warm up because the rest of the roads were all slushy and I didn't want to soak my feet before starting. Nothing like starting a 5km race with frozen blood!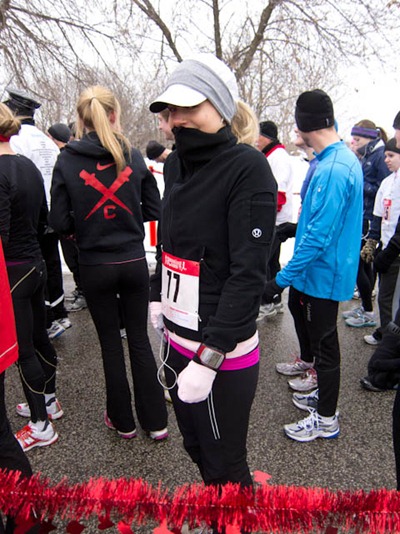 This was a special Valentine's Day race, so they had all the couple's wrists tied together with a piece of red ribbon! Very cute idea. I debated hand-cuffing Eric to my arm so he'd have to run with me, but with his ball and chain it would probably slow me down. No one needs that. ;)
I was really just jealous that he got to go inside (in the warmth) to wait for me!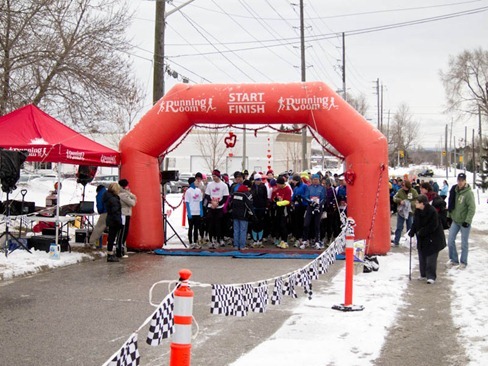 As you can see, it wasn't a huge race! I would guess around 175-200 runners.
No shot gun, no horn, no bell. Just an old-fashioned count down and we were off!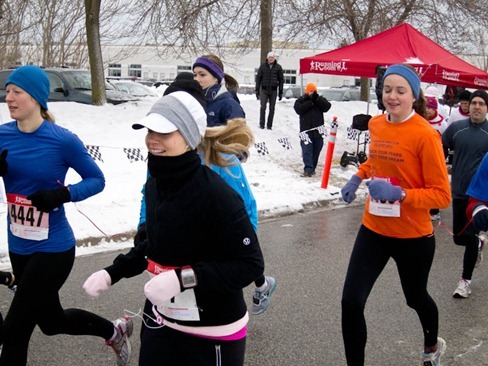 In all of my races, I've always tried to start off slower and build speed, but with the 5km most runners seem to just sprint the entire distance, so that's what I ended up doing too!
I didn't have a time or pace goal for this race, but I settled into a pace around 7:15-7:45 minute/mile for most of the course. And by settled, I mean I struggled and fought my absolute hardest to stay there. I noticed some runners were slowing down after the 3km mark, so I used that opportunity to pass about 6 or 7 runners throughout the second half of the course. It was a great way to boost my mental stamina, especially when I started to get really tired.
Thankfully, Old Man Winter relented and the snow stopped during the race. I just had to deal with the cold, which was quickly freezing my toes, nose, and fingers, even with all my layers. My nose was also running like crazy. About 3 km into the course, my feet and hands finally warmed up.
The course was a basic flat loop with a couple small inclines. Finally, I turned the last corner and saw the finish line. It was hard to believe that I had been running just over 20 minutes at this point because I felt exhausted!
I couldn't really find the energy in me to sprint near the end, but I realized that was probably because I was already sprinting! I just maintained my speed and picked it up right before the finish line.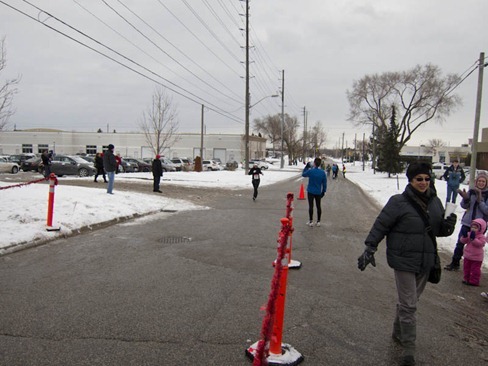 As always, I was so happy to be across that finish line!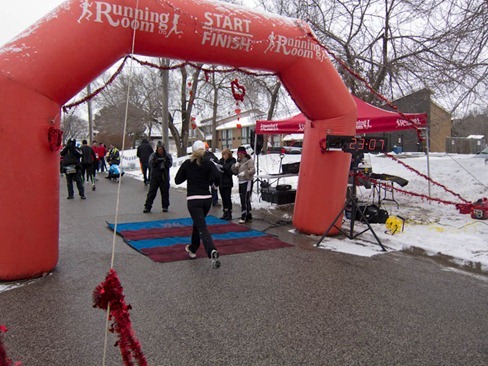 Catching my breath!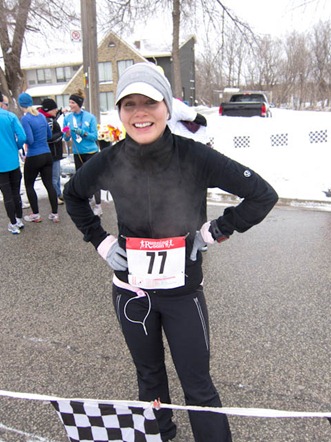 My official chip time is 23:07!
I was also given a beautiful finisher's medal!
I'm not sure what it's made out of, but I'm going to pretend it's 14 carat gold. ;)
And boy is it HEAVY. It's easily the biggest/heaviest medal I own.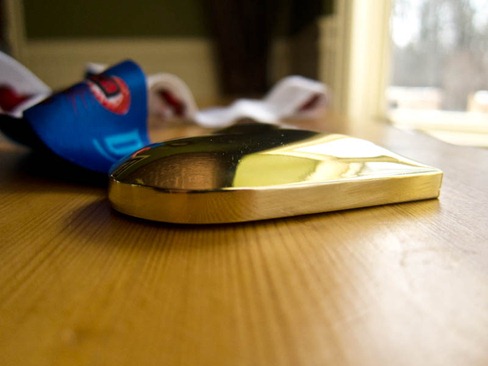 Who needs jewelry on Valentine's Day when you have this bad boy?
Shortly after arriving home, Sketchie peeked his head out of his favourite box and said, "I don't run for anything!", before curling up for the rest of his afternoon nap.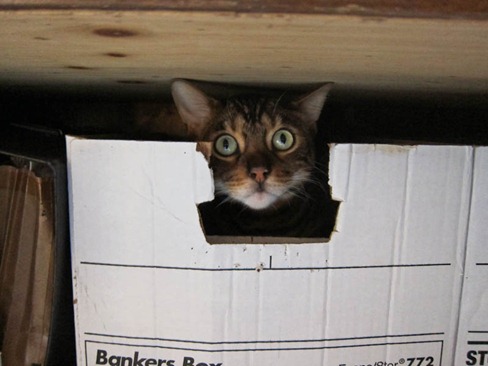 And just like that, I ended my 16-month racing hiatus. Somehow, it feels like I was never gone.
Next up, the Chilly Half Marathon and Frosty 5k on March 4th. I'm already looking forward to it!