Have you ever had a hobby or activity that you love and let it get away for a while?
And a lot of time goes by and you start to wonder if you'll ever get back into it?
That's sort of what happened to me with running races.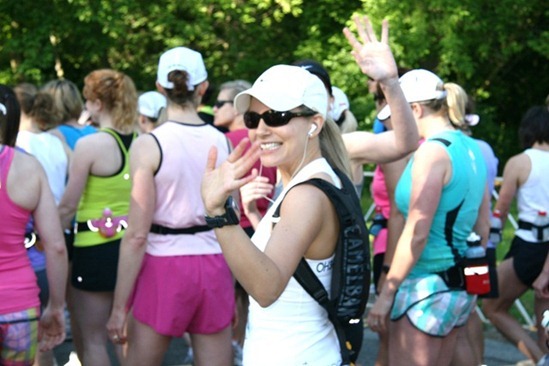 In 2009, I got hooked on races running two 10k's, a 10-miler, 3 half-marathons, and a beginner's triathlon, all within about a year and a half. To say I was hooked on racing was an understatement. I loved the thrill of pushing my body, overcoming mental hurdles, and seeing my time improve. My last race was the Oakville Labour Day 10k and I managed to finish 3rd place in my division with a time of 49:50. It was a great race to end the season.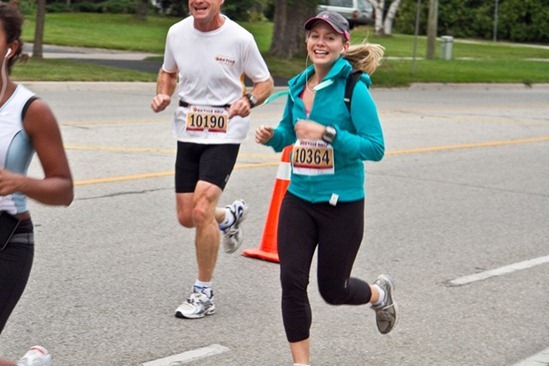 Despite my love for racing, I shifted gears in 2011 in favour of other activities. I fell in love with hot yoga and rekindled my love for Body Pump and spinning, after Ange gave me a discounted gym membership for the year. I used to be a gym rat back in university, so it was fun to get back into some of my favourite classes.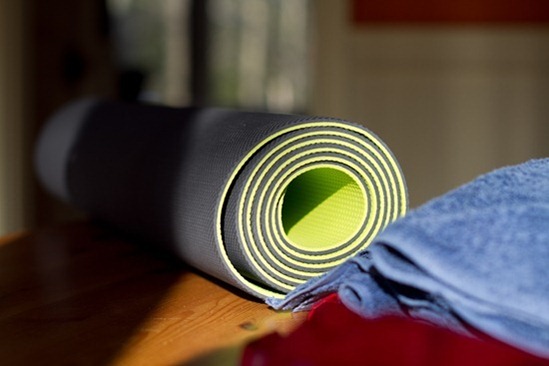 In 2012, I decided not to renew my gym membership, so I've been alternating at-home Booty Camp Fitness strength workouts with running outdoors. Because our winter has been so mild and free of much snow, I've been able to enjoy running outdoors several times a week. At first, adjusting to running during winter was difficult for me (it's harder to breathe!), but now I find that I crave getting outside as much as I can, as long as I bundle up properly. I just don't leave the house without the most crucial piece of winter running equipment- a few tissues! Having to blow your nose is a great excuse to take a walking break, right?
As you can see, my activities have been all over the place over the past couple years! I used to think that I had to juggle everything I love to do all at once, but I've since realized that it's totally normal for passions and interests to change over time and for our focus to shift. I don't need to do it all at once and it's ok if I don't have the "perfect" balance, whatever that means.
After discovering a love for climbing in Arizona, I found myself playing around with the idea of getting back into running races. It took getting to the top and bottom of a steep, rocky mountain for me to realize how much I've missed the feeling of accomplishment when it's all over. It also made me realize how much I thrive on challenges, physical and mental. As an added bonus, these accomplishments also have a positive impact on my anxiety.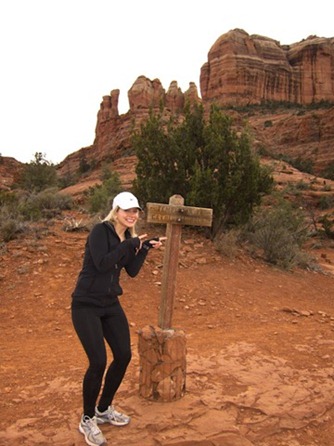 I caught myself thinking, I don't think I can race this year. I just have too much on my plate…. How am I going to race if I can't even find the time to _____ right now?
That's when I realized that being busy is exactly the reason to get back into a long lost activity. We're all busy. We all have obligations. Life just gets busier and busier with each passing year. Whether it's racing, volleyball, dance, biking, the gym, or yoga, so many of us (and I think women, especially) let our passions fall to the wayside in favour of work and home obligations. Obviously, life happens and exercise gets put on the back burner at times (I've skipped many workouts over the past few months!), but that doesn't mean I have to give up on a passion all together.
This isn't to say that I'm going to bite off more than I can chew. I'm going to try to be realistic with the time I will have to race. I'm going to start with shorter 5k or 10k races, that require little training other than the running I've already been doing. I'm not trying to achieve a certain time goal right now or win the race (ok maybe I am, bahah). I just want to allow myself the opportunity to get back into something I love. That is definitely attainable.
On that note, I'm excited to let you know that I've signed up for three races over the next few months:
1) Sunday Feb 12 (in 2 days!): The Valentine's Day Couples & Singles 5k, Burlington, ON (I'm going as a SINGLE, anyone want to be my hot date?)
2) Sunday March 4th: Chilly Half Marathon and Frosty 5k, Burlington, ON (I'm doing the 5k)
3) Sunday April 22:  Toronto Yonge Street 10k, Toronto, ON
I'm looking for buddies…so let me know if you want to join me!
~~~
Is there an activity or hobby that you are thinking of starting up again? Or a totally new-to-you activity that you've been thinking of trying out?