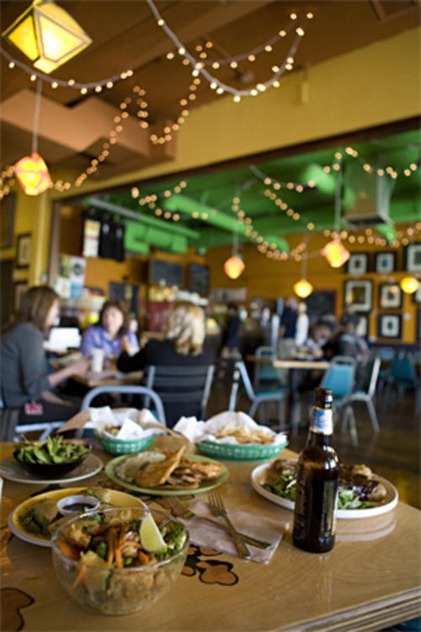 Green came to be thanks to vegan chef Damon Brasch and his 10-year long dream to open a vegan restaurant. He wanted to create a vegan restaurant where anyone could enjoy the food, not just the veg crowd. The fare is what Brasch likes to call "New American Vegetarian", which is mostly American comfort food, made vegan. You'll also find a wide array of cuisines and cultural influences on the menu. From what I read, it's one of the Phoenix area's most raved about vegan restaurants with locations in Tempe and Phoenix. We tried out the Tempe location as we were already in the area that day.
Here is a quote from Brasch found on the Green website:
"My grandfather and great grandfather built a house next to a lake. This was the house where I learned to cook. I was seven years old when my grandmother told me to go into the woods to pick fresh dandelion greens for her salad. This was where my hands first smelled of fresh garlic. Where the scent of baking bread intoxicated my senses and the hand rolled pasta made my mouth water. This is where I took the tomato off the vine and placed it into the pot and where we picked the cherries from the tree for the cherry pies that made the neighbors swoon to my grandparents' house. This is where I fell in love with the asparagus and the artichoke and the arugula. This is where I learned to celebrate food. This is why I cook for you. And this is why I am Green."

— Chef Damon Brasch
Upon entering the restaurant on Saturday at 12:30, it was packed to the brim. There might have been one free table in the entire place, which was large, especially for a vegan restaurant. Green has a very casual, almost cafeteria-like setting, and is a nice spot for quick lunch or casual dinner. When we walked in, there wasn't anyone to seat us so we stood there a bit awkwardly until realizing that you have to walk up to the cash to place your order before finding your own table. Noted!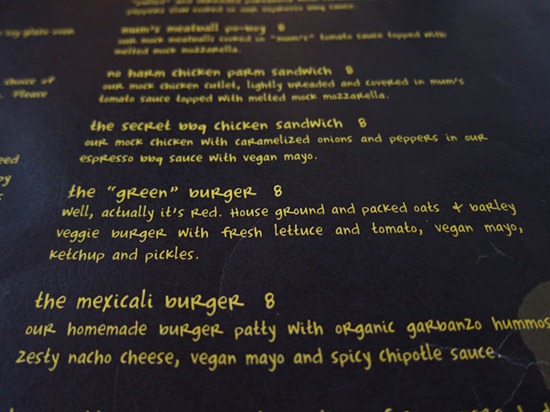 We were handed two huge double-sided menus and I quickly scanned it, trying to take it all in. I was cursing myself for not looking up the menu online. Am I the only one who loves to do that? When I go to a new vegan restaurant, I like to take my time to look over the menu and consider all my options (I'm not used to having so many), so I felt a bit rushed while standing at the counter with a line of hungry people behind us. Sometimes a good menu is like sitting down with a good book; it's not to be rushed through and skimmed over with haste. My advice is to go in with a plan or risk a menu meltdown. I kept my composure though, well, mostly. bahah.
After placing our order, they gave us a number and we went to find a table, finally deciding to sit outside since it was such a warm, sunny day.
Just minutes after sitting down, we were brought our appetizers. That was quick! I ordered the Samosas with curried potatoes, peas, carrots, and fresh garlic wrapped in a thin fried samosa with tamarind dipping sauce.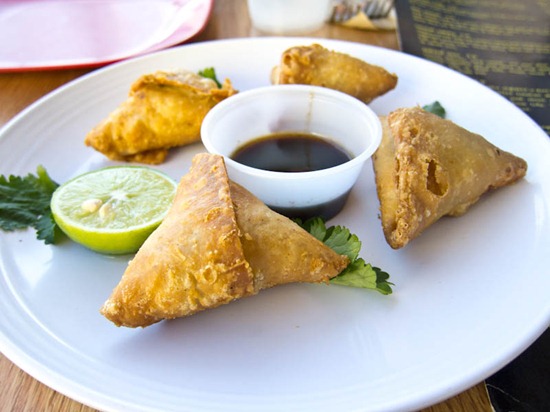 Excellent! Crispy with a soft doughy interior. I would have loved to see them spicier though. I couldn't really taste the curry flavour coming through. I had two and Eric had the other two.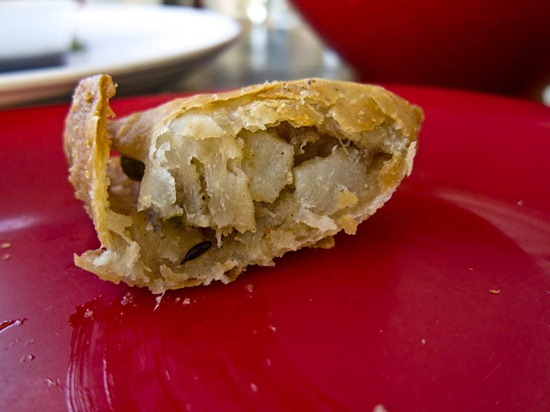 Eric ordered the vegan chili fries which were very tasty and filling. It was large enough to serve 3-4 people easily.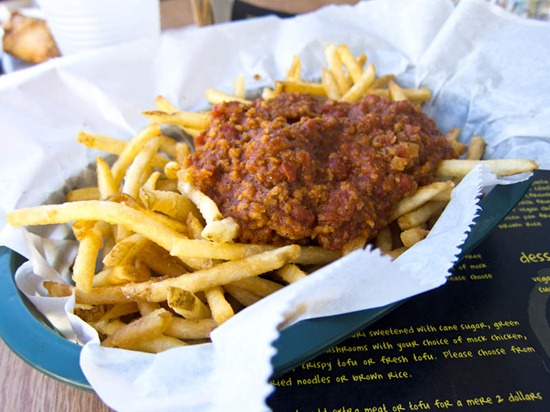 Just as we started our appetizers, the server brought out our entrées. Having the apps and entrées served at the same time is a bit of a restaurant pet peeve of mine. I like enough time to enjoy the appetizer without the entrées coming too quickly, otherwise it feels rushed and the apps often go to waste once the entrées arrive. I guess they must have been trying to go through people pretty quickly on this busy Saturday. If you want to linger over your meal, I suggest mentioning it to the server before ordering just so they have a heads up. Or maybe it was just a fluke, who knows!
For my entrée, I ordered the Singapore Tofu made up of spicy curried house tofu tossed in a spicy orange glaze over thin rice noodles with fresh vegetables.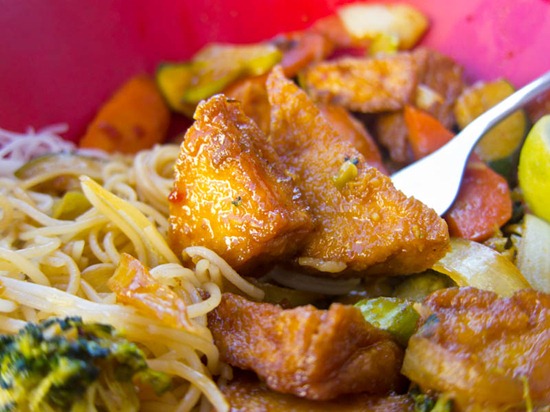 Absolutely, to die for. The orange glaze was flavoured to perfection and it was impossible to slow down, despite my stomach telling me it was getting full. The tofu reminded me of a childhood favourite: sweet and sour chicken balls. I used to be obsessed with them growing up. I can only imagine how good it would taste if this glazed tofu was also battered and fried. I think I would pass out from all the excitement.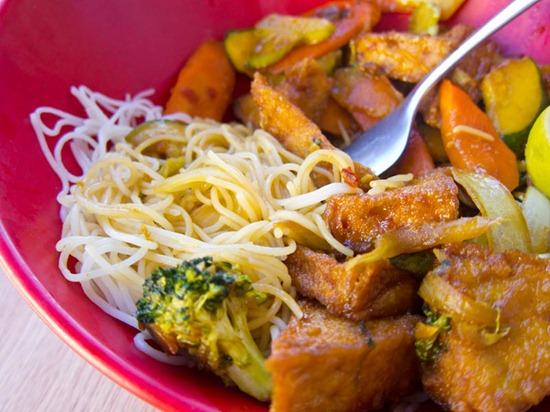 The only thing I would change is to crisp up the tofu as it was very soft. I'm sure with a nice pan fry or bake, it would be nice and crisp.
Yet another "must make at home" inspired meal!
I finished all of the tofu and veggies and half of the noodles before claiming that I'd have to roll back to the car if I ate another bite. I'm one of those people who has to physically move the food away from my reach or I will just pick at it until it's gone.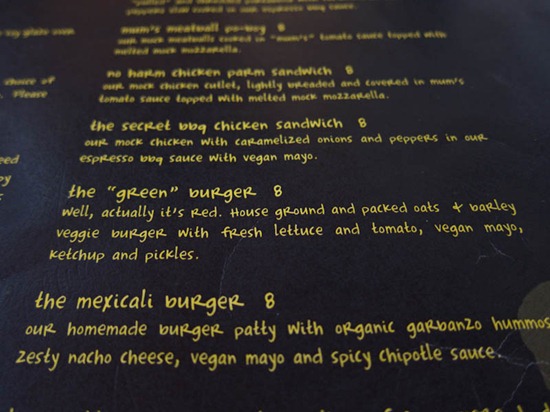 Eric ordered the Green Burger made up of ground oats, barley, and other unmentioned ingredients. I assume there must have been TVP or seitan in this as well, but I'm not sure.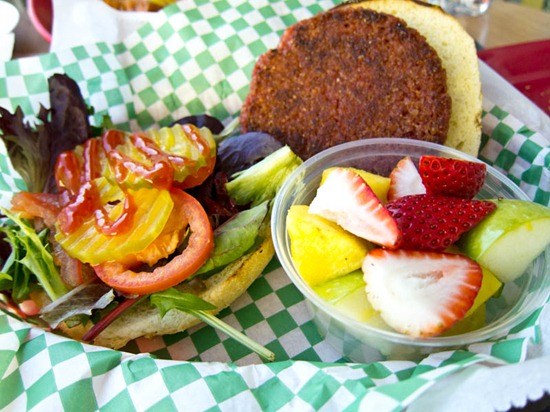 He loved the burger and said it had an authentic taste and texture.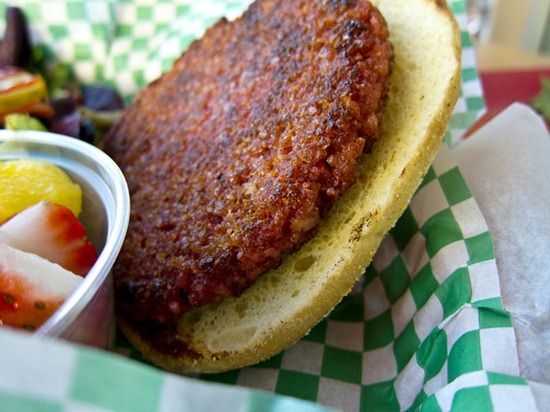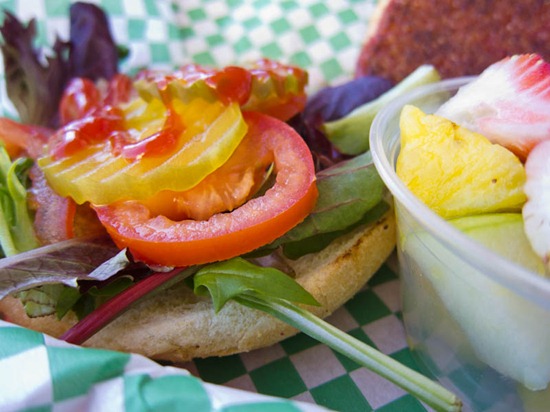 At this point I was stuffed, but Eric had dessert on the mind. I told him earlier that you guys raved about Green's "tSoynami's" and he said that we couldn't leave without ordering one. What an enabler!
You can imagine my delight when I discovered that tSoynami's are basically vegan "blizzards" made with homemade soy ice cream and a wonderful array of crazy toppings and flavours. You know how much I love my Chocolate Chip Cookie Dough Blizzard.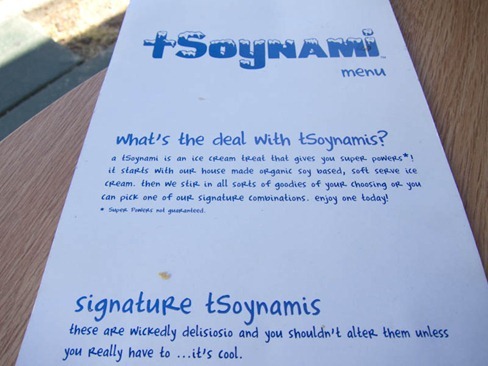 There must have been over 25 flavours to select from. We also found out later that they had daily flavours in addition to the menu regulars. Cap'n Crunch flavour, anyone?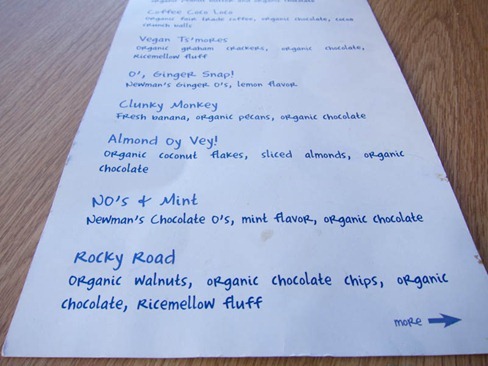 I tried to get him to order the Ts'more, but sadly he wasn't down with ricemellow fluff! Is it good? I've never had it before. 
After much debate, he ordered the No's & Mint made with Newman's Chocolate O's, mint flavour, and organic chocolate.
Just what this hot summer winter day called for. It's crazy to think that it was about 24C and sunny on this late January day.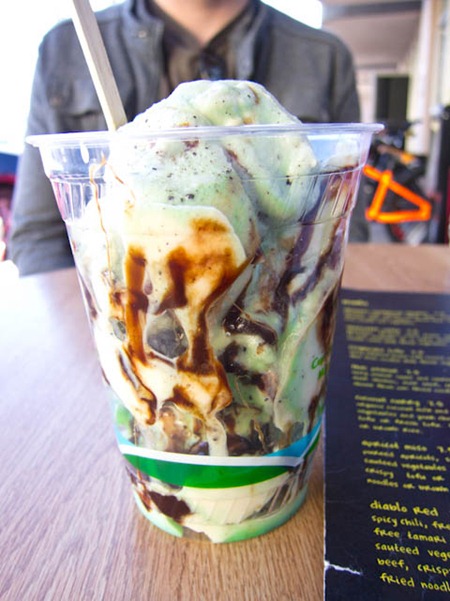 Look at Eric waiting so patiently for me to take the picture already. Torture!
While I'm not a huge fan of soy-based ice creams, I thought this was pretty good. I think it would be even better with homemade coconut ice cream or even banana soft serve though. The best part was digging into the cup searching for the huge chunks of cookie. Nothing beats that.
Green is certainly a fun twist on traditional comfort food with many options no matter what you're craving. While they have a large amount of soy-based processed foods on the menu, I would guess that they can accommodate soy-free requests, or at least I'd hope so. The prices are also reasonable and the portions generous. Hopefully we'll be back someday because there are many things I still want to try!
Do you have a favourite vegan meal from a restaurant? What is it and where is it from? What is your favourite vegan restaurant?
Out of the vegan restaurants that I've been to, Candle 79 (NYC) is probably my favourite so far, with Fresh (Toronto), Karyn's on Green (Chicago), Calactus Café (Moncton), Thrive (Waterloo), Sublime (Fort Lauderdale), Café Blossom (NYC), and The Coup (Calgary) ranking up there pretty high, although there are still many I haven't tried yet, including the famous Millennium Restaurant in San Fran.