On Tuesday, we had the pleasure of lunching at True Food Kitchen at the Biltmore Fashion Park in Phoenix. Many of you recommended it on the blog and on my Facebook page (thank you!), so we figured it was a safe bet. I later found out that the famous Dr. Andrew Weil (along with restaurateur Sam Fox) opened this first location of several, in 2008. The entire menu is based around Dr. Weil's Anti-Inflammatory Diet and food pyramid with an emphasis on local and organic food whenever possible.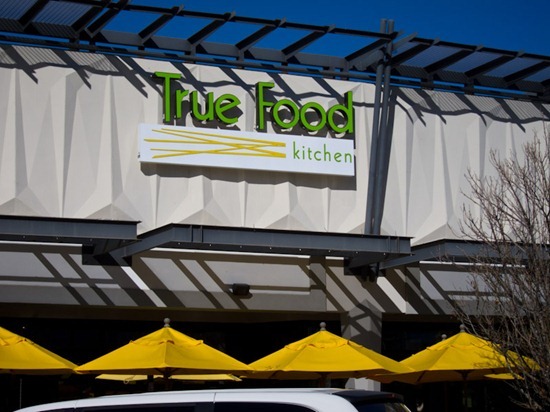 The weather was gorgeous and sunny, so we opted to sit out on the large patio. A quick peek inside the restaurant revealed a huge interior absolutely packed at 1:30pm on a Tuesday. That's always a good sign!
We soon deemed the weather beer worthy.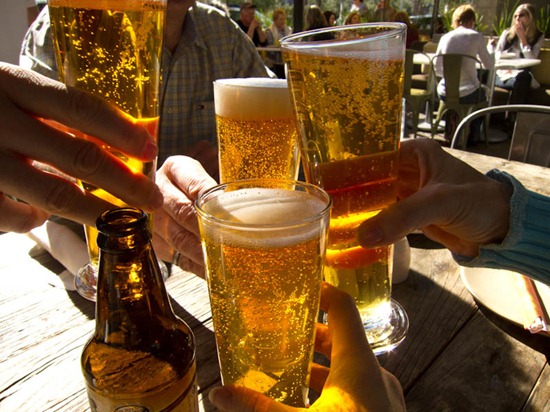 I tried the organic Eel River Acai Berry Wheat Ale. Loved it. Light and fruity, but not overly so.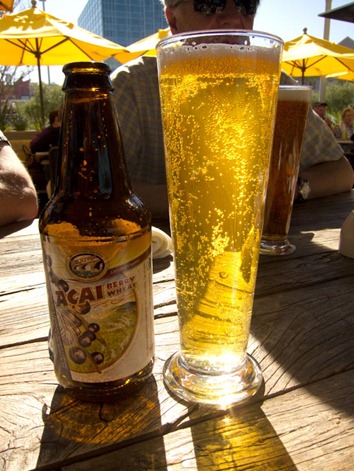 For an appetizer, my mom and I shared the Shiitake and Tofu Lettuce Cups with Ginger, Cashew, and Garlic.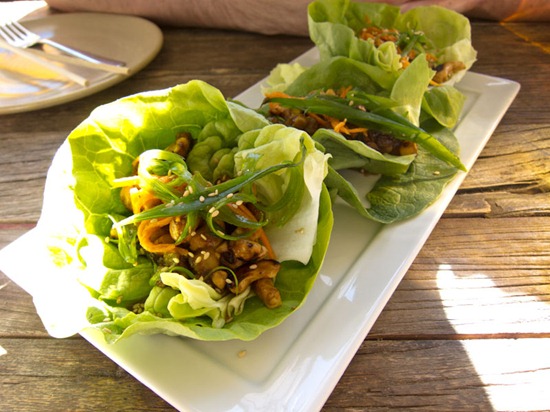 The lettuce cups are filled primarily with cashews, teeny-tiny bits of tofu, and shredded carrot all coated in a lovely Teriyaki-like glaze. Very fun to roll up and make a huge mess!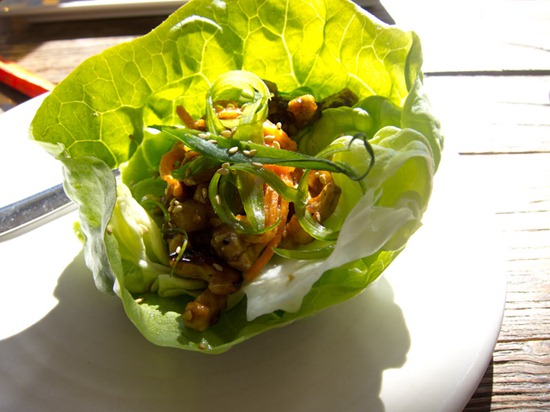 For my main, I ordered the Teriyaki Brown Rice Bowl with Asian vegetables, sesame, and avocado. I also added big chunks of tofu.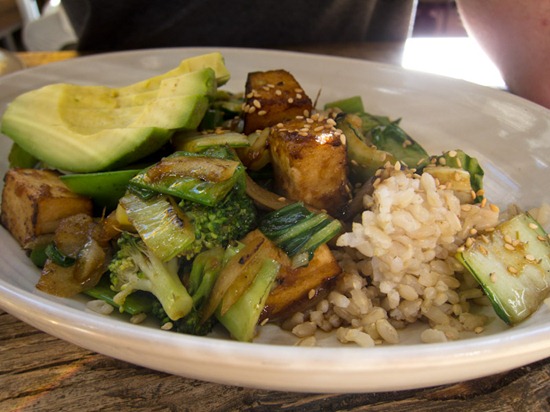 Oh my gosh was this ever amazing. Easily, one of my favourite meals in a long time. It's so simple, but not lacking in any way. I also loved the huge sliced avocado half on top. Not one single piece of rice was left behind.
Eric and John ordered the Turkey Burger with provolone, lettuce, tomato, avocado, mayo, on a flax seed bun. It came with sweet potato hash and a kale salad.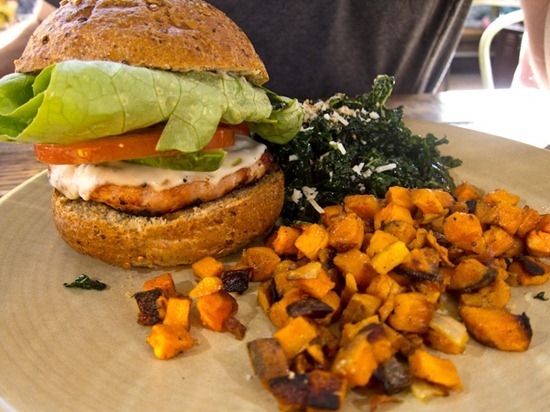 They both gave it two thumbs up!
Mom ordered the Spaghetti Squash Casserole with mozzarella, organic tomato, and zucchini. She also really enjoyed it, but thought the cheese was a bit heavy.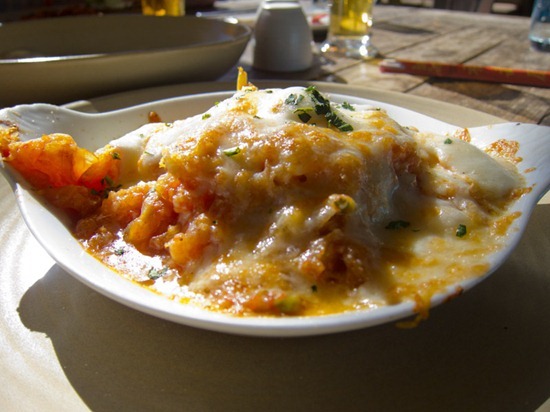 For dessert, Eric devoured the warm & pudding-like Flourless Chocolate Cake. No surprise there!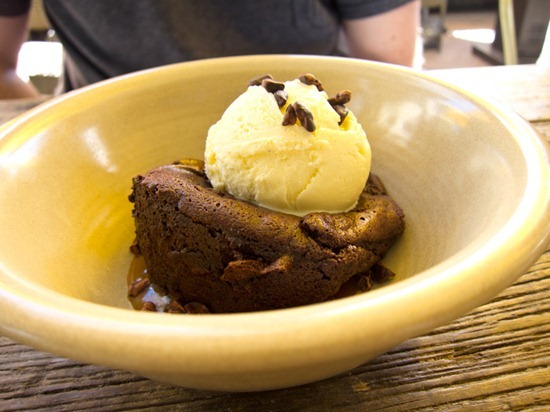 My mom and I shared the Vegan Apple Crisp with Maple Ice Cream. John also had the apple crisp, but did not share with anyone. ;)
Absolute perfection. The crispy, sweet crumble topping was the best part.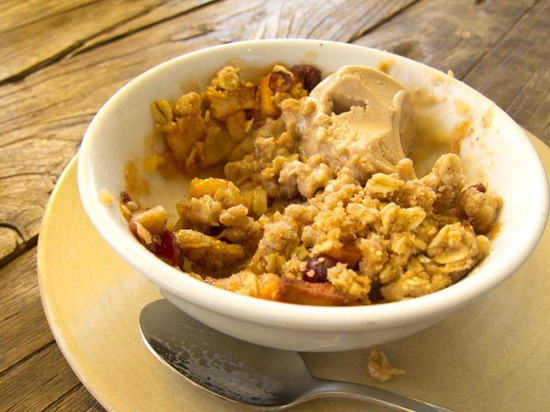 I washed it down with a big glass of water when I realized that beer probably wasn't the best idea before hiking a desert mountain!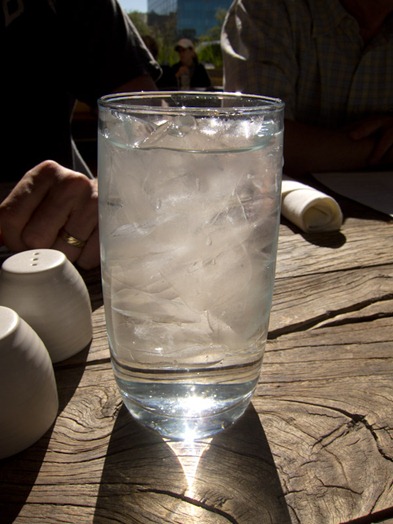 After lunch, Eric and I drove straight to Camelback Mountain to begin the hike of our lives, my dangly earrings and all.
All in all, it was a great experience at True Foods. The service was friendly and attentive, the atmosphere to die for, and the food fresh and satisfying. My only suggestion is that the restaurant adds more vegan options on their menu as there were only 2-3 vegan entrees indicated on their lunch menu.
As for that hike, my glutes and quads might recover some day. Just not today.
Tomorrow = Sedona and the promise of more hiking. Better rest up!