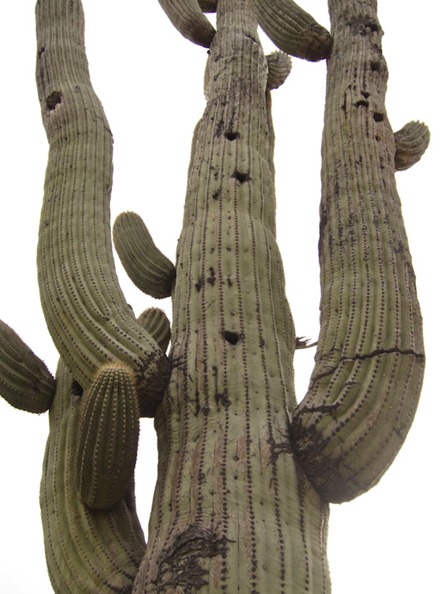 Toto, we're not in Ontario anymore.
We're visiting the Phoenix area with my mom and John this week. It's our first time in Arizona and we're pumped to be here!
and a bit scared…
We booked an evening flight, since it was our only option. It's really strange waiting until almost 5pm to leave the house on the day of a flight! I actually started to go stir crazy waiting to leave.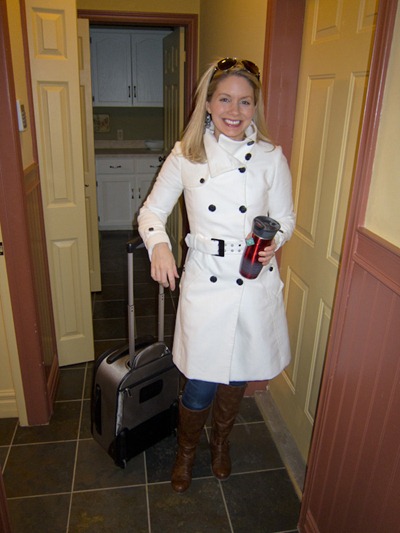 The flight was only 4.5 hours, but felt incredibly long due to some nasty turbulence. The plane kept dropping and dipping like crazy and I actually started to feel nauseous which never happens to me. At one point, I just closed my eyes, gripped Eric's arm, and prayed I didn't lose my dinner. The last 30 minutes ticked by in slow motion.
We arrived around 12:30am…sleepy, dazed, and hungry! Mom brought us some homemade vegan blueberry muffins and walnuts to save the day. I got my appetite back, miraculously.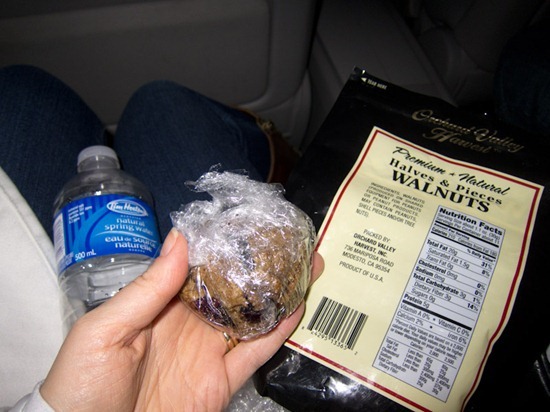 When we finally got to bed around 2:30am Toronto time I was so tired I couldn't sleep for the life of me! Does that ever happen to you? If I get too tired, it's actually harder for me to sleep. I passed the point of no return, so my body did the logical thing and stared at the ceiling for most of the night. Awesome.
A sunny, green breakfast helped with the 4 hour power nap.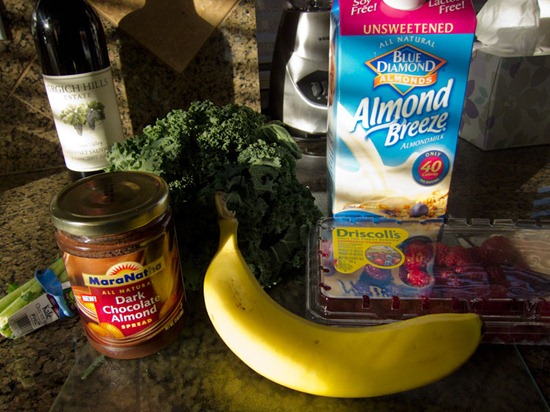 I opened the fridge, saw some gorgeous raspberries and dark chocolate almond butter, and knew I had to make a chocolate raspberry Green Monster to save the day.
With fresh raspberries, banana, dark chocolate almond butter, almond milk, ice, and wait for it….Dinosaur kale! Yes, come to me my little kale.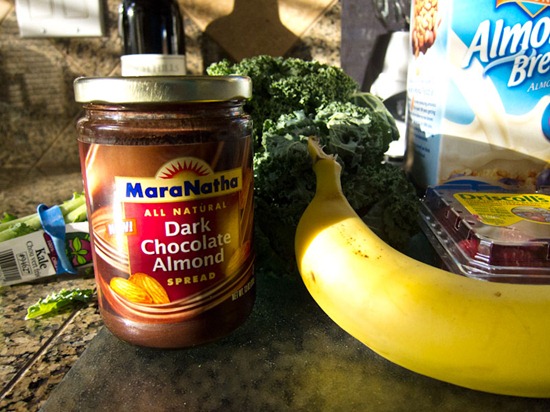 Note: I just found out this dark chocolate almond butter is NOT vegan. I blame the sleep deprivation for that error! For a vegan version, try my homemade Dark Chocolate Almond Butter recipe!
Cover your ears, my mom said, this thing is small but loud!
As I sipped my Green Monster, I could feel my tired, lifeless body revive itself almost instantly as kale pumped through my veins. I swear a GM is worth at least an extra hour of sleep!
I also had a whole wheat blueberry muffin with Earth Balance.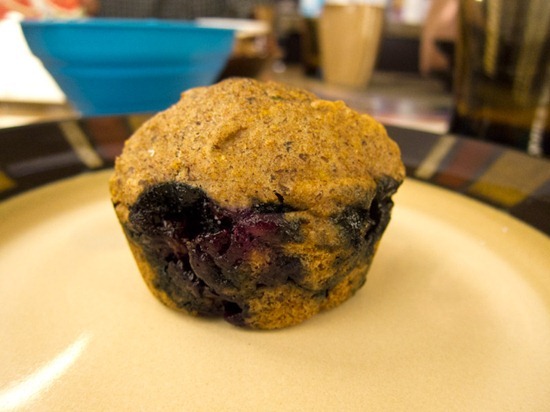 and a herbal tea…because breakfast wouldn't be the same without a hot drink.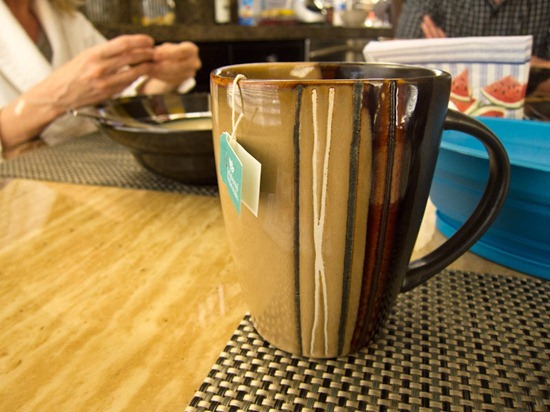 Ok, make that two!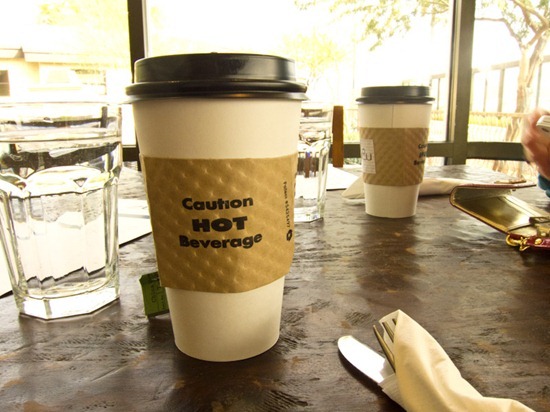 My mom and I had a lovely chat over tea while the boys waited for the rental car.
Later on in the day, Eric and I stopped into Whole Foods to pick up some groceries. I picked up some brussels sprouts, red pepper, spaghetti, kale, blueberries, corn chips, salsa, asparagus, and some nori sheets, kombu and kelp granules that I've been looking for forever!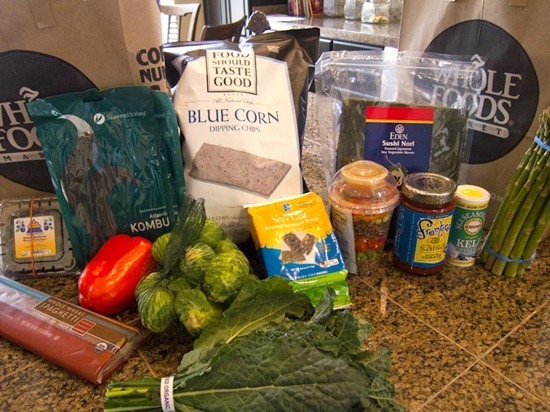 and a fun salad!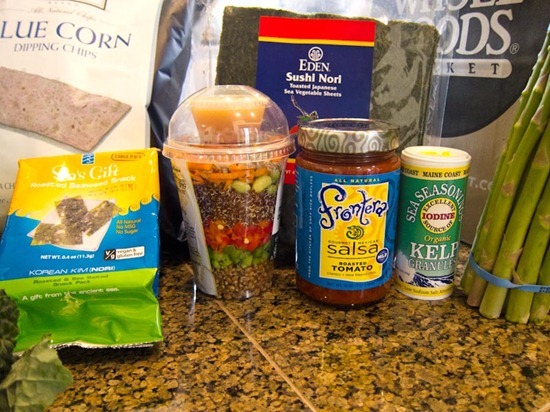 Layered up for lunch.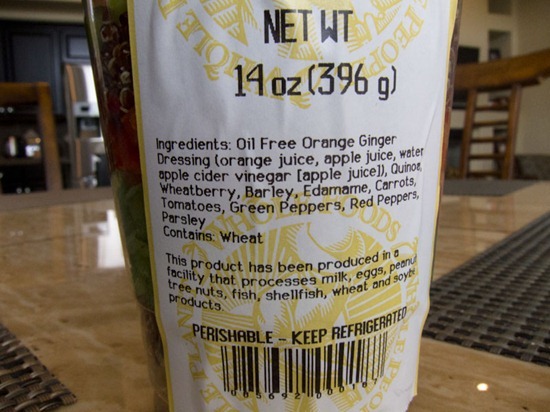 This will be the first thing I make when I'm on Canadian soil, mark my words.
Poured into a bowl.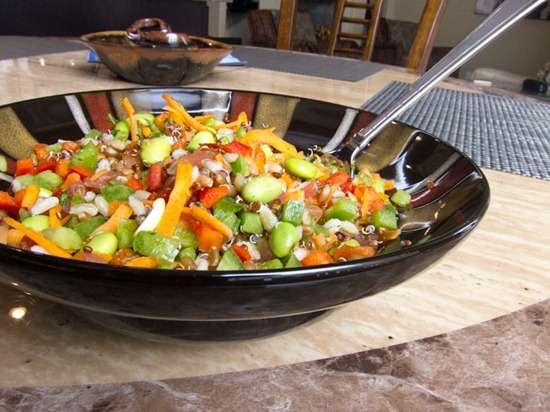 and topped with orange ginger dressing and hummus. Blew. my. taste. buds. off.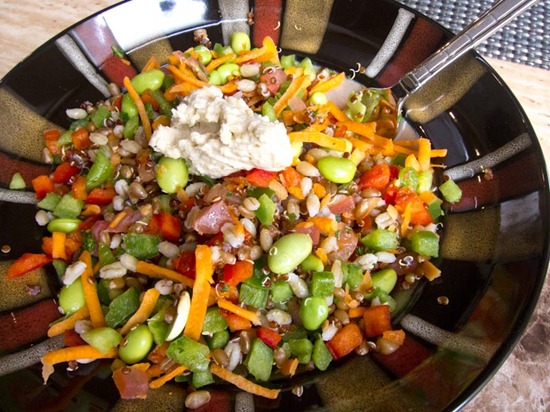 I said I wouldn't be able to eat the entire thing, but I was wrong.
Plump blueberries for dessert in this fun strainer/bowl duo.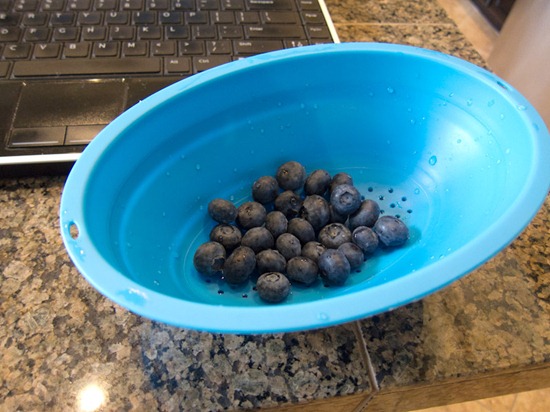 For dinner, we all pitched in and whipped up a yummy spread.
…featuring 15 Minute Creamy Avocado Pasta!
and a tomato-basil salad, sautéed asparagus, and roasted fingerling potatoes.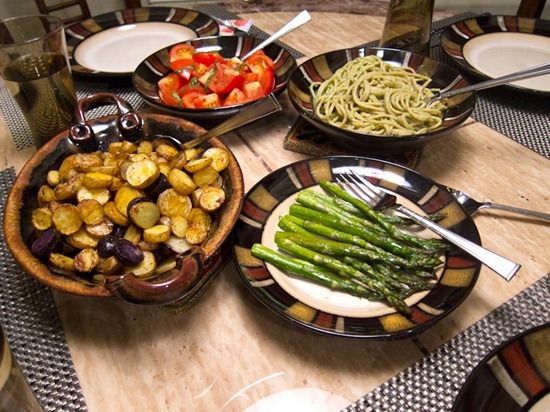 Oh, it was lovely.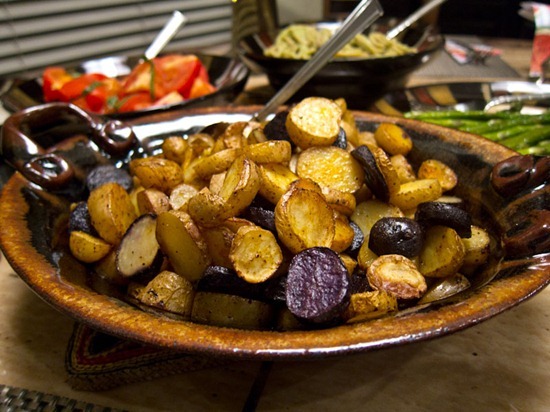 I had seconds of pasta and potatoes! My body just yearns for carbs when I'm tired.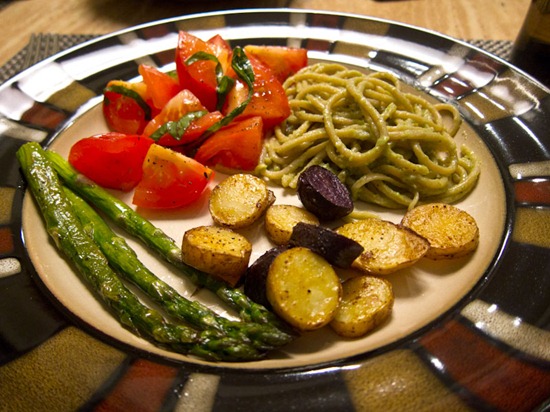 Now we're watching American Idol, eating chocolate, and I'm trying to stay awake while typing this. I hope I've kept you up!