Are pigs flying?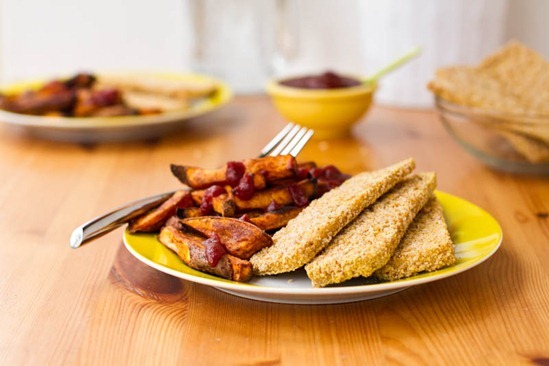 I think pigs are flying.
Wait, maybe tofu is flying.
I know what you are thinking…Ange is eating tofu?
It all started a couple months ago when my friend Sarah treated me to an incredible sweet and sour tofu dish for dinner. A heavenly sweet and sour glaze coated crispy baked tofu all served over steamed vegetables and wild rice. This meal was all I could think about for days! I haven't tried a lot of tofu because I always thought that tofu bothered my stomach (I tend to have stomach pains after eating tempeh and seitan, for example), however this tofu meal did nothing of the sort. My stomach was fine and my taste buds were smitten!
A few weeks later, I was in the kitchen making a similar recipe…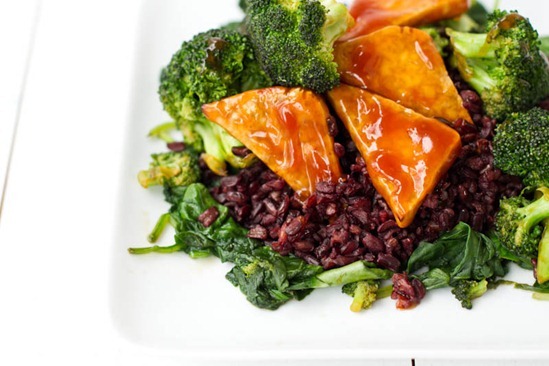 Then, I made eggplant roll-ups with "ricotta" cheese and was also blown away.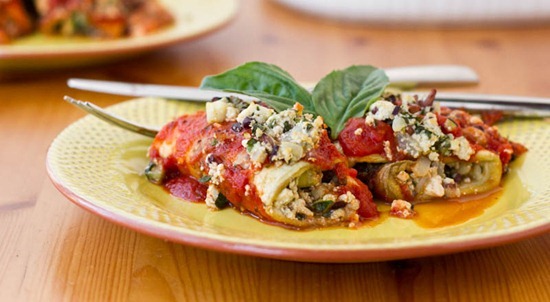 [Both recipes may appear in a hopeful future cookbook, but if not, I will certainly post them!]
This week, I was struck with an idea to make a crispy breaded tofu to pair with sweet potato fries. I was inspired by a cornmeal tofu recipe in Veganomicon. One of the meals Eric always ate in university was chicken fingers and fries so I was curious if I could make a tofu version that he'd enjoy. It was a stretch, but I figured it would be an interesting experiment! You know how I love my kitchen experiments.
Well, lo and behold it worked…and we both inhaled this meal. Dipped in ketchup and served with roasted sweet potato fries, it was easily one of our favourite easy meals in a long time. I seasoned the fries and tofu with a lovely cinnamon/cumin/chili powder blend which went along nicely with sweet potato fries. I never thought I would see the day when we would both inhale tofu.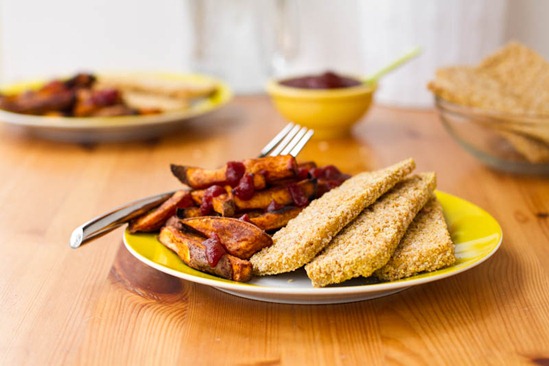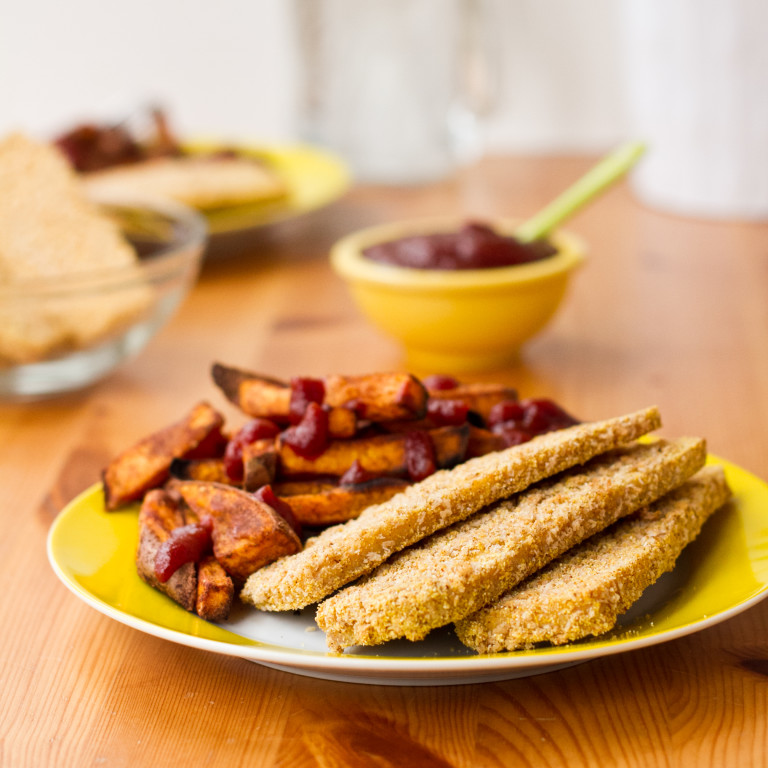 Crispy Breaded Tofu Strips and Sweet Potato Fries
Vegan, oil-free, refined sugar-free

Yield

3 servings
Soak time

20
Prep time

Cook time

Total time

These crispy strips could turn anyone into a believer…even my chicken finger loving husband.
Inspired by cornmeal tofu in Veganomicon
Ingredients
1 package firm or extra firm tofu (I use organic, non-GMO, about 350 grams)
1/2 cup almond milk (or other milk)
1 tbsp cornstarch
1/3 cup cornmeal
1/2 cup breadcrumbs (use gluten-free if necessary)
1/2 tsp cinnamon
1/2 tsp cumin
1/2 tsp chili powder
scant 1/2 tsp kosher salt
1/4 tsp cayenne powder (for a kick of heat)
1/4 tsp onion powder
1 large sweet potato + 1 tsp oil + 1/2 tsp cinnamon + pinch salt + 1/4 tsp cumin
Directions
Press tofu: Rinse the tofu with water and place a couple kitchen towels on the counter. Wrap the tofu with another towel, place another towel on top, and finally several heavy cookbooks on top. Let sit for at least 20 minutes to soak out the water.
Meanwhile, whisk together the milk and cornstarch in a shallow dish. In another bowl, mix together the cornmeal, breadcrumbs, salt, and spices. Set aside. Preheat oven to 400F and grease 2 baking sheets with oil. Slice the potato into fries and then coat with 1 tsp oil, 1/2 tsp cinnamon, 1/4 tsp cumin, and a couple pinches of salt. Lay out on greased baking sheet.
Slice tofu into 8-9 strips, lengthwise, depending on how thick you want it. With one hand dip the tofu strip into the milk mixture and then into the cornmeal/breadcrumb mixture. Use other hand to sprinkle dry mixture all over the tofu. Coat both sides entirely and then place on baking sheet. Repeat with the rest.
Bake tofu on middle rack and fries on bottom rack at 400F. Bake for 20 minutes, then flip the tofu and fries, and then bake for another 15-20 minutes until crispy. Remove tofu and broil the fries for a few minutes, watching carefully, until golden and charred in some spots. Remove and serve with ketchup!
Nutrition Information
(click to expand)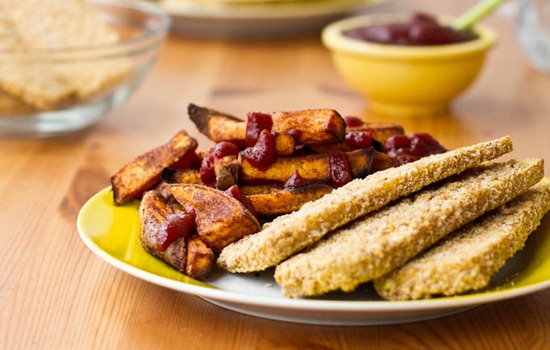 The first thing I did was rinse and press the tofu. I put down a couple kitchen towels on the counter, then wrapped the tofu in another towel, added another towel on top, and then stacked heavy cookbooks on top. I let it sit for about 20 minutes. This simply soaks out some of the water in the tofu, allowing for a crispier result.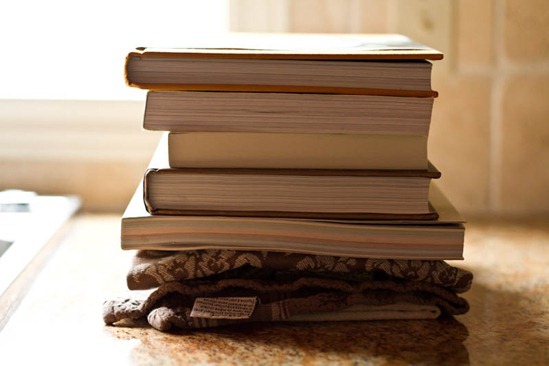 Meanwhile, I got my sweet potato on! I used 1 large sweet potato, added 1/2 tsp cinnamon, 1/4 tsp cumin, few pinches of salt, and 1 tsp oil. Mix it all together and lay out on a greased baking sheet. Set aside.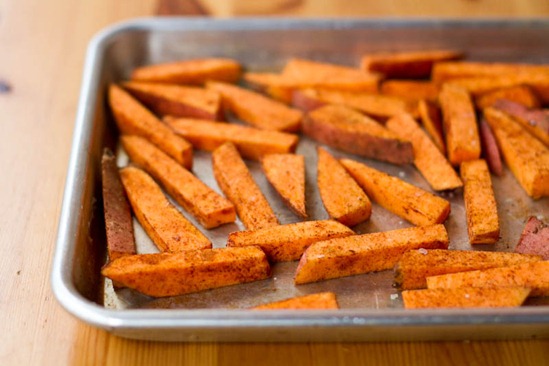 After pressing, I sliced the tofu into 9 strips (next time I would probably just do 8 so they are a bit thicker)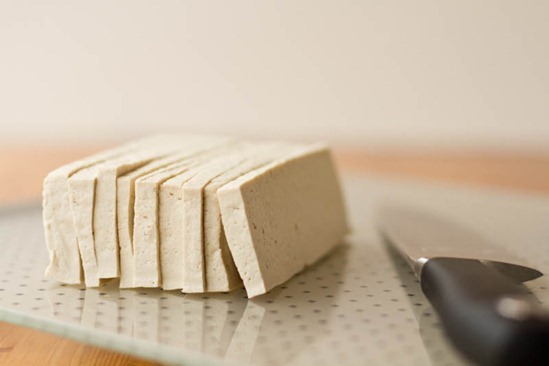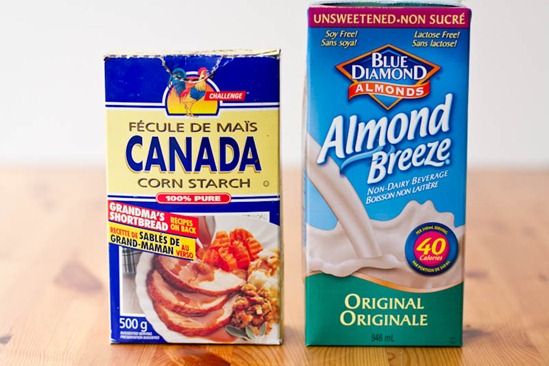 Then I dipped the tofu into the milk and cornstarch mixture, followed by the cornmeal/breadcrumb mixture.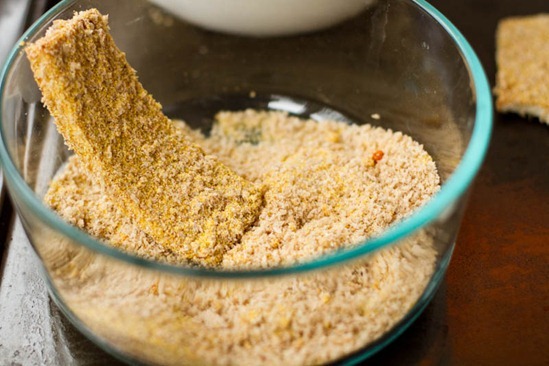 Place on a greased baking sheet. Now bake the tofu and sweet potato fries simultaneously (tofu on middle rack, fries on bottom), for 20 minutes at 400F. Now flip everything and bake for another 15-20 minutes. Remove tofu and broil the fries for a few minutes, watching very closely!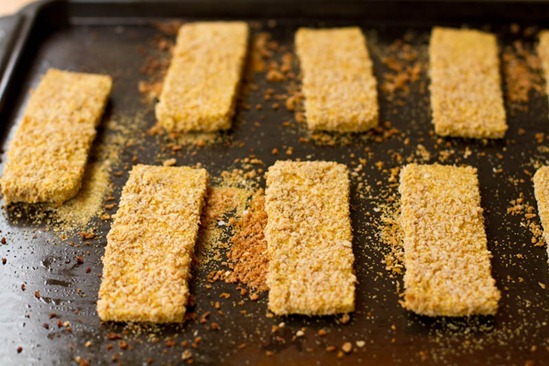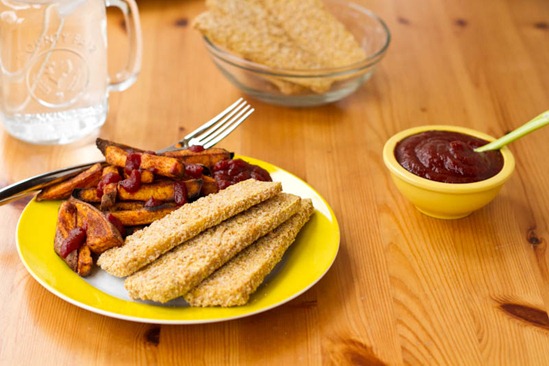 Amazing, crispy, addictive tofu strips that were made for dipping in ketchup!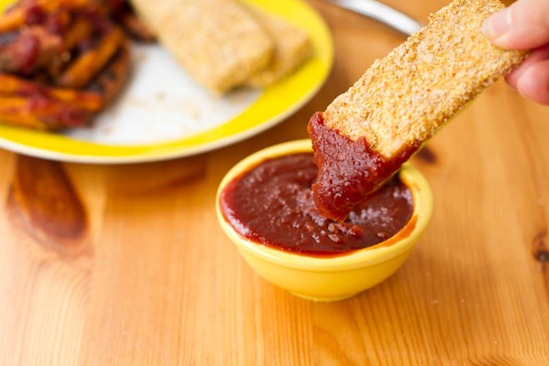 With the leftovers, I chopped up a couple strips and mixed it into a big salad for lunch. It was a great salad topper with a kick of protein. You could also layer these in a sandwich or wrap too.
If you try it out, let me know what you think!