Can we just rewind 7 days and pretend that I started my New Year's goals on time?
I'm kinda living in a 2011 time warp right now.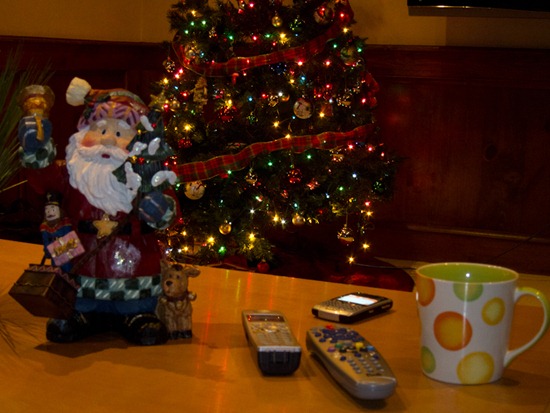 There has been no talk of taking down the Christmas tree or decorations yet. I think Eric and I are in a holiday decoration stand off, waiting to see who will cave first. Plus, it's so cozy with the tree all lit up at night and the creepy Nutcrackers peering at me from the mantel! Aw, creepy Nutcrackers.
With our long winters, I'm in no rush to pack up the holiday joy just yet. It can wait, much like I am for spring.
Can we also pretend that I accomplished all of 2011's goals while we're at it? Or even more than half of them?
Here's a little recap of my 2011 goals and how I did.
1. Take care of my health and continue my journey with a vegan diet
I felt like I really hit my stride when it came to veganism this year. I made all kinds of new vegan recipes and tried many new foods and vegan restaurants. I got in the v-zone! On the flip side, I also learned to be more patient when I was somewhere that wasn't veg-friendly and thankful when I was somewhere that was. I tried to take it all in stride. In terms of my health, I'd say I did well, especially with exercise and nutrition. However, I still need to work on getting my mental health more balanced when it comes to my anxiety. I still struggle with it more than I'd like to admit.
2. Blogging: focus on quality over quantity
I definitely worked hard on my recipe creation, photography, and writing in 2011. There are still a lot of things I want to improve and work on, but that's the beauty of the beast!
3. Write a vegan cookbook proposal + sign with publisher + start cookbook testing and writing process
I honestly did not think that I was going to come close to making this goal, but things took a sudden turn for the better in the fall. I signed with a wonderful literary agency and planned on finishing my proposal in February 2012 (the proposals are often over 50 pages, so I gave myself a few months). However, I was contacted by a publishing house in November asking me to send them my cookbook proposal. Needless to say, this lit a fire under my butt and I was working on it like crazy until 2 or 3 in the morning every night. Two weeks later, my agent sent it to our list of favourite publishers and since December, I've been having conference calls with them discussing our ideas for the book (scary!). Because this process can take a while (especially over the holidays), I've already started working on my cookbook to get a jump start, creating new recipes, writing, and trying to get a handle on this crazy process. Hopefully, I will have good news to report to you soon! If not, I'm still going to keep working on the book and chasing my dream.
4. Save 10% of monthly gross income into high interest savings account.
I saved a bit, but definitely not 10%. One of my goals in 2012 will relate to how I'm going to improve this area. I need a budget overhaul and I think mint.com is going to be involved.
5. Run a 5k race
As it turned out, I didn't race at all in 2011, which was a big contrast to 2010. I never would've guessed that I wouldn't make this goal, but I ended up focusing on strength training, spinning, yoga, and running for pleasure. It was a nice change! I guess I just wasn't in the race mode in 2011. I did run a few speedy 5ks on my own for free though. :)
6. Raise money for charity
This was a big success in 2011, thanks to YOU! We raised a whopping $7,200 for the Japan Disaster Relief Fundraiser, in addition to various other bake sale charities over the year. Thank you for your generosity!
7. Do Body Pump class a minimum of one time per week
I don't think it averaged out to once a week all year long, but I was happy with getting back into my strength training this year. I'm not renewing my gym membership in 2012 (as an effort to save moula), but I will tell you what I'm going to do for home workouts instead.
8. Take a photography course
Sadly, this didn't happen, but it's still on my list of things I want to do (Eric too!).
9. Ireland or bust
Well, I guess it was a bust! We didn't end up going to Ireland, but we were blessed with a visit from our Irish relatives instead! We'll make it there some day.
10. Meditate 3 minutes per day
I'm seriously dying laughing right now thinking about how big of a fail this goal was. I tried…I really did. I remember sitting on my office floor on January 1st, turning off the light, and setting the timer for 3 minutes. What felt like 5 hours later, I got up, feeling a bit more stressed than before I started. I even tried a meditation CD at one point, but I couldn't stop laughing at the guy's creepy voice long enough to meditate.
I've come to learn that I relax by doing things. My best meditation probably happens when I'm at a yoga class (even if I do force myself to wait until a few people leave the room before I leave Shavasana…)
On that note, I haven't been to yoga in a downward dog's age, so I best fix that.
11. Wild Card
The wild card was started in 2011, but ultimately was not finished yet. I'm hopeful I'll be able to tell you about it in 2012!
~~~~~
Another year gone. Many experiences. Lessons Learned. Laughter. Mistakes made. Great memories. Tears. Chances taken. Disappointments. Blessings. Love. Goals completed. Goals not completed.
…and that's why we look forward to a fresh start each year to do it all over again.
Here's to 2012 and all it will bring. Decorations and all.