Hello, beautiful.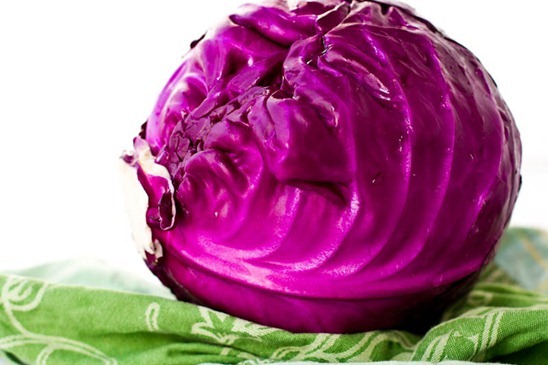 I have a secret to share with you about food photography.
Don't eat all the food before you photograph it!
I've been there before. It usually involves Holly nog smoothies and Chocolate Cake Batter Smoothies.
Want to know another secret?
Photograph an easy subject, like fruit and veggies.
They do all the work for you. Run water over them before shooting and they glisten for the camera. Easy!
Not so easy?
Try taking pictures of a black bean dip. Then help me fix mine. I may hurl.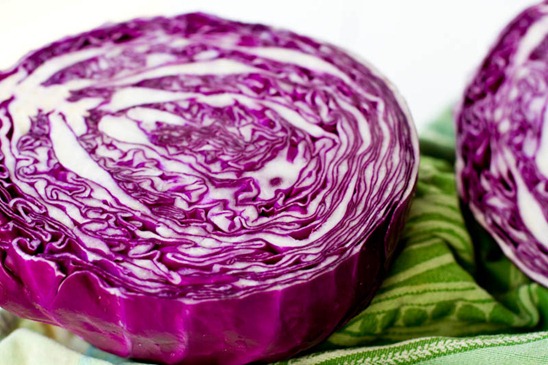 But let's talk about the actual food for a minute. Can you believe this is the first time I've made a recipe with a red cabbage?
I'm guessing I'm probably not alone.
What the heck do I make with it?
Soup?
slaw?
more soup?
stew?
Being the planning-challenged gal that I am, I put this huge cabbage in the shopping cart and let it take up valuable refrigerator real estate for 1.5 weeks. Every time we opened the fridge a clunky, purple bowling ball would roll out at us.
Eric finally said, "Are you doing something with that thing or should I throw it in the woods?"
sigh.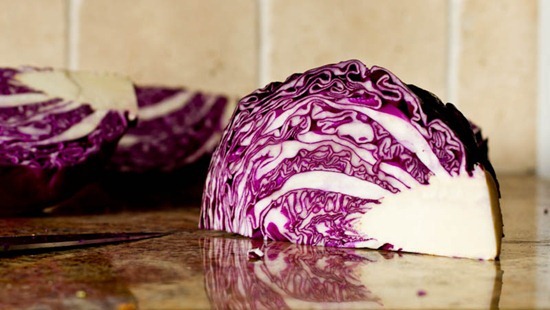 It got so annoying, I just said, FINE I'LL EAT IT…and I hacked it up with a knife.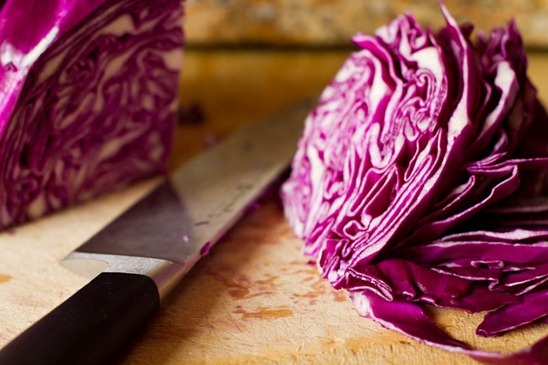 Only when you hack it up with a knife, it quadruples in volume.
DOH!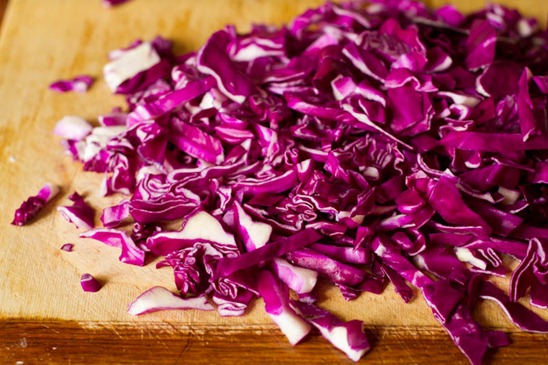 Keeping my 12 Days of Healthy Dinner Recipes in mind, I decided to turn this cabbage into a hearty salad after coming across this recipe for inspiration. To make it a meal, I added quinoa, a complete protein, to go along with it.
I really did not think this was going to taste good…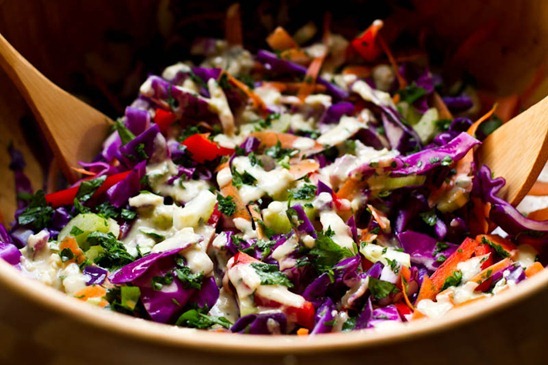 But I've been wrong before and I'll be wrong again.
To make this salad, start by slicing your cabbage in half, through the stem. Now slice each half in half again to make quarters. Then, make 1/2 inch slices and roughly chop it all up. It doesn't need to be precise or perfect!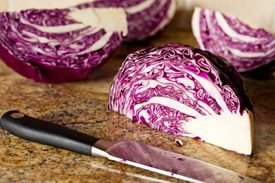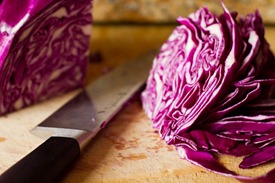 Want to know the secret to eating a "raw" cabbage salad? You pour boiling water over top of it to lightly soften it. Then run cold water over it immediately after.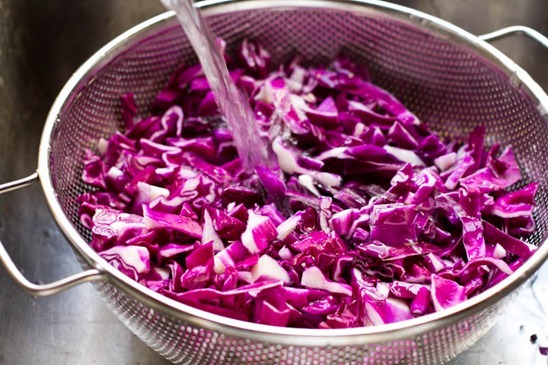 Now thinly slice a red pepper into strips and cut strips in half.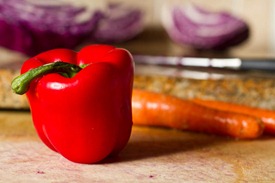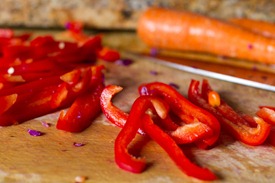 Shave a carrot with a peeler and chop a few celery sticks: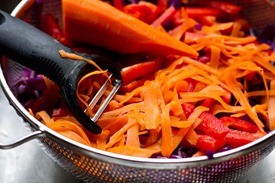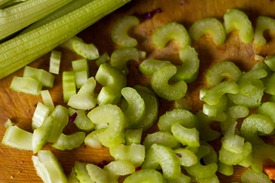 This is when I started to get excited about this meal. It's just so vibrant!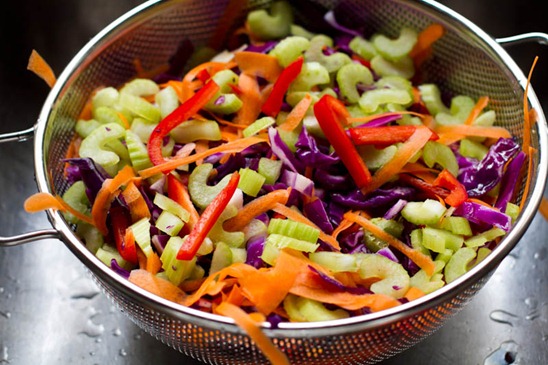 Oh, add some finely chopped fresh herbs for a nice flavour. I used parsley.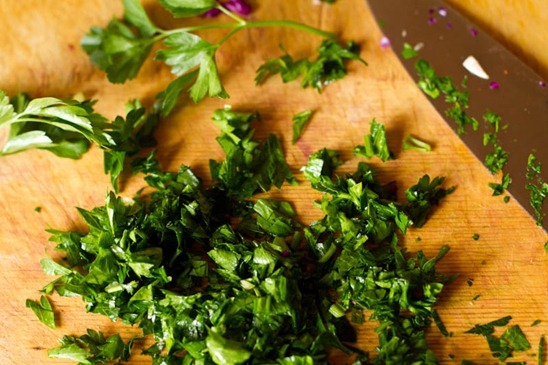 I kinda flip-flopped on the salad dressing.
At first, I was going to make a vinaigrette, but I thought a salad this hearty and dense needed a thicker dressing. So I turned to my favourite Lightened-Up tahini-lemon dressing, thinking that it could be the perfect match…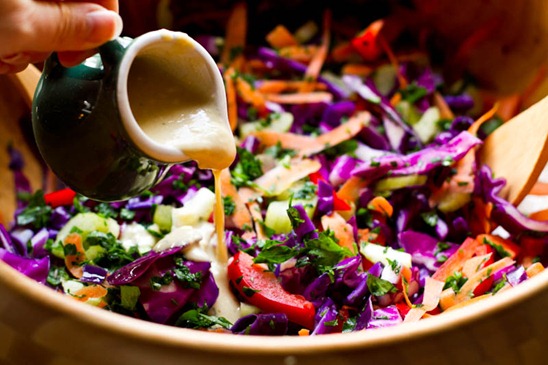 I've been right before and I'll be right again. :)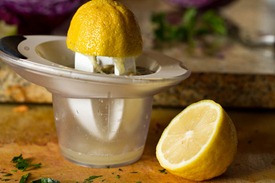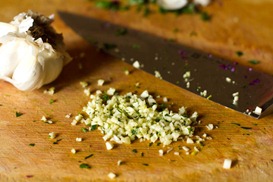 I'm convinced you could pour this dressing on a piece of cardboard and it would taste good! I know many of you also love this dressing because you write me about it and then we talk about how we can't help but drink it with a straw. Or something like that.
When I made it, I almost forgot to add the nutritional yeast and kept tasting it thinking something was majorly off…it was thinner than usual and a bit too lemon-y. Once I added the nutritional yeast it thickened up and tasted just how I remembered….finger-licking good. If you don't have nutritional yeast but still want to make it, I would suggest using less lemon juice and maybe not adding the bit of water. But yea, use the nooch if you can.
I made a half batch, but now I'm already wishing I made the full batch…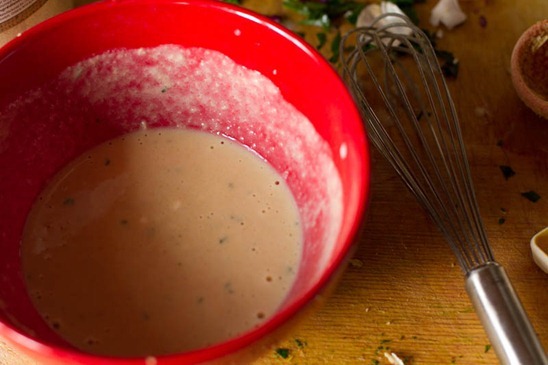 Mix it all up, add on some toasted sesame seeds (or hemp seeds), and you have yourself a killer, nutrient-packed salad.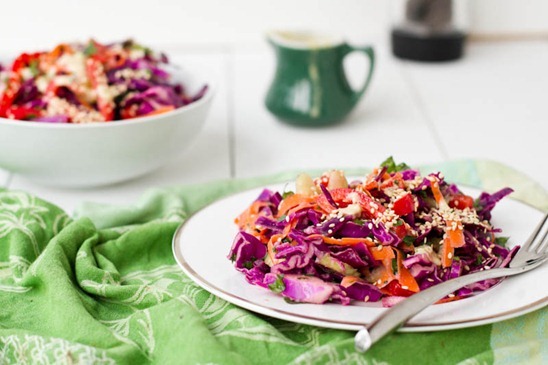 [print_this]
Over The Rainbow Cabbage Salad with Tahini-Lemon Dressing
Purple vegetables, such as this cabbage and others like eggplant and blueberries, contain anthocyanins. Anthocyanins are chemicals that protect body cells, decrease the spread of cancer cells, and more (source). Be sure to add some toasted sesame seeds (or hemp seeds would work) on top to compliment the salad nicely. I served it with fluffy garlic "buttery" quinoa, as a complete protein source.
Yield: 4 servings
Ingredients:
About 6-7 cups of roughly chopped red/purple cabbage (I used 1/4 of a large cabbage)
1 carrot, shaved with a peeler into 2-3 inch strips
3 celery stalks, chopped
1 red pepper, thinly sliced
2 handfuls of fresh parsley, chopped finely (or use other herb)
Half a batch of Lightened Up Tahini-Lemon Dressing (or make the full batch and save for later)
3-4 tbsp of toasted sesame seeds (or use hemp, sunflower, etc)
Salt & pepper, to taste ( I used Herbamare)
1. Preheat oven to 325F. Toast the seeds for about 8-10 minutes, watching closely. Remove and set aside.
2. Add several cups of water into a kettle and bring to a boil. Lightly rinse the cabbage and slice in half, through the stem. Slice each half, in half again and roughly chop. You'll want about 6-7 cups.
3. Add chopped cabbage into a strainer in the sink and pour the boiling water over top. Quickly rinse with cold water. This helps soften the cabbage slightly. Roughly dry the cabbage with a hand towel.
4. In a large bowl, mix the chopped celery, pepper, cabbage, shaved carrot, and parsley.
5. Prepare the dressing by whisking all ingredients together in a medium sized bowl. The salad tastes best when the dressing is mixed just before serving, so I suggest you portion out how much salad you will be eating for the meal and then add on your desired amount of dressing & mix well. Wrap up any leftover salad and place in the fridge and do the same with the leftover dressing.
Note: I wasn't sure if I would like this salad so I didn't make a crazy amount, but next time I would probably double the salad (and make the original dressing amount) to use up more of the cabbage. I had about 3/4 of the cabbage leftover!
[/print_this]
I served the salad with some "buttery" garlic quinoa. After cooking 1/2 cup of quinoa, I fluffed it with a fork, sprinkled on Herbamare and garlic powder, and then added a tablespoon or so of Earth Balance. It was to die for!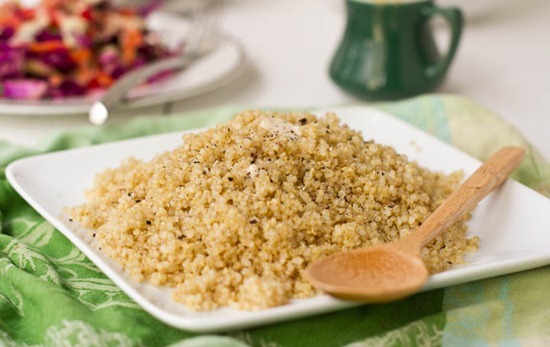 This meal made me feel so good…I was doing a happy dance in the kitchen. It was just the right mix of veggies, healthy fats, protein, and carbs to keep my energy buzzing along. Eric also really loved it too, even though he said he probably wouldn't like it. I think we both surprised ourselves.
I must say, it feels great to get back into the healthy meals after a bit of a hiatus. I sometimes forget just how good I feel when I eat this way.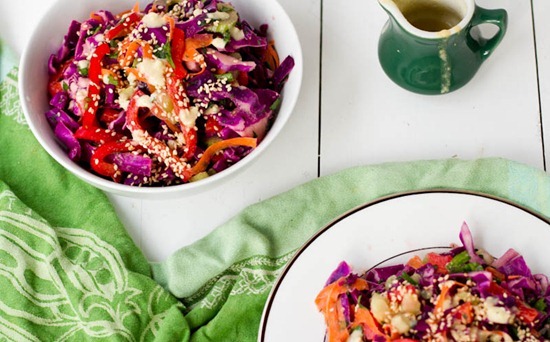 Now, the question is…what the heck do I do with the leftover cabbage? I barely made a dent in it!