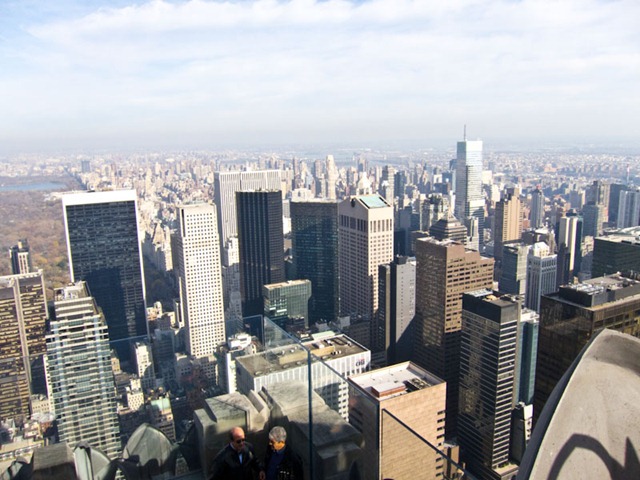 Day 3, the final day in NYC! More walking, more exploring, more great food, and more blisters! Eric joked that I had more moleskin on my feet than an ultra marathoner. A word of advice: Do not break in shoes on a trip to NYC!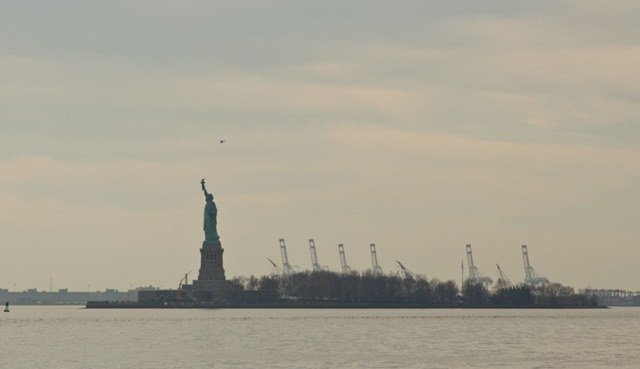 We picked up a few Christmas gifts at FAO Schwarz, a huge toy store filled with neat things.
Fish's Eddy…a really cool kitchenware store!
It's too bad I couldn't pack much in my suitcase or this store could have been trouble!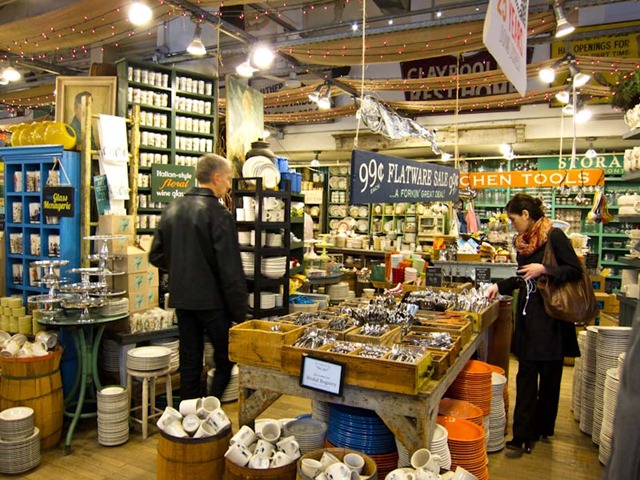 I love all of their bright coloured dishware.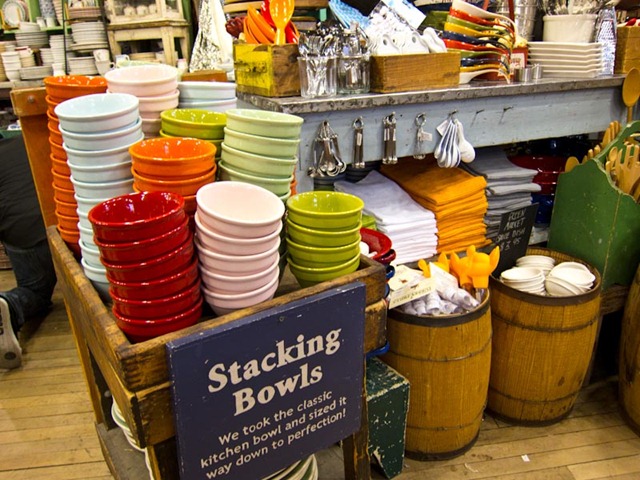 Then we ended up at the Union Square Market.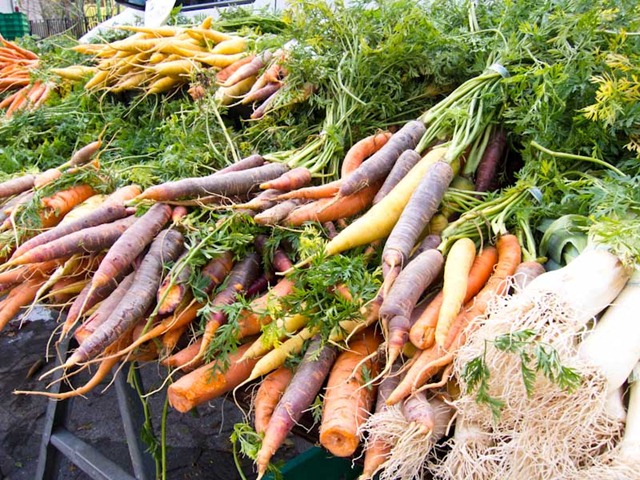 What a GREAT market! This was so much fun.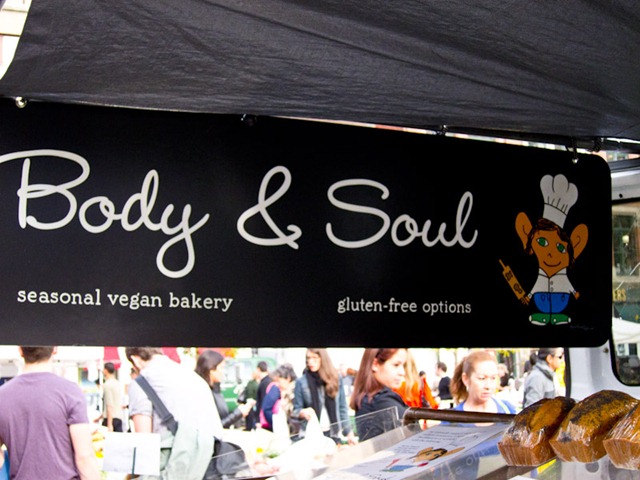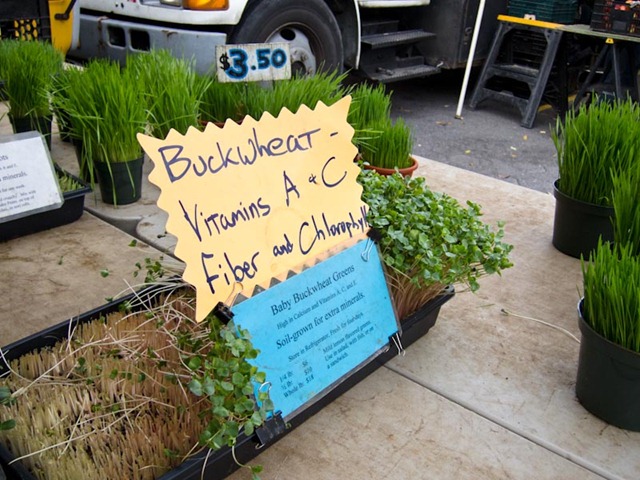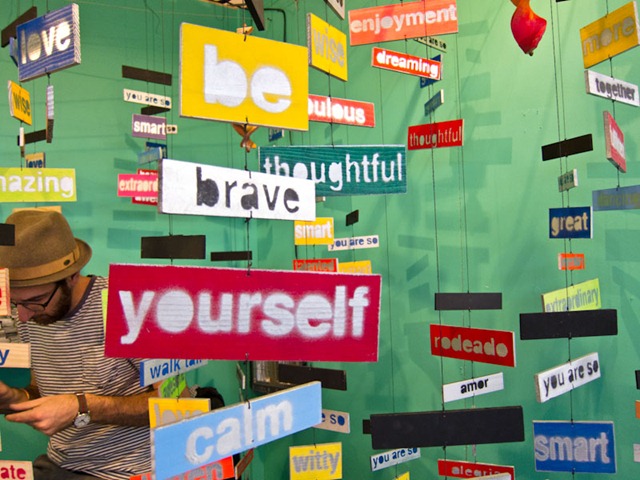 I picked up something I've been looking all over my hometown for…Smoked Paprika!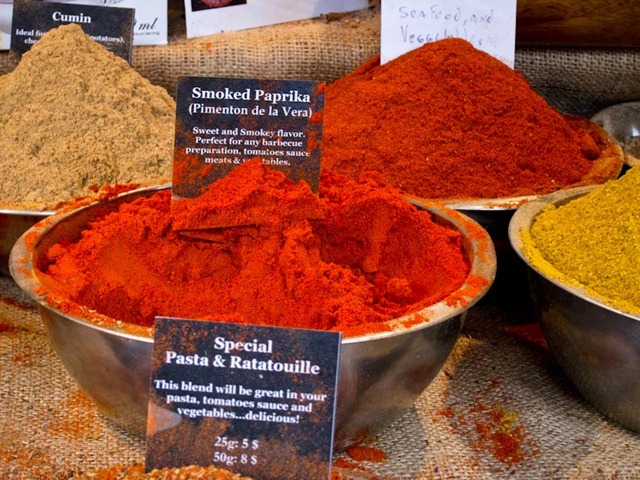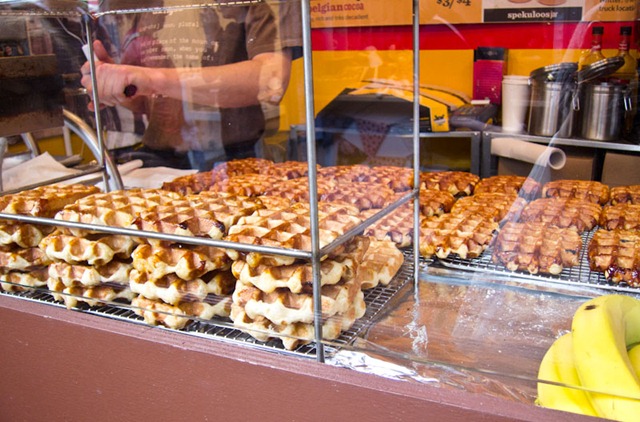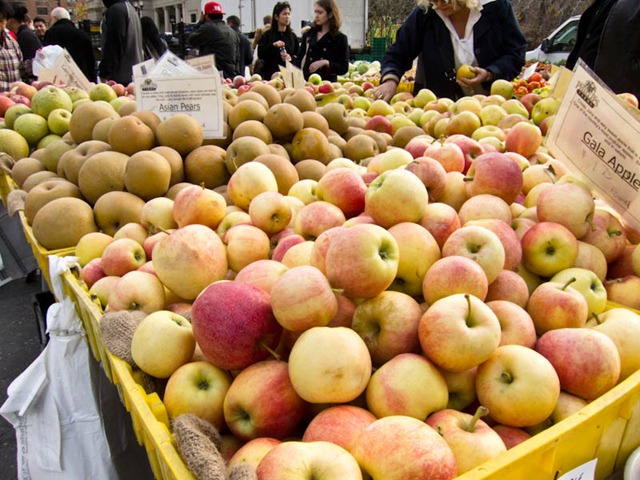 We got some HOT mulled apple cider. I burned my tongue over all the excitement.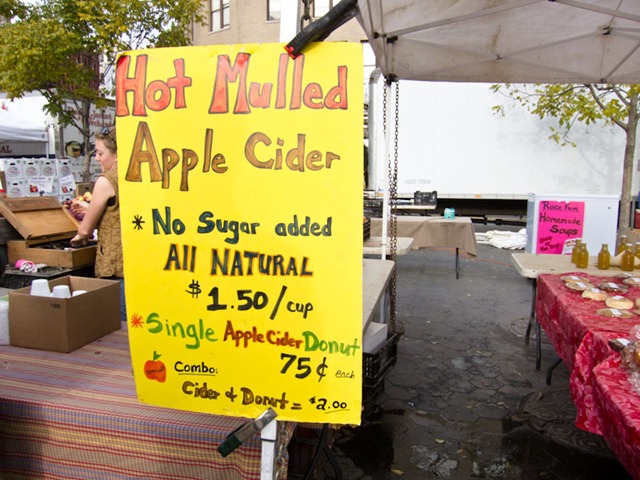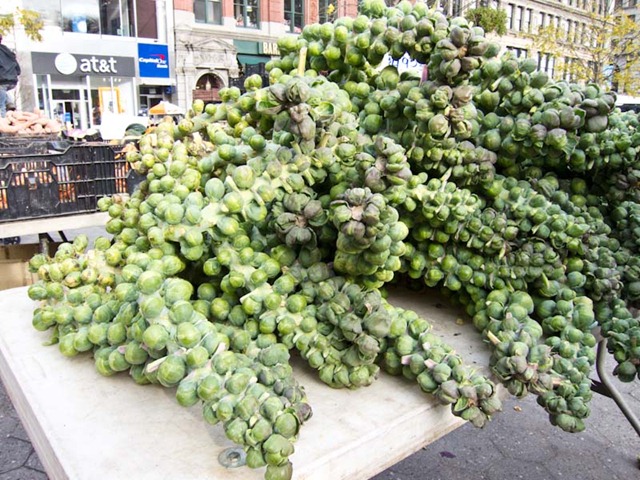 After the market, it was time to eat again! Walk and eat. Eat and walk. This time, we had lunch at Angelica Kitchen.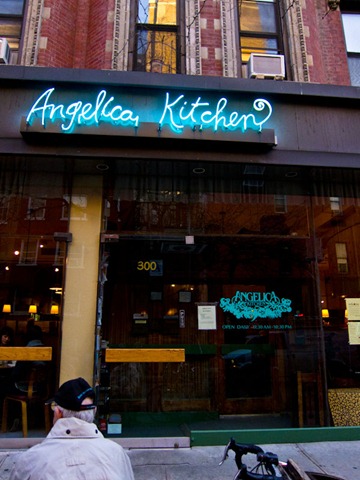 Eric ordered the cold apple cider and I ordered a veggie juice.
Mid-drink I realized there was a celebrity sitting outside the restaurant! It's Liev Schreiber from X-men & other films. He was on his cell phone for a good 30 mins or so.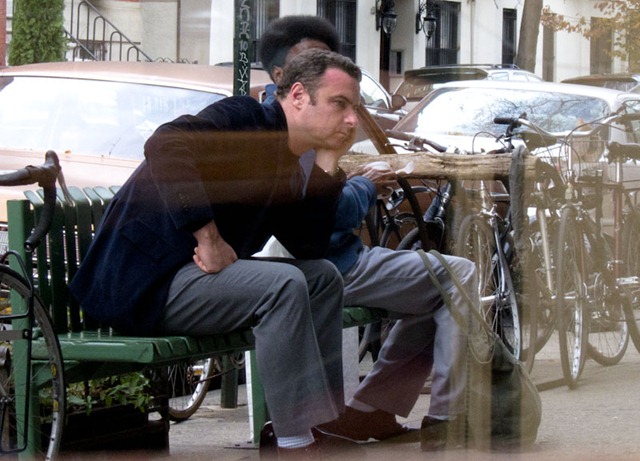 We actually had no idea what his name was so we sent the pic to a friend who quickly identified him for us. :)
I read that his mom raised him a vegetarian, so maybe he had been dining in the restaurant?
To start, we shared the Agrarian Salgado made up of baked rounds of mashed Yukon Gold potatoes and herbed seitan with a parsley-almond pesto centre; topped with dill-tofu sour cream & garnished with piquant marinated kale.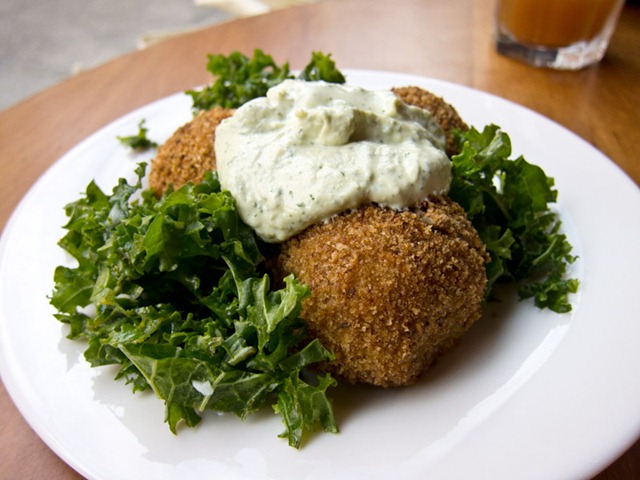 Oh my word this was fantastic!!! One of our fav dishes of the entire trip! It tasted just like a croquette, but only better. The dill sauce was outstanding too.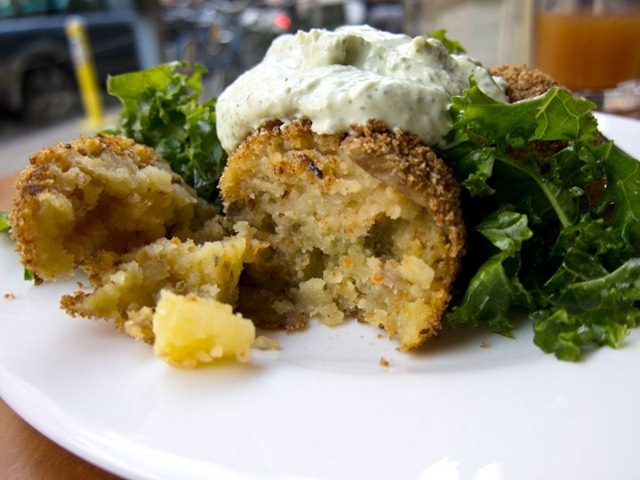 We also got some sourdough on the side with onion butter.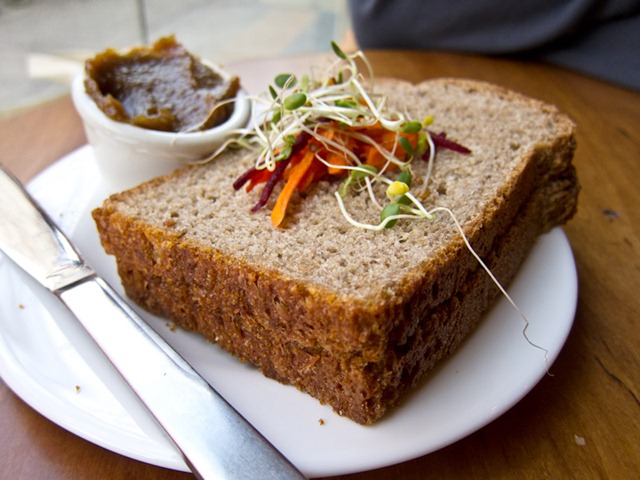 For Eric's main, he ordered one of the specials- "Tales of the Onion" made up with savoury quinoa-vegetable croquettes with b'nut squash, carrots, celery, and chopped parsley; crowned with tarragon cream and served over green split pea sauce. It also came with broccoli and roasted turnips garnished with tatsoi and radicchio.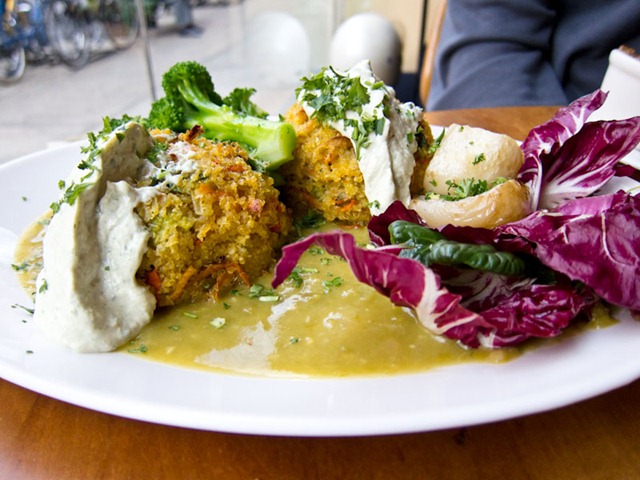 He raved about this dish…as did I. The croquettes were really flavourful and crispy and the sauces went lovely with the dish.
I ordered off the special menu too- the "A-meze-ing Stories" which is a Mediterranean meze plate featuring an assortment of vegetables including grilled portobello and button mushrooms red & green peppers, onions and carrots served with a creamy white-bean basil pate, baked garlic chips, and a spelt-berry salad tossed with a hazelnut kalamata olive-caper pesto.  With Brussels sprouts and arugula too. That was a mouthful!!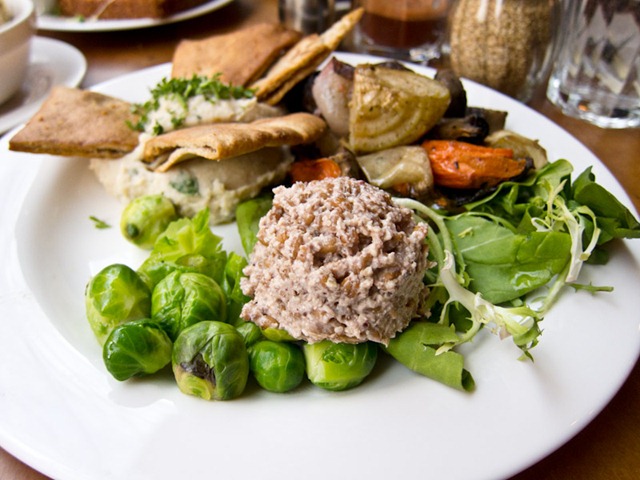 It was also incredible. I thought the hazelnut olive caper pesto was a really fun idea for a pesto. Normally, I'm not a big olive fan, but I really enjoyed it.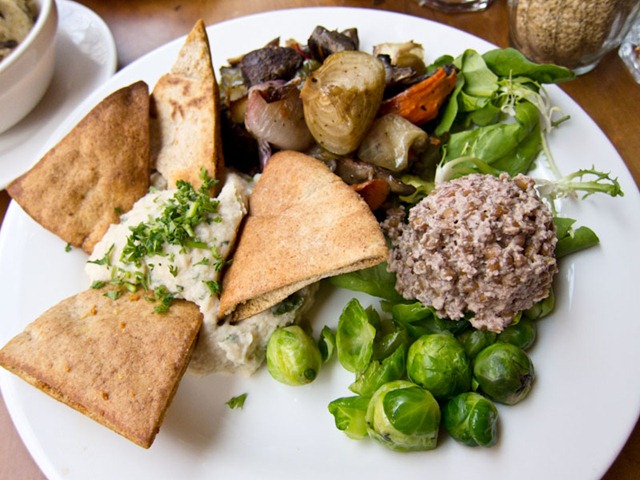 Wait, I just remembered I had more with my meal! A side of sea vegetables and quinoa. :)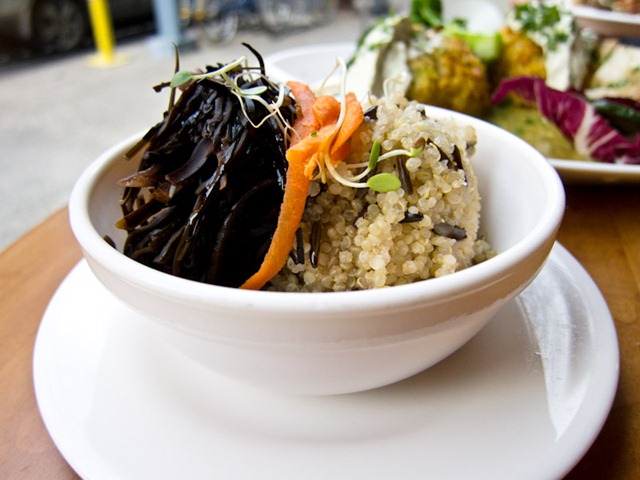 With "no room left for dessert", we each enjoyed some tea before heading out to explore the rest of the afternoon.
However, SOMEHOW we ended up stuffing our faces with vegan baked goods not long after!! I really have no idea how this happened…
Hello Babycakes!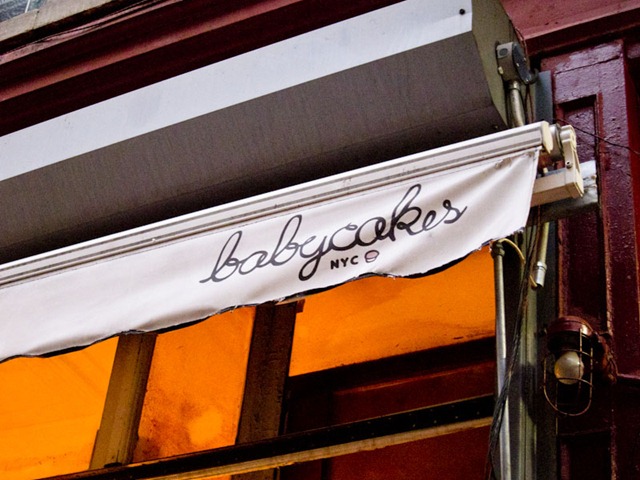 This was our second stop into Babycakes.
It's a little hole in the wall down some random side street…it took us a while to find it! The interior is really cute, but they have a sign saying no pictures.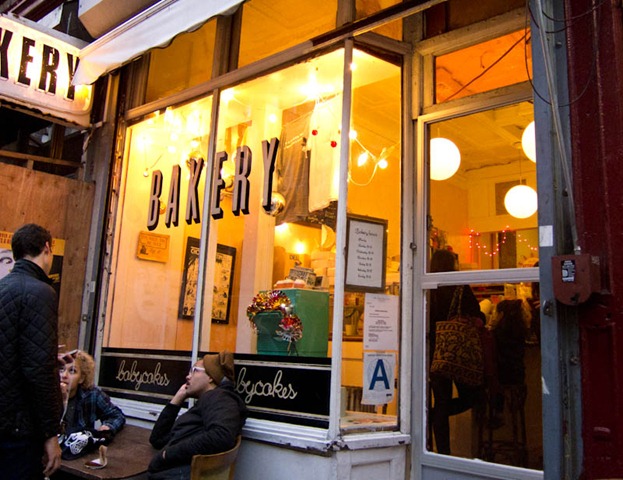 I've heard great things about the Babycakes' apple toastie bread as well as the doughnuts, so I picked up an Apple Cranberry Toastie, pumpkin cupcake, and a chocolate crunch doughnut.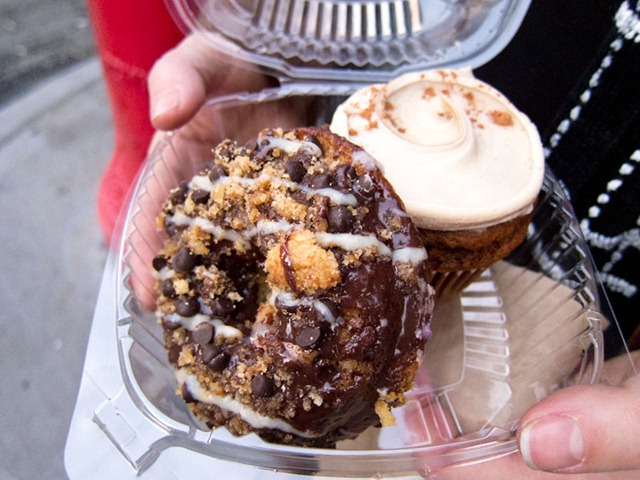 Apple cran toastie: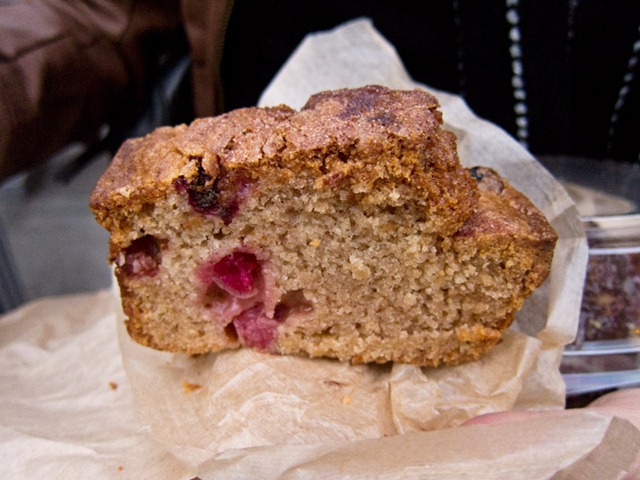 They were all delicious. I think my fav was the toastie bread and Eric's was the doughnut. Very fresh and sweet, but not overly so. We shared the doughnut and then saved the rest for later…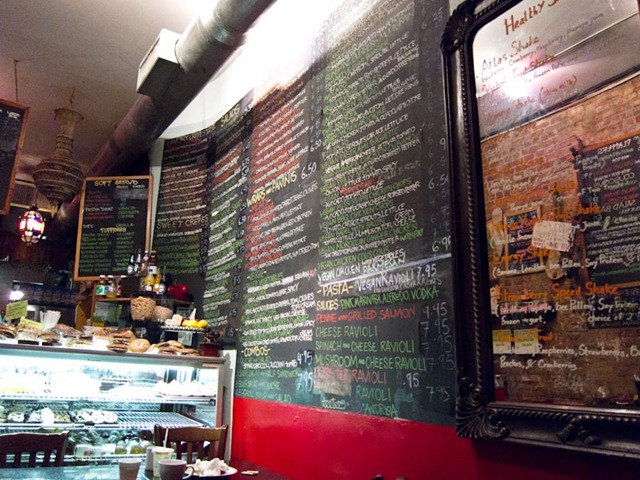 I also had something else on my list to try from Atlas Cafe in East Village. This is such a fun cafe with a HUGE menu written all over the walls in chalk.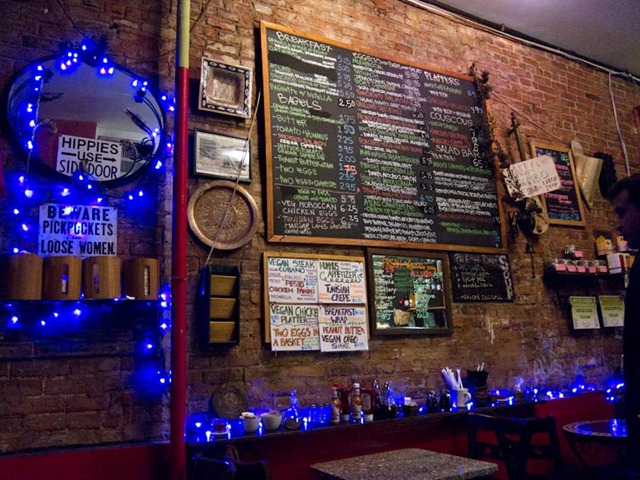 Then, somehow this happened…
We shared a pumpkin cupcake from Babycakes and a Peanut Butter BOMB Brownie (added to clarify about the brownie: by Vegan Treats) as found in Atlas Cafe.
OMG….that brownie!!!!! Check it out.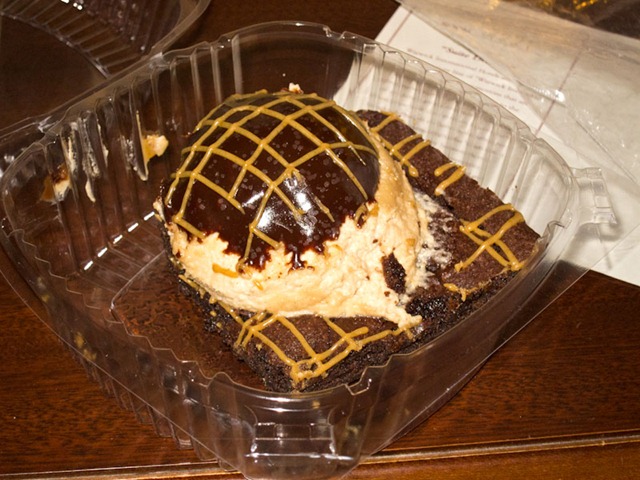 Here is a better picture of it: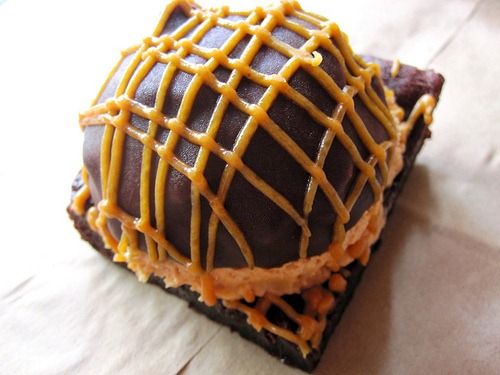 [source]
It's made up of a thin and dense brownie base topped with a cloud-like peanut butter mousse, a chocolate shell, and a peanut butter drizzle. Heaven.
This brownie is on my must make list. It was one of the best things we tasted on the trip, hands down.Eric doesn't even like peanut butter and he could not stop gushing over this brownie. If you are near Atlas Cafe anytime soon you gotta order a PB bomb brownie as soon as possible. You won't regret it!
We ended the trip with a great meal at Pure Food & Wine, followed by a stop at a bar on the way home. It was a great finish to the trip.
For just 3 days, I think we really packed in a lot! Literally. ;)
Has anyone seen my elastic waist pants?