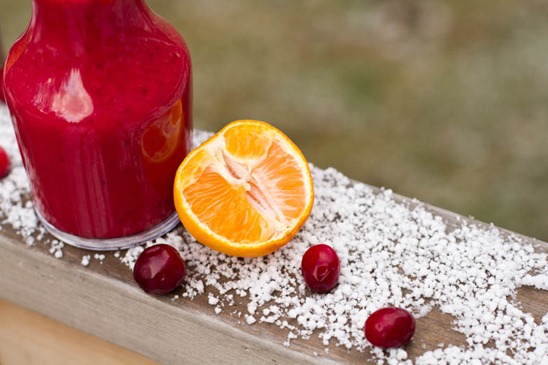 Pop Quiz: Shredded Coconut or snow?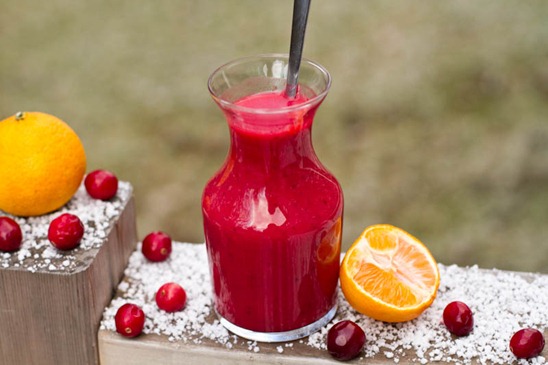 Answer: Shredded coconut
……just joking!
It's snow. We had our first dusting of snow today and it made for a nice backdrop for a few photos.
The snow also made for a near-death experience while carrying the camera, tripod, plate, and salad dressing across the slippery deck. This may have been due to wearing Eric's Size XXL Crocs… Or at least they felt that big on my small feet!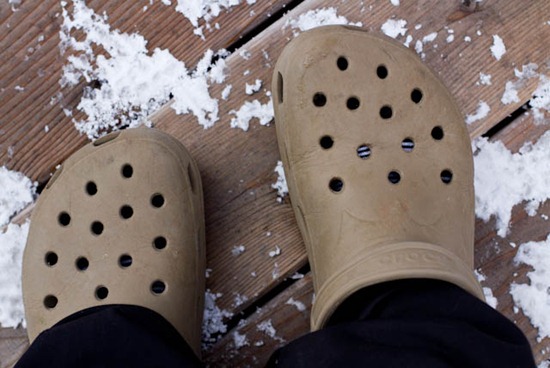 Anyways, back to this dressing. I'm in love with it. That's really all there is to say.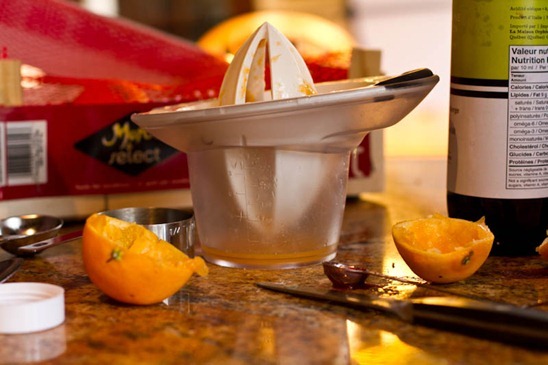 I've wanted to make a fall-inspired salad for a long time now. I made one back in September, but I just couldn't get the dressing right. For some weird reason, I got stuck on making a cinnamon-spiced almond butter dressing, but sadly it didn't live up to the dream. Eric and I both thought it just tasted all kinds of wrong. I think he may have gagged. bahaha.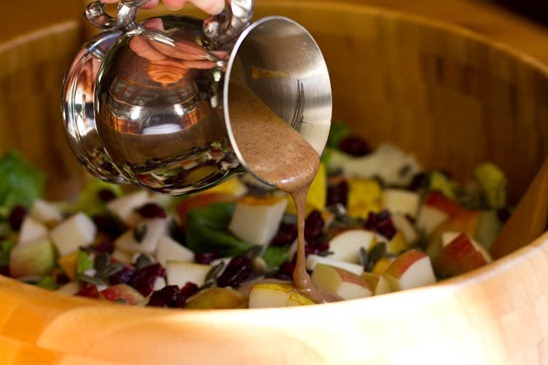 I was back at it yesterday and I'm really happy with how this salad turned out!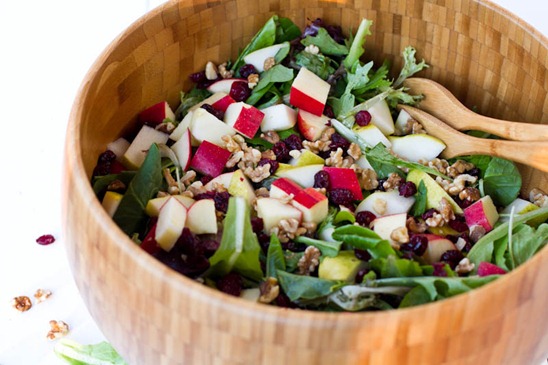 This time, I was stuck on a cranberry-orange dressing. I ended up using frozen cranberries, maple syrup, apple cider vinegar, extra virgin olive oil, fresh clementine juice, kosher salt, freshly ground pepper, and Dijon mustard for the dressing.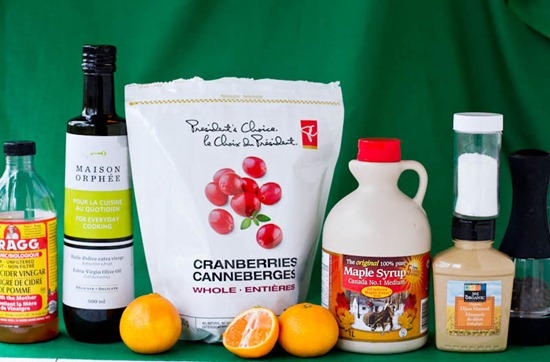 You can use fresh or frozen cranberries and any type of orange juice you prefer. Fresh is always nice if you have it, but you can use 100% pure orange juice from a carton too. I used some clementines because we had a big crate to use up.
Start by cooking the cranberries in a pot along with the maple syrup and vinegar. Cook them over low-medium heat for about 7-10 minutes, until they burst. They will look like this: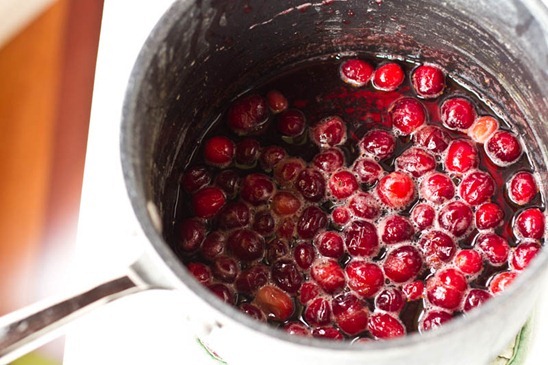 Dear Santa, please bring me new pots. I'll make you chocolate chip cookies. Love, me.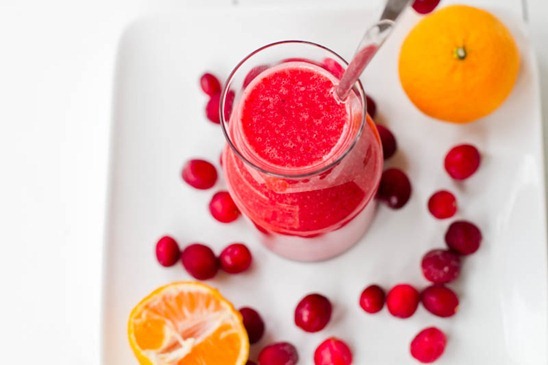 Then I added this cooked cranberry mixture into my blender and blended it along with the rest of the ingredients. The result is a gorgeous berry coloured salad dressing that is sweet with a light tangy aftertaste.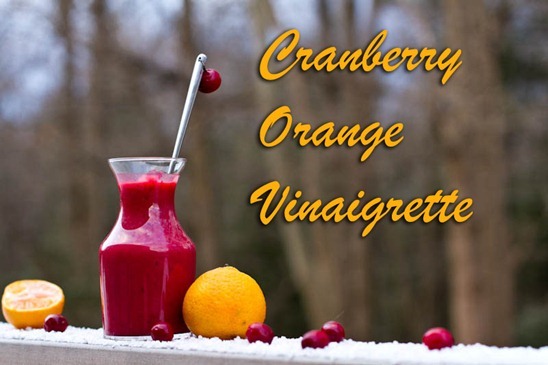 [print_this]
Cranberry Apple Orange Vinaigrette
Cranberry, maple, apple, and clementine make one lovely stand-out holiday dressing. This festive cranberry dressing is sweet with a light tangy aftertaste. Feel free to use more or less maple syrup to adjust to your own taste buds. You can also use any type of sweet citrus that you prefer.
Yield: just over 1 and 1/4 cups
Ingredients:
1 cup fresh or frozen cranberries
1/4 cup + 2 tbsp apple cider vinegar
1/4 cup pure maple syrup, or adjust to taste
1.5 tsp Dijon mustard
1/2 cup + 1 tbsp fresh clementine or orange juice (or use bottled)
2 tbsp extra virgin olive oil
1/2 tsp kosher salt, or to taste
Freshly ground black pepper
1. In a medium pot, heat the cranberries, maple syrup, and vinegar over medium heat until the cranberries burst, about 7-10 mins.
2. Slightly cool cranberry mixture and place in a blender along with the rest of the ingredients (except salt and pepper). Blend until smooth. Now add salt, 1/4 tsp at a time, to taste. Blend again. Adjust other ingredients to taste if necessary. You may want more maple syrup than I used. I liked this dressing with a bit of tart aftertaste to really let the cranberries shine. Place in fridge to chill. Should keep in fridge in an air-tight container for up to 5-7 days.
[/print_this]
I had a lot of fun with this salad! Man, it feels like I haven't had much colour in my photography lately so this salad was welcomed.
Pop Quiz: What backdrop do you like best?
Green: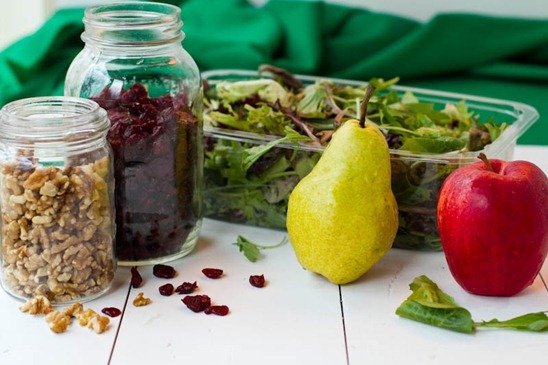 Orange: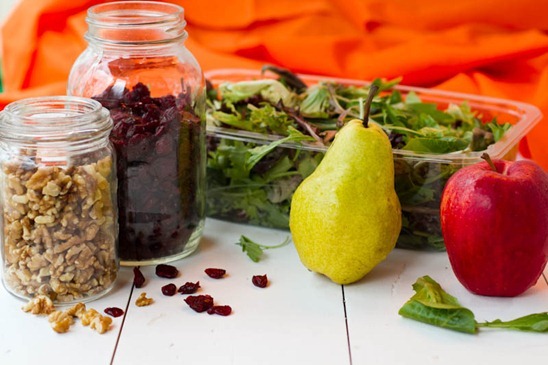 Blue: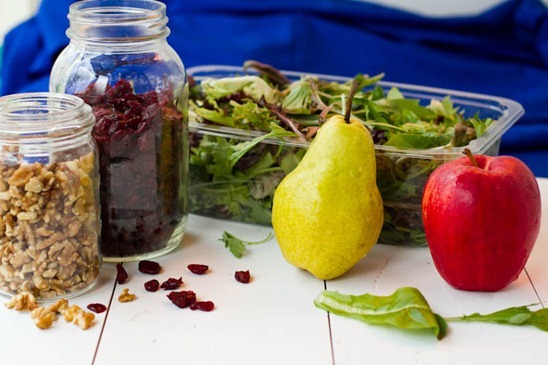 White: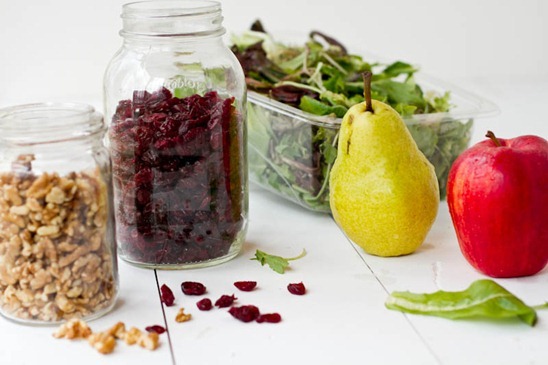 Holiday #1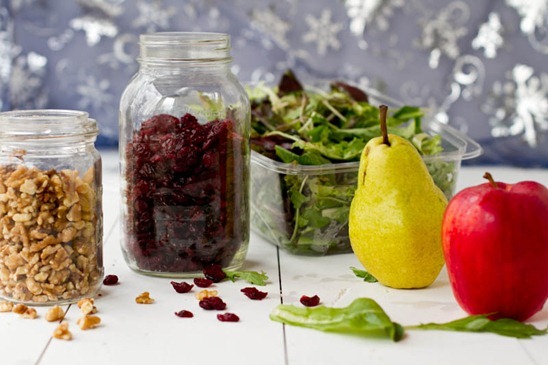 Holiday #2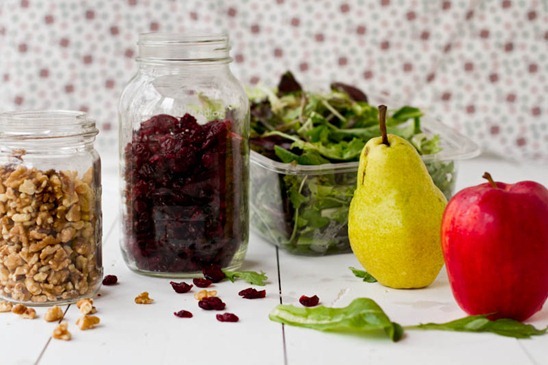 I bought some fabric at Fabricland this past weekend. ;)
I think my favourite backdrop in this photo is the royal blue colour.
Back to the salad. I get distracted by bright colours obviously!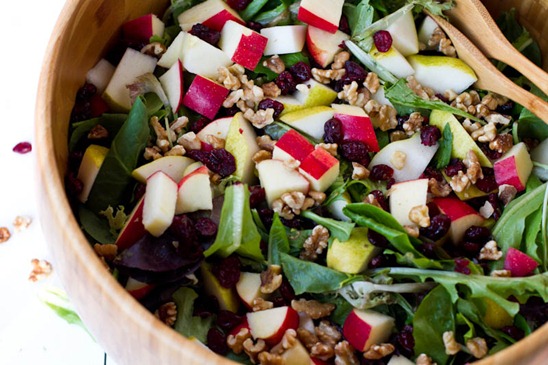 Holiday Salad with Apple, Pear, Cranberry, and Walnuts
Who says holiday dinners have to be unhealthy? Fuel up on this for more energy to kick Uncle Joe's butt!
Serves: 6-8
Ingredients:
1 large box of organic mixed greens (or greens of choice)
1 large apple, chopped
1 large pear, chopped
1/2 cup dried cranberries
1/2 cup chopped walnuts, lightly toasted
1/4 cup pepita seeds, optional
Cranberry dressing from above
1. Add washed and dried greens into a large salad bowl. Add toppings and serve. Drizzle with cranberry vinaigrette.
You know I got all fancy pants on you…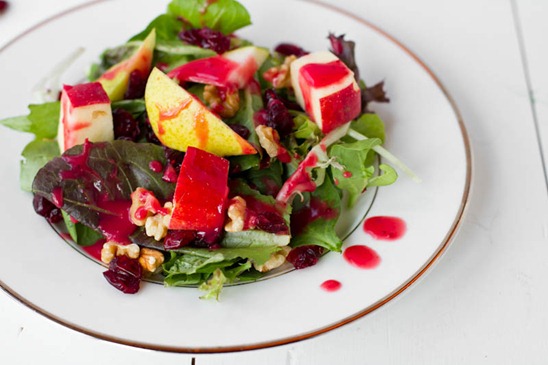 This dressing is the best for fancy pants designs on the side of the plate. You know you want to!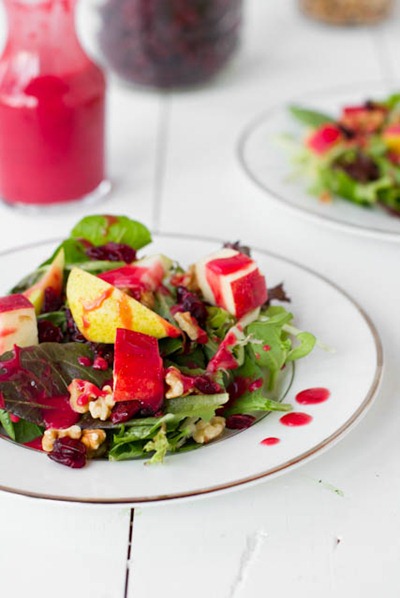 Love, the fancy pants who wears size XXL Crocs