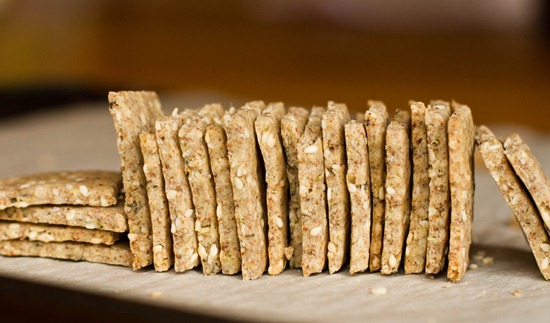 Have you ever been at a point in your life when you feel a creeping urgency to do stuff?
Important stuff. Fun stuff.
I'm not dead yet stuff.
I'm not getting any younger stuff.
Life Crisis stuff.
I need to stop watching Fall TV and get off my butt stuff.
Eric and I came to this conclusion the other night. We had an amazing conversation about life, goals, and making sure our days are meaningful.
Then we each made lists. Bucket lists. A bucket list is sort of like a to-do list, but much more fun. I've made a Fitness Bucket List before too. Some of these things below I'm already working on, but putting them on paper makes them more mindful, real, and exciting. The list is also a great motivator to get off the couch at night and do something other than watch TV!
Write it down. Dream big. Allow yourself to write "crazy" ideas. Some of mine include:
Learn how to horseback ride. Maybe even do a jump. Don't die.
Learn to play the piano. Play at upscale restaurants complete with sparkly evening gown. <—don't ask.
Create elaborate Halloween costumes complete with professional make-up.
Be a fashionista, or at least learn how to dress myself like a grown up instead of leaving the mall with a bottle of nail polish, a necklace, and another bra.
Write books. Cookbooks. Life books. Picture books. <—working on it
Manage anxiety better. <—working on it
Be a peaceful animal rights activist <—working on it
Take professional photography courses
Rescue dog from shelter
Stuff a piñata full of homemade vegan candies and beat the crap out of it with friends. Stuff face.
Start my own charity
Make the best vegan brownies of my life. <—Did it
Live in different parts of the world & travel
Weight train consistently <—working on it
Sign up for Toastmasters. Charm and dazzle. Pretend I'm George Clooney.
Make favourite cracker recipe. Repeat as necessary.
Did it.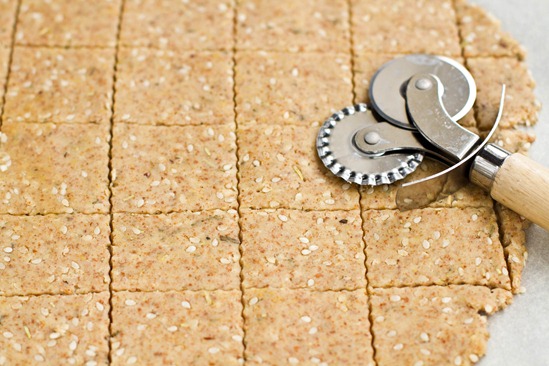 I've attempted to make crackers on a regular basis, but it never stuck. I realized if I'm ever going to make my own crackers regularly, they had to satisfy the following:
Healthy ingredients I'd feel good about eating on a regular basis
Low in added fat
DELICIOUS
Quick and easy to throw together
Jackpot.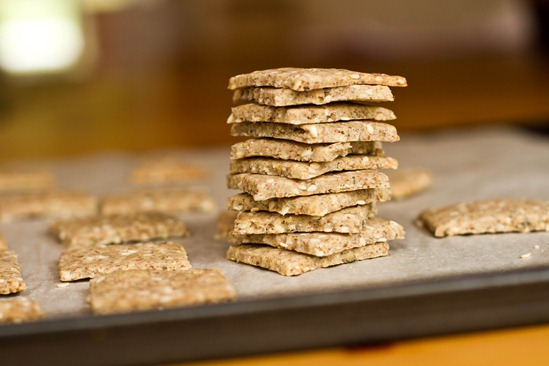 You might be thinking, how can rolling dough be quick and easy?
I know, I know, no one wants to roll out dough. Even when I see recipes that require rolling, I usually pass them by. Rolling out dough can be scary even for practiced bakers. But this dough is honestly so easy to roll out.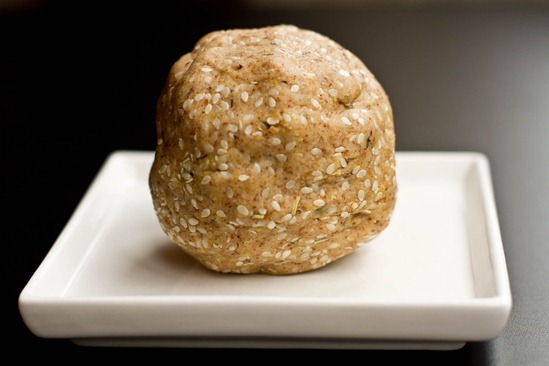 It's not sticky, rippy, or annoying in any way. Trust me, I would complain bitterly if it was.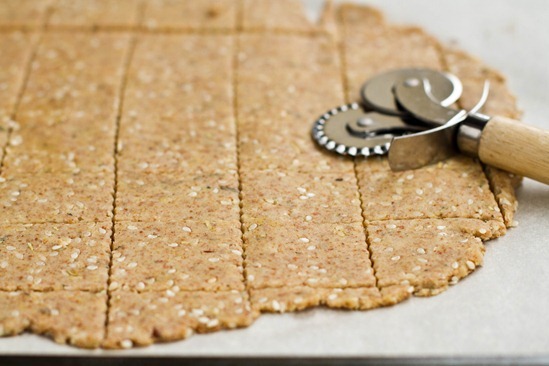 In minutes you have crackers ready to go into the oven.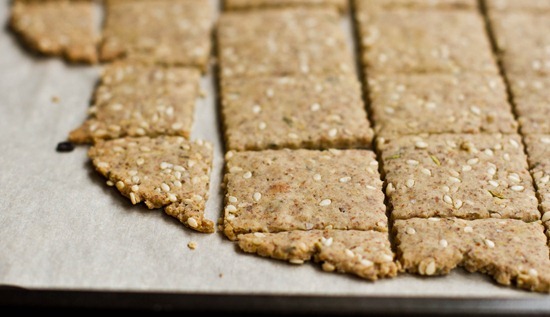 The only work you have to do after that is trying not to burn your tongue when they come out of the oven!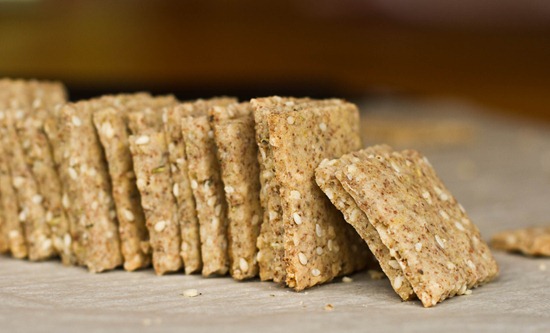 [print_this]
Easy Vegan & Gluten-Free Crackers
Easy, delicious, easy to roll, and endlessly customizable. Doubling the batch is recommended!
Inspired by Clean, Green, Simple.
Yield: approx. 35 [1.5"] crackers
Ingredients:
1/2 cup brown rice flour*
1/2 cup whole almonds*, ground into flour (or use 3/4 cup almond flour)
2 tbsp ground flax
1 tbsp nutritional yeast 
1/4 tsp garlic powder
1/2 tsp kosher salt
1/2 tsp dried thyme
1 tsp dried rosemary
scant 1/4 tsp baking soda
2 tbsp sesame seeds
1/4 cup water
1/2 tsp olive oil
1. Preheat oven to 350F and line a baking sheet with parchment. In a high-speed blender or processor, grind almonds into a flour. Do not over process or almonds will release oils. Sift flour before using to remove larger pieces. OR you can use store-bought almond flour.
2. In a large bowl, mix together the dry ingredients. Add wet ingredients and mix well with spoon. Knead dough with hands until it comes together. Shape into a ball.
3. Place ball of dough on parchment paper or a non-stick mat. Roll out dough until it's about 1/8th inch thick, or as thin as you can get it without ripping. With a pastry wheel or pizza slicer, slice into crackers.
4. Bake at 350F for 18-20 minutes until slightly golden in colour. I baked mine about 18 mins. and next time I will bake them for a couple mins. longer to get them crisper.
5. Cool on baking sheet for 10 mins. Store in air-tight container once fully cool.
*Note: Other flours might work in substitution for brown rice flour and almond flour, although keep in mind the flavour will change.
[/print_this]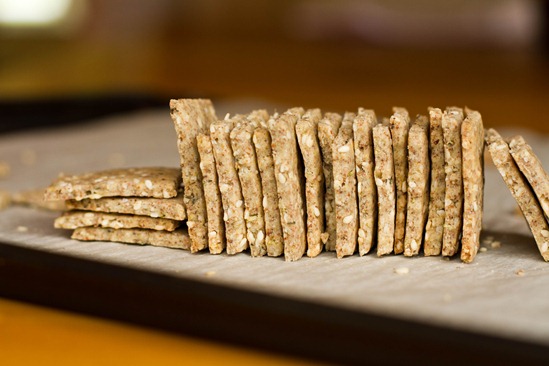 I finally feel like I've found "the one". I'll be seeing these again real soon, and next time, doubling the batch.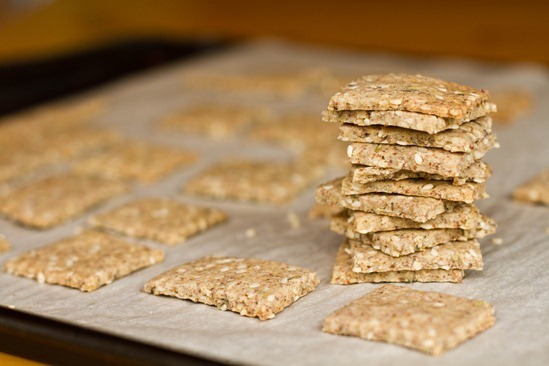 We enjoyed some with almond butter.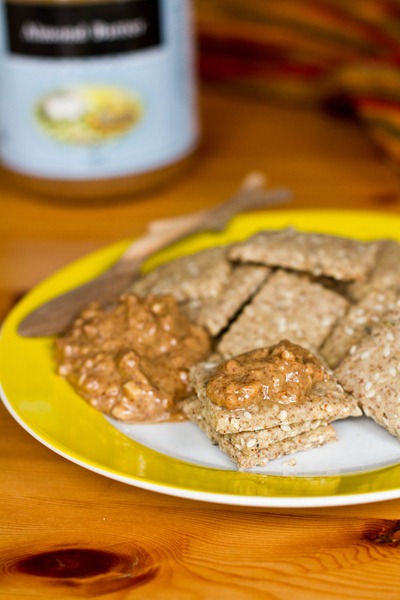 Mmm.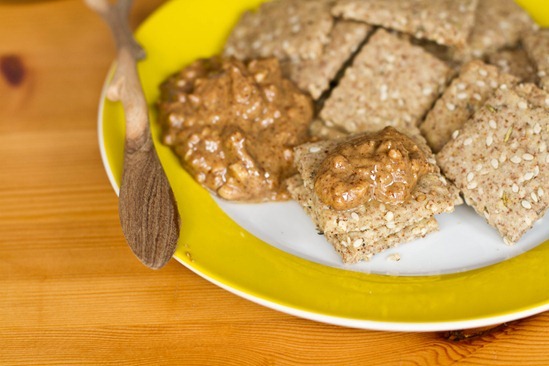 Best brownies of my life, you're next.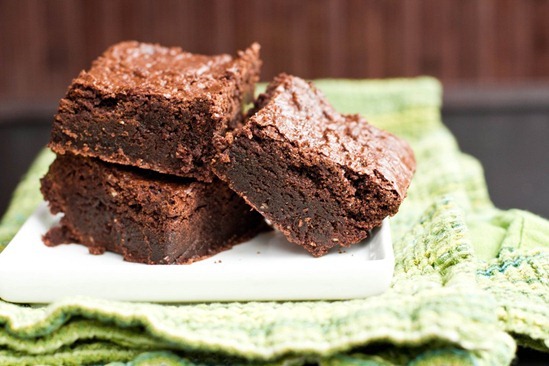 What's on your bucket list?
~~~
Today is the final day to vote in the Foodbuzz Awards! You can vote for all of your fav blogs here until 5pm Pacific time. Thank you guys for your support!