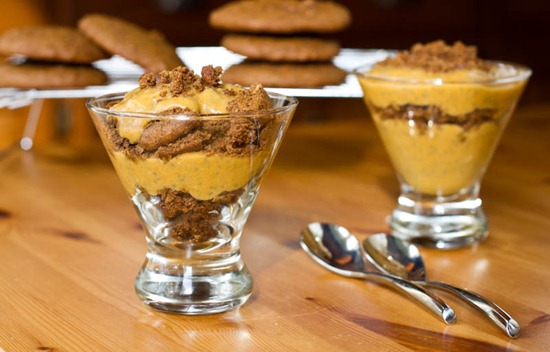 I know, I know quit it with the pumpkin recipes already! It's inadvertently turned into Pumpkin Week. I promise to lay off pumpkin after this.
Wait, no I don't. Who do you think I am here? I can't make any promises when it comes to pumpkin. I can only promise that I fell in love with this pumpkin pudding and I think you will too. I've made it 3 times already and it's strangely addictive.
I don't know why, but I haven't made chia pudding since 2009 or early 2010. I guess I didn't like it as much as I thought. I think the problem with my original attempt was that I made it too slimy. It was too heavy on the chia seeds (slim factor) and too light on filler ingredients.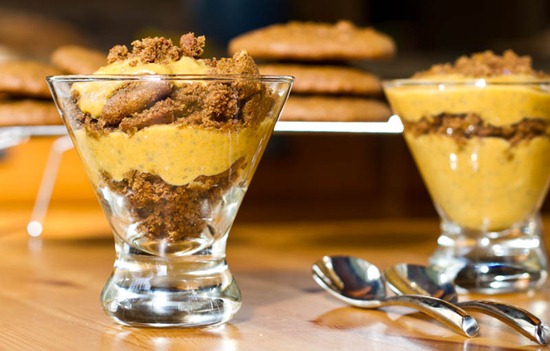 Last week while I was busy screwing up perfectly good pumpkin pies with avocado, I decided that I really want to eat an entire bowl of pumpkin pie filling. You know, normal thoughts. If you've made the Pumpkin Pie Brownie you probably know how delicious the pumpkin filling is! I could live off that stuff. Or I wish I could live of that stuff.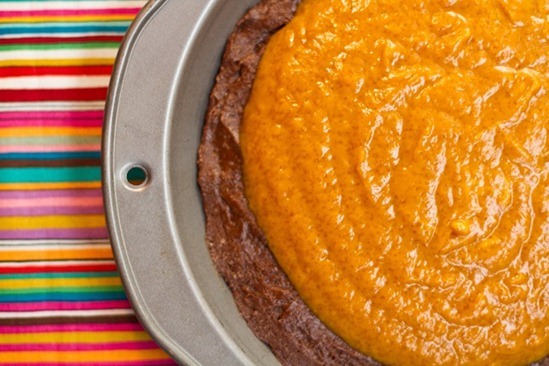 My goal was to make a pumpkin-based pudding made with chia seeds. I envisioned it very similar to my Vegan Overnight Oats, only without the oats, but with the addition of a vanilla protein powder for some staying power. I also wanted it to taste like pumpkin pie filling, of course.
I Googled 'Pumpkin Pie Chia Pudding' to see what was already out there. I found recipes by Living Lindsay, Spinach and Yoga, The Non Dairy Queen, Confessions of a Young Woman, Choosing Raw, Edible Perspective, The Challenged Health Nut, and Pure 2 Raw, to name just a handful! Apparently, I'm not the only one who wants to eat a bowl full of pumpkin pie.
After checking out a few recipes I decided to just throw stuff in a bowl and taste test as I went. This recipe is very similar to my Pumpkin Pie Vegan Overnight Oats. It's not too heavy on the chia seeds and it's thinner and smoother in consistency than many pudding recipes. I didn't find this pudding too slimy unlike my previous attempts.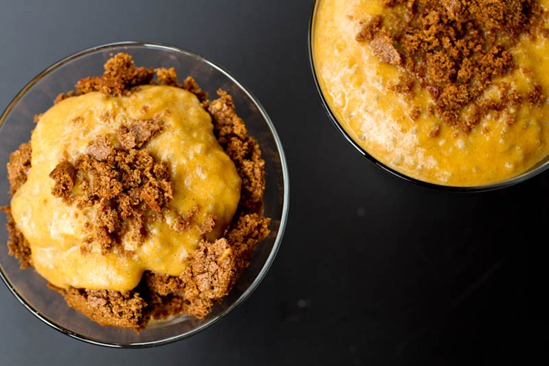 [print_this]
Pumpkin Pie Chia Pudding
A healthier alternative to a delicious pumpkin pie filling! Feel free to play around with the ingredients to suit your taste buds.
Inspired by the bloggers mentioned above.
Yield: 2 servings or 1 & 3/4 cups
Ingredients:
3/4-1 cup unsweetened almond milk
1 cup canned pumpkin, chilled if possible
2 tbsp chia seeds
2 tbsp GOOD tasting vanilla protein powder, optional
1/2 tsp cinnamon, or more to taste
1/4 tsp ground ginger
pinch of nutmeg
1-2 tbsp maple syrup, to taste
1. In a medium-sized bowl, whisk together all ingredients until combined and no clumpy bits remain.
2. Place bowl in the fridge for 1-2 hours or overnight, to thicken and chill.
3. Serve with raisins, walnuts, or crushed ginger cookies if desired.
Approx nutritional info [per serving (serves 2) without protein powder and with 1 tbsp maple syrup]: 137 kcals, 6 grams fat, 23 grams carbs, 10 grams sugar, 4 grams protein, 10 grams fibre.
[per serving, with 2 tbsp maple syrup and without protein powder] 189 kcals, 6 grams fat, 30 grams carbs, 4 grams protein, 16 grams sugar, 10 grams fibre.
If using protein powder, add about 30-40 calories per tablespoon, but this will of course vary on the brand you use.
[/print_this]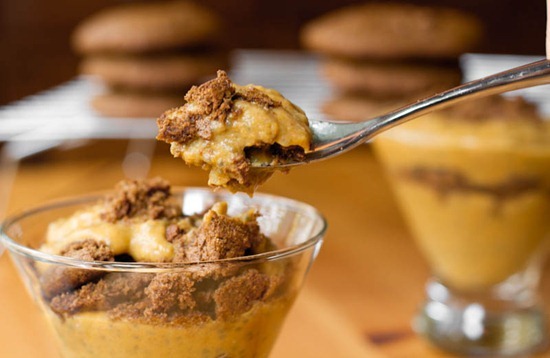 This pudding takes just 5 minutes to throw together. Exactly why I've made it 3 times already!
I recommend chilling your can of pumpkin if you can. This just means that your pudding will chill faster after making it. No big deal if you don't though.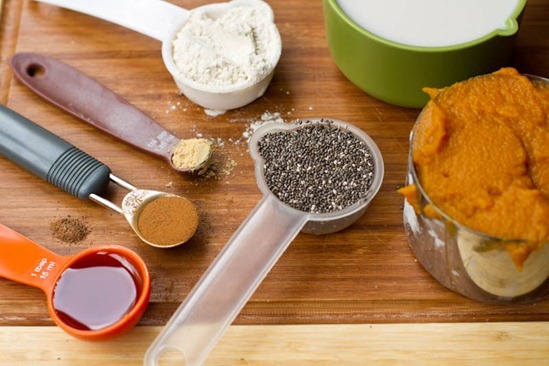 A peek at the ingredients I used: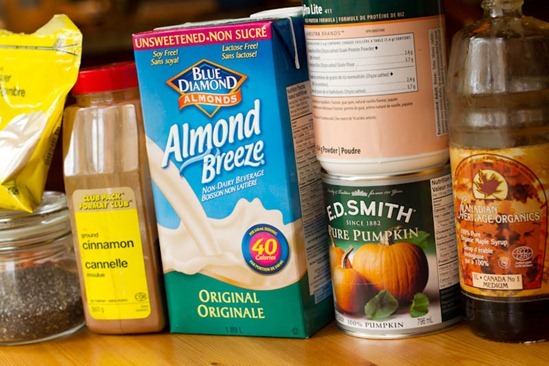 After mixing: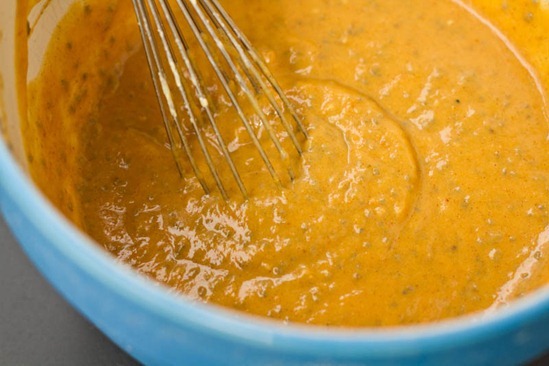 The pudding thickens slightly in the fridge, but the consistency is still pretty thin compared to "normal" puddings. If you want it thicker you can try using less Almond Milk. Personally, I like more volume.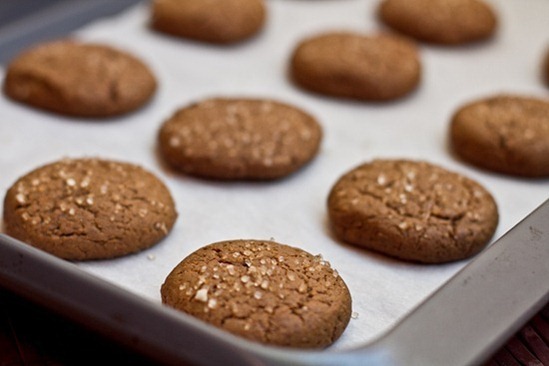 I'm working on a gluten-free version of my Wedded Bliss Soft Ginger Cookies and made parfaits for Eric and I for dessert. It was such a tasty, light dessert for the Fall season! I love a dessert that doesn't weigh me down.
You can also try adding raisins or walnuts, or whatever tickles your fancy.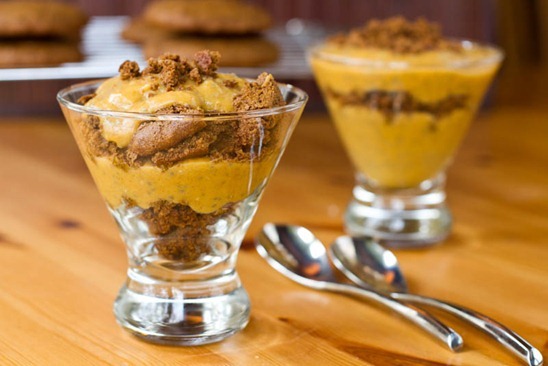 What I like about this recipe is how versatile it is. So far, I've had it for breakfast, a snack, and now dessert.
When I start eating this for dinner, I think an intervention might be necessary.
~~
I'm off to finally get my ultrasound results this morning! My doctor was away for a couple weeks, so I haven't been able to find out the results yet. My food sensitivity testing, which was scheduled early this week, was also rescheduled to next Wednesday. So I've been playing the waiting game which is why you haven't had any updates from me yet.
Anyways, fingers crossed for good results! If you don't know what the heck I'm talking about, see this post.
Happy Friday!