Yesterday's joke has actually turned into a self-fulfilling prophecy; I've been eating pumpkin non-stop all week. And I can't seem to stop. Maybe there is some truth to my Long Weekend Hangover theory after all. Pumpkin does make everything better.
Oh, and I have a great Pumpkin chia pudding recipe coming up. It might be one of my all-time favourite quick & easy pumpkin recipes. It's that exciting.
But so is this cheeze sauce…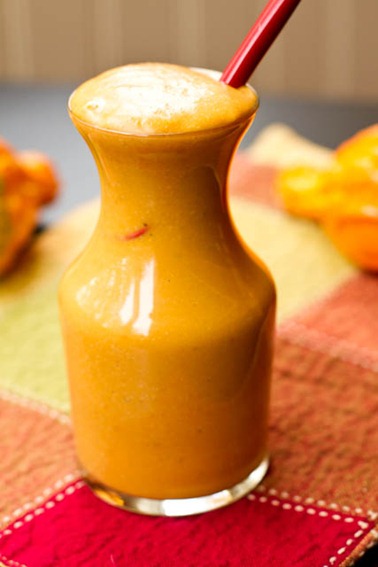 I was thrilled to find out that many of you went crazy for my Butternut Mac 'n Cheeze recipe. This recipe might go down as one of the most popular in 2011. I received all kinds of comments, tweets, Facebook comments, and emails about this recipe last week. It's always good to know that you guys enjoy the same crazy things that I do!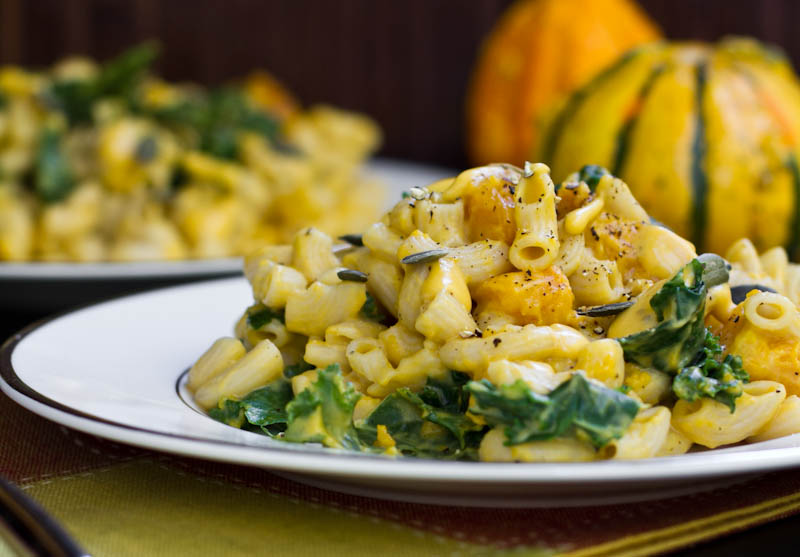 I knew a pumpkin version of this cheeze sauce was not far away. Many of you commented and told me that you made a pumpkin version and it turned out great. I was pretty excited about how quickly it would come together. All I had to do was stir in a cup of canned pumpkin at the end of making the sauce. Quick and easy!
There's no blender required. No food processor. Just a stove top (but I'm sure you could also make this in the microwave too).
This Pumpkin Cheeze sauce exceeded my expectations. I couldn't keep my spoon out of it.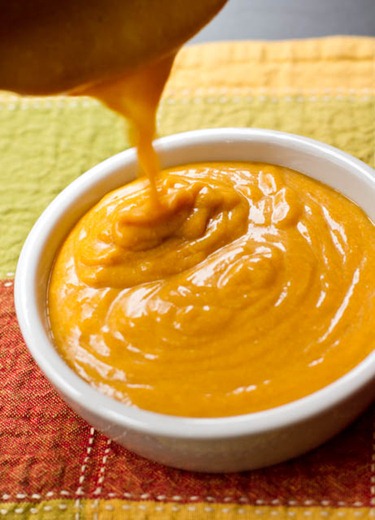 Ok, Ok, it was my finger. Sue me.
[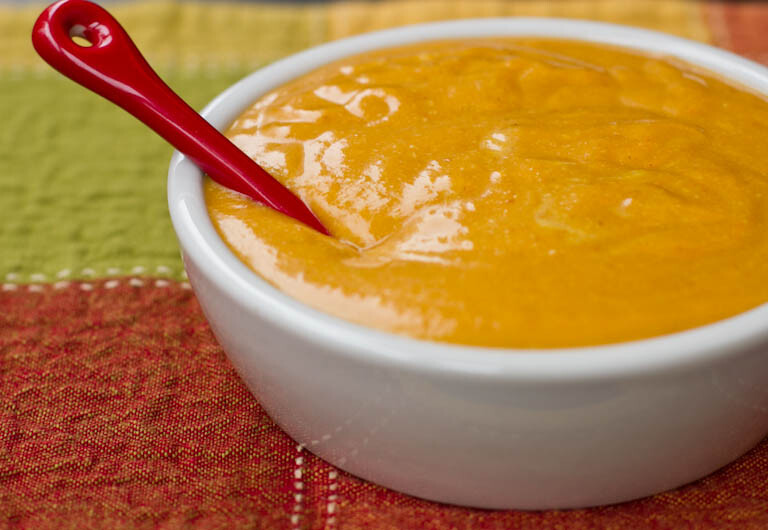 Pumpkin Mac 'n Cheeze Sauce
Vegan, gluten-free, grain-free

Yield
~1.25-1.5 cups or approx. 4 servings
Prep time

Cook time

Total time

Ingredients
1 tbsp Earth Balance (or other non-dairy butter replacer)
3/4 cup unsweetened and unflavoured Almond milk
1 tbsp arrowroot powder (or cornstarch or flour)
1/4 tsp garlic powder
6 tbsp nutritional yeast
2 tsp Dijon mustard
1 cup canned pumpkin
Kosher salt & black pepper, to taste (I used 1/2 tsp salt)
herbs/seasonings, to taste (sage or cinnamon would be nice!)
Directions
Add Earth balance in a pot over low-medium heat.
In a small bowl, whisk together milk and arrowroot powder (or cornstarch or flour) and garlic powder until clumps are gone. Add into pot and whisk.
Stir in nutritional yeast, Dijon, S & P and whisk over low heat until thickened (about 5-7 minutes or so). Lastly, add in 1 cup of canned pumpkin and stir until combined and heated through.
Store in an air-tight container in the fridge for up to 7 days.
Nutrition Information
(click to expand)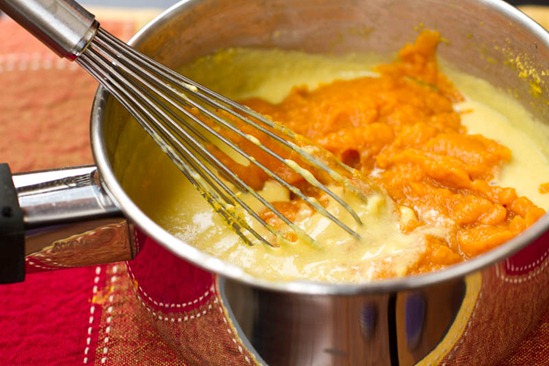 This was so easy I wanted to shed tears of happiness. I've been having my share of frustrations with recipes over the past couple weeks and to have something come together perfectly on the first try was welcomed.
I love how orange the sauce is too. I never thought I would see the day when I would eat a cheeze sauce and feel healthy! The nutritional info was also a pleasant surprise (see end of recipe). I forgot how much protein and fibre nutritional yeast has in it!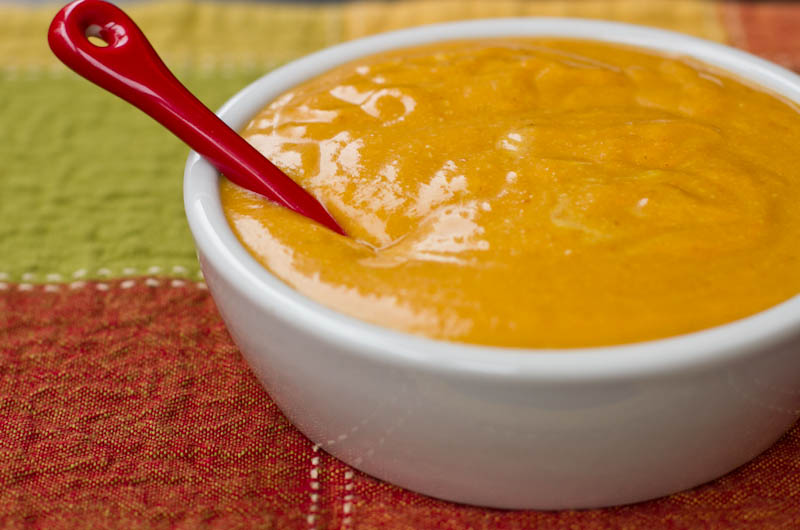 I also wanted to point out that I made a couple adjustments to the original recipe. I cut the milk down to 3/4 cup instead of using 1 cup to make the sauce a bit thicker. I also cut down the salt to 1/2 tsp instead of 3/4 tsp. Lastly, I increased the nutritional yeast to 6 tbsp instead of 5 tbsp. I've updated these changes in the Butternut sauce recipe too.
I made two servings of pasta and added enough sauce until I felt like it was enough.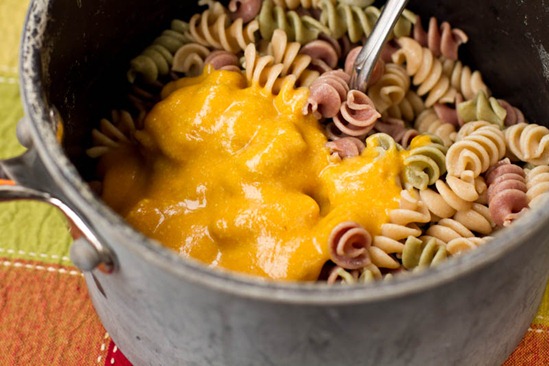 …which is a lot. :)
Bring it on!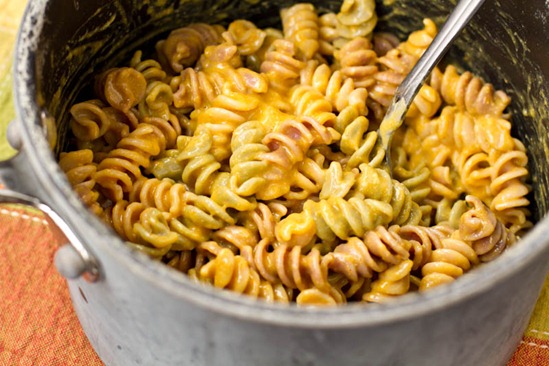 As for which version I like better?
It's close. I would have to say the butternut version wins by an inch. You really cant beat fresh, roasted butternut! With that being said, I know I will end up making this version more often just because it's so easy.
Now, you can spice up this sauce any way you'd like.
I think a little cinnamon stirred in would be lovely to bring out the pumpkin flavour. I actually added some dried sage (after the photoshoot) and that was nice too.
I served it with red kidney beans and sautéed kale and a sprinkle of Herbamare. I also used some leftover cornbread topping and mixed it into my mac 'n cheeze. Great idea.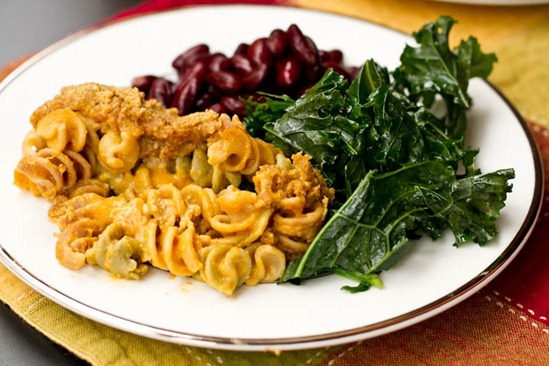 Wondering where to purchase nutritional yeast? You can find it in the natural foods section of many grocery stores (Loblaws/Superstore carries it) as well as bulk food stores and health stores. I'm sure you can find it online too. For those of you who purchase nutritional yeast, please leave a comment and let me (and others) know where you buy it!
What other ways do you think this sauce could be adapted? Any other mix-in ideas? Any other vegetables?
I vow to try them all.