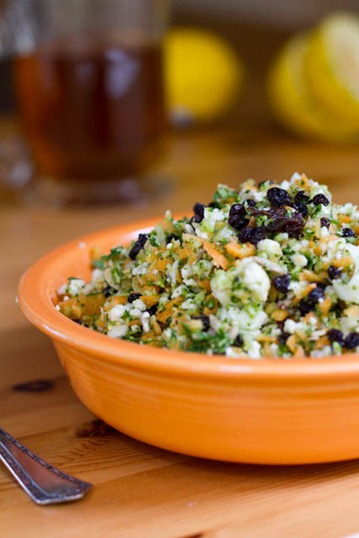 One of my favourite things to do after visiting Whole Foods is to re-create salad bar foods or specialty products at home for much less money. Or at least, that's my good intention until I get home and I can't remember the ingredient list!
Not last night. :)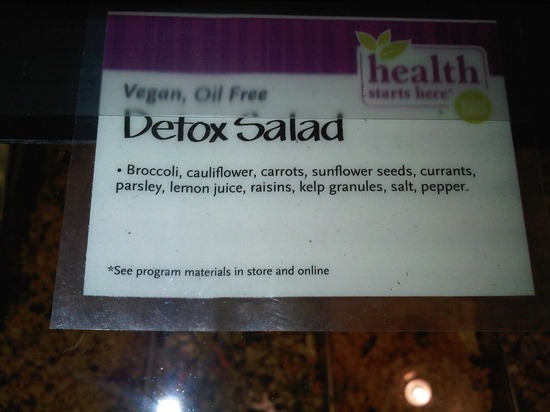 Thanks Eric!
After we dined – Eric on pizza and me on the hot & cold salad bar – I picked up the ingredients for the Detox Salad and vowed to make it when I got home that night. I was literally bursting with energy after eating this salad and I knew that it would make a really great "feel-good", make-ahead lunch.
Whole Foods salads typically have short ingredient lists as well as vegan and wheat-free options. They are the perfect inspiration for salads at home when you're getting bored of the usual lettuce and vegetable routine.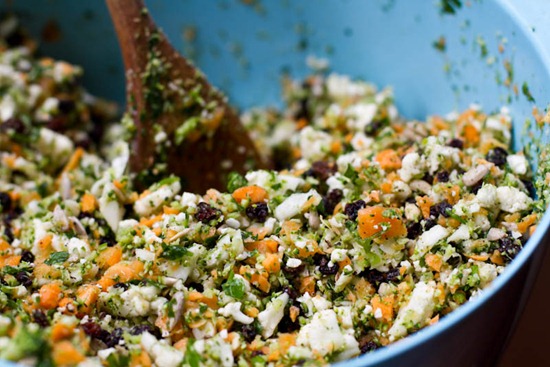 But why call it a detox salad?
World's Healthiest Foods reports that cruciferous vegetables (such as broccoli, kale, cauliflower, cabbage, watercress, and mustard greens) are said to be detoxifying because they provide support for the immune system, inflammatory system, hormonal system, detoxification system, and antioxidant system (source). These vegetables contain a wide variety of vitamins and minerals as well as phytonutrients. For example, one such group of phytonutrients found in cruciferous vegetables are called glucosinolates. Glucosinolates are thought to have anti-cancer properties in a variety of research studies (source). World's healthiest Foods also suggest consuming 3 servings of cruciferous vegetables each week for maximum benefit.
I couldn't remember the last time I had raw broccoli or cauliflower! They are definitely not my favourite vegetables, but they were great in this salad.
When re-creating something at home, keep in mind that ingredients are listed in order of weight. This will help guide you with how much of each you should use.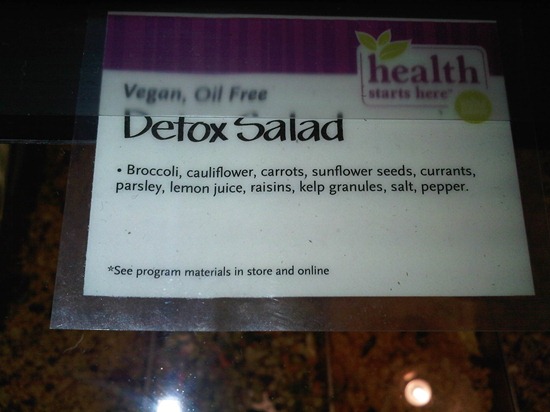 I started with the primary ingredients- broccoli and cauliflower. I used a head of cauliflower and two heads (which was one 'bunch') of broccoli. I actually ended up having a bit more cauliflower than broccoli, but it wasn't a big deal.
I usually don't like eating big hunks of raw broccoli and cauliflower, but it was great shredded up. I processed it in the food processor until fine. If you don't have a processor, feel free to get your chop on!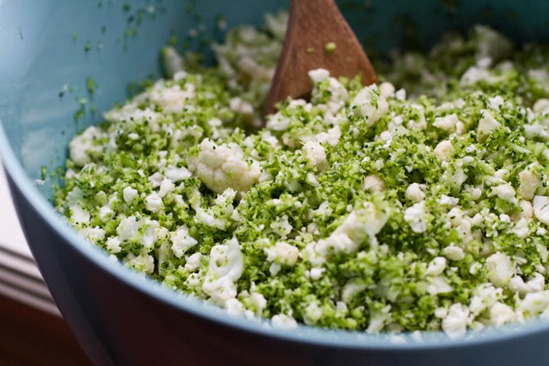 Up next on the ingredient list: Carrots.
I plucked these babies straight from the garden. I think they are the last ones….sniff, sniff. :\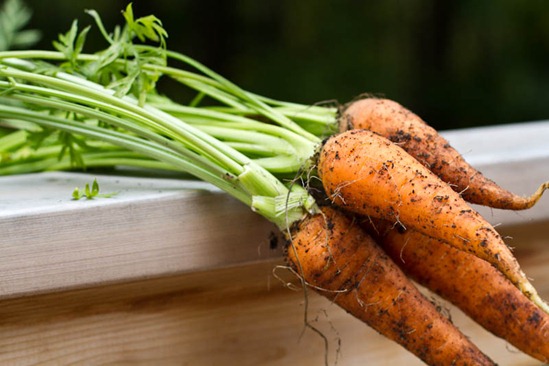 I processed the carrots just like the broccoli and cauliflower and used about 2.5 cups of shredded carrots. I added it a cup at a time until it looked like enough!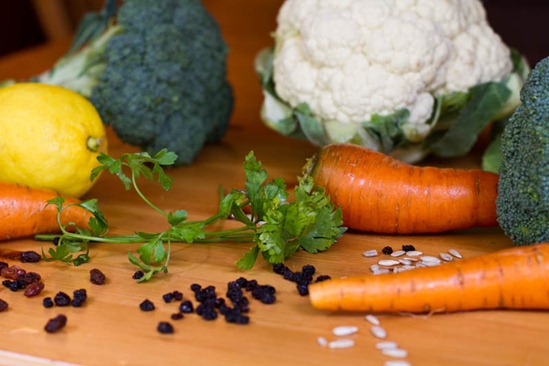 Then came the sunflower seeds, currants, parsley, and raisins. This is when it really starts to come together. The currants and raisins add a really nice sweetness to the salad and I wouldn't recommend skipping them.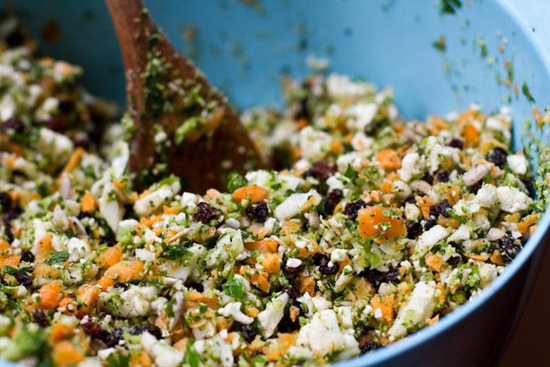 I couldn't find kelp granules at Whole Foods (and the worker told me they didn't have any), so I just used Herbamare since it has kelp in it. Kelp is also said to be detoxifying. I did pick up a bag of whole kelp pieces though. I wonder if I could process this into granules?
I added fresh lemon juice, kosher salt, black pepper, and Herbamare all to taste.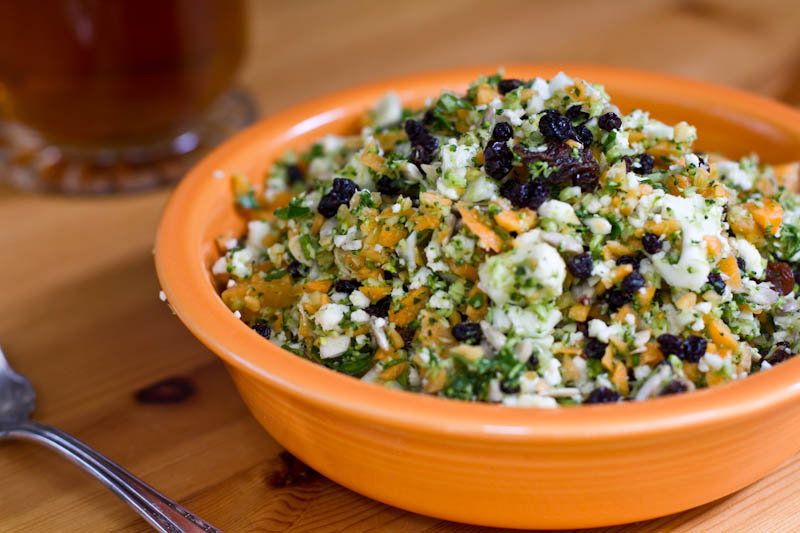 I served it with a drizzle of pure maple syrup to balance out the lemon juice. Yum!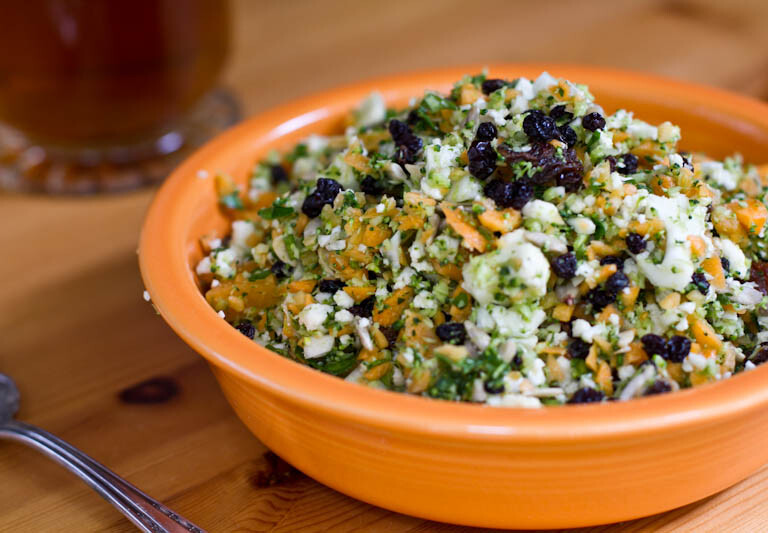 Detox Salad
Vegan, gluten-free, grain-free, nut-free, oil-free, soy-free

Yield

10 cups (lots for the whole week!!)
Prep time

Cook time

0 minutes
Total time

Packing a powerhouse of nutrients, this light & energizing salad will have you bursting with energy. It makes a lot so you can enjoy it all week long for easy, energizing lunches. I wouldn't recommend skipping the currants and raisins as it adds a much needed sweetness to balance out the vegetables and lemon juice. I loved it drizzled with a touch of maple syrup just before serving. Feel free to use any herbs and spices you wish. I also love it with a sprinkle of cinnamon on top. Inspired by Whole Foods.
Ingredients
2 heads broccoli (1 bunch), stems removed
1 head cauliflower, stems removed
2.5 cups shredded carrots
1/2 cup sunflower seeds
1 cup currants
1/2 cup finely chopped fresh parsley
1/2 cup raisins
4-6 tbsp fresh lemon juice, to taste
kosher salt, pepper to taste (1/4-1/2 tsp salt and lots of pepper)
kelp granules or Herbamare (optional), to taste
Pure maple syrup, to drizzle on before serving
Directions
In a food processor (or chop by hand) process the broccoli (no stems) until fine. Add into large bowl.
Now process the cauliflower (no stems) until fine and add into bowl. Do the same with the carrots.
Stir in the sunflower seeds, currants, raisins, and parsley. Add lemon juice and seasonings to taste.
Drizzle with maple syrup to taste.
Tip:
I save the stems for a stir-fry later on in the week.
Nutrition Information
(click to expand)
Enjoyed with Sencha green tea. :)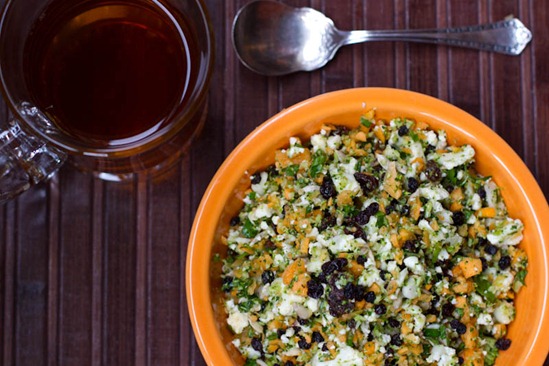 ~~~
Thank you all so much for your comments in my health issues post. I'm still working my way through them and wanted you to know how much I appreciate your support, stories, and experiences. I had my ultrasounds yesterday and I should know my results by Thursday. Today, I meet with the naturopath! Can't wait to hear what he says.