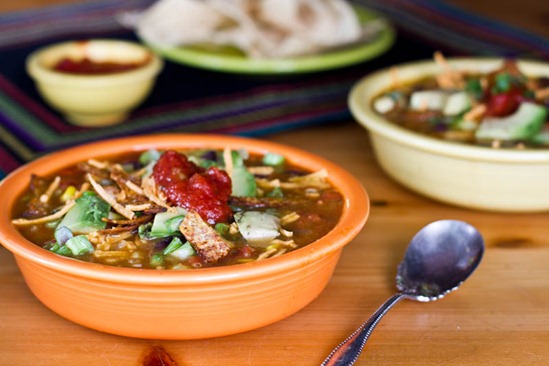 Being a gardener in August is a wonderful thing.
Even for a Former Black Thumb! [Can I call myself a Former Black Thumb if I still kill indoor plants? I guess that is debatable…]
I now have enough organic kale to supply Whole Foods. ;)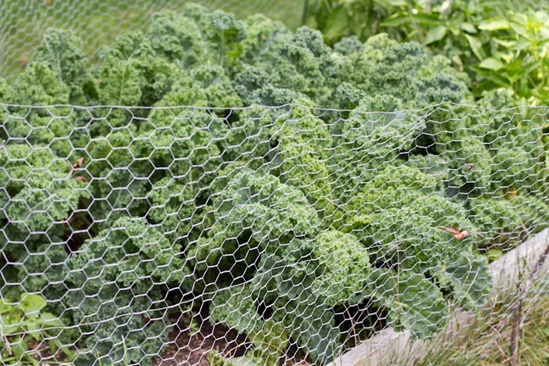 The sweetest tomatoes I've tasted!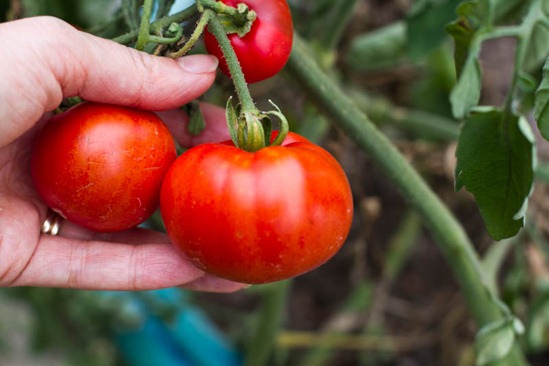 We've been enjoying toasted tomato basil sandwiches lately. Just toast some bread, spread on Earth Balance, layer on the fresh tomatoes and basil, and sprinkle with salt and pepper. Nothing beats it!
Spring onions: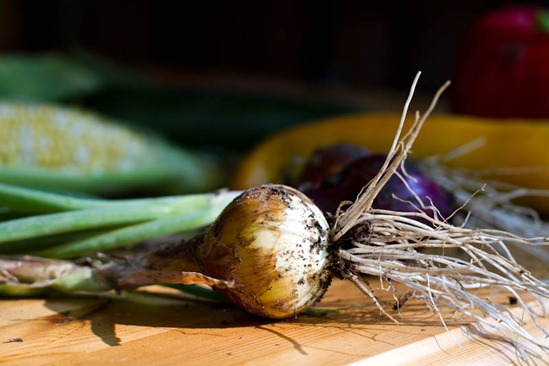 Gorgeous red peppers, soooo very sweet and crisp.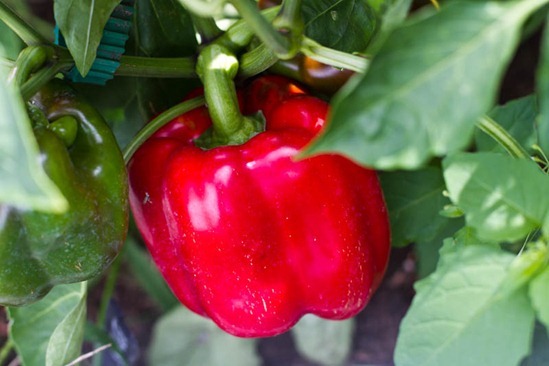 and many that still haven't turned colour yet.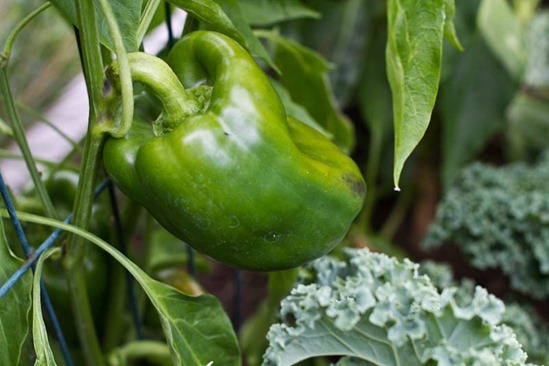 Banana Peppers too!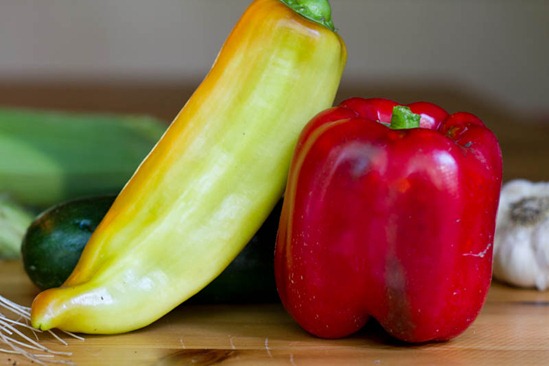 I turned some of our garden bounty into a delicious tortilla soup last night. Eric strained his back doing renos on the weekend, so I figured a healing soup (and massage) was just what the doctor ordered. While I can't say that I healed his back, it sure put a big smile on his face!
Sometimes, a smile and a huge bowl of tortilla soup is all that you can ask for.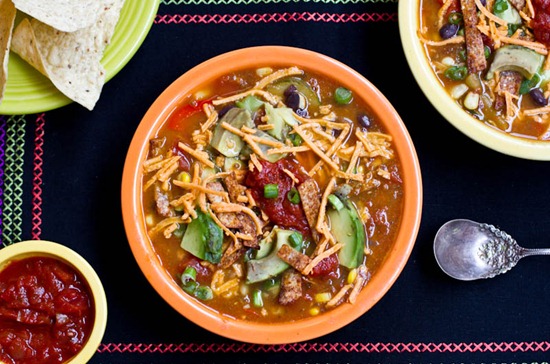 [print_this]
Vegan Tortilla Soup
A wonderful soup to transition from end of summer into Fall. It packs a bounty of summer flavours, with a warming comfort for those cooler summer evenings. Be sure to season well, as it will really bring out the flavours. We added a hefty handful of vegan cheese, chopped avocado, tortilla strips, and green onion on top to really round out this hearty and filling dish.
Yield: 6 servings
Ingredients:
1 tbsp olive oil
1.5 cups chopped onion
2 garlic cloves, minced
2 bell peppers, chopped
1 zucchini, chopped
1 ear fresh corn
1/2 cup green onion, chopped
3 tbsp ground cumin
One 28-oz can crushed tomatoes
1 can chopped green chili peppers, drained (optional)
3 cups vegetable broth
2 tbsp chia seeds (optional)
1.5-2 cups cooked black beans (or beans of choice)
salt & pepper & crushed red chili pepper, to taste
Fresh lime juice, to garnish on top
Non-Dairy Cheese (I use Daiya cheese), for sprinkling
Chopped avocado, for garnish
Tortilla sticks (flour tortillas, olive oil, garlic powder, chili powder, to taste)
1. In a large pot over medium to low heat, add the olive oil, onion, and garlic. Sauté for about 5 minutes. Preheat oven on medium broil setting.
2. Meanwhile, chop the peppers, zucchini, green onion, and remove corn from cob (I take a chef's knife and slice down the 4 sides). Add the veggies into the pot and sauté for another 5-10 minutes.
3. Add in the crushed tomatoes, cumin, broth, and chia seeds. Stir well and season with salt and pepper. Simmer on low-medium heat for 25-30 minutes. Stir in drained and rinsed beans just before serving.
4. Meanwhile, make your tortilla strips. Slice flour tortillas into 2 inch strips (see below). Place in a small bowl and drizzle with olive oil to coat. Sprinkle on garlic powder and chili powder (to taste) and mix well with hands. Place on a lined baking sheet and broil for up to 3 minutes on medium. Watch very carefully. When golden, remove from oven.
5. After the soup simmers, ladle into bowls, and top with chopped avocado, fresh lime juice, cheese, green onion, and tortilla strips. Serve immediately. Keeps in fridge for up to 5 days or can be frozen for 1 month.
[/print_this]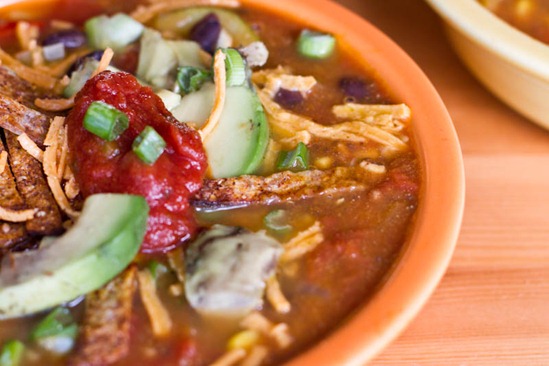 The fresh corn added a sweet crispness to the soup. Much better than the canned variety!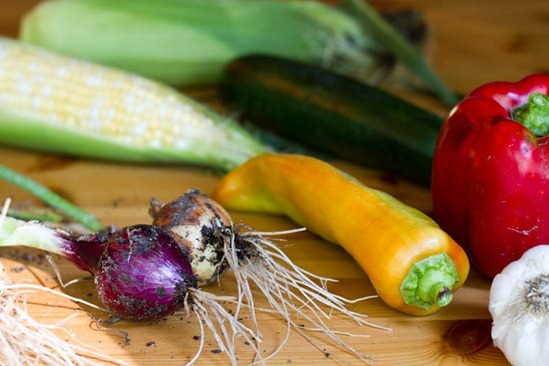 All the veggies sautéing…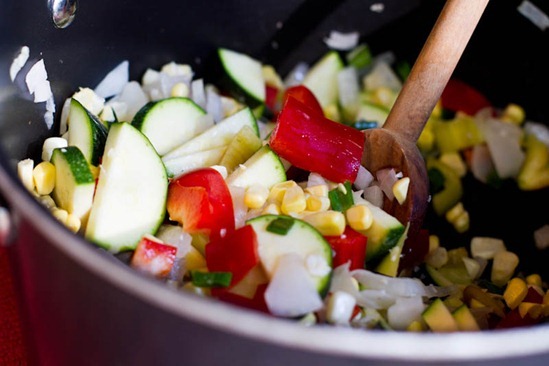 After adding the cumin, tomatoes, broth, and salt & pepper.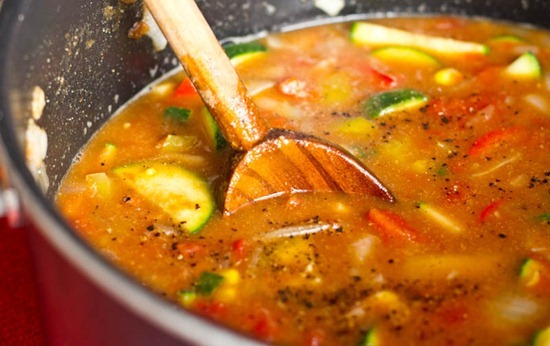 This soups really shines with salt, pepper, a bit of crushed red pepper flakes, and Herbamare. I didn't add chili peppers as Eric isn't a fan of spicy food, but if I was making it for myself I would to give it a nice kick.
I also stirred in 2 tbsp of chia seeds to pack in more nutrition and thicken the broth slightly.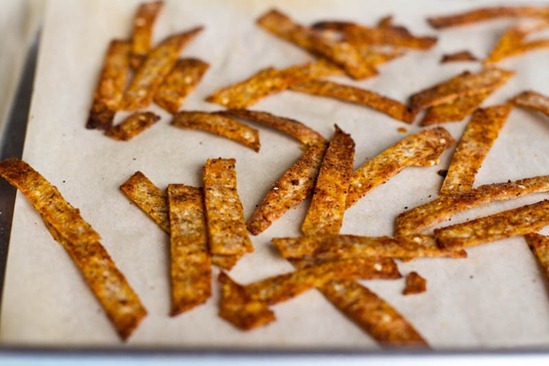 While the soup was simmering, I made some tortilla strips by slicing up an Ezekiel tortilla and sprinkling on olive oil, chili powder, and garlic powder. I broiled it on medium heat for 3 minutes until golden and crisp. They tasted amazing!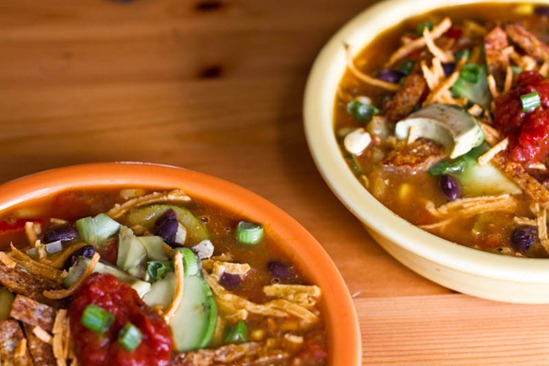 Your healing dinner is served, complete with Daiya cheese, fresh lime juice, chopped avocado, tortilla strips, Herbamare, pepper, and green onion!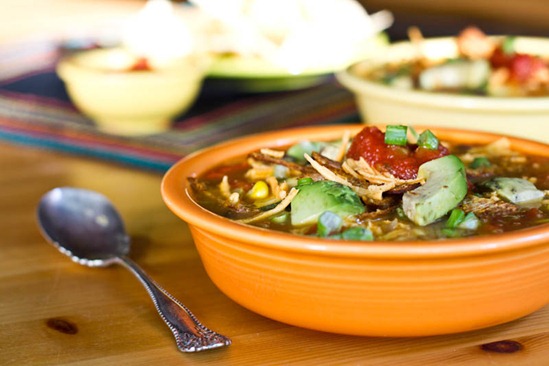 With a side of tortilla chips and salsa. :) I really wish we had some Food Should Taste Good Sweet Potato Chips instead of these white corn ones though. We have a little obsession with the FSTG chips lately, but we don't buy them much because they are pricey.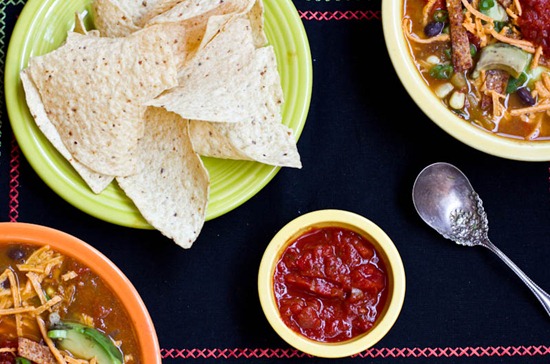 We both loved this soup! The best part is that we have plenty of leftovers to enjoy for quick lunches this week. You can also freeze it for up to a month if you desire.
I just realized that I meant to add kale into this soup too! Oops.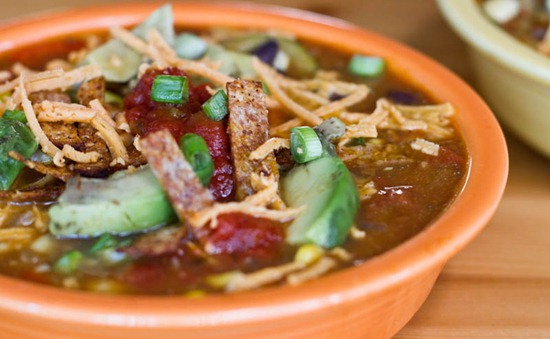 Let the transition from Summer into Fall begin…
Don't forget you have until tomorrow to enter my Lululemon giveaway!