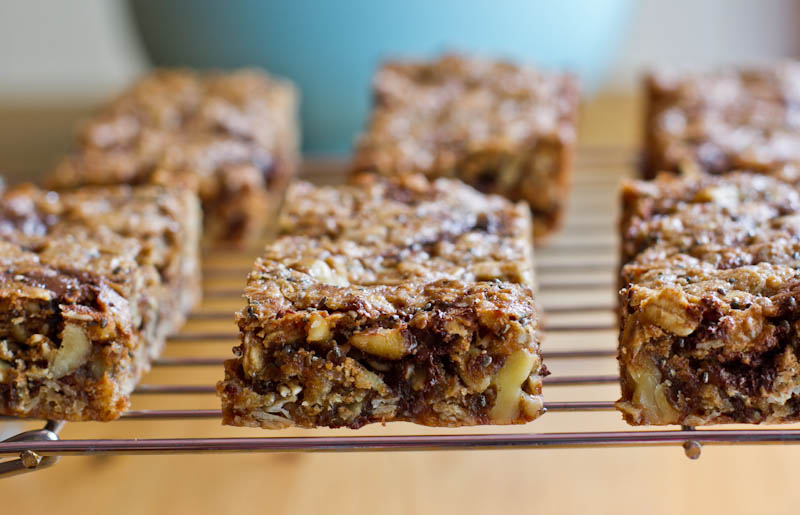 Eric says I make my best recipes when I'm pmsing.
Wait, is that a back-handed compliment?
Errr…
And how did he know I was pmsing?
"Well,…remember the other night when you started to cry watching that wedding dress show…?"

"When the Dad cries, everyone cries."

"…and the other day, I caught you with chocolate all over your face talking about some chocolate river…"

"….and how is that different from any other day?"

"Good point. Or yesterday, when you were yelling on the phone with the phone company…"

"She was a phone robot, that doesn't count! Robots have no feelings, pulse,…or comprehension of the English language, evidently."

"Or this morning when…"
Ooooooook, no need to live in the past. I'm sure we all get the point. ;)
After some careful thought, his statement did make sense.
PMS –> increase in calorie expenditure (yay, eat more) –> increase in hunger –> empty stomach feeling 24/7 –> chocolate river dreams –> cooking/baking success.
Now, let's look for concrete proof of his claims over the past week:
Guilty as charged.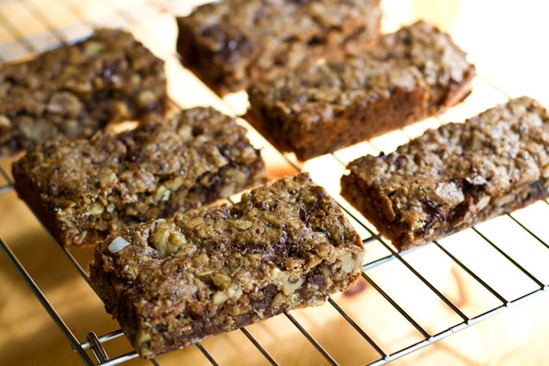 If that is hard evidence, these Chocolate Chunk Toffee Bars are the final nail in my coffin. Eric declared the recipe 'in the vault' and mumbled something about chocolate while his eyes glazed over. Typical. The stash quickly disappeared in the span of 3 days. Not surprisingly, more by him than me!
I guess he's suffering from Male Menstrual Syndrome. I better keep my distance…there's nothing worse than MAN-MS, right ladies?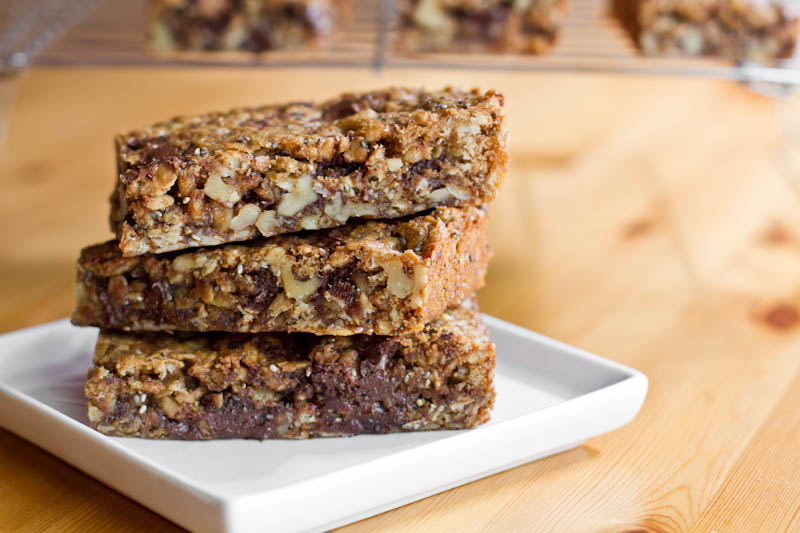 And don't worry, I pointed and laughed at the chocolate smudges on the side of his mouth.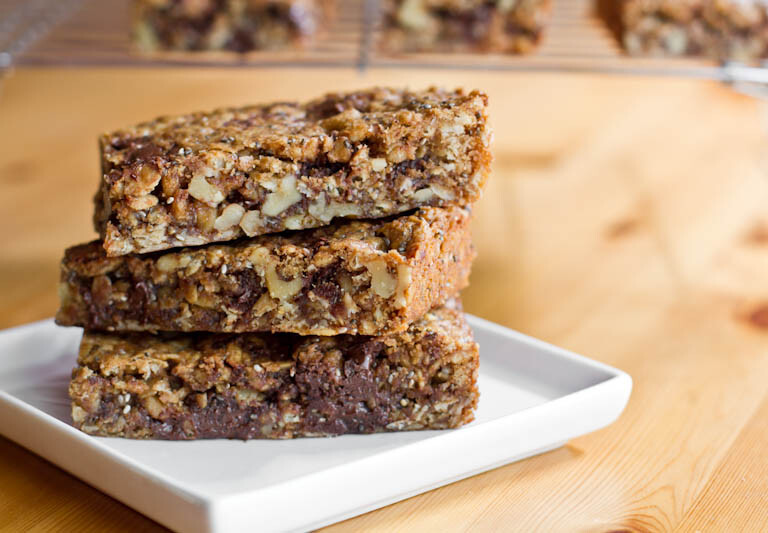 Chocolate Chunk Toffee Bars

Yield

9 large bars
Prep time

Rest time

45 minutes
Cook time

Total time

Everything I love in a granola bar- a crisp, toffee-like exterior with a chunky and chewy middle. Be sure to allow the bars to cool completely before slicing. If you adapt the recipe, please leave a comment with the changes you made and how it turned out! I'm curious if other flours and nut butters might work.
Ingredients
1.5 cup oats
1/4 cup whole grain spelt flour
2 tbsp chia seeds
1 tsp ground cinnamon
1/2 tsp kosher salt
1 cup walnuts, chopped
1/2 cup brown rice syrup
2 tbsp Earth Balance (or other non-dairy spread)
1/4 cup packed brown sugar
1/4 cup all natural peanut butter (my PB is very 'drippy'- if yours is dry add another tbsp Earth Balance)
1 tsp vanilla extract
1/2 cup chocolate chunks or chips
Directions
Preheat oven to 350°F and line an 8-inch pan with 2 pieces of parchment paper (one going each way), so the bars do not stick to pan.
In a large bowl, stir together the dry ingredients (oats, flour, chia seeds, cinnamon, salt, walnuts).
In a microwavable bowl, stir together the brown rice syrup, Earth Balance, brown sugar, and peanut butter. Microwave on high for 45 seconds. Alternatively you can heat this on the stovetop.
Pour wet mixture onto dry and stir well. The mixture will be very tough to stir (it's a thick dough!) so don't be alarmed. Allow the dough to cool a bit before mixing in the chocolate (otherwise, if you add in the chocolate too soon, it will melt, and it's best chunky).
Scoop into prepared pan and with a wet spoon spread out the mixture. The dough will be very thick and sticky. I dipped a pastry roller into water and rolled it out. Try to get it as even as possible!
Bake for 30-32 minutes at 350°F. Allow to cool in the pan, on a cooling rack, for at least 15 minutes. Remove carefully from pan and allow to cool on the rack for another 20-30 minutes. If you cut the bars before completely cooling, they will crack, so it's a good idea to wait as they will firm up.
Nutrition Information
(click to expand)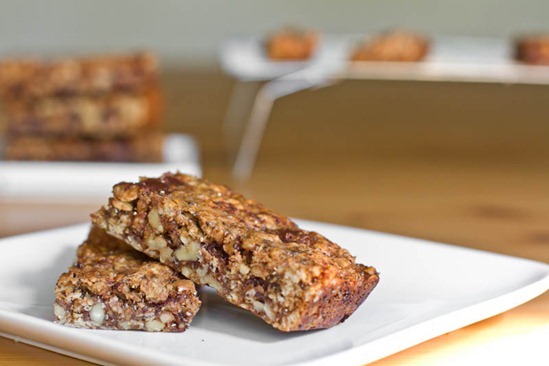 These granola bars took me a few tries, but I finally got the outcome I was looking for- a crispy, toffee-like exterior with a chewy, chocolaty middle. They have a slight toffee flavour and are like a less sweet, more natural candy bar!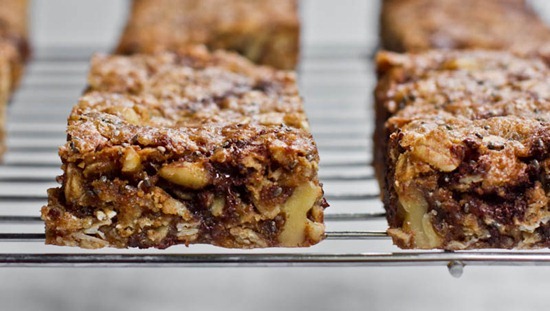 The bars will firm up a bit once cooled which is exactly how I prefer to eat them. Their flavour and chewy texture gets better with age. :)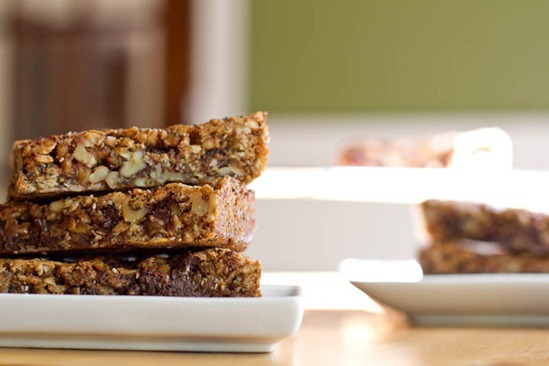 Ok, I just Googled 'male PMS' for fun and there's an actual term for it called Irritable Male Syndrome (IMS).
I can't wait to tell Eric I found his diagnosis!