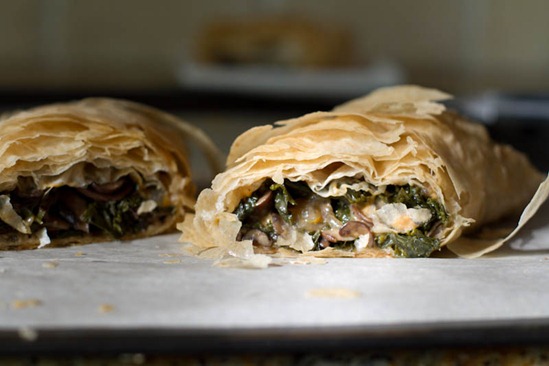 Don't we all want a fancy smancy meal that doesn't require hours in the kitchen? I know I do.
Meet Phyllo dough. It's here to bring back the fancy in your life!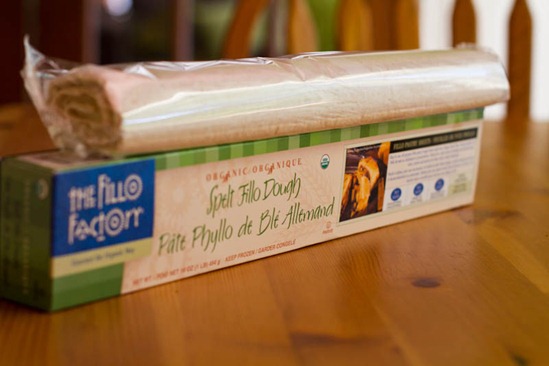 Cuz we need it.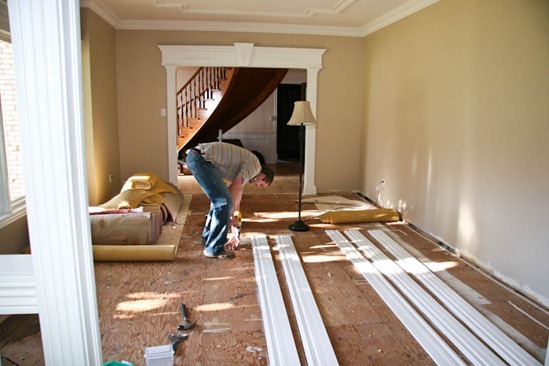 And I don't mean Circa 1982 pink carpet fancy either…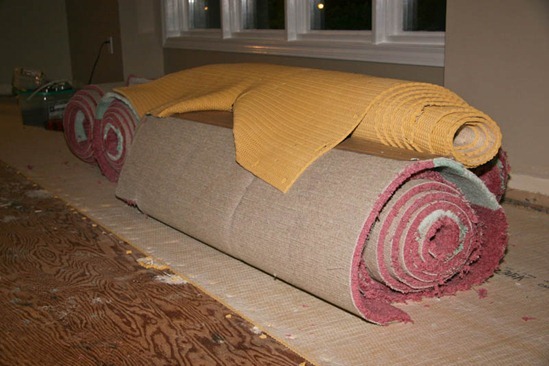 Any takers? lol.
Phyllo (also spelled fillo or filo) is fancy smancy. You can buy it pre-made. It's versatile.
Native to Middle Eastern cooking, Phyllo (which translates to "leaf" in Greek) is a kind of dough that is stretched into paper-thin like sheets and used for savoury and sweet pastries. Think, Baklava. Mmm.
It's made primarily of flour, water, and a bit of oil, but it's usually recommended to buy it pre-made due to it's extremely delicate nature.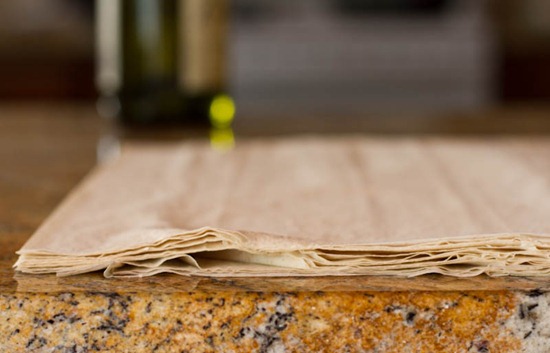 If you're like me, you've seen Phyllo dough lurking in the freezer section of your grocery store, but slinked away in fear not knowing what the heck to do with it.
I decided I was going to get over my Phyllo fears, so I picked up some dough, watched a couple You Tube videos, and realized it wasn't so bad after all!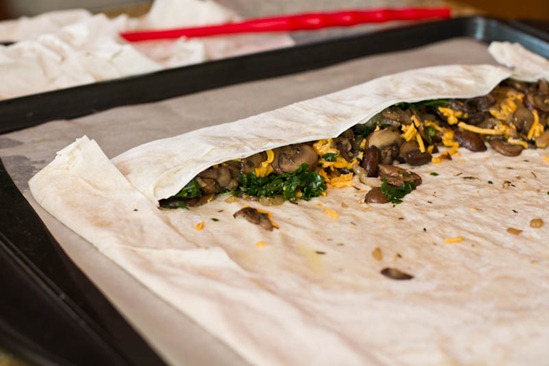 Here are a few important tips about working with Phyllo dough:
1. It needs to thaw, so you can leave it in the fridge overnight or on the counter for a couple hours.
2. Because the dough is paper-thin, it dries out super fast. When it dries out, it tears very easily. It's best to wait to open the package until you are ready to use it. Once it is opened and rolled out, place a piece of parchment or wax paper over top and then cover it with a damp tea towel to keep in the moisture. This is essential or your dough will crack much more easily.
3. The goal is not perfection! At first I was terrified of cracking or tearing the dough, but after a few slip-ups, I realized that my pastry would still taste delicious even if it wasn't perfect. So don't freak out if it tears a bit on you. Just try to handle it as gently as possible and do what you can.
4. Spread a generous amount of melted Earth Balance on each layer with a pastry brush or to save more time, spray with cooking spray. This not only adds needed moisture, but it creates a delicious buttery pastry once baked. I'm not so sure cooking spray would have tasted as good as my Earth Balance version though!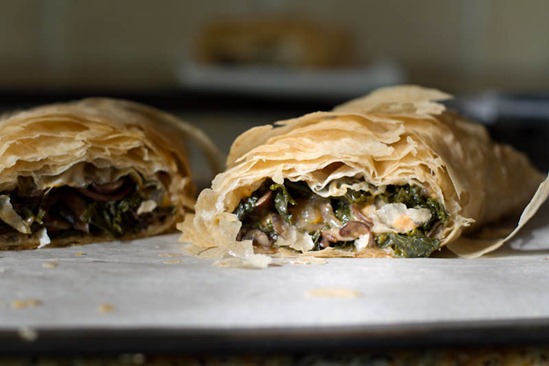 The first thing you need to do is prepare your filling. I had a bunch of garden kale to use up, as well as local Crimini mushrooms, so I decided to make a mushroom pastry with kale, cheeze, etc. You can use whatever vegetables you prefer though! It's extremely versatile.
I sliced the mushrooms (making 7 cups) and I cooked it down for about 10 minutes until most of the water evaporated.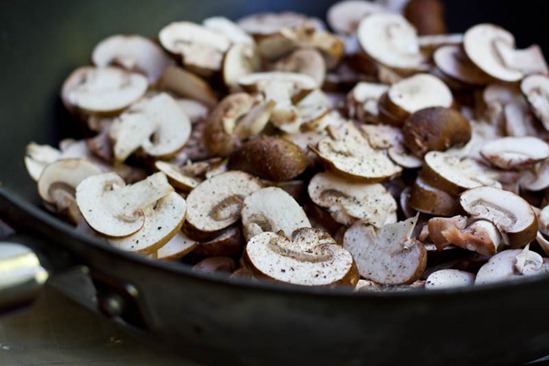 Next, I added about 1 cup chopped kale leaves (no stem), 1 cup chopped onion, 1 tsp olive oil, 2 minced garlic cloves, Herbamare, ground pepper, and fresh Thyme. I cooked this for about 5-7 minutes. It tasted amazing.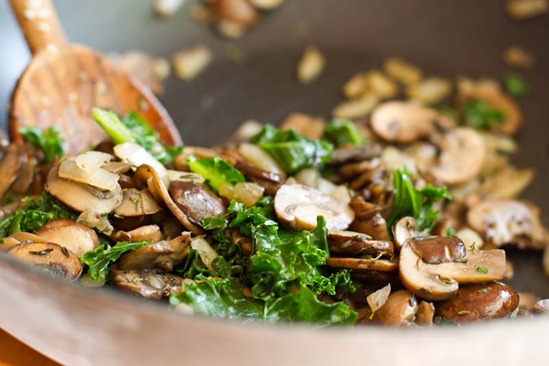 Once the filling was ready, I stirred in the cheese, removed it from the heat, and unrolled my Phyllo dough. Make sure you have a damp tea towel and parchment paper ready!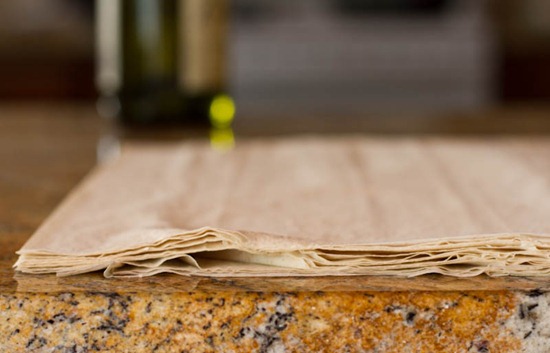 Grab a large baking sheet and line it with parchment paper or a non-stick mat. Carefully peel off 1 piece of dough and place it onto the baking sheet.
At this point, you can either spray each sheet with cooking spray or use my method which is to spread on melted Earth Balance with a pastry brush.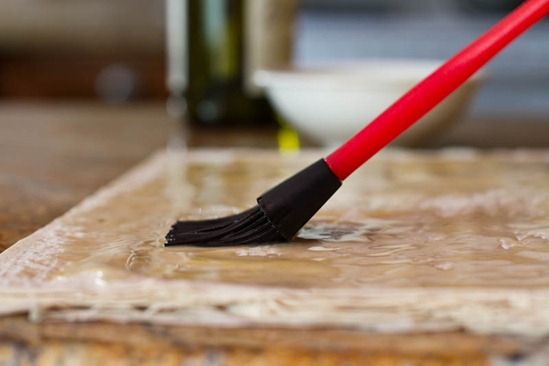 Repeat this process, for about 7 sheets of dough.
You might have a couple 'flops' along the way. Don't fret!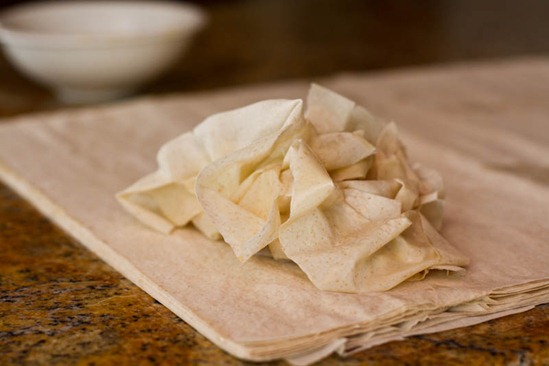 Make sure to keep the dough covered with a damp tea towel throughout this process.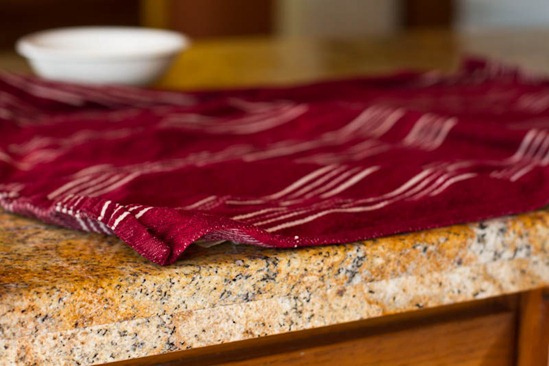 Once you have your 7 layers, scoop on your filling and fold in the sides.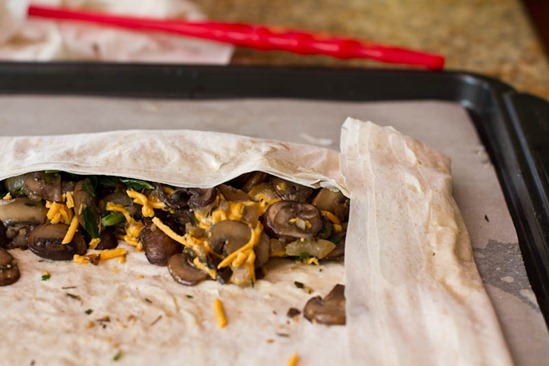 Now roll your pastry all the way up into a log. This part was much easier than I thought!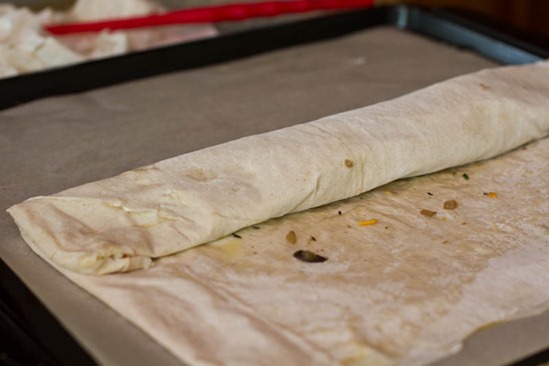 Now, brush your log with more oil or melted Earth Balance.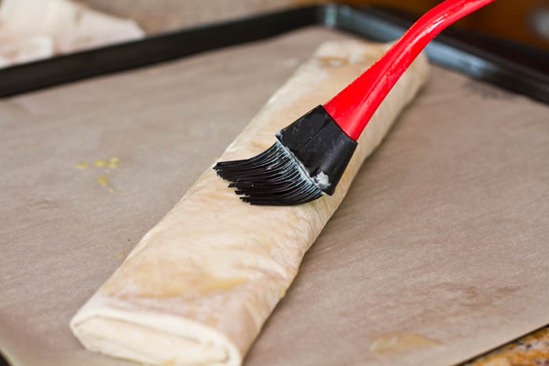 Bake in a 350F pre-heated oven for 25-35 minutes until slightly golden. It will be puffy and beautiful.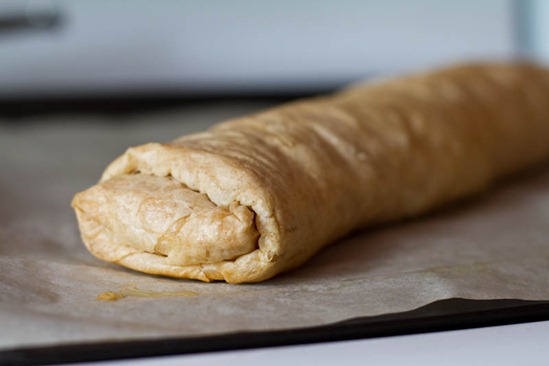 Slice on a diagonal because you're fancy. It will be really hard not to inhale this right on the pan! Don't be alarmed when it flakes all over the place, this is normal.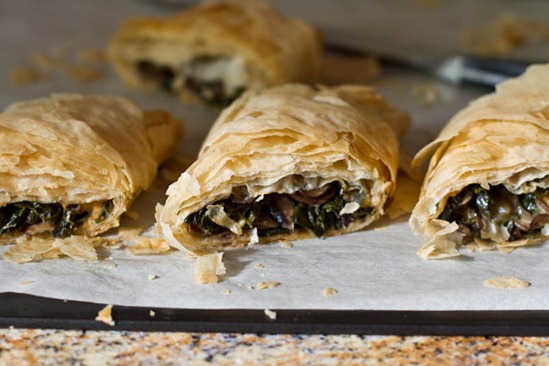 Behold, the flaky, cheezy, buttery glory.
WANT.
Now.
For breakfast.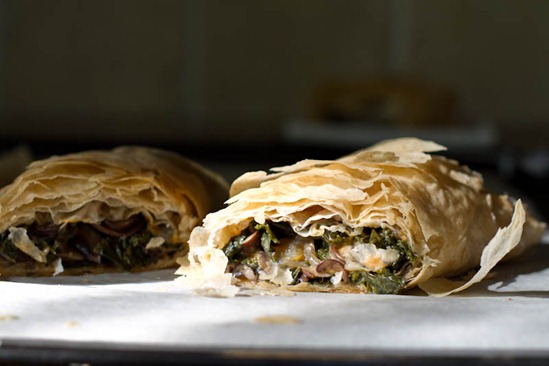 The 1/2 cup of Daiya Cheese brought this pastry to a whole other level. I highly recommend it.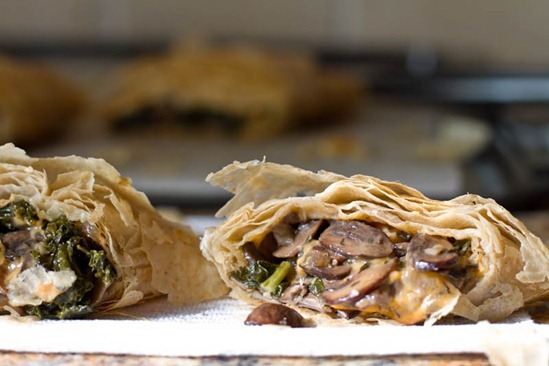 Now I just need to figure out what I'm doing with the leftover sheets. Maybe a sweet tart is in my future?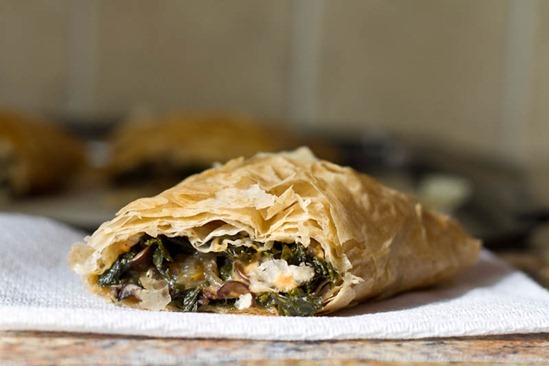 [print_this]
Stuffed Mushroom Phyllo Roll
Perfect for a fancy meal to impress. Hands down, one of the best savoury vegan foods I've made. This mushroom pastry is buttery, flaky, cheezy and will have you ohhing and awwing with every sinful bite.
Yield: 2-4 servings (we both ate the entire thing quite easily!)
Ingredients:
7 sheets Phyllo dough, thaw according to package directions
16 oz/7 cups sliced fresh Crimini mushrooms (or mushrooms of choice)
1 tsp olive oil
1 cup chopped sweet onion
2 finely chopped garlic cloves
1-2 tbsp fresh Thyme (or use 1/2 tbsp dried)
Kosher salt, Herbamare, and freshly ground black pepper, to taste
1 cup kale leaves, roughly torn and stems discarded
1/2 cup shredded Daiya Cheese
~1/2 cup melted Earth Balance, olive oil, OR cooking spray
1. Preheat oven to 350F. Line a large baking sheet with parchment paper. Thaw Phyllo dough according to package directions.
2. In a large skillet, add 7 cups sliced mushrooms and cook on medium heat for about 10 minutes until the water cooks off.
3. Add in the garlic, oil, onion, and kale. Cook for another 5-7 minutes on medium-low heat. Add seasonings to taste. Remove from heat and stir in the cheese.
4. Place 1 sheet of Phyllo dough onto prepared baking sheet. Brush or spray on butter or oil. Repeat for 7 layers.
5. Scoop on mushroom filling, roll the edges inward, and then roll into a log. Brush log with oil or butter. Bake at 350F for 25-35 minutes until golden. Slice and enjoy!
[/print_this]
I made a Mango Kale salad to go with it which also was quick and easy. I have kale coming out of the wazoo in my garden (among peppers, cukes, onions, etc!), so I've been giving it away to friends and also using it daily in my meals.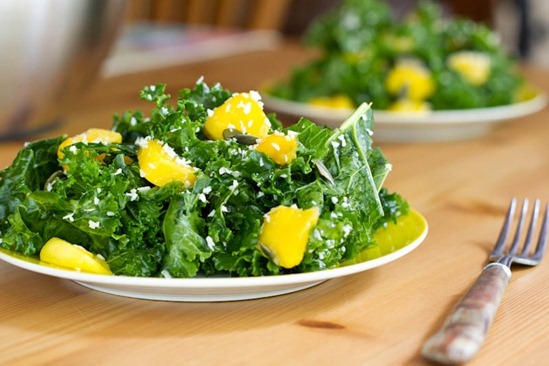 [print_this]
Mango Kale Salad
Adapted from Food Network.
Ingredients:
1 bunch kale, stalks removed and leaves roughly torn
1 lemon juiced
1 tbsp + 1-2 tsp olive oil, to taste
Kosher salt or Herbamare & freshly ground black pepper, to taste
1-1.5 tbsp pure maple syrup
1.25 cup diced mango (I just thawed frozen mango chunks)
2 tbsp pepita seeds, or other seed of choice
1. In a large bowl, add kale, half the lemon juice, a tablespoon of oil, and a sprinkle of salt. Massage the kale leaves with your hands for about 1 minute. Set aside.
2. Add the rest of the lemon juice, maple syrup, salt & pepper, and remaining oil into a mason jar. Close lid and shake (alternatively you can whisk in a bowl). Adjust dressing to taste and add more salt, oil, & pepper if needed.
3. Pour dressing over kale and massage well with hands. Add mango and seeds. Place in the fridge for a minimum of 1 hour so it can soften and marinate.
[/print_this]
First, massage some oil, lemon juice, and salt into the kale leaves.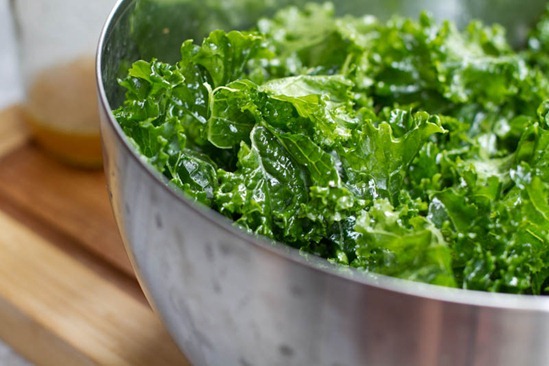 Shake up your dressing.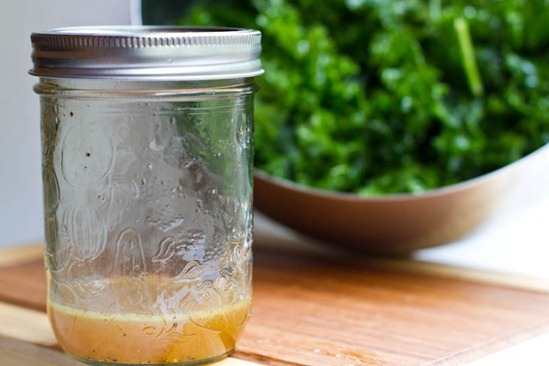 Pour on the dressing, massage into kale, add mango and seeds, marinate for an hour or longer, and then serve!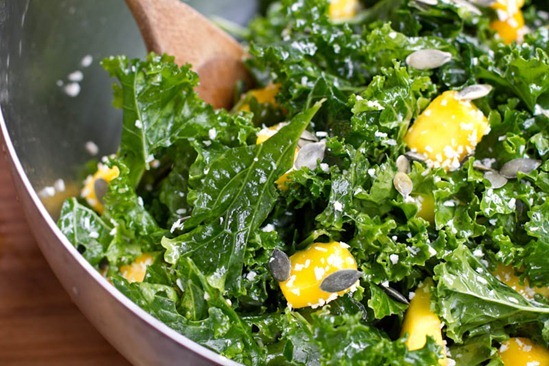 It was light and lovely, although our all-time favourite kale salad is still the Weekend Glow Kale Salad.
All in all, a wonderful meal which was a nice treat during a time of chaos.
Especially with some Chardonnay…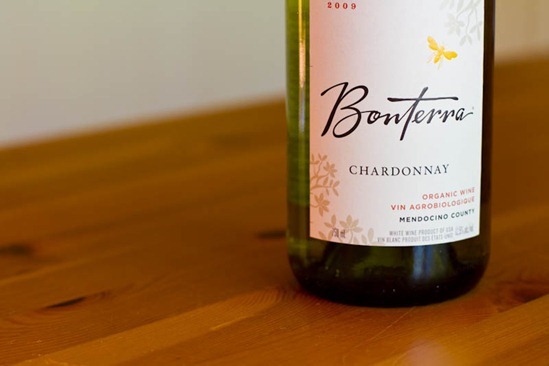 ~~~
Feed Good Tea Giveaway Winner!
Congrats to Stephanie for winning the tea prize pack! Stephanie wrote, "I would love to win a new tea selection, just in time for fall!" Stephanie I've emailed you to collect your shipping info and we'll get this shipped to you right away.