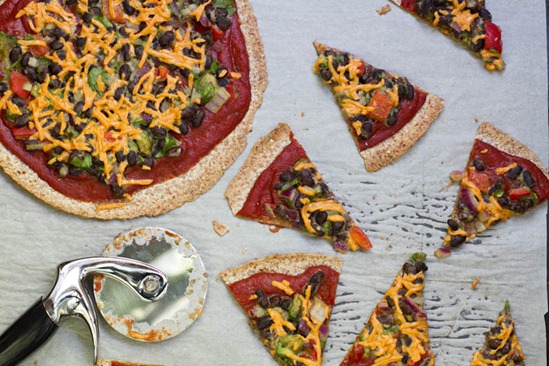 Tell me, what screams Happy Friday more than pizza?
What about…
15 Minute Pizza
Healthy Pizza
High Protein Pizza
Even-your-dog-could-make-it Pizza
Spilling boiling water on your finger as you pour your morning tea (I screamed all right but it wasn't Happy Friday…)
*ices finger*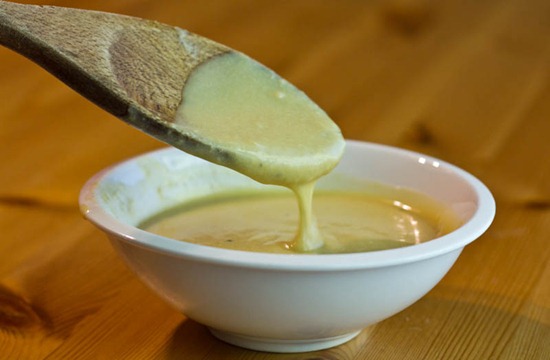 This is another Quick & Dirty recipe that I just fell in love with this week. It involves my 5-Ingredient vegan cheeze sauce, as well as a handful of other healthy ingredients that are quick to throw together.
Sometimes the best meals are the spontaneous ones. Sometimes the worst meals are the spontaneous ones. Sometimes the biggest flops are the one you dream about and plan for days drawing out detailed instructions, ingredients, maps, and brainstorming trees.
It all evens out, especially when there is pizza involved!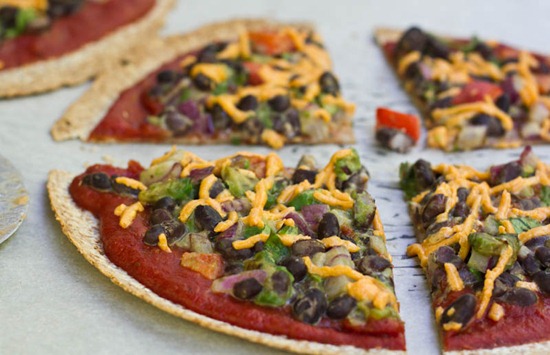 [print_this]
Cheezy Tortilla Pizzas for Two (Or 1 if you are greedy like me)
I will be collecting tips in my tip jar at the end of this post thankyouverymuch.
Yield: 2 pizzas
Ingredients:
2 tortillas (I used Food for Life Ezekiel tortillas)
1.5-2 cups cooked black beans (or one 15-oz can)
1/3 cup 5-ingredient cheeze sauce
3 tbsp minced fresh Parsley (or herb of choice)
1/2 cup red onion, chopped
1/2 cup bell pepper, chopped
1/2 avocado, chopped
1/4 tsp kosher salt (to taste) and ground cumin spice, to taste
Pizza sauce
Sprinkle of Daiya cheese or other non-dairy cheese
1. Preheat oven to 350F and line a baking sheet with parchment or non-stick baking mat.
2. In a medium-sized bowl, mix together the drained & rinsed beans, cheeze sauce, parsley, onion, pepper, and seasonings until combined.
3. Place tortillas on baking sheet and add your desired amount of pizza sauce on top. Divide bean mixture between two tortillas and spread with a spoon.
4. Sprinkle on cheese and bake for 10 minutes at 350F and then broil for 2 minutes on low heat until golden. Watch closely as it can burn quickly on the broil setting…and no one wants a pizza burnt to crisp. I've been there. It ain't pretty!
[/print_this]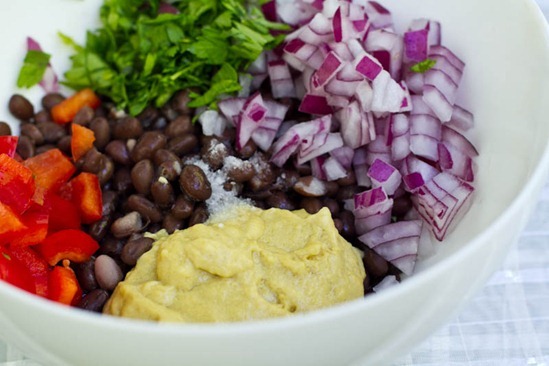 Simply mix up your cheeze sauce, beans, veggies, and seasonings in a bowl.
Add on your pizza sauce and then divide the bean mixture between the two tortillas.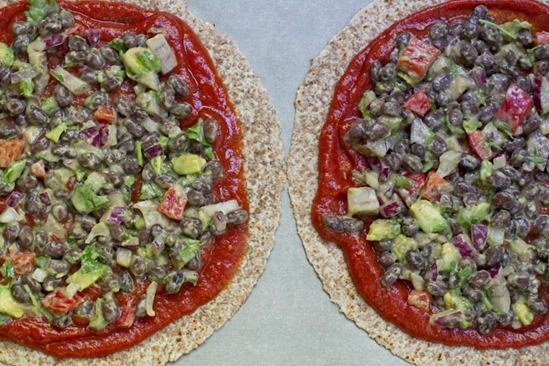 Add a sprinkle of your fav cheese! My favourite vegan cheese is Daiya cheese (it's soy free too).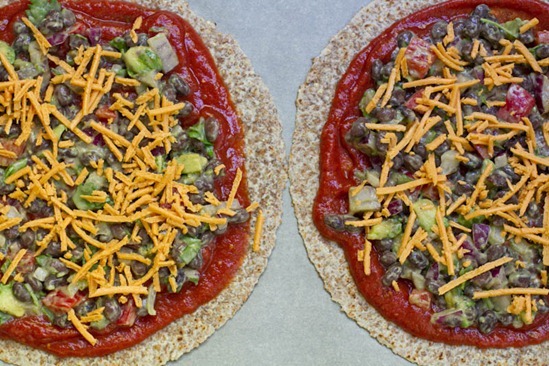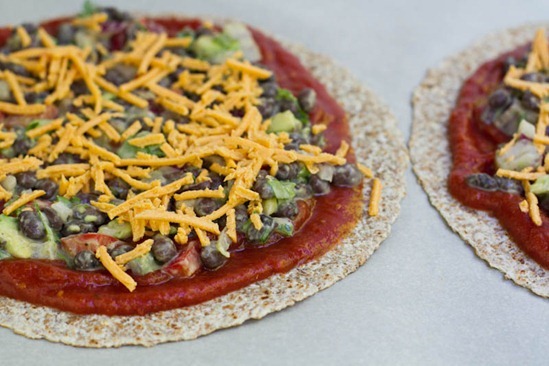 Bake for 10 minutes at 350F and then broil on low for 2 minutes to crisp.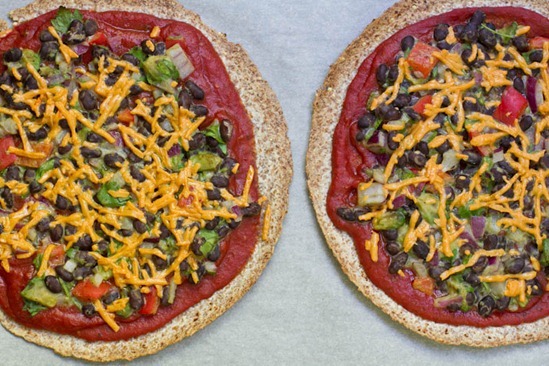 Voila.
Easy pizza that's high in protein, flavourful…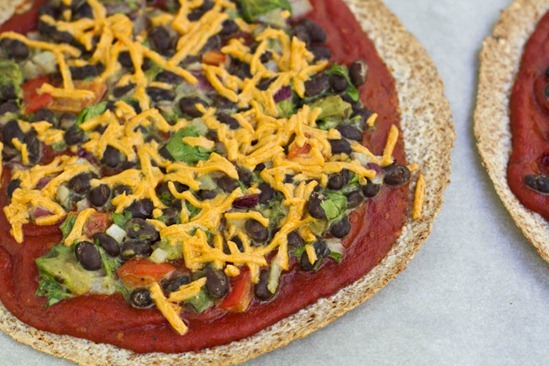 and reeeeeeally fun to slice up.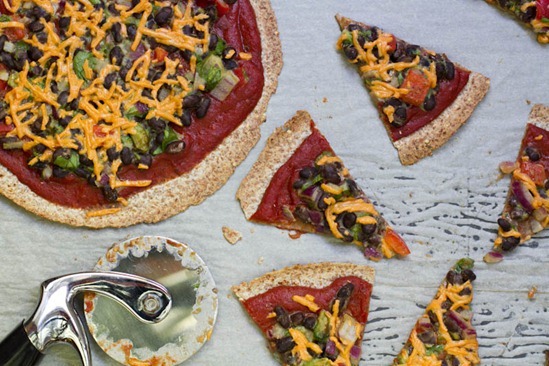 But not fun to wait to eat while I take these pictures!
You can enjoy the pizzas many ways, including slicing them into mini pizza slices.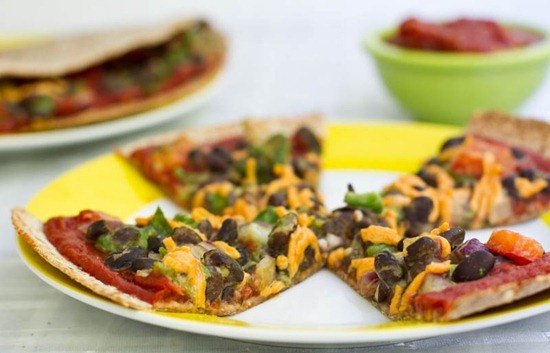 and then stuffing in your face.
I could not do this as I was still taking pictures.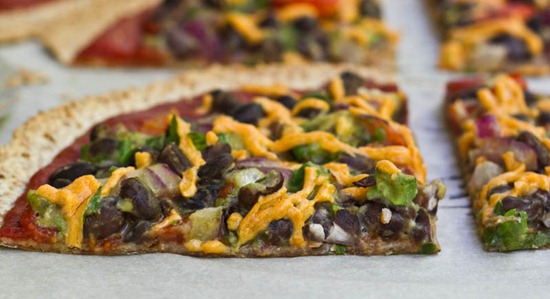 Or fold it up and enjoy it Calzone style…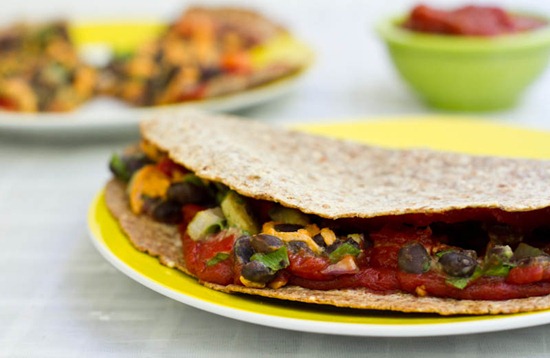 I could not enjoy this Calzone as I was still taking pictures.
You can also slice, roll, and make cute little appetizer pinwheels!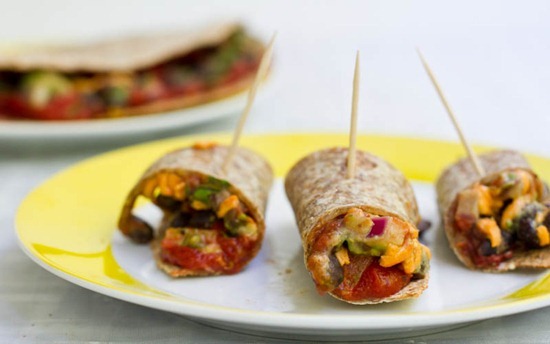 Immediately after this photo, I devoured the pizza. All was well in the world again.
Now, I'm craving leftover pizza for breakfast, except there are no leftovers because I ate it all. Hrmph.