I have a special treat for you today- a guest post from one of my favourite blogging duos- Ashley and Stephen from (never home)maker! I fell in love with their drool-worthy recipes, beautiful photography, and enthusiasm for running just over a year ago and I've been hooked on their blog ever since. I hope you enjoy the post!
P.S.- I'm making these stat!!
Angela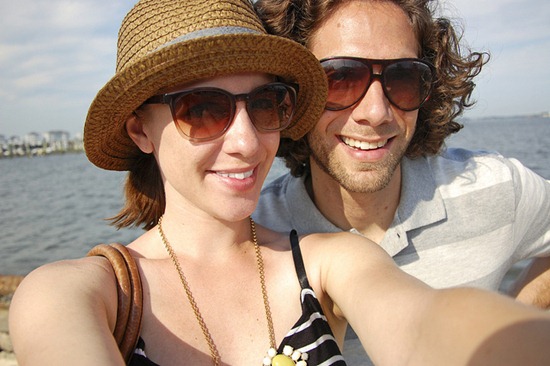 Hey, everyone! We're Ashley and Stephen from (never home)maker. Though we initially started our site as a food blog, it's evolved and shifted over the years to share focus with fitness (specifically running), photography, everyday life, and now our expanding family (Ashley's due with our baby girl, who we affectionately call Pequeña, in late November). Still, we don't just eat to live. Good, healthy food is one of our biggest passions . . .
We're thrilled to share with you five of our favorite vegan recipes from our blog. And though we have in recent years become vegetarian (Stephen now enjoys seafood on occasion), we always have the most fun in the kitchen crafting healthy vegan meals and desserts.
CURRIED AVOCADO SOUP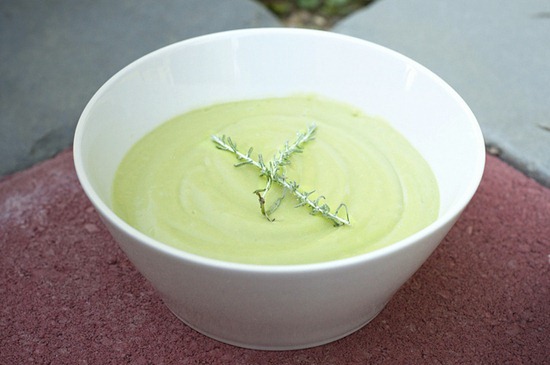 We made this Curried Avocado Soup a couple weeks ago. Though we're both not usually keen on chilled soups — they don't fill us up — this one is as creamy as it is tasty. It's a perfect summer meal on its own… or as a starter to a picnic dinner.
BLACK BEAN-SPINACH BURGERS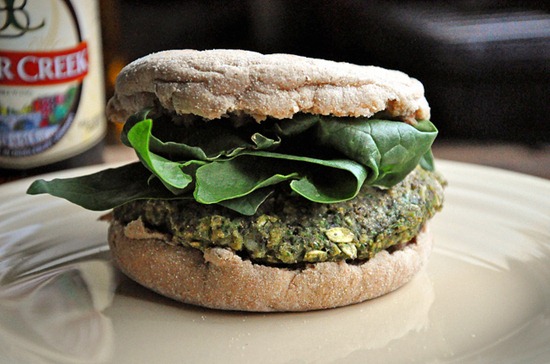 Non-meat eaters may miss out on traditional summer grilling, but that doesn't need to keep us from getting our fill. These Black Bean-Spinach Burgers are full of protein and greens — just waiting to be slathered with ketchup and mustard.
PEANUT NOODLE BOWL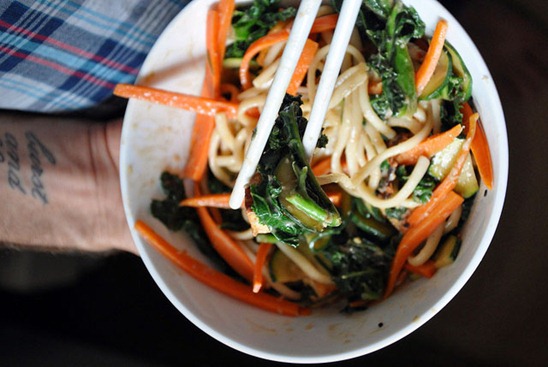 We're rarely dissatisfied when we add coconut milk and peanut butter to a simple veggie dish. This Peanut Noodle Bowl is no exception, of course. Best of all, it's great served hot or cold!
SUMMER ROLLS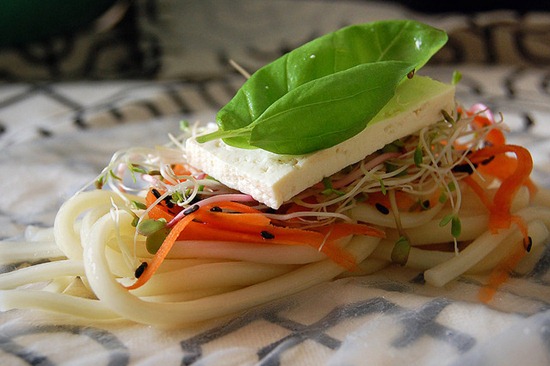 We owe the success of this refreshing Summer Roll recipe to my dear friend Meg. She recreated a restaurant favorite (pictured unrolled here so you can see all the goodness inside) back when we were in college. We still make it often — over 6 years later.
VEGAN PECAN CHOCOLATE CHIPPERS
And no favorites list would be complete with our all-time favorite vegan cookie recipe. These Pecan Chocolate Chippers, at least in Ashley's humble opinion, have a perfect crisp-but-soft-and-gooey texture. We make them at least once every couple weeks — even more often now that Ashley craves them all the time.
We'd like to thank Angela for the opportunity to share these recipes with you all. Oh She Glows has been a great source of inspiration for us over the years — most notably teaching us the pure wonder that is a green monster. We're hooked and never looking back.
If you'd like to read more from us, feel free to stop by (never home)maker for more vegan recipes, tips on running, and other fun stuff. And our new-ish family site, (never home)maker, baby!, is the place to go for pregnancy updates as we anxiously await our little girl's arrival.
<3 Ashley and Stephen M.