Last night, I made a new veggie burger recipe.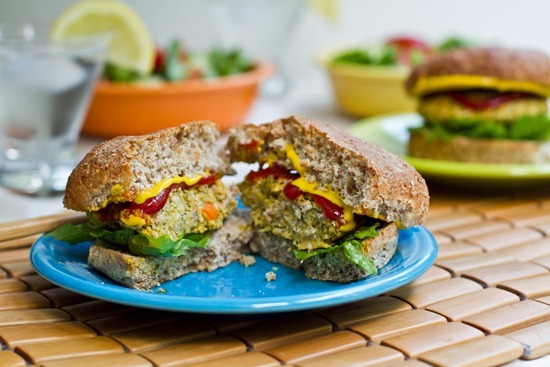 Don't get too excited though, they were crap. I'm super picky when it comes to veggie burgers and I rarely meet one that I'm happy with.
Eric goes, 'They'd be good without all the lemon…'
'They are rosemary lemon burgers.'
'Oh…hah'
Fail.
I also won't tell you that I had to skin my rosemary plant to get enough leaves for the recipe. I'm pretty sure it's going to die today in protest.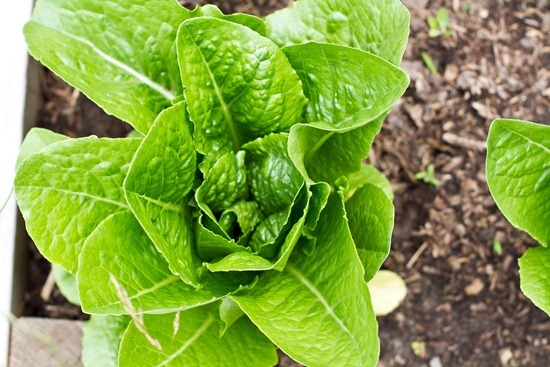 However, I redeemed myself with this salad made with garden romaine lettuce! It was the freshest romaine I've ever laid eyes on or tasted. And most importantly, I grew it!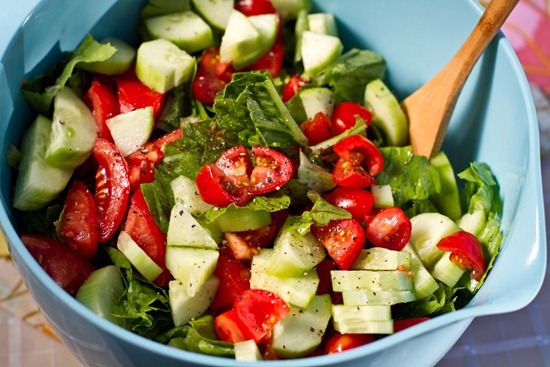 We currently have romaine lettuce coming out of the wazoo. I'm thinking a salad party is in store. Sadly, I think it will just be me attending.
But still, dinner left us wanting more. Half eaten crap lemon burgers and salad just wasn't enough to tame our hunger monsters.
I had to pull out a secret weapon…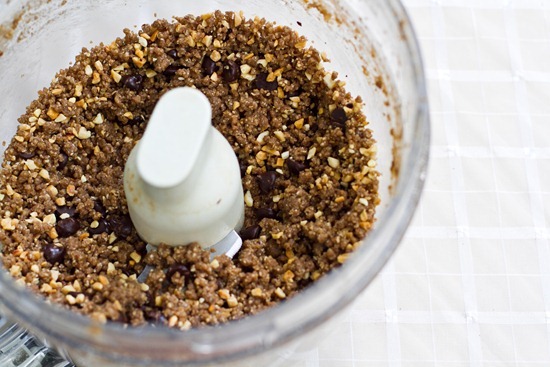 Cookie Dough balls. 5 minutes to whip up. Instant gratification.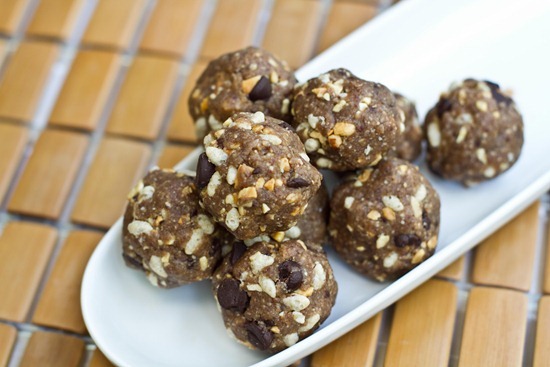 [print_this]
Peanut Butter Chocolate Crunch Cookie Dough Balls (GF + Vegan)
Adapted from my Chocolate Chip Cookie Dough Balls.
Yield: 12 balls
1/2 cup unsalted raw cashews
1/2 cup regular rolled oats (Use GF oats if you want it GF)
1/4 cup brown teff flour (or any flour you desire!)
1/2 tsp kosher salt
2 tbsp organic cane sugar
3 tbsp peanut butter
3 tbsp pure maple syrup (add gradually until desired consistency is achieved)
1/2 tsp pure vanilla extract
1/4 cup non-dairy chocolate chips
1/4 cup diced peanuts
1/4 cup Nature's Path GF rice crisp cereal
Directions:
1. In a food processor, process the cashews and oats until very fine, like a flour consistency.
2. Add in the teff flour, salt, and sugar and pulse until combined. Now add in vanilla, peanut butter, and maple syrup gradually until desired consistency is achieved. Process until a dough forms. Stop to scrape the sides of the bowl as necessary. Dough will be very sticky! If it is too sticky to make balls, you can add a bit more flour. The type of flour you use will alter the consistency so you may have to adjust it a bit.
3. Add chocolate chips and peanuts into processor and pulse. Scoop dough into a bowl and stir in the rice crisp cereal. Form balls with the dough (lightly wet fingers if necessary). Store in the fridge or freezer.
Note: If dough is too dry, add a bit more maple syrup. If too wet, add a bit more flour.
[/print_this]
And then I did something really crazy…because it's stifling hot and we can't just eat balls for crying out loud!
Meet the Peanut Butter Chocolate Crunch 'Blizzard' in all its crunchy, crispy, creamy, and peanut buttery glory.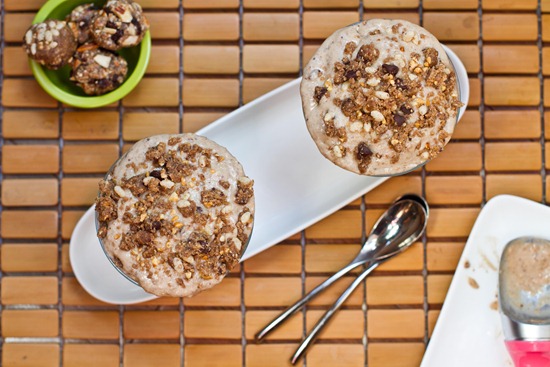 The Chocolate Chip Cookie Dough Blizzard put me up to it of course.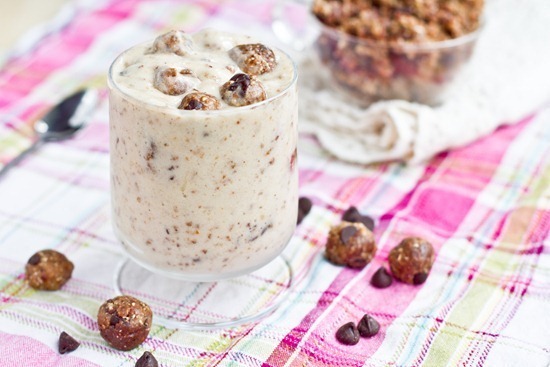 This was my best idea all week. Actually, it was the only successful recipe I've had all week. Last night, I decided if I had one more recipe fail this week, I was going to have to hire a ghost chef for the blog.
I'm happy to say this was not made by a ghost chef.
It was all me, baby. All me. And you can thank me this weekend when you are sitting on your porch in a state of Blizzard induced bliss.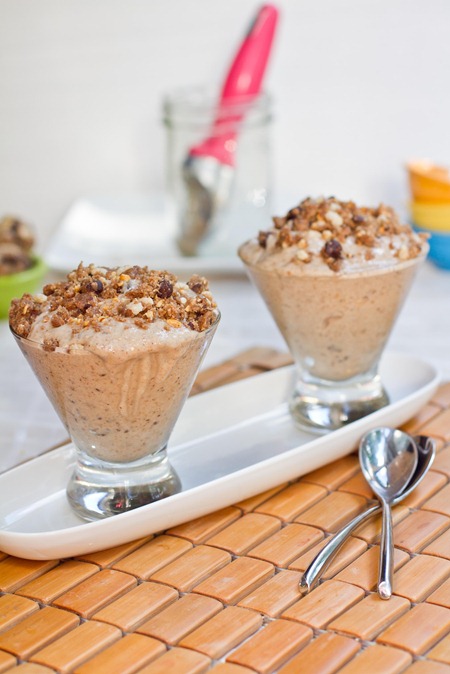 Peanut Butter Chocolate Crunch Blizzard for 2 (GF + Vegan)
3 large frozen bananas (or your favourite ice cream- it would be good with coconut bliss!)
1 heaping tbsp peanut butter
2-3 balls, to pulse into soft serve
2 balls to crumble on top
Directions: To make this dreamy delight, grab a few frozen bananas and process them in a food processor with a heaping tablespoon of peanut butter. Once the mixture is creamy like soft serve, add in a few peanut butter balls and pulse until chunky. Scoop this mixture into a small glass and top with crumbled cookie dough balls. Serves 2.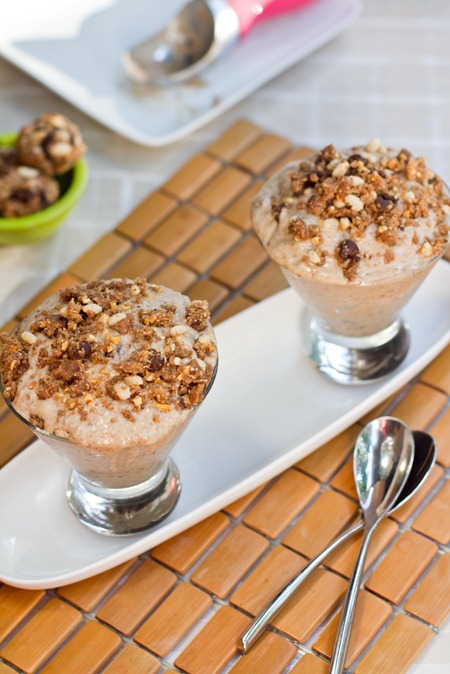 Helpful hint: If anyone in your home sees you eating this, tell them it's Vegan and Gluten-Free and they will run like hell.
More blizzard for you.
It will be our little secret. ;)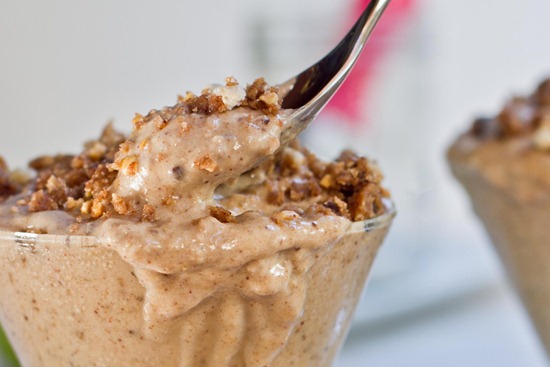 Best of all, we forgot all about the crap lemon burgers and the skinned rosemary plant, as we sat on the deck watching the sun bid farewell to this hot summer day.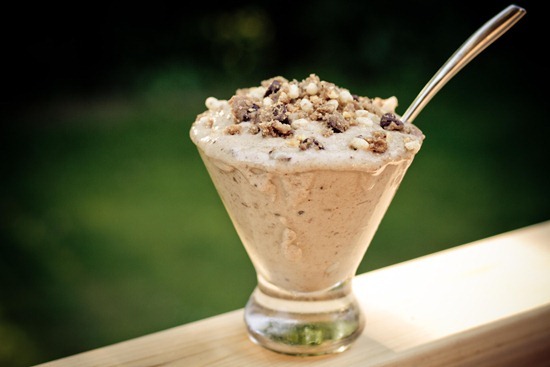 But an important question remains: What Blizzard flavour should I tackle next?