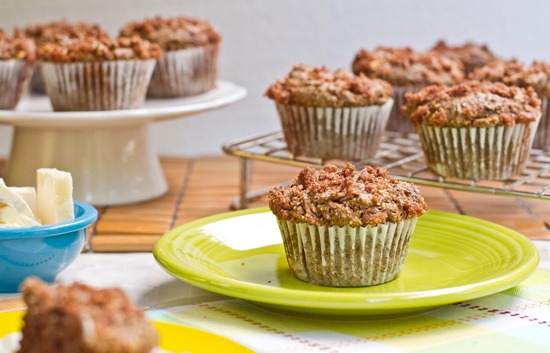 The idea for Panera's Gluten-Free Dream Day came to Marly after she was dining at Panera Bread and was quite shocked to discover that their menu did not offer a single gluten-free option. Marly thought it would be fun to get a group of bloggers together to create gluten-free recipes (and vegan if desired) that would be knock-offs of Panera's current menu items. Hence, 'Dream Day' was born!
I admit, I was pretty scared at the thought of participating. I've never combined gluten-free and vegan baking intentionally before and I wasn't sure I could have success.
But, there's no fun in negative thinking, so I told myself I would rock out the best GF and vegan muffin I could! For my knock-off recipe, I selected Panera's Apple Crunch Muffin, filled with apple chunks, cinnamon, and topped with cinnamon/sugar topping. My goal was to create a gluten-free and vegan Apple Crunch Muffin that would please just about anyone!
Come on, how difficult could it be?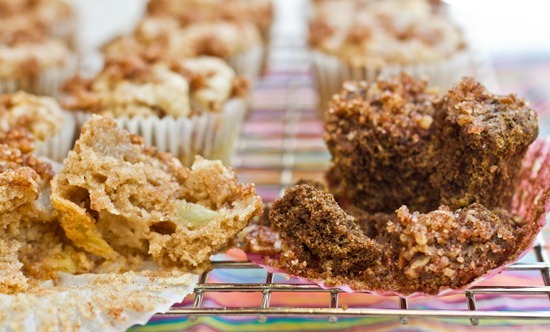 Apparently, very…;)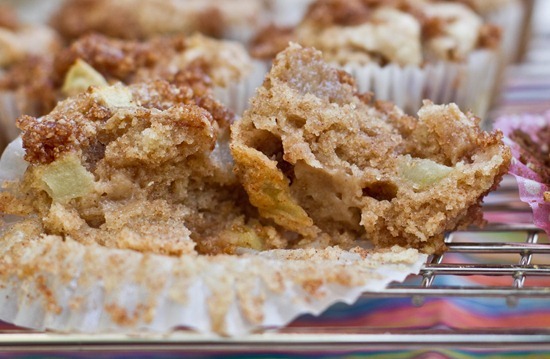 I made the World's Gummiest Muffin (above) in one trial using Bob's Red Mill GF Flour and almond flour. I made three different trials using Bob's GF flour and I never once had success with it. Now I know why many of you warned me about this flour! I'm sure it's possible to have baking success with it, but I sure didn't have any luck with muffins. Maybe it works better when not adding vegan into the mix!
Above right, you can see the World's Most Crumbly muffin. I picked it up from the pan and it literally crumbled like a sand castle in my hand.
Hilarious.
Not.
All joking aside, a vegan and gluten-free muffin was one of the most difficult baking challenges I think I've ever had and it left me with a huge respect for this type of baking.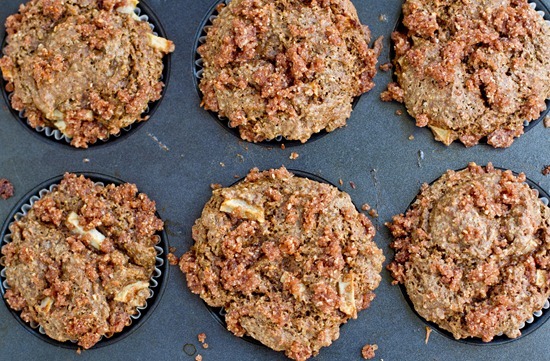 With each failed trial, I grew more and more pissed hopeless PMS-y confused desperate eager and determined to create a successful muffin. I'm a Taurus and I don't give up very easily (aka stubborn as a bull).
I read up on gluten-free baking and tried to learn the secrets of GF + vegan muffin success. Well, the secret is that there aren't many. At least not what I came across. And I soon learned that gluten-free baking rules don't always cross over to gluten-free and vegan baking. It was a whole other ball game and I was way out in left field.
Six trials later, I finally created a muffin that I deemed not only worthy to eat, but delicious too! It's a good thing because I was running out of ingredients, time,…and sanity! Wait, that's actually everyday around here…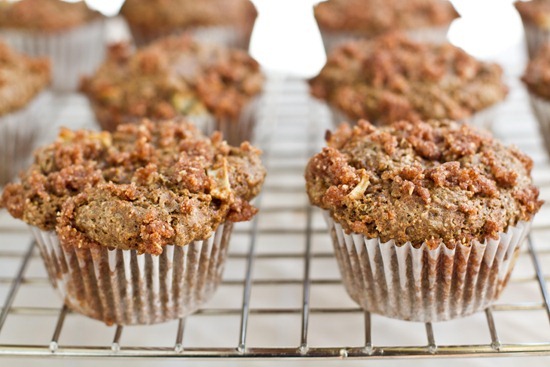 [print_this]
Cinnamon Streusel
Apple Crunch Muffin (GF + Vegan)
Adapted from Gluten-Free Goddess's Blueberry Muffins.
Dry:
1 cup brown teff flour
1 & 1/3 cups almond flour (I used Bob's red mill)
1/2 cup Tapioca Starch (I used Bob's Red Mill)
1/2 tsp kosher salt
2 tsp baking powder
1/2 tsp baking soda
3/4 tsp xanthan gum
1 tbsp ground cinnamon
1/2 tsp ground ginger
1/4 tsp ground nutmeg
1 cup organic cane sugar
Wet:
3 tbsp extra virgin olive oil (or coconut oil)
1 tbsp egg replacer powder whisked with 1/4 cup warm water
3/4 cup warm water
1 small Granny Smith apple, peeled and diced (1 cup)
Streusel topping:
1/4 cup sugar (I used Turbinado)
2 tbsp almond flour
1/2 tsp cinnamon
1 tbsp non-dairy buttery spread like Earth Balance
Directions:
1. Preheat oven to 375F and line a muffin tin with liners.
2. In a small bowl, whisk together the egg replacer and water and set aside.
3. In a large mixing bowl, whisk together the dry ingredients.
4. In a smaller bowl, whisk together the wet ingredients (except for apple). Add the wet to dry and with an electric mixer, beat until combined. It will be like a very thick cake batter. Fold in the peeled and diced apple.
5. Using a spoon, distribute the batter evenly among the liners to make a dozen.
6. Sprinkle the streusel and bake in the oven at 375F for 27-28 minutes or until muffin slowly springs back when touched. Cool in the pan for only 5 minutes (longer and it will get soggy!) before transferring to a wire rack until completely cool. The muffins will break apart if you unwrap them before they are cooled, so be sure to cool them for at least 30 minutes. Store in an air-tight container for up to 3 days.
[/print_this]
I adapted Gluten-Free Goddess's Blueberry Muffins (<–a great blog by the way!) and I was very happy with the outcome. [Note that subbing 1 cup of Bob's red mill GF flour for the teff flour produces the World's Gummiest Muffin  <—you were warned! ]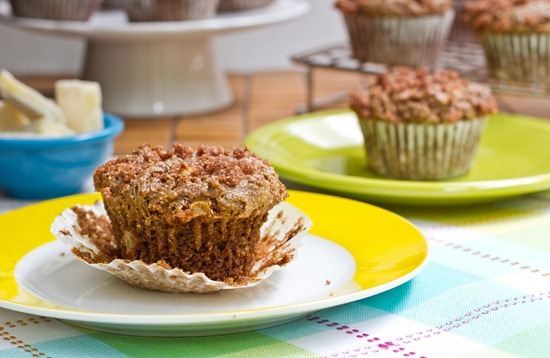 I would proudly serve these to anyone with a gluten sensitivity! They taste just like an apple muffin should and they weren't beany tasting or gummy like some of my previous trials.
If my husband inhales half a batch in the matter of hours, I deem them a success. ;)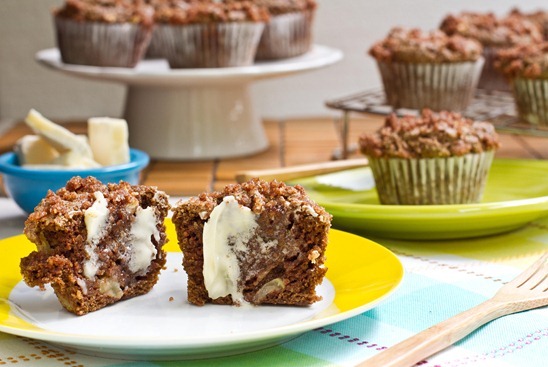 The density and flavour remind me a lot of a bran muffin with a cinnamon twist. Almond flour and Teff flour pair together wonderfully adding a nutty, wholesome quality. Not to mention both flours pack in a lot of protein, iron, calcium, and fibre.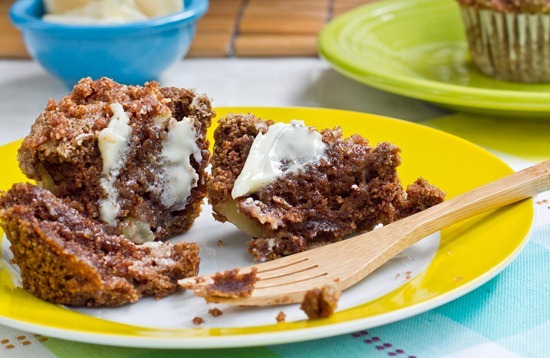 Want to check out more gluten-free recipes?
Check out what the other Dream Day bloggers baked up for you! (Note that their posts will be going up throughout today and I will update the links accordingly!)
Bagels
Allyson Kramer — Jalapeno Cheddar Bagel
Muffins
Family Fresh Cooking — Wild Blueberry Muffins
Veggie Num Num — Pumpkin Muffin
Multiply Delicious — Chocolate Chip Muffins
Scones
Heather Strang — Orange Scones
Breakfast Sweets
Namely Marly — Caramel Pecan Rolls
Diet Dessert Dogs — Cinnamon Crumb Cake
Souffles
Clean Green Simple — Spinach & Artichoke Souffle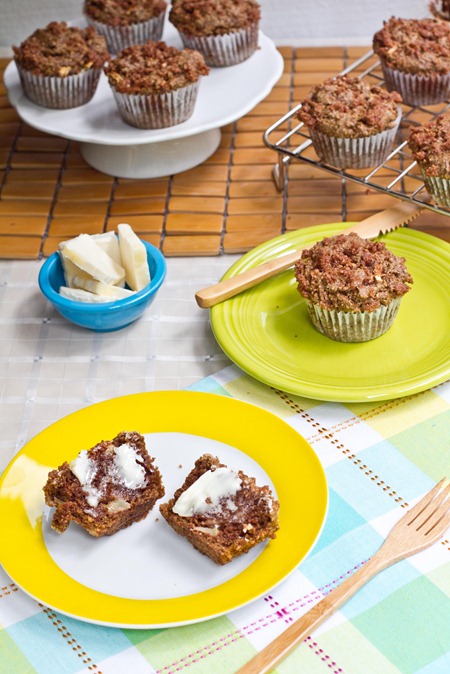 Marly says, 'Right now the only way to try all these gluten-free goodies is to make them yourself. But who knows, maybe someday you'll be able to pop into a place like Panera and enjoy one right from their menu.'
I couldn't agree more! Thanks again to Marly for this fun challenge. :)