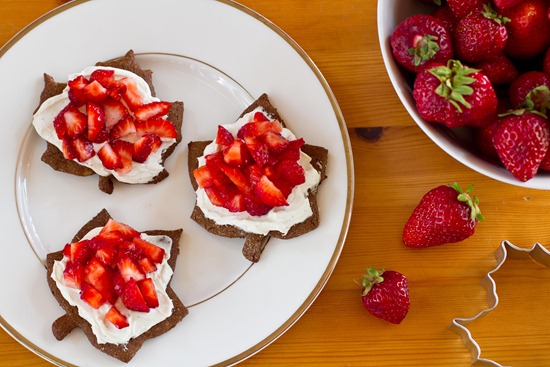 Canada Day is quickly approaching this Friday and I've been busy planning a few recipes for our BBQ get together. I love holidays because they challenge me to put on my culinary thinking cap and create festive recipes that highlight what we love about the holiday.
For Canada Day, it's all about the red and white, of course!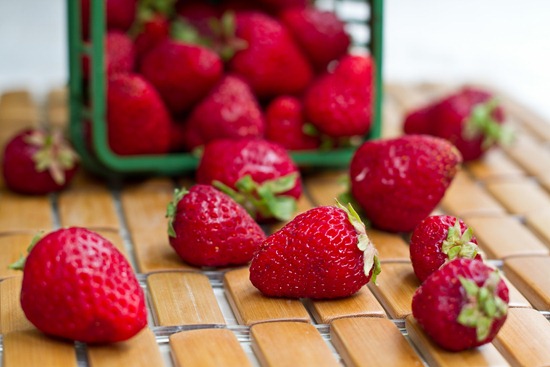 Any excuse to buy more local strawberries is a-ok in my books. I may need an intervention.
My goal was to create a quick and easy dessert recipe that could be thrown together in no time, but still taste delicious! I don't know about you, but I don't want to spend hours in the kitchen when I have guests to entertain. These Strawberry Cheesecake Bites are the perfect dessert to whip up, allowing you to keep your cool even on a hot day.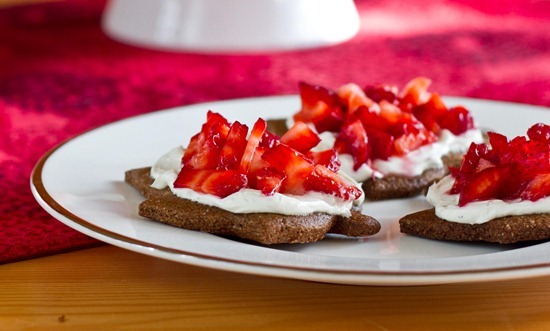 To make the Strawberry Cheesecake Bites, you start with a Graham Cracker Base. This is the 'crust' of the cheesecake!
I used this graham cracker recipe and I bought a Maple Leaf cookie cutter from Golda's Kitchen.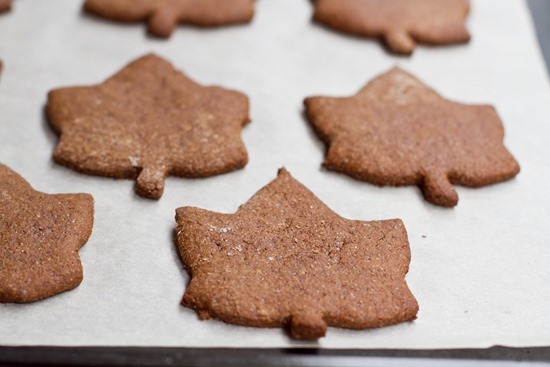 The recipe made about 13-15 maple leafs, so you might want to double the recipe if making for a large group.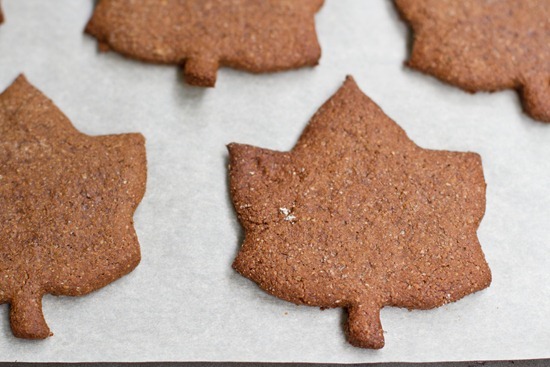 There are a couple reasons why I used graham crackers for the base:
1) They can be made ahead of time
2) They are very firm and crunchy and won't get soggy from the toppings
Time saving tip: If you are really tight on time, just whip out a box of graham crackers! They will have the same effect in a pinch.
After that, I whipped up the vanilla bean cheesecake frosting layer!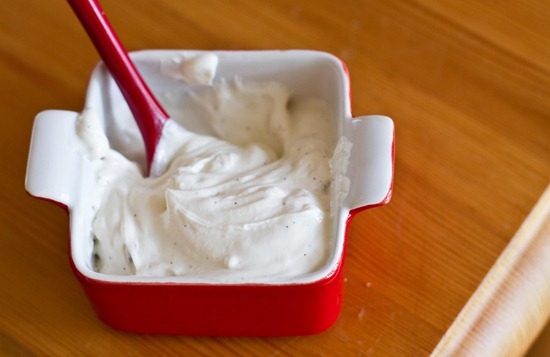 I grabbed a tub of non-dairy cream cheese and sifted in about 1/2 cup-3/4 cup of organic icing sugar. Beat until light and fluffy and add in a couple scraped vanilla beans or a dash of fresh lemon juice.
I originally tried to make this using maple syrup (so Canadian!), but it made it too runny and didn't work. I wouldn't suggest using liquid sweetener in this case. However, you could use some Maple Extract for a fun kick of maple in the frosting.
Once you whip up your cream cheese layer, just dice some strawberries and layer away!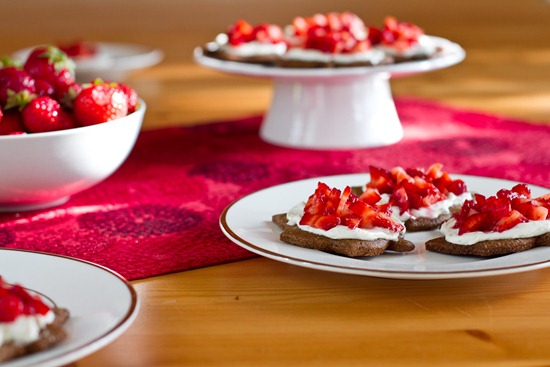 Add a tablespoon of the cream cheese frosting and then sprinkle with strawberries and a pinch of sugar. That's all she wrote!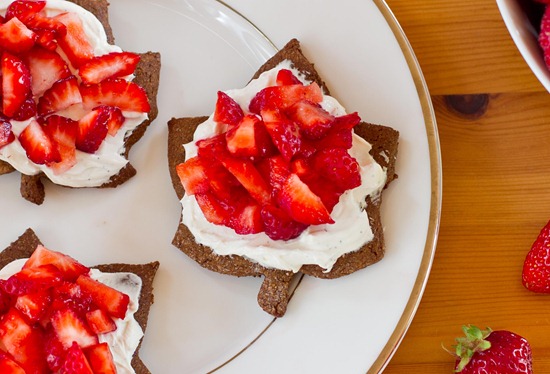 [print_this]
Strawberry Cheesecake Bites
Inspired by Hungry Foodies Pharmacy.
Ingredients:
Homemade or store-bought graham crackers
1 (8-oz) tub non-dairy cream cheese
1/2 cup- 3/4 cup icing sugar (confectioner's)
2 vanilla beans or 1 tsp fresh lemon juice
1 pint strawberries, hulled and diced
Sugar, for sprinkling
Directions:
1. Make your homemade graham crackers in advance or simply purchase graham crackers from the store.
2. In a mixing bowl, beat the cream cheese until fluffy. Slowly add the icing sugar to taste. Add in a couple scraped vanilla beans and maple extract or a teaspoon of fresh lemon juice if you prefer. Store in fridge. You can also make this in advance!
3. Hull a pint of strawberries and dice.
4. Lay your graham crackers onto a large serving plate and spread with cream cheese frosting. Sprinkle on diced strawberries and sugar.
Notes: The homemade graham cracker recipe made about 13-15 maple leafs, so you may want to double the batch. I had leftover cream cheese frosting, so 1 tub should cover about 25 maple leafs depending on how much you use.
Be sure to bake your graham crackers a couple minutes longer (I think I baked mine for 17-18 minutes) so they were extra crispy once cooled. That ensures that the cream cheese frosting won't make the cracker get soggy (it will get a bit soft after 20-30 minutes, but not too much).
[/print_this]
The great thing about this recipe is that it is easily adapted for the Fourth of July!
And then you can invite me over for your party. ;)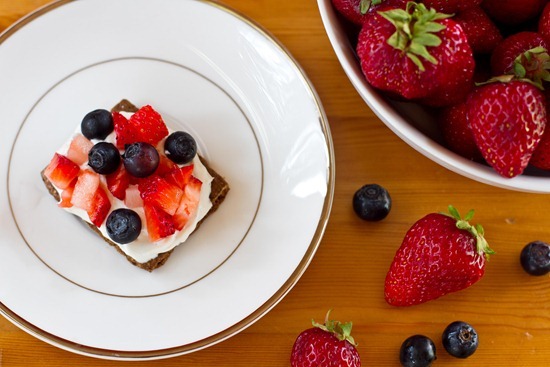 Just use store-bought or homemade graham crackers (cut into rectangles or stars), and add a few blueberries on top! If you are feeling really creative you could use the berries to create the flag on the cracker.
I'm really happy with how these turned out! They are light enough for summer, but still feel like a fun dessert.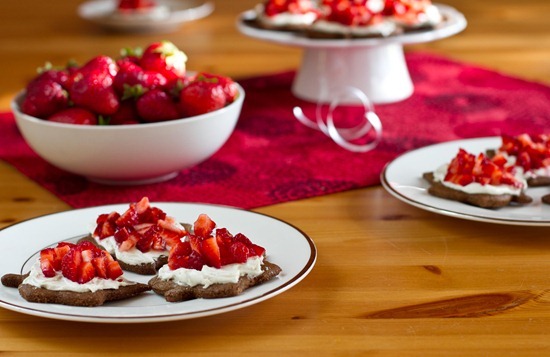 Anyone want to help me eat these things? :)