Our weekday mornings usually go a little something like this.
We awake to alarm clock #1.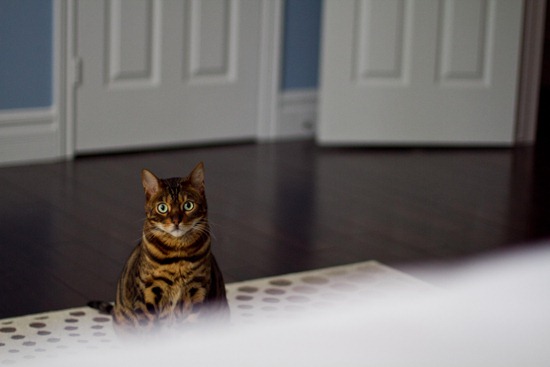 It's Sketchie and he's impatient. He's been awake prowling the house since who knows when.
I look at the clock and it's 5:43am.
Meeeeeeeoooooowwwwwwww! Meowwwww. Feed meeeee-ow. Wake up. Meow. Meow. Meow. Meowwwwwww.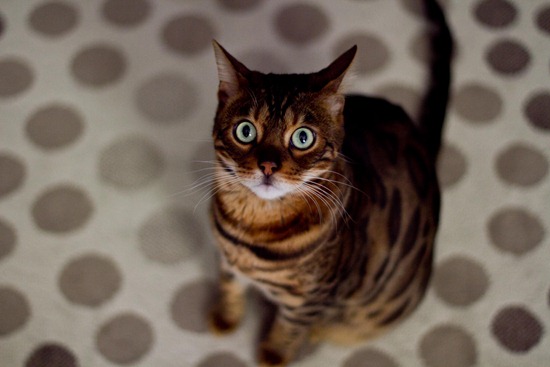 'Sketchie!!!'
Meow….
Somehow I manage to get a half hour of "quality sleep" until the alarm goes off. I'm happy Sketchie didn't win.
When the alarm goes off, suddenly, Sketchie is back. This time, he's kneading my belly like a hunk of pizza dough. It tickles and I laugh like the Pillsbury Doughboy. Sometimes he gets a little carried away and his nails go through the comforter and prick my skin.
I feel loved.
When I come out of the bathroom, I drag Eric out of bed. This always takes a few attempts!
Sketchie and I walk downstairs. He purrs so soft this time and brushes against my leg the whole way down, pretending like his intrusive wake-up call never happened.
I forgive him.
After feeding Sketchie, I challenge myself to make the strongest cup of green tea in the world.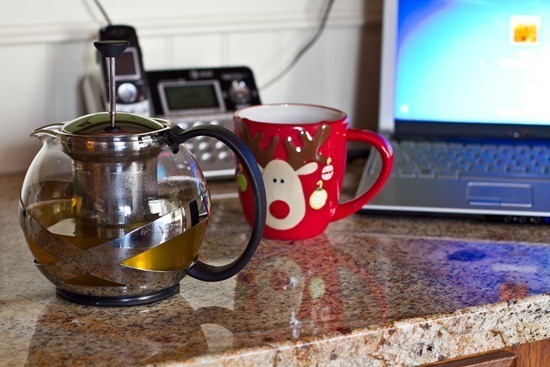 I usually win.
I pour a large, unknown quantity of tea leaves into my Bodum loose leaf tea pot and then add a few more for good measure. As it steeps, I head outside to water the garden, anxiously waiting my tea.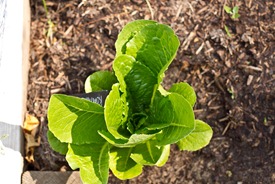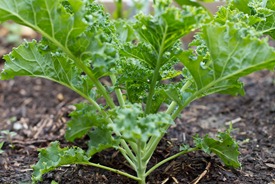 By the time I come back in, Eric is enjoying a huge bowl of spelt flakes, raisins, and chia seeds. He eats it in record time and then he spends about 6 hours brushing the chia seeds out of his teeth.
I pour my tea into a travel mug and we fly out the door to drive to the train station. We're usually always running late and we arrive 60 seconds before it departs. A quick kiss and we part ways.
On this weekday morning, however, things went a bit differently!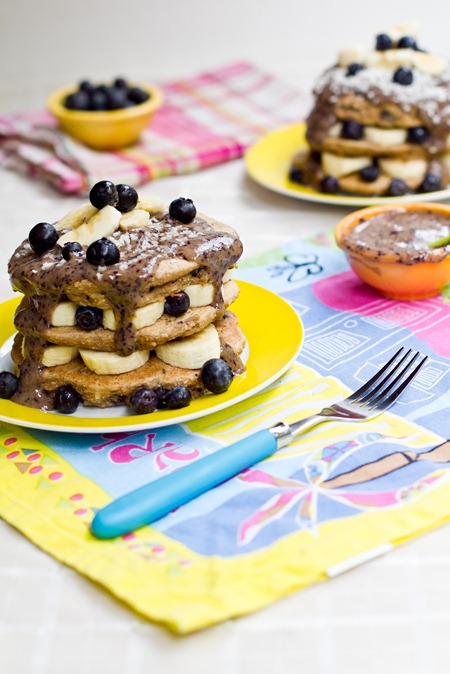 I found out that Eric was working from home today, so I told Eric I would make our favourite breakfast…pancakes!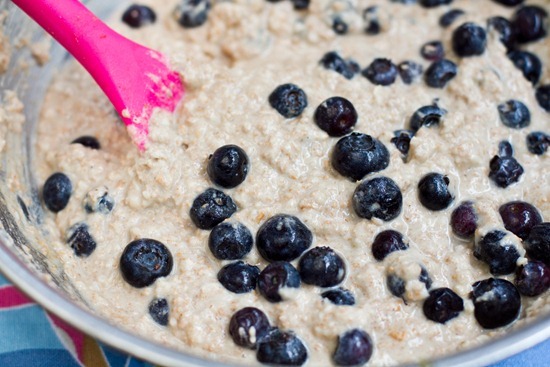 I made my usual crazy pancake stacks, this time adding a fun blueberry-vanilla bean twist. (You can check out all my pancake stack recipes here). And did they ever turn out incredible!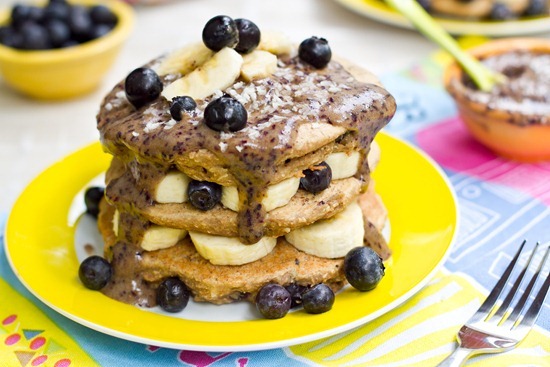 [print_this]
Blueberry Vanilla Bean Stacked Pancakes with Blueberry Glaze
Adapted from Strawberry Shortcake Stacked Pancakes
Ingredients:
1 cup + 1/4 cup whole wheat flour
1/2 cup shredded, unsweetened coconut
1 tsp baking powder
1/4 tsp baking soda
1/4 tsp cinnamon
Pinch or two kosher salt
3/4 cup Almond Milk
1 vanilla bean (optional), scraped
1 tsp pure vanilla extract
1-2 tbsp pure maple syrup
3/4 cup warm water
1 cup blueberries + more for glaze (below)
Oil, for skillet
Blueberry glaze: 3/4 cup blueberries processed with 1 banana
Shredded coconut, blueberries, maple syrup, to garnish on top.
Directions:
1. Preheat oven to 250F and grab a baking sheet. Whisk the dry ingredients (flour, coconut, baking soda, baking powder, cinnamon, and salt) in a medium sized bowl. In a small bowl, whisk together the wet ingredients (almond milk, warm water, vanilla extract, optional vanilla bean, maple syrup) and then add to the dry ingredients. Whisk well until no clumps remain. You can add more milk to thin it out as desired.
2. Preheat the skillet over low-medium heat and add some oil on the pan. Pour 1/4 cup of batter, per pancake, onto the skillet and quickly smooth out a circle with the back of a spoon. Cook until small bubbles appear on the surface and the bottoms of pancakes are golden. Reduce heat if necessary (I cook them on heat # '3'). Transfer to baking sheet and place in the oven to keep warm.
3. Meanwhile, make your blueberry glaze by processing 1 banana with 3/4 cup blueberries. Next, slice 1-2 bananas if you'd like to make the pancake stack as shown in the pictures. Once my pancakes are stacked, I scoop the blueberry glaze, coconut, and more sliced banana and blueberries on top. Drizzle with maple syrup if desired. Makes 6 medium pancakes or 8 small ones.
[/print_this]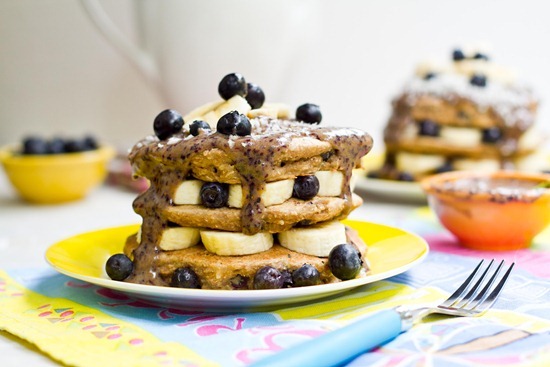 I had a bunch of blueberries to use up so I threw a cup of them in the batter and then used the rest to make this delicious blueberry glaze.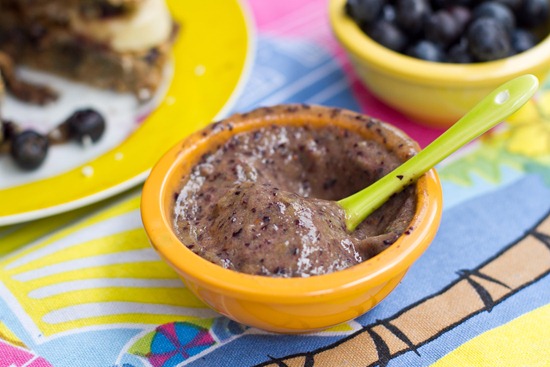 To make the glaze, I processed 3/4 cup blueberries with 1 banana. We both really loved it as an alternative to maple syrup!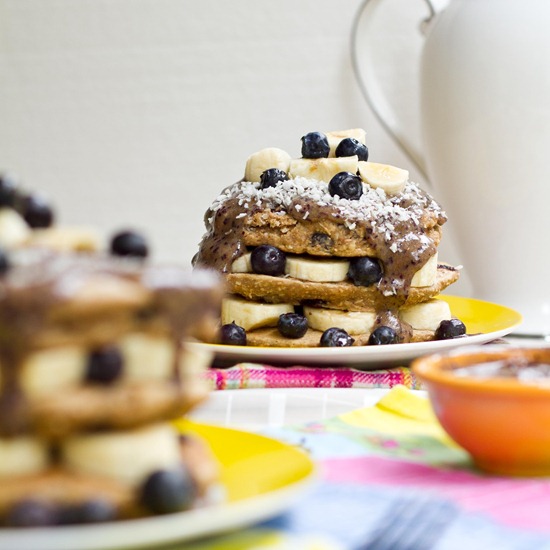 I love this pancake recipe because it's made with 100% whole wheat flour and the pancakes are very fluffy and thick. The blueberries were just oozing out of them!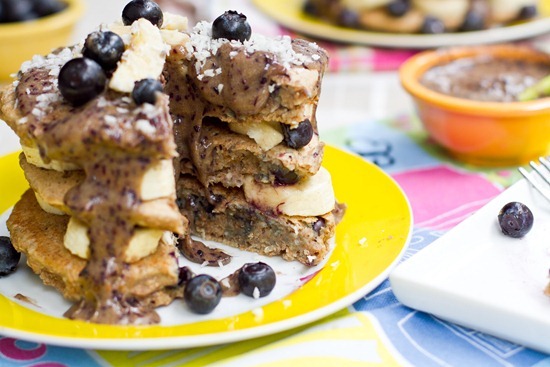 Sketchie is also a happy cat today.
One of Sketchie's favourite things in the world is when Eric works from home. He loves to jump up on Eric's lap to sleep for the afternoon or use his laptop as a butt warmer when he leaves his station. ;)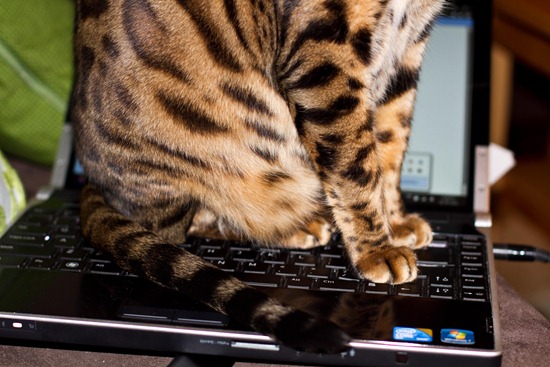 In other news, I have a guest post over at Eat Live Run today as well as an interview with Evolving Wellness…check 'em out!
Have yourself a great Thursday!