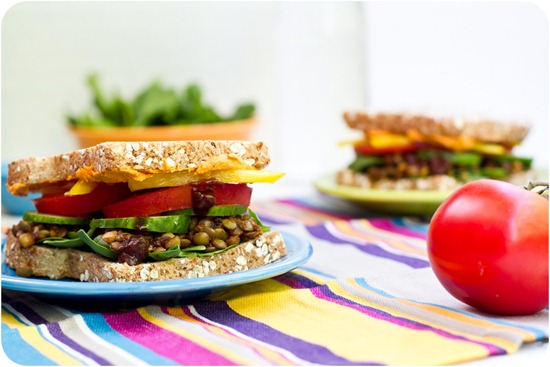 Back in March 2010, Eric decided to clean up his diet. We were on vacation in Florida when he realized that most of his favourite foods and drinks (such as Coke, Kellogg's Raisin Bran, Ketchup, multigrain bread, etc) contained high fructose corn syrup. We found this odd because the labels in Canada do not list this ingredient on the very same products. After reading up on it, we realized that high fructose corn syrup is often called 'glucose-fructose' on Canadian labels. We were shocked.
When we got home from our vacation, we discovered that many of the same cereals, sauces, and dressings in our kitchen contained 'glucose-fructose' so we did a pantry overhaul. Since that vacation, not one pop has crossed Eric's lips and he also gave up his go-to products that contain glucose-fructose. This meant switching to Nature's Path cereal, organic ketchup, Silverhills Bread, and 100% natural fruit juices, to name a few.
One of the glucose-fructose containing condiments is our beloved BBQ sauce! We use BBQ sauce a lot in the summer to give a little kick to whatever we're grilling. We recently purchased an 'all-natural' BBQ sauce from Whole Foods only to find out that it contained corn syrup and a few other questionable ingredients. That's when I decided to take matters into my own hands and try to make some myself.
Before the BBQ on Saturday, I made my first batch of homemade BBQ sauce adapting a recipe from Veganomicon that I saw on Matt's blog. Any you know what? It really wasn't as hard as I thought it would be. The sauce was thrown together in no time. I'll be making a couple modifications to this recipe next time I make it (I'll talk about them below), but I think it was a good starting point!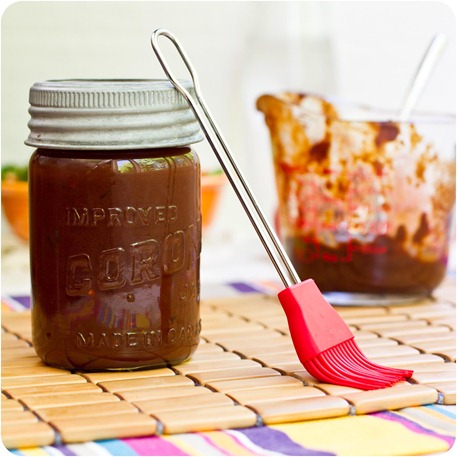 [print_this]
Homemade BBQ Sauce
Adapted from Veganomicon (recipe found here).
Yield: 2 & 1/4 cups sauce
Ingredients:
1 tsp extra virgin olive oil
1 medium-sized sweet onion, chopped finely
3-4 garlic cloves, minced
1/2 tsp kosher salt
1/2 tsp red pepper flakes (less if you don't like it spicy)
22-oz crushed tomatoes (or 28oz can if that's what you have)
1/3 cup blackstrap molasses (see note)
1/3 cup white vinegar + 1 tbsp apple cidar vinegar (or just use more white vinegar)
2 tbsp sugar
1 tbsp yellow mustard (Dijon works too)
Directions:
1. In a large saucepan, sauté the onion in oil on medium heat for about 7 minutes. Add the garlic and sauté for another minute.
2. Add in the rest of the ingredients except for the mustard and cook for about 30 minutes uncovered over low heat. Stir occasionally and make sure not to burn it.
3. Add the mustard and taste for sweetness/sourness. Add more sugar, salt, vinegar, etc if you think it's necessary to achieve your desired flavour. Cook for another few minutes.
4. Optional: You may puree the sauce in a blender, but it isn't necessary. I left mine chunky as I didn't want to dirty the blender! Makes 2 & 1/4 cups sauce.
Note: I found this sauce to have a fairly pronounced molasses flavour. Next time, I will probably reduce the molasses to 3-4 tbsp and slowly add it in to taste.
[/print_this]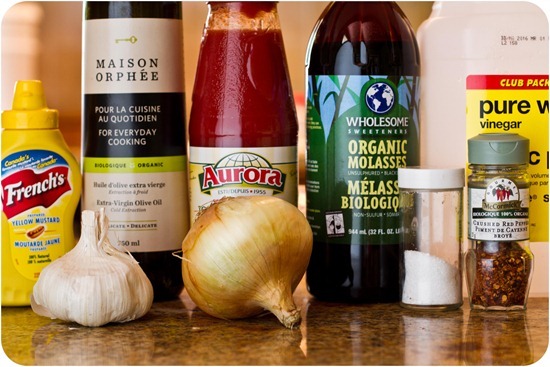 The sauce was much easier to throw together than I thought it would be! You basically just chop the onion and garlic, sauté, and then stir everything in, simmer for 20-30 minutes, and adjust the sauce to taste.
The sauce smells wonderful when it's cooking in the saucepan. The flavour is quite nice, however I found the molasses flavour to be more pronounced than I prefer, so next time I will reduce the molasses to 3-4 tbsp. Other than that I loved it. The original recipe also called for 2 tsp liquid smoke, which I didn't have, so you can always add that in if you prefer!
I'm not sure how long it keeps for in the fridge, so I decided to freeze half the batch. Hopefully it freezes ok.
Yesterday, we used some of the leftover sauce and made up some yummy BBQ lentil sandwiches for lunch!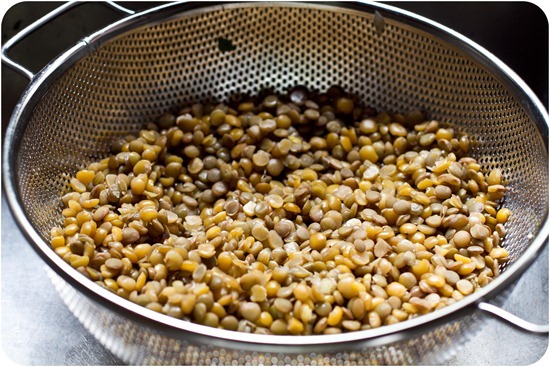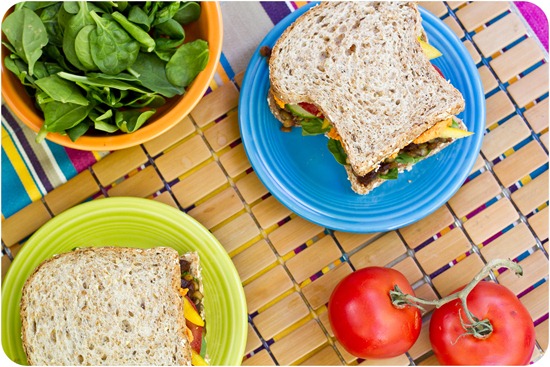 The sandwiches contained:
Silverhills sprouted grain bread
hummus
lentils + bbq sauce, heated up
grilled red onion and yellow peppers
tomato slices
spinach
Cucumber
S & P
They were glorious. And messy. ;)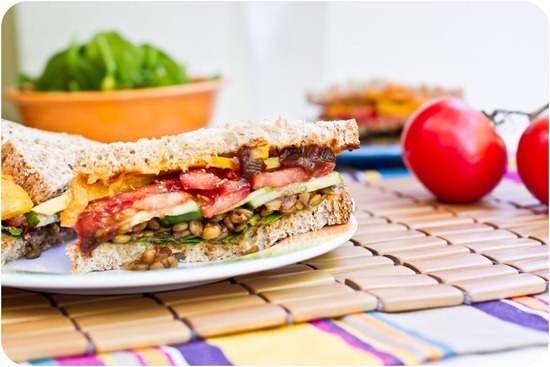 In other news…it's June 6th which means…
Happy Birthday to my Sister, Kristi!
I'm looking forward to the 3rd week in July when Kristi, Pete, and my nephews come to stay with us for a week! Kerrie and fam are also staying here for a weekend during Kristi's stay…it's going to be a good time! I better start planning some kid-friendly meals. ;) Any ideas?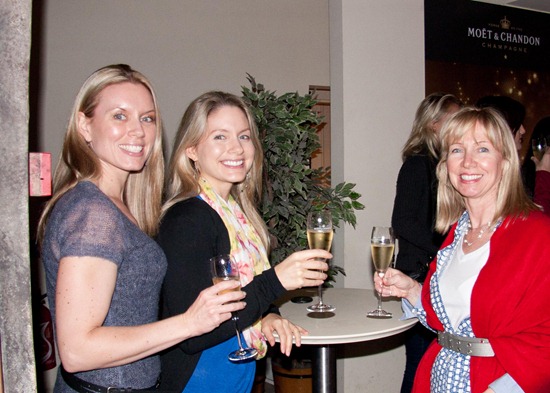 Also, Happy Anniversary to my loving in-laws, Ken and Margaret!