If you asked me what a perfect day would look like, yesterday was certainly it.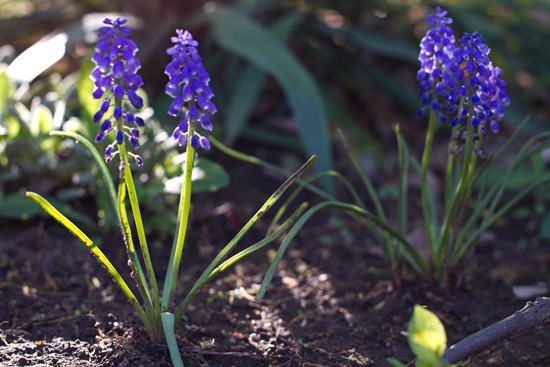 My day started off with a 3 mile run followed by some core work, push-ups, and at-home yoga. I didn't have much time, but I cranked out this well-rounded workout in 40 minutes.
After showering and breakfast, Eric and I headed to the always fun Aberfoyle Antique market. It was supposed to rain all day, but it held off all morning. I love pleasant surprises with the forecast.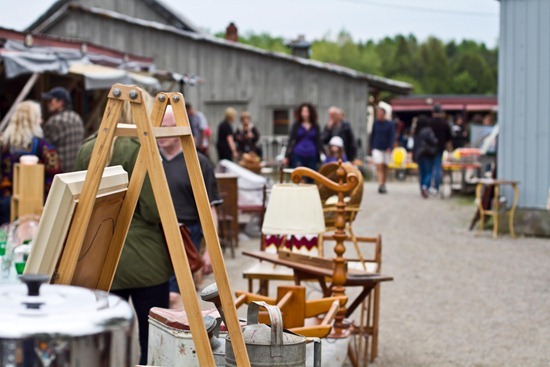 This antique market is huge and it has some great finds. Tons of gorgeous hand-crafted furniture, that is out of our budget right now!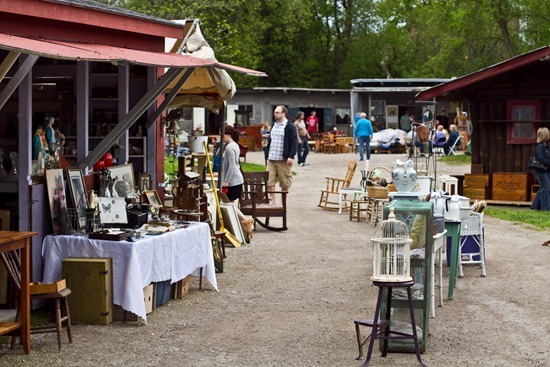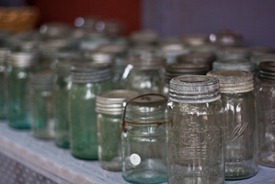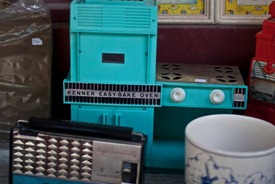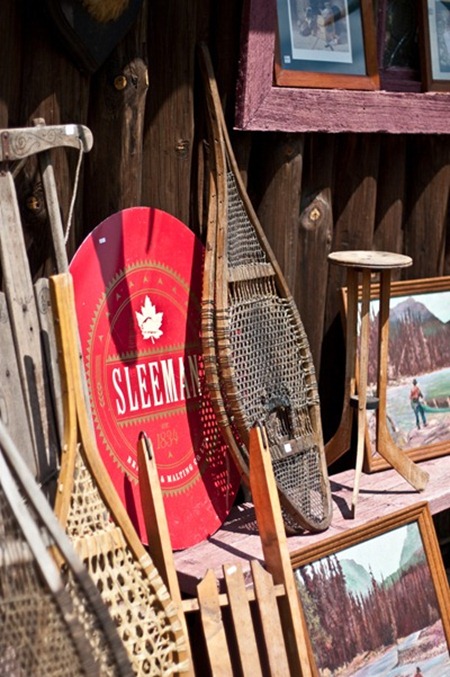 I was on the hunt for photography props and I came home with a bag full. :)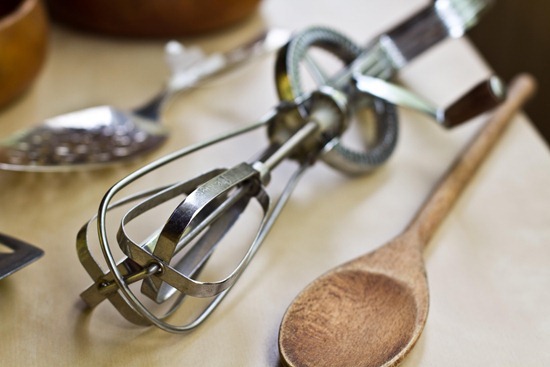 I got a bag of things for just $20!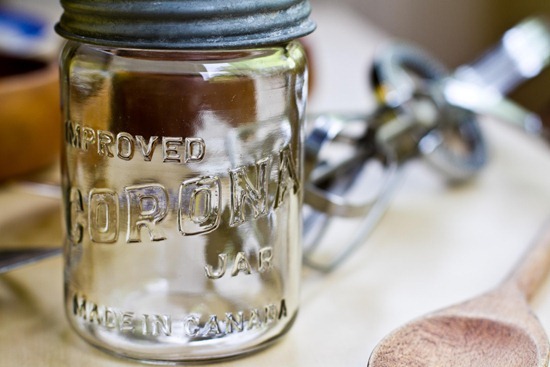 We ran some errands after that- Home Depot & Home Hardware for a couple tools for Eric and Whole Foods for groceries, lunch, and organic gardening seeds.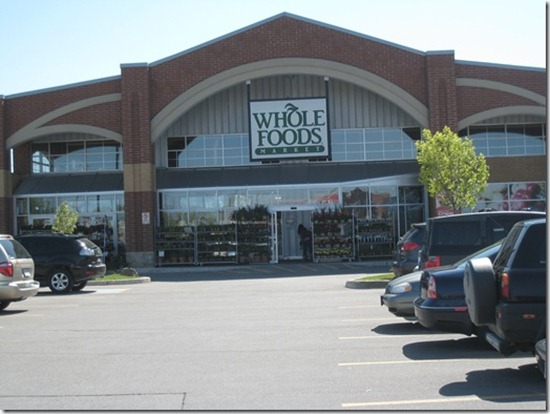 I had basically every vegan protein salad from Whole Foods that I could cram into my box. It was wonderful!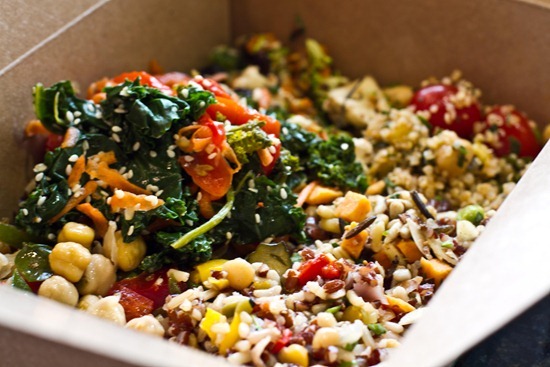 Non-tripod, shaky-hand, fuzzy pictures ensued. ;)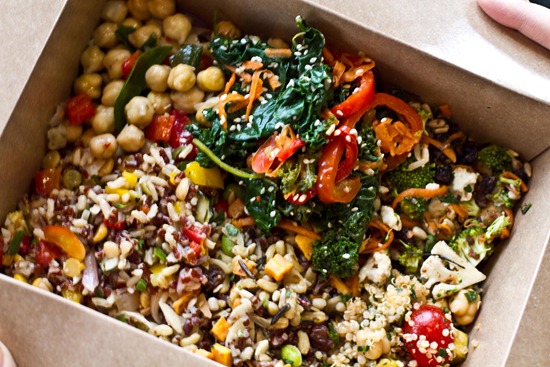 Eric had a tomato & cheese pizza pie. It looked a bit weak to me!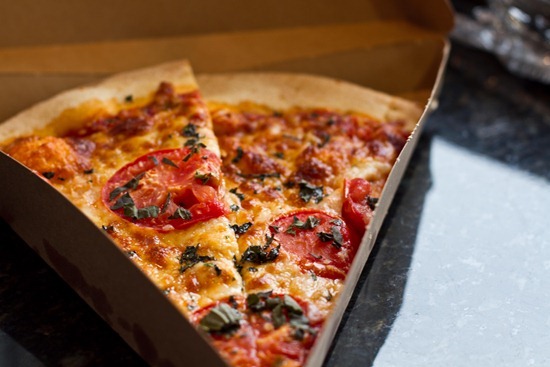 Mentionable purchases from Whole Foods:
Dried Mango (yessssss)
Live granola (will be making this on the blog soon)
Organic kale
Frozen pitted sour cherries (they don't have frozen sweet cherries…why?)
Epsom salts
purple garlic
360 Woven wheat crackers
Full of Fruit Coconut Popsicles
Mason D'Orphee organic delicate EVOO
After that we hit up another nursery to finish getting the plants & pots I needed. The kale and such are not 'certified organic', but I was told the local grower doesn't use pesticides.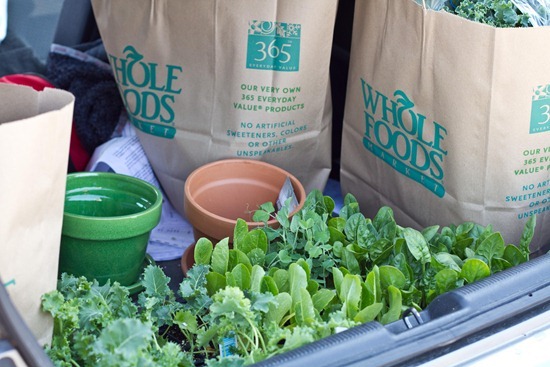 On the way home, the sun came out to reveal a beautiful, warm day! What a great long weekend this has turned out to be.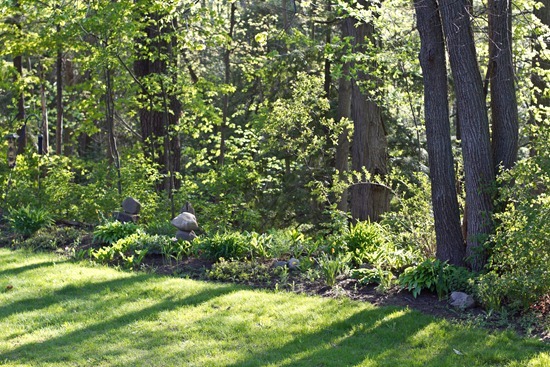 And then it was time to plant the veggie garden…it was G-day or bust.
I got my trusty garden plan that I drew out after consulting Wiki's info on Companion Planting. I tried to plant everything near other companion plants so they would have the best chance of surviving my black thumb!!
My plan is all mucked up right now, but I hope to re-draw it and post it on the blog soon.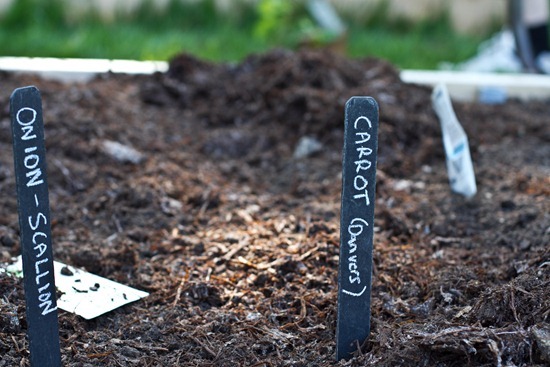 Thanks to Karly, I had these wonderful stakes to use!
The first thing I did was set the plants and bags of seeds directly onto the soil so I could visualize where everything was going to be on the two beds.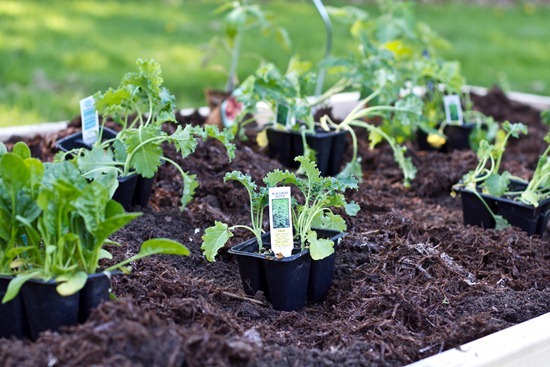 I previously looked up the spacing requirements for each plant, so after I did this I got a ruler and roughly measured the spacing for each. It took me so much longer than I anticipated to lay everything out.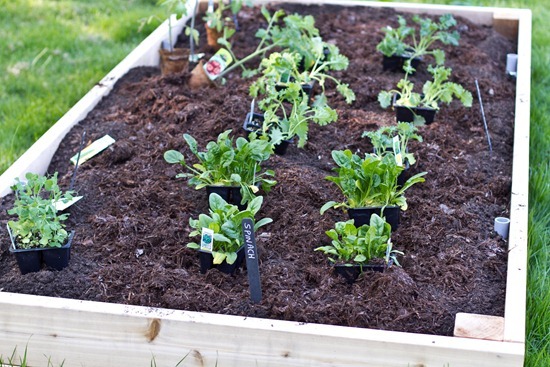 At this point, our lovely neighbours came over and gave us a big barrel of local Mushroom compost! I moved the plants off, added some in, and then tilled the soil to mix it in.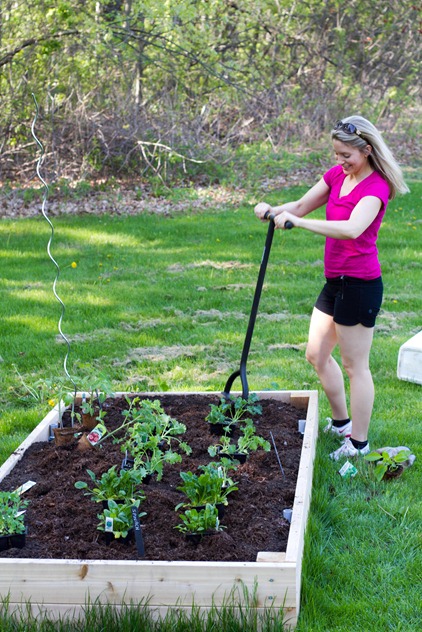 They also gave us that curly pole that we will use for our tomato plant. Apparently you can buy these at Dollarstore for much cheaper than Home Depot.
We had lots of triple mix leftover which was a great thing because we needed it for the potted plants.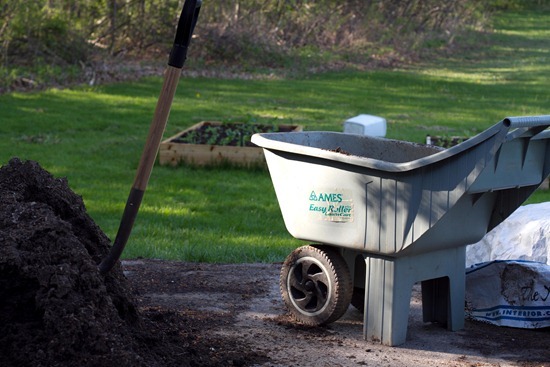 Initially, we were going to put the 3 tomato plants in the beds, but we ran out of room (thanks to my little kale obsession). We moved the pots to a sunny area by the other side of the house.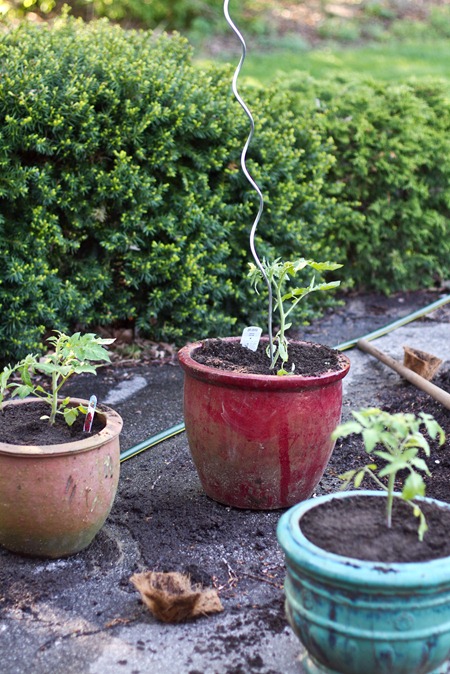 I checked and double checked my plan and tried to squeeze everything in! We had to place a few things closer together than we wanted to, but I'm sure it will work out just fine…or not.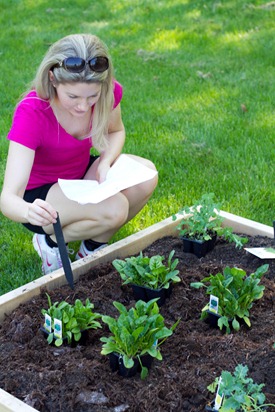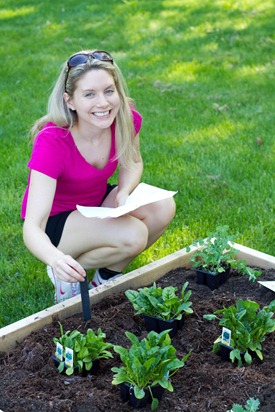 Do not be fooled by my smile, I have no idea what I'm doing!!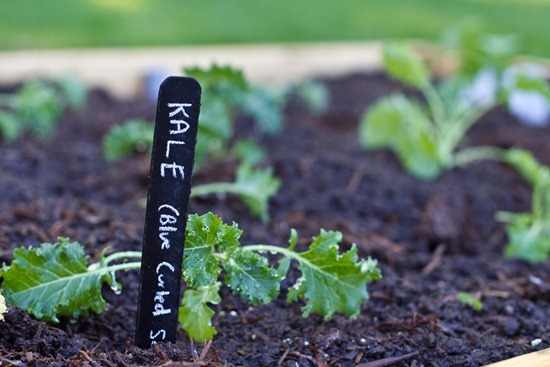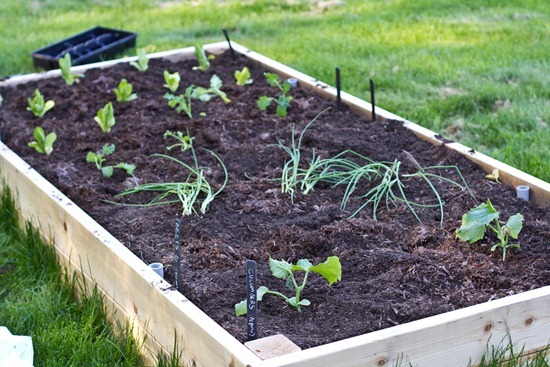 Here's what I planted in the 2 beds:
Carrots (seed)
beets (seed)
peas (seed)
Scallion (seed)
3 bell pepper plants
1 banana pepper plant
2 Spanish onion plants
1 red onion plant
20 kale plants
10 romaine plants
12 spinach plants
4 sugar snap pea plants
a few garlic cloves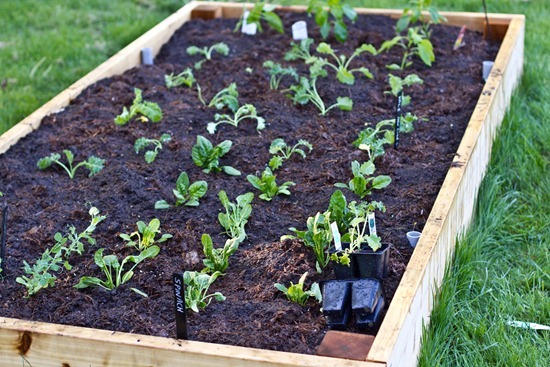 Do you think I will kill everything? I sure hope not!
Last night we had a brief thunderstorm and pouring rain and I sat up in bed and said, 'MY POOR PLANTS!'
I checked on them first thing this morning, and they survived. ;)
Herbs!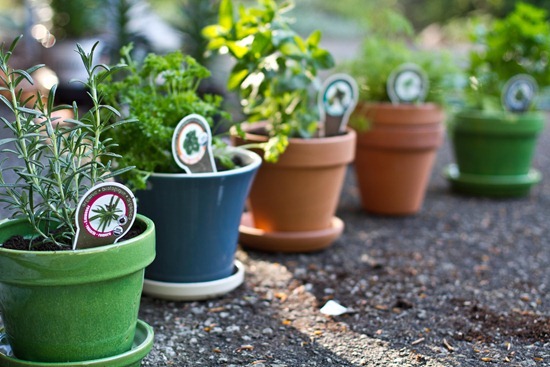 In pots:
2 Beefsteak tomato plants
1 roma tomato plant
Curley parsley
flat parsley
Mint
Rosemary
Dill
Basil (need to get another pot first!)
I'm actually worried that these pots won't be big enough for the herbs! What do you think?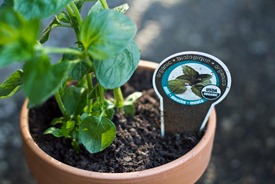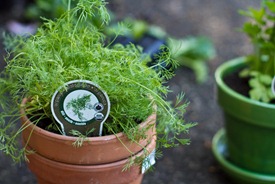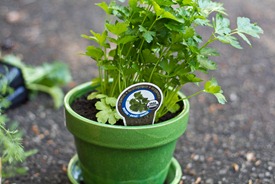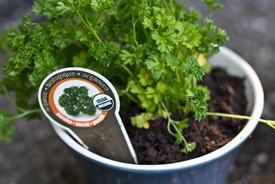 The gardening took a solid 3 hours with a couple what-have-i-gotten-myself-into moments. ;)
I also planted these Lilies in the front garden that were birthday gifts from Eric.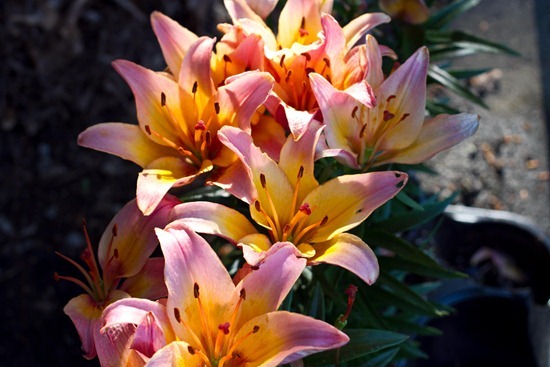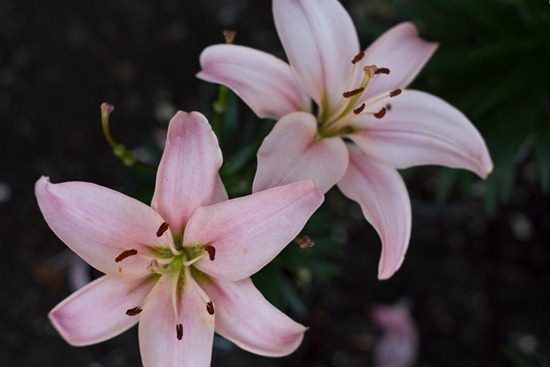 Eric and the guys also finished the entire base of the deck on Saturday.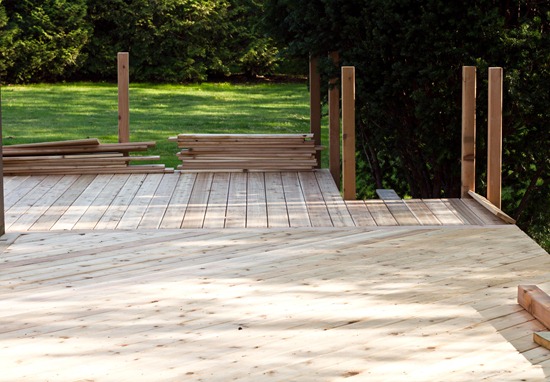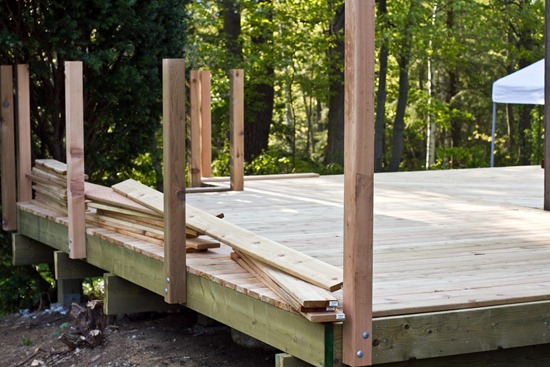 I'm so impressed! There are 3 sets of stairs and all the railings left. Still lots of work yet, but it is coming along wonderfully.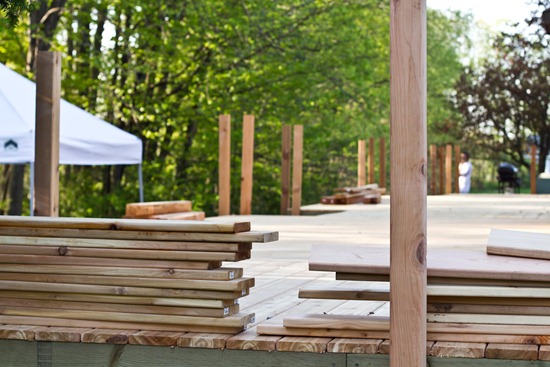 Around 8pm, we finally came in famished for dinner. I had no idea what to make, so I decided to just throw a bunch of things in a skillet and see where it took me. :) The best kind of meal, I say.
Appetizer was roasted red pepper hummus and Baked Woven thins (just whole wheat and salt as the ingredients).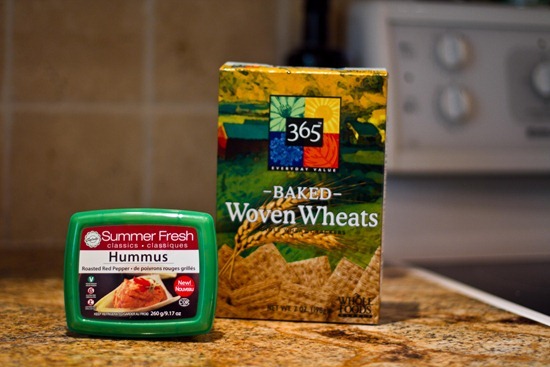 The first thing I did was cook a grain because that takes the longest. I cooked up about 3/4 cup of speltberries on the stovetop.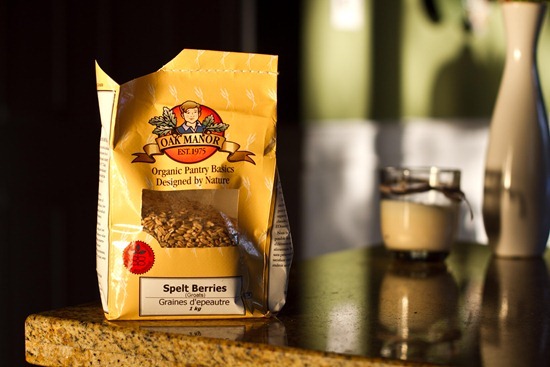 Based on what I had in my kitchen, I decided to make a Speltberry chickpea veggie stirfry, infused with lemon, Thyme, and Rosemary.
Check out the fun shot we got using the GOLD reflector disc. Eric held the gold disc to reflect the sun and it made for a cool picture in an otherwise dark kitchen.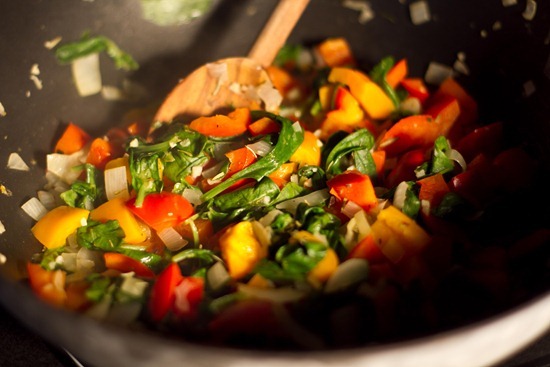 I didn't measure anything, so the recipe below is a rough estimate of what I made.
[print_this]
Easy Speltberry Chickpea Veggie Stir-fry
Yield: 2-3 servings
Ingredients: (only rough measurements!)
3/4 cup raw speltberries
1 small can chickpeas, drained and rinsed
1 sweet onion
2 large garlic cloves
extra virgin olive oil, for sautéing
1 red pepper
1 orange pepper
1 chopped carrot
3 handfuls spinach
Juice of half a lemon
1 tsp dried Thyme
1 tbsp fresh finely chopped rosemary
Herbamare, kosher salt, black pepper, all to taste
Directions:
1. Cook speltberries in a pot of water for about 25-30 minutes until tender, but still chewy.
2. Meanwhile, sauté the chopped onion and garlic in a a large skillet with some oil for several minutes on low-medium.
3. Now add in the chopped peppers and carrot and saute for another 5-7 minutes on low. Add in the lemon juice, Thyme, and rosemary and stir well.
4. Stir in the spinach and sauté until wilted. Now season to taste using salt, pepper, and optional Herbamare.
5. Stir in drained and rinsed chickpeas and cooked speltberries. Heat through and serve immediately. Season to taste. Makes 2-3 servings.
[/print_this]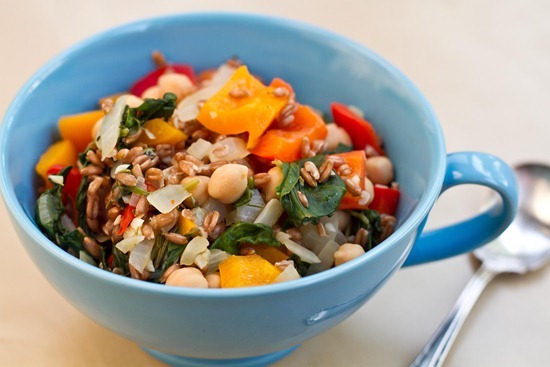 In under 30 minutes, I had whipped up a great meal. I wasn't expecting much from this, but we both loved it. The lemon, Thyme, and rosemary combo was lovely.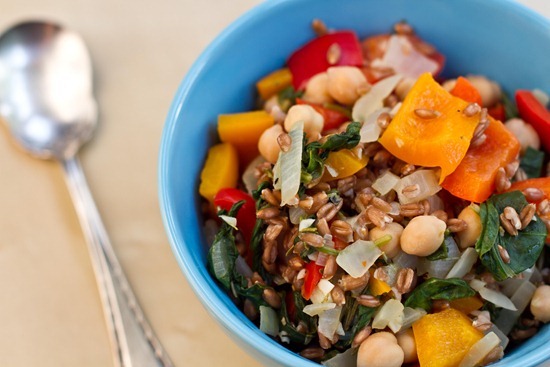 On today's agenda, we have more yard work to accomplish (I still need to weed the front and back flower beds) and we're going to put some chicken wire around the garden beds so all our cute little bunnies around here don't eat all my KALE!! Luckily, it looks like the weather will hold up again today. Tonight, we have a BBQ with a few friends to end the long weekend. It should be a good one.
If you are enjoying the holiday Monday, Happy Victoria Day to you!