Last night, Eric took me to a raw & vegan restaurant in Mississauga called Raw Aura. I've been wanting to check this place out for a while now, so it seemed like a good time! I was slightly worried going to a raw restaurant, after my Birthday experience at Live 2 years ago, but I've also had a great raw food experience at Rawlicious, so I figured it was worth a shot!
From the website: 'The goal of Aura is to provide familiar food that everyone knows and loves, in the most delicious, nutritious, and environmentally – friendly way. By using 100% raw ingredients, this means nothing is heated above 43C / 105F. These living foods are simple to digest, leaving the body light and energized since this simple form requires no extra energy from the body. Flavours are pure, fresh and intense, honouring the divine banquet provided by the earth.All of our ingredients are organic and harvested sustainably, this means you are not only doing yourself a favour, but you are creating fertile space to grow for generations to come.'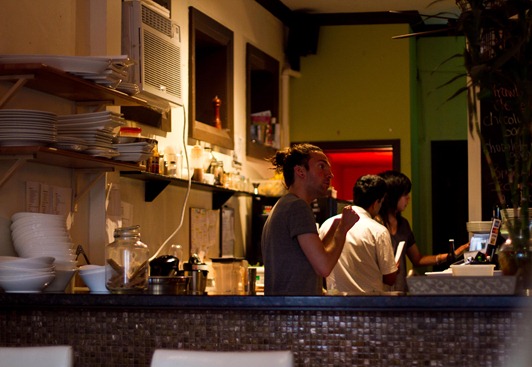 The restaurant is café style, and it is basically a cozy & intimate hole in the wall which is common of many vegan restaurants that I have been to. They prepare a lot of the food right in the dining room.
There is seating for about 16 people, so you can see how small the room is.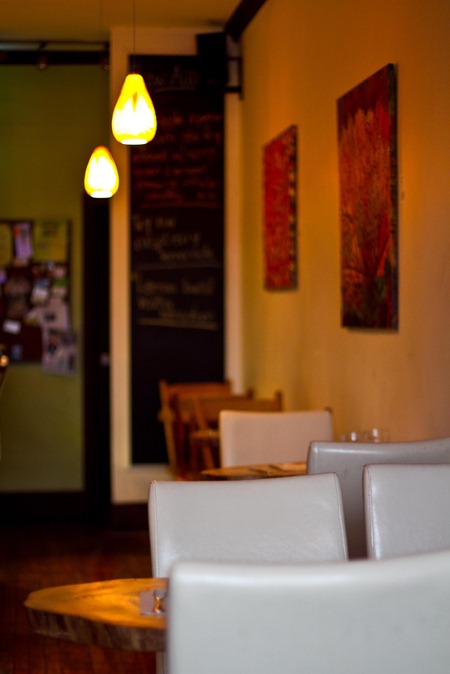 We started with drinks and appetizers. I had 'The Green Juice' which was made up of Kale, celery, cucumber, romaine lettuce, parsley, lemon and ginger. My cuppa tea juice! Eric had the Old Credit Amber Ale which was their only beer and he said it was horrible (he is not an ale fan, but if you were you might enjoy it!). Their menu boasted organic beer & wine, so maybe they were running low on beer?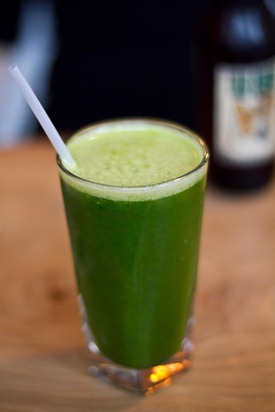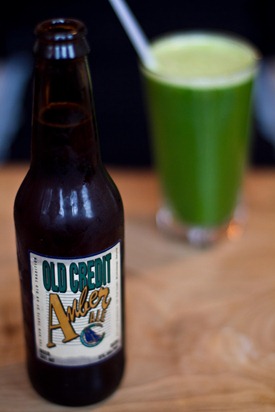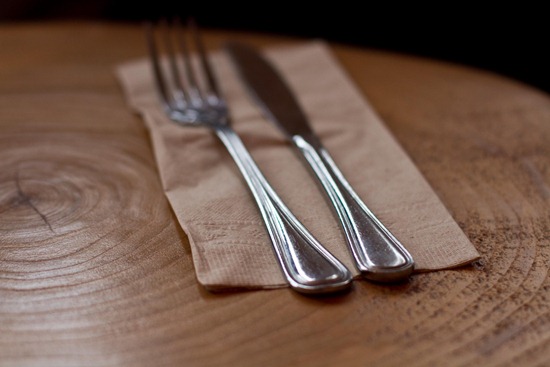 For appetizers, we ordered the Kale Chips which were seasoned with a delicious sour cream cashew, red onion, and chive sauce and dehydrated until crispy.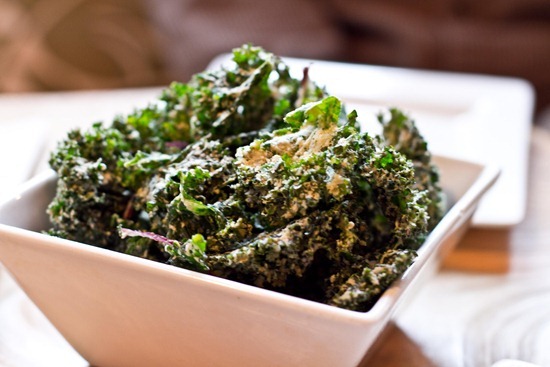 They were THE BEST kale chips I have ever tasted! Eric and I both agreed that they tasted just like Sour Cream & Onion chips. We could not detect the kale at all and we polished off the bowl fast. I have to try and recreate these!
We also ordered the Nacho Platter which was made up of crispy corn chips, guacamole, cashew sour cream, fresh tomato salsa and walnut taco meat.
They were also amazing! We polished off the entire plate. :)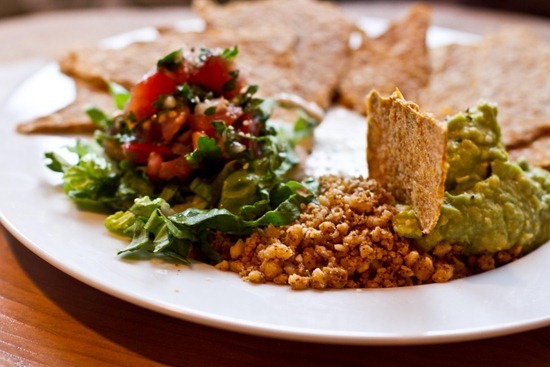 I put a little bit of each topping onto each chip and it was a party in my mouth. The raw nacho chips were also fantastic…I prefer them to corn chips actually.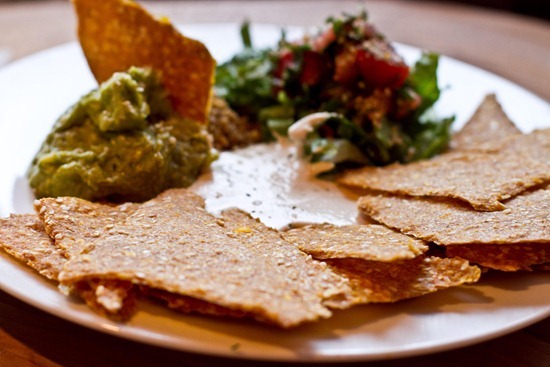 After our appetizers, we lingered over our drinks while our stomachs settled for about 10-15 minutes before our main entrees came out.
I ordered a 'small' Big Salad which was a huge mix of kale and romaine lettuce topped with avocado, cucumber, tomato, mixed seeds, red pepper, onions, sprouted chickpea hummus, and a live breadstick. I had it with the Herb Citrus dressing.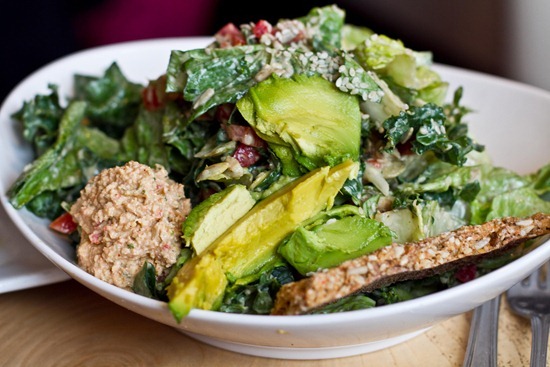 It was perfect. Creamy, tangy, flavourful, and extremely filling. I loved the 'breadstick' too, it was like a thicker and more flavourful Mary's Cracker.
Eric and I both ordered the Pizza, which came highly recommended by everyone I talked to. I figured we couldn't go wrong with pizza!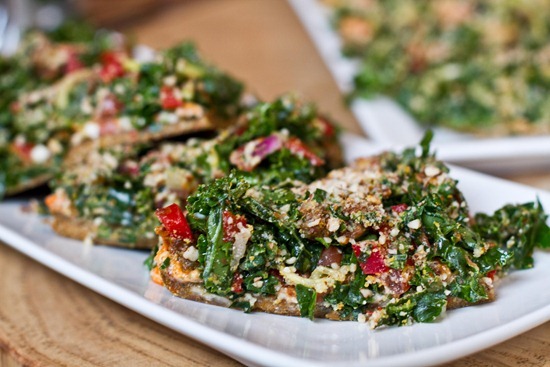 The pizza was on a delicious red pepper and sunflower seed flax crust and was topped with a cashew tomato cheese, kale, zucchini, 'parmesan cheese', red pepper, and more.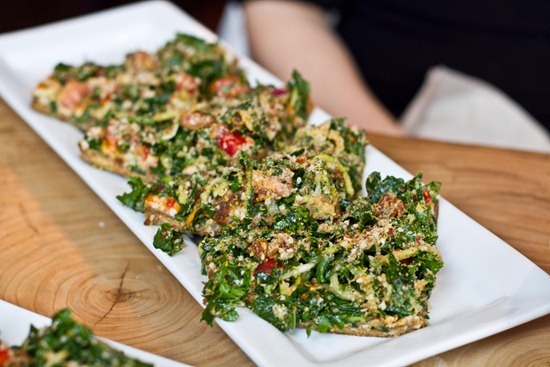 We loved it. It is VERY filling though, thanks to the dense crust and cashew cheese, so we wrapped up some of it to go. The only minor critique I have of this pizza is that it needed to be served warm. Supposedly it was served warm according to the menu, but we both found it cold, or at minimum room temperature. I will definitely be heating up my leftovers today!
By this point, we were stuffed, but we wanted a little something sweet to end the meal. They offer a sampler dessert plate for $12 and you get to sample 4 desserts. They know the way to a girl's heart.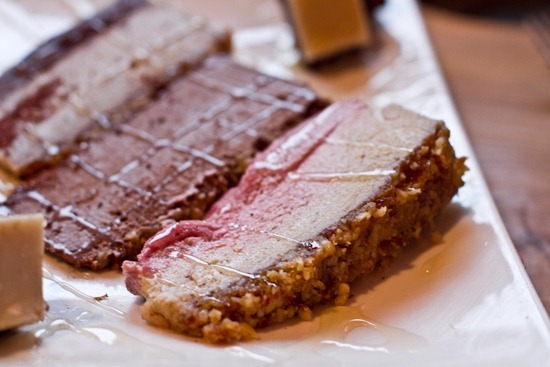 On our sampler plate: Mint Chocolate Ganache Cake, Chocolate Banana Cake, Strawberry Cheesecake, and Brownies.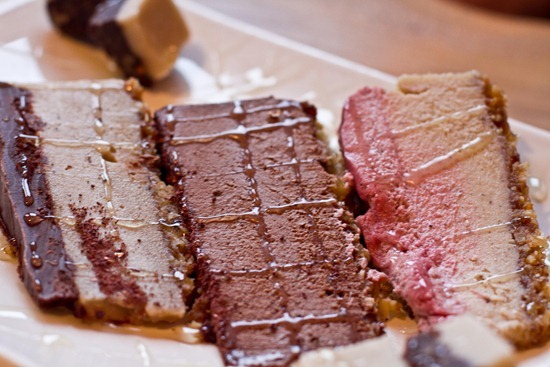 All of the cakes were mousse-like in texture with a nut-based crust. I'm not a huge fan of raw cashew-based mousse cakes, but they were pretty good. My favourite was the Mint Chocolate Ganache Cake (the raw ganache was incredible) and Eric couldn't decide which one he liked the best. Our least favourite was the Chocolate Banana Cake because we are both not big fans of straight up mousse. The brownies were very rich and just a couple small bites was enough.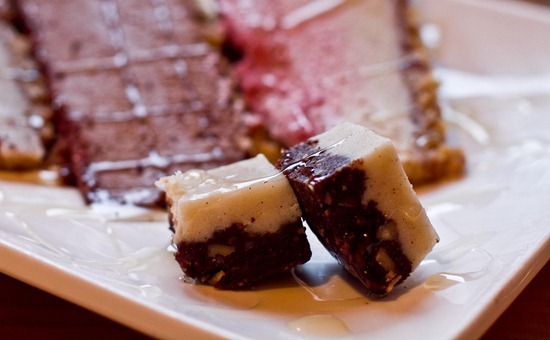 All in all, it was a great meal at Raw Aura! My favourite Raw restaurant in the GTA is still Rawlicious, but only because the atmosphere at Rawlicious just can't be beat (see here for my full review and pictures!). If Raw Aura had the same atmosphere, I would say they are both on par. I think the portion sizes at Raw Aura are larger and you get a bit more value for your dollar. We ordered a lot of food and were surprised at how low the bill was!
I was also happy not to have stomach pains like I did at Live a couple years ago. My stomach is very sensitive to nuts, but it seemed to be just the right amount in my meal last night. I tried to select dishes that were not completely nut-based so I think this helped a lot.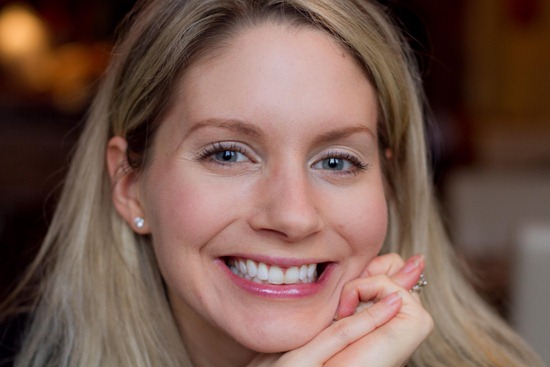 I left a Happy Birthday Girl. :)