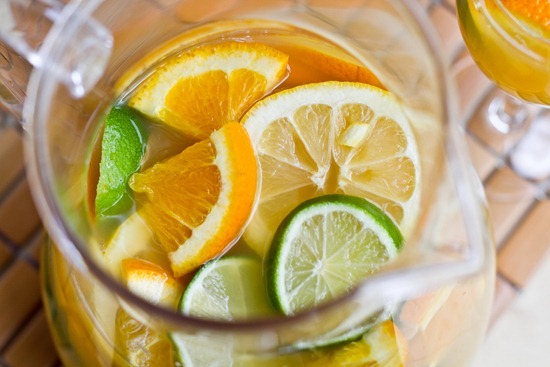 When the sun won't shine for your birthday party, make a Sunny Sangria instead. :)
I've been gearing up the past couple days for my birthday party tonight. We're having about 25-30 people over so it should be a great time! This makes the first of two birthday potlucks this weekend. We have another with family tomorrow at our place too. Hopefully, the house is still standing by then, but I'm not making any promises. ;) My actual birthday is Monday and Eric is taking me out for dinner.
I better loosen my belt!
For today's party I'm making Sunny White Sangria, Raw Triple Berry Fruit Crisp, Homemade Edename Hummus & veggies, chips & Nacho cheeze sauce, salsa, and Eric is going to fire up the BBQ. Friends are bringing along a savoury or sweet dish, so I have a feeling there is going to be a ton of food!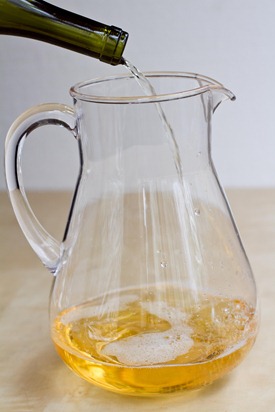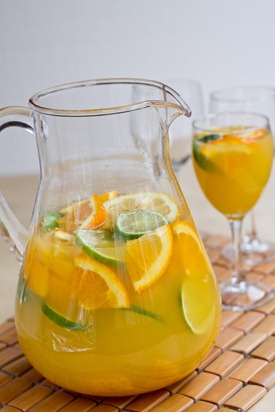 Back to this Sunny White Sangria. You know, the one I was taste-testing at 8am this morning? Sometimes a birthday girl just needs a little wine for breakfast to kick off her day.
I've actually never made a White Sangria before, only red, so this was a new experience for me. I thought a White Sangria would be nice and Spring-like. Being the fruit lover that I am, I loaded this with orange, lemon, lime, mango, and pineapple slices, kissed with orange juice and natural cane sugar. It turned out pretty darn fantastic and I'm sure it will taste even better after chilling for the next 8 hours.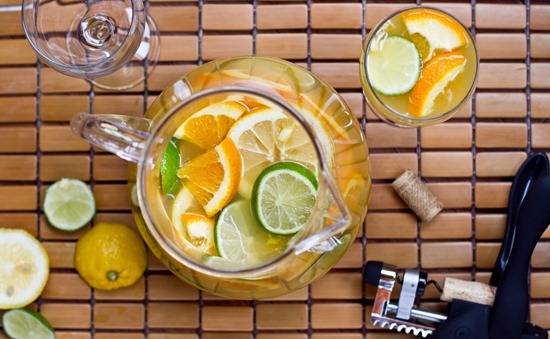 [print_this]
Sunny White Sangria
Adapted from Oprah.
Ingredients:
2 bottles dry to semidry white wine, such as Pinot Grigio or Chardonnay
2-3 cups orange juice (freshly squeezed preferred), to taste
1 lemon, sliced
2 limes, sliced
1 orange, sliced
1 can pineapple chunks with juice
1 large handful frozen mango chunks
3/4 cup natural cane sugar, or to taste
Club soda (optional) (I will add 1 can before serving)
Ice, optional
Directions: Add everything except the sugar into a large pitcher and stir well. Add sugar to taste and adjust until your desired sweetness is achieved. Chill in the fridge for at least 2 hours prior to serving. Before serving, you may add some club soda & ice if desired. Taste again and add more sweetener if necessary.
Note: I made a double batch, so you can always cut this in half using 1 bottle of white wine.
[/print_this]
Sangria, I'll see you tonight! muhauha.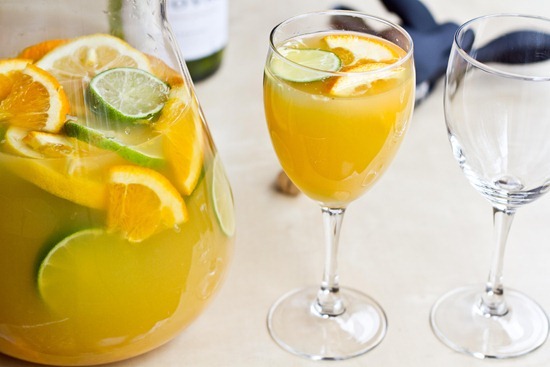 In the meantime, I have some deck updates for you…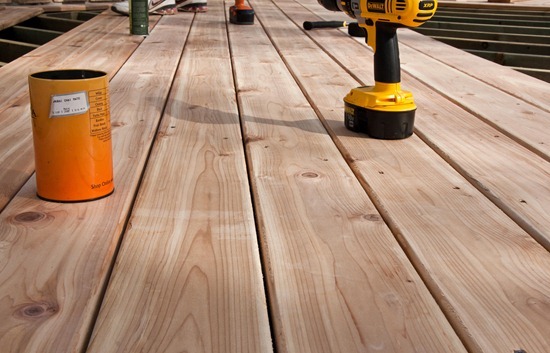 Eric took a few days off work this week and Shayne and Dan helped him each day. They got so much done! It was such a great week weather-wise for deck building too.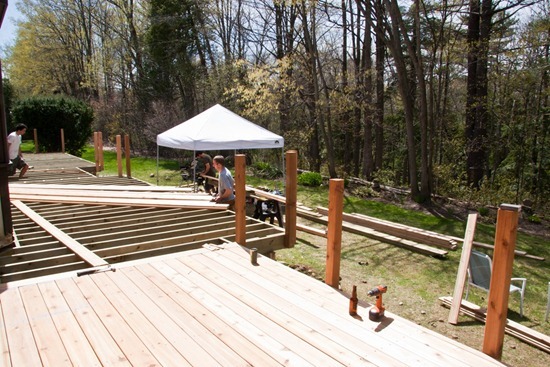 I'm so excited to be able to walk straight out onto the deck from the back door! I can't believe I can finally walk on the deck now.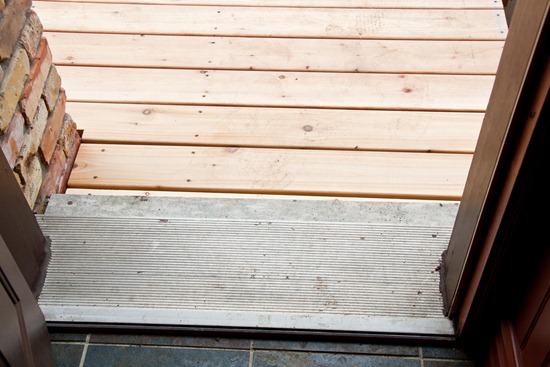 There will be stairs going down in the middle (and stairs on each end).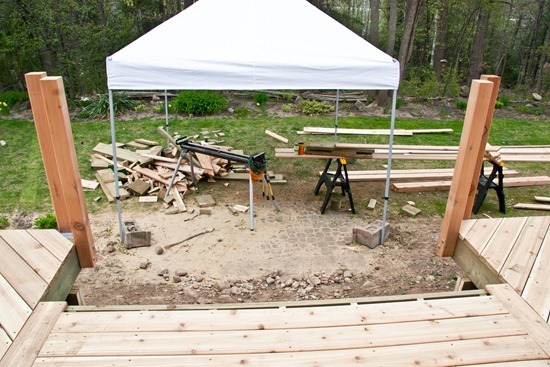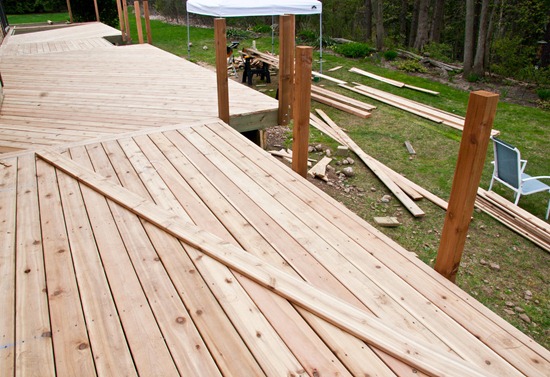 I think they are doing such a wonderful job. You'd never know that a professional didn't do this.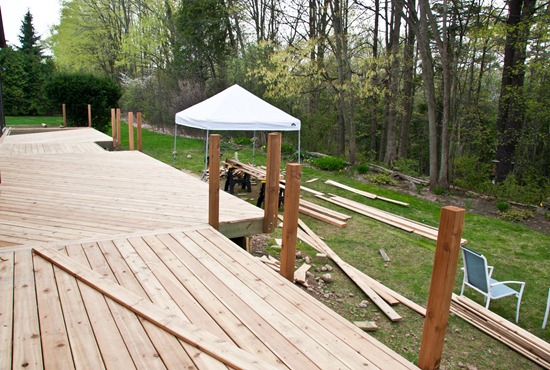 When Eric made the deck plan, he wanted to include a couple sections with diagonal boards and they turned out really nice. It was a bit more work with math & measuring, but the result was worth it.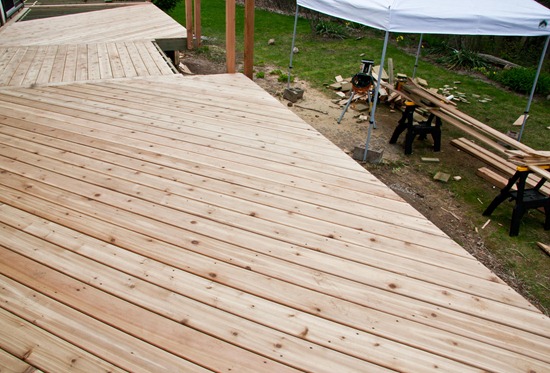 This is all that remains for the base. After this comes the railing and stairs. The weather is calling for rain for a week straight, so it probably won't be touched until end of next week, unless that changes!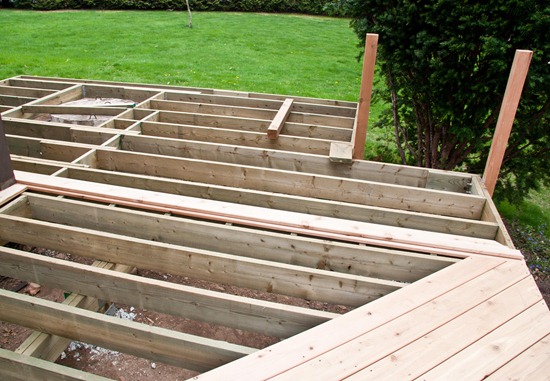 I'm off for a little hot yoga to kick off my day and then back to work getting this place ready for tonight.
Coming up, I have a delicious Raw Triple Berry Crisp to share. Have a great Saturday!