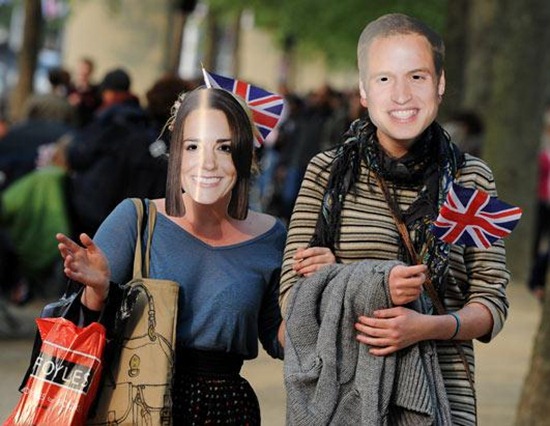 [source]
Wheeeeeee!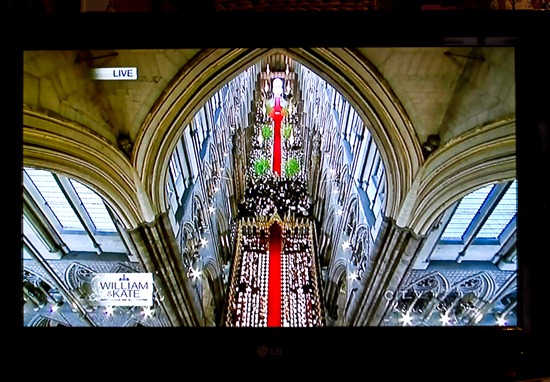 If you are a hopeless romantic, it really doesn't get any better than this!
I've been glued to the TV since 6am watching the Royal Wedding festivities. The crowds, the church, the royals, the hymns, the elegance, the music, the glamour, the carriage….the DRESS! There was not a hair out of place. Oh and I totally teared up when Kate stepped out of the car. :)
I thought Kate's dress was perfect in every way. She is classy, elegant, and confident. I loved that the dress was traditional while still being modern and simple. I'm sure we will see a ton of replica and inspired wedding gowns in the stores soon! I also want her earrings.
The only thing that threw me for a loop was that Pippa, Kate's sister, also wore a white gown, which looked a lot like a wedding gown. Did anyone else think that was a bit odd?
[Update: Some of you mentioned this is a tradition…makes more sense now!]
In much less exciting news, I made homemade crackers this week… :)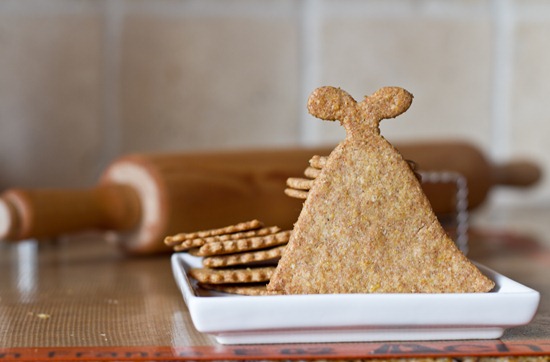 I had weddings on the mind, clearly. ;)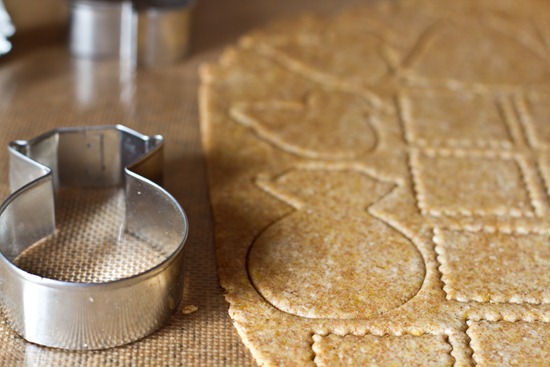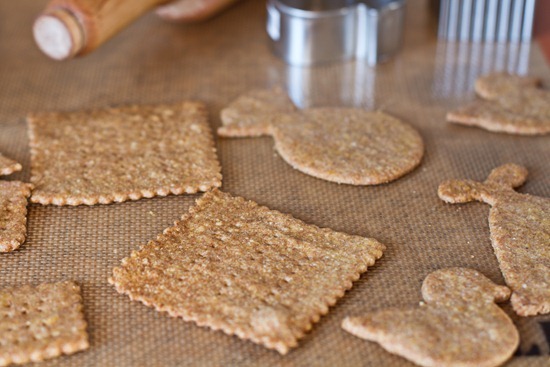 These 4-ingredient homemade crackers from Have Cake Will Travel are by far the easiest crackers I have made to date.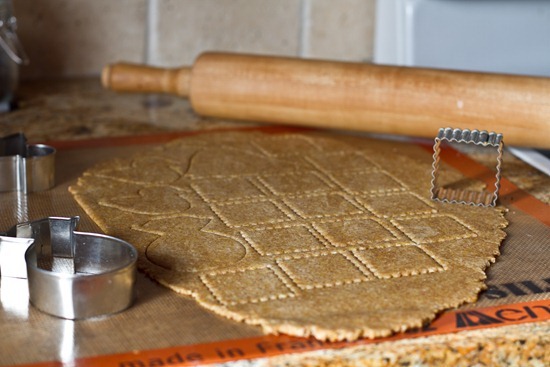 [print_this]
Easy Cheezy Crackers
Lightly adapted from Have Cake Will Travel.
Yield: About 40-60 small crackers.
Ingredients:
1 1/4 cups plus 2 tablespoons whole grain spelt flour
1/3 cup nutritional yeast
1 teaspoon kosher salt
1/4 cup extra virgin olive oil
4 to 6 tablespoons water (I used 1/4 cup water)
Directions:
1. Preheat oven to 350F and line a baking sheet with parchment or a non-stick mat.
2. In a large bowl, combine flour, yeast, and salt. Stir in oil and water and mix until dough is combined.
3. Roll dough on a floured surface with a floured rolling pin, or roll it between two Silpat mats, until it is 1/8-1/4 inch thick. Cut cracker shapes with cookie cutters or with a knife or pizza slicer. Using a spatula, gently remove each cracker and place on prepared baking sheet. Repeat until dough is used up.
4. Sprinkle crackers with kosher salt, poke with fork, and bake in the oven at 350F for 18-22 minutes (depending on thickness), watching closely so you don't burn them. I baked mine for about 20 minutes, but next time I would bake them up crispier.
5. Place on a rack to cool. Store in a container at room temperature. Crackers also freeze well. Makes about 60 small crackers.
[/print_this]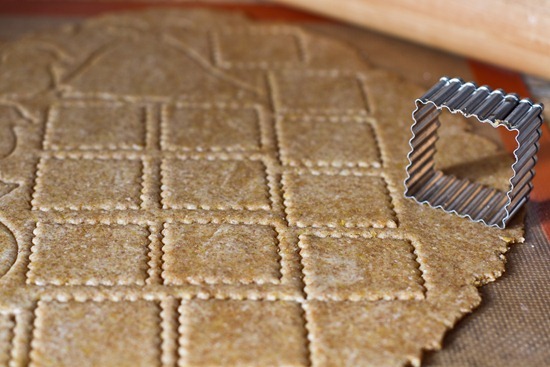 You know what I love? Dough that is extremely easy to roll! I've made a lot of crackers in the past and this dough was by far the easiest to roll out.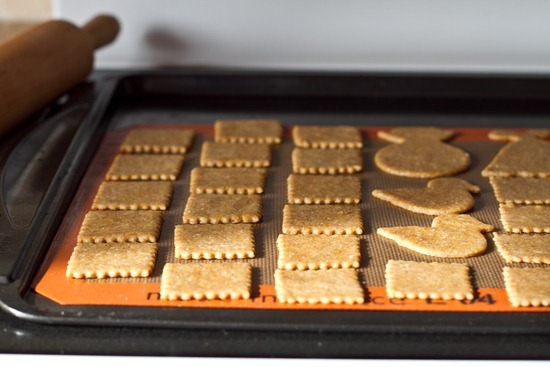 After about 20 minutes of baking they were ready. Next time, I might bake them even longer because I love really crispy crackers.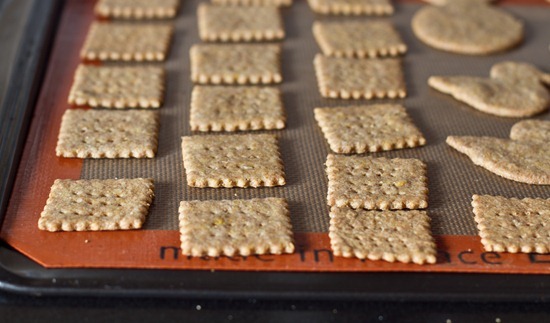 They are a simple cracker with a hint of cheesy flavour (from the nutritional yeast) and wholesome nuttiness thanks to the spelt. They are just perfect…and 'dangerously addictive' as Celine says!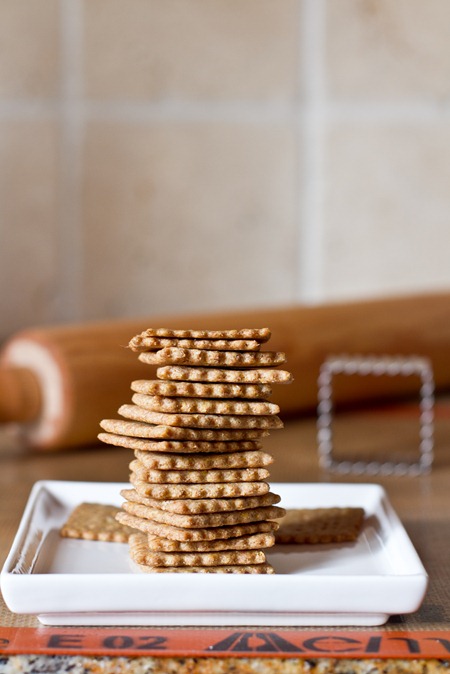 You can adapt these crackers a million ways and I'm sure you could use different flours too. Celine has an all-purpose flour version here as well.
Herb and spice ideas:
Rosemary, Thyme, and Parsley
Sea salt and dill
Cinnamon spice
Pumpkin spice (nutmeg, cinnamon, ground cloves, ginger)
Sea salt and vinegar
Smoked paprika
Garlic, Chive, & Onion
???
I will have to make another batch this weekend for sure!
If you make any spice/herb/flour variation, please leave a link in the comment section so others can check them out too.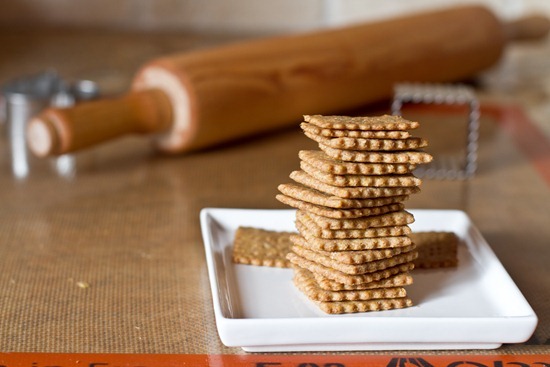 Now go party like a PRINCESS and have a great Friday.