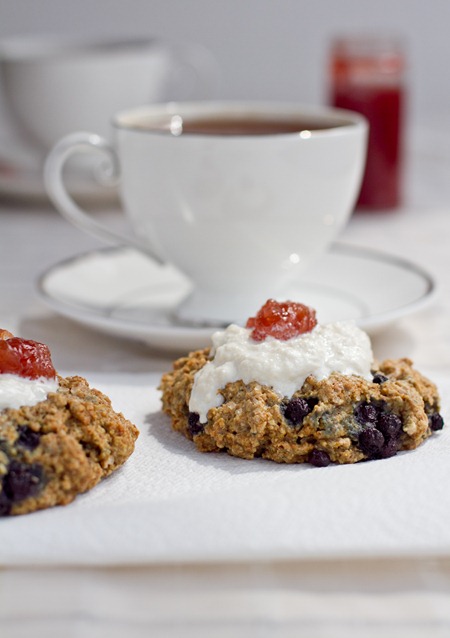 There is something I have been hiding from you for the past month.
I have a deep, dark secret.
And I think some of you might too.
I have been totally sucked into the Royal Wedding hype!
I know, I know. I swore that I wouldn't, but the media hoopla wore me down. I've watched several interviews and documentaries and with each one I get a bit more excited for the wedding, to the point where I'm looking in the mailbox wondering where my invite is! I mean, I feel like I know the couple at this point, don't you? Not to mention, I used to have a huge crush on the Prince when I was a teenager. Didn't he get my letter?
To make matters worse, Eric and I watched the Wills & Kate straight-to-TV movie last weekend. Ok, that's a bit embarrassing to admit, even for me. I guess it would be more embarrassing for Eric, but he was being nice because I was so sick. That's what husbands do. They watch corny straight-to-TV movies when need be.
I might've also bribed him with scones…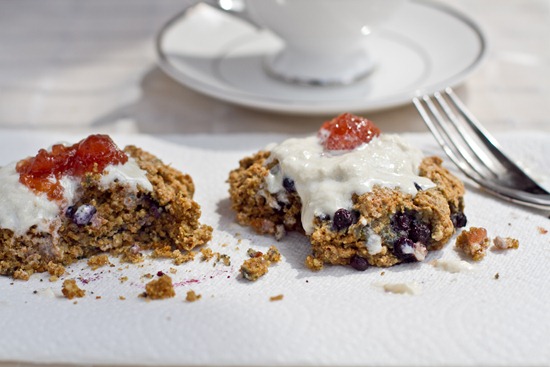 Then I started thinking, well, maybe I'm not the only one who has been watching countless Royal Wedding news. Maybe I'm not the only one who has dreamed of being BFF's with Kate or guessed how drunk Prince Harry will be at the reception. These are all things that a normal person might think about.
Yesterday, a reader named Katie asked me if I had any ideas for a healthy vegan Royal Wedding recipe. That was when I knew that there were others out there just like me! I didn't have to hide any longer.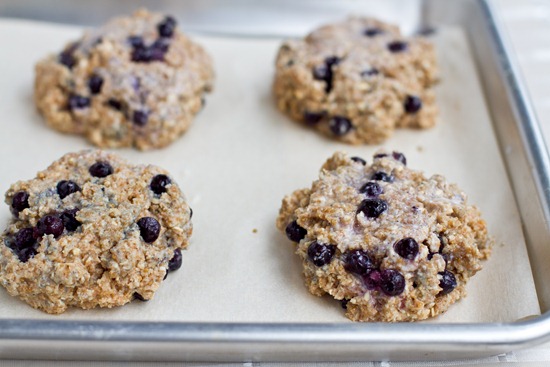 I thought about making traditional scones with white flour, but white flour just doesn't leave me feeling my best when I eat it. After experimenting with so many different flours, I greatly prefer the nutty flavour of whole grains, and the energy boost that comes along with them.
So these are not your dainty traditional scones, but what better than to have nontraditional scones to go with a modern royal couple?
We are breaking traditions here my friends!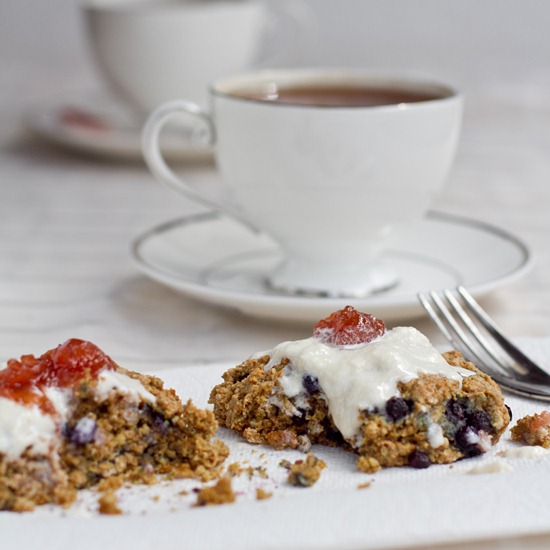 [print_this]
Vegan Royal Wedding Scones with Clotted Cream and Strawberry Jam
Scones adapted from ED&BV, clotted cream adapted from Vegan Yum Yum Cookbook .
Yield: 6 scones
Scone Ingredients:
1 cup spelt flour
1 cup oat flour (I processed 1 cup rolled oats in food processor until flour consistency was achieved)
1/4 cup sugar (I used Sucanat)
1/2 tsp kosher salt
2 tsp baking powder
1/2 tsp baking soda
1/4 cup light-tasting extra virgin olive oil (or canola oil)
1/4 cup vanilla soy yogurt (I used unsweetened but you can use sweetened too)
3-4 tbsp non-dairy milk (I used 3 tbsp)
1 tsp pure vanilla extract
1/3 cup frozen blueberries (or fresh)
Turbinado sugar, for garnish
Clotted cream: 2 tbsp Earth Balance, 1/4 cup vegan cream cheese, 3 tbsp powdered icing sugar
Strawberry jam, to top
Directions:
1. Preheat oven to 375F and line a baking sheet with parchment paper. With a food processor, process 1 cup of rolled oats until a flour consistency is achieved. It is ok if it remains a bit coarse. In a large bowl, whisk together the spelt flour, oat flour, sugar, salt, baking powder, and baking soda. Add in the oil and mix with hands until just crumbly. Do not overmix.
2. In a medium sized bowl, whisk together the soy yogurt, vanilla, and non-dairy milk. Add this wet mixture to the dry mixture and stir until just combined. If dough is too dry, add another tablespoon of milk. Remove blueberries from freezer (unless using fresh) and stir gently into the batter until just mixed. Be careful not to overmix or they will bleed.
3. Spoon about 1/4 cup batter per scone onto the prepared baking sheet, leaving about 3 inches in between each. Sprinkle with coarse sugar and bake for about 21-22 minutes at 375F until slightly golden in colour.
4. Meanwhile, make your vegan clotted cream by whisking together 2 tbsp Earth Balance, 1/4 cup vegan cream cheese, and 3 tbsp powdered icing sugar. It will take some elbow grease, so keep whisking until a smooth cream forms. Store in fridge until ready to use.
5. After scones have cooled for about 5 minutes, place on plates, top with about 2 tbsp of clotted cream and a dollop of strawberry jam. Serve scones warm with a cup of Black tea.
[/print_this]
These delightful little scones are made with a mix whole-grain spelt flour and oat flour (that I made from processing rolled oats). I threw some frozen blueberries in at the last minute with a sprinkle of coarse Turbinado sugar and the outcome was definitely suited for royalty.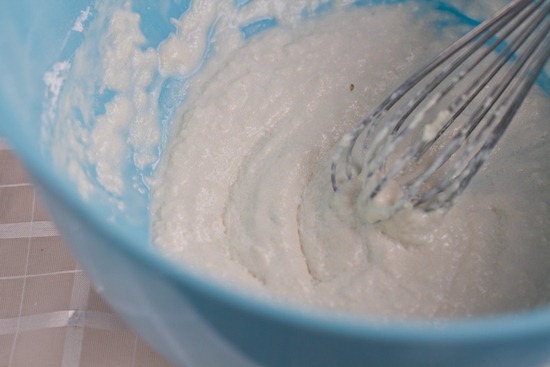 But I didn't stop there. I whipped up a modified vegan version of clotted cream that I spotted in Vegan Yum Yum's Cookbook. It was just the right amount of creamy sweetness to top each scone.
And of course, a dollop of strawberry jam on top and a cup of Black tea!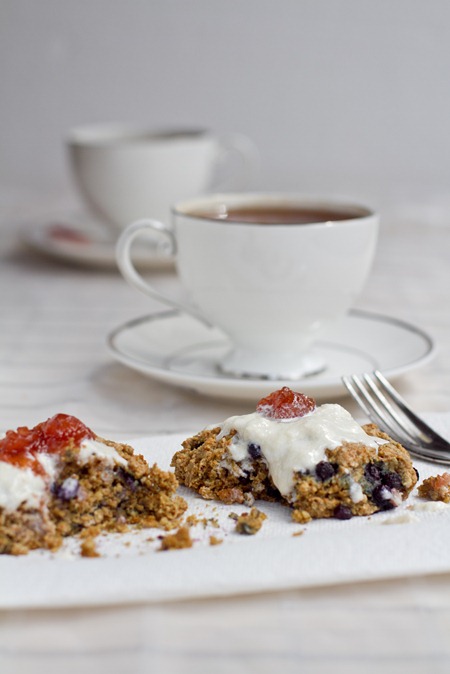 Ok, who wants to have a tea party with me tomorrow? :)