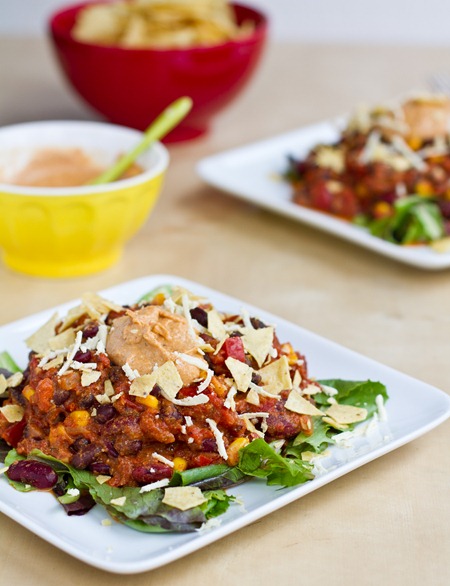 Before we get to this amazing dinner that we enjoyed last night, I thought I would update you on my vegetable garden progress!
Eric and I built the first of two raised beds for the veggie garden. Each bed is 4 feet by 8 feet.  We used this step-by-step tutorial for a raised bed.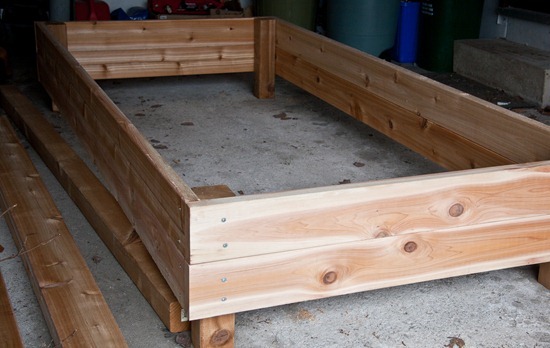 Our growing season doesn't officially begin until Victoria Day Weekend (around May 20th), which is when most gardeners deem the risk of frost to be over. Some gardeners will plant before this date and then use a frost cover if there is a warning though.
Things I still need to figure out:
Where to buy a 100% organic topsoil (do they exist?)
Read up on Lasagna gardening method
Build or buy a compost bin- research options/methods
Make a list of what I will grow
Read up on companion planting
Draw a plan/diagram of where I will plant everything in boxes
How to get rid of my black thumb!!!
Right now I am thinking about planting the following:
Onions
Lettuce
Kale
Zucchini/Squash
Garlic
Peas
Beets
Carrots
Tomatoes
Peppers
Cucumber
Herbs!
Some type of berry (strawberries or blackberries probably)
What do you experienced gardeners think of this list? Is it too much for a 1st garden? Any tips?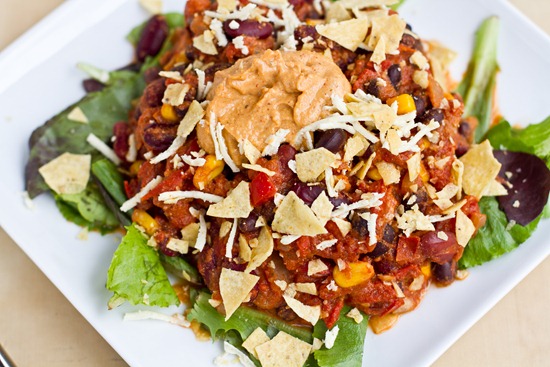 In other news, my Mexican food kick rages on!
As does our cold and snowy weather…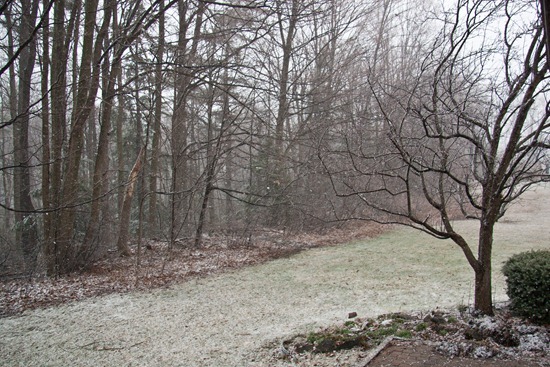 When you can't get warm, make spicy Mexican food, I say. :)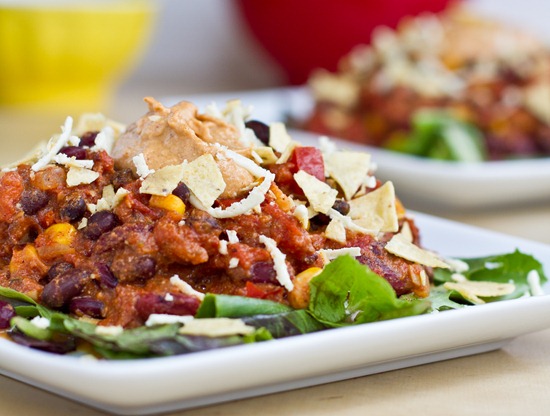 [print_this]
Taco Chili with Nacho Cheeze Sauce
Chili adapted from Skinny Taste
Yield: 7 cups
Ingredients:
1 tbsp extra virgin olive oil
1 small onion, peeled and diced
2 garlic cloves, peeled and minced
1 cup dry kidney beans (or 2 cups cooked)
1 cup dry black beans (or 2 cups cooked)
1 tbsp ground cumin
1 tbsp ground chili powder
One 5.5 oz can tomato paste
1 & 1/4 cup frozen corn kernels
One 28-oz can diced tomatoes
2 tsp homemade taco seasoning (or packaged seasoning, to taste)
1/4 cup chopped fresh Cilantro
heaping 1/4 cup Nacho Cheeze Sauce (below)
To garnish: Nacho cheeze sauce, crushed tortilla chips, and non-dairy cheese
Directions:
1. Cook the beans if necessary. Meanwhile, in a large skillet, cook the onion and garlic in a very large skillet over low-medium heat until translucent,  about 5 minutes.
2. Stir in the cumin, chili powder, followed by the tomato paste and frozen corn. Cook for a few minutes on low.
3. Add the canned tomatoes and Cilantro and stir well. When the beans are cooked, drain them, rinse, and stir into chili. Slowly add the homemade taco seasoning (or store bought) to taste until desired taste is achieved. Simmer on low-medium heat for about 10-15 minutes. Meanwhile, make your cheeze sauce (below).
4. Stir in a heaping 1/4 cup of the Nacho Cheeze Sauce and serve with crumbled tortilla chips, non-dairy cheese (I used Daiya), and Cilantro garnish. Makes 7 cups.
[/print_this]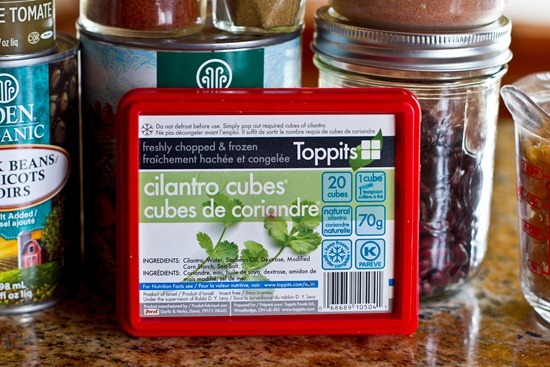 I bought some frozen Cilantro cubes as a more economical way to buy herbs (I hope to grow some in the summer though). I wasn't overly impressed when I added a couple Cilantro cubes into the skillet. The aroma was not the same! Maybe I didn't use enough? I can't wait until I can pluck some from the garden!
Cook your onion and garlic until translucent.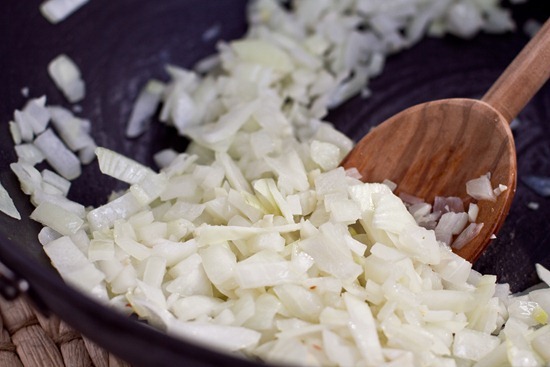 Add in your seasonings, frozen corn, and tomato paste.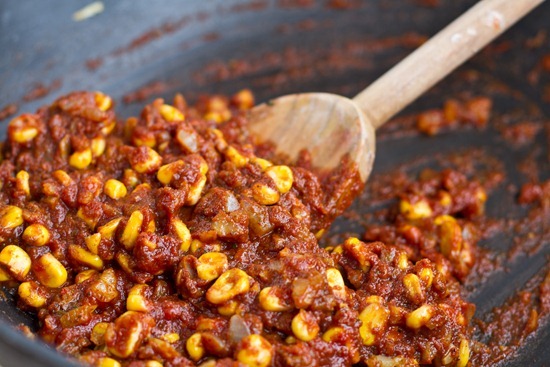 Stir in the can of tomatoes and Cilantro.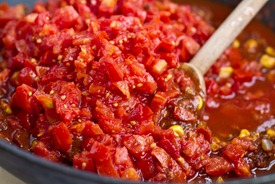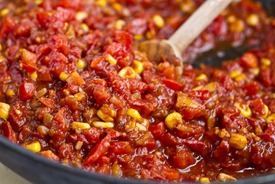 When the beans are cooked, drain and rinse, and then stir into the chili.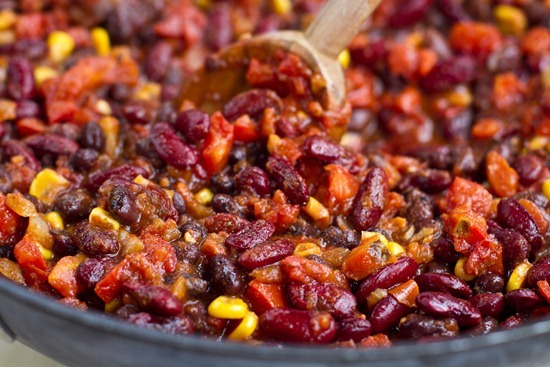 Simmer on low for about 10-15 minutes to allow the flavours to develop.
Meanwhile, make your nacho cheeze sauce!
[print_this]
Nacho Cheeze Sauce
Adapted from Ashley.
Yield: 1 cup
Ingredients:
3/4 cup raw cashews
1/4 cup + 1 tbsp nutritional yeast 
1/3 cup water
1/4 cup salsa (I used Medium heat)
2 tsp chili powder
1 tsp ground cumin
1/2 tsp garlic powder* see note
Shake red pepper flakes
1/2 tsp kosher salt
Directions: In a food processor, add all ingredients and process until smooth, scraping down the sides of the bowl as necessary.
Note: Next time, I would use fresh garlic (1 clove probably) instead of the powder.
[/print_this]
Now stir in a heaping 1/4 cup of the cheeze sauce into the chili! It makes the Taco Chili sooo creamy and delicious.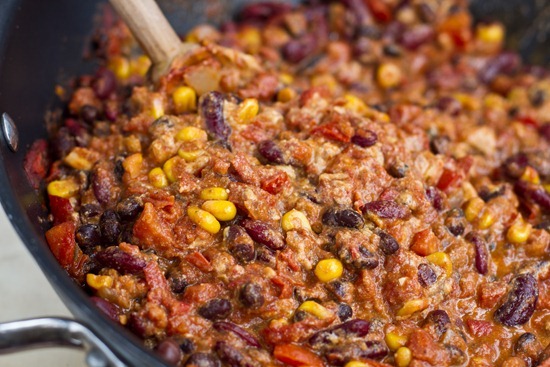 I topped a bed of romaine greens with a huge scoop of the Taco chili and garnished it with a spoonful of cheeze sauce, crumbled tortilla chips, and Daiya cheese. I prefer the cheeze sauce a bit warm so I heated it in the microwave for 15-20 seconds. It doesn't heat very well though and it got a bit hard on the sides. It was nothing a good stir couldn't fix though!
The Taco Chili turned out fantastic! A little spicy, a little creamy, and a ton of amazing flavours.
It was husband approved too…Eric gave it two thumbs up. :)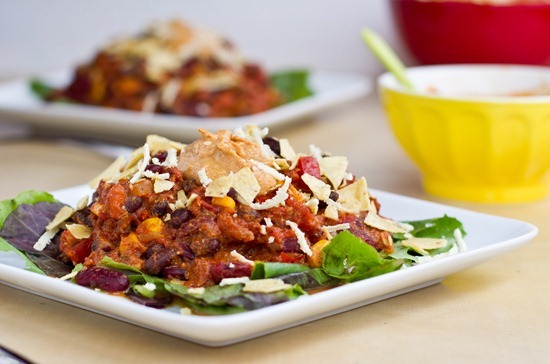 I'm so COLD this morning…need more tea!