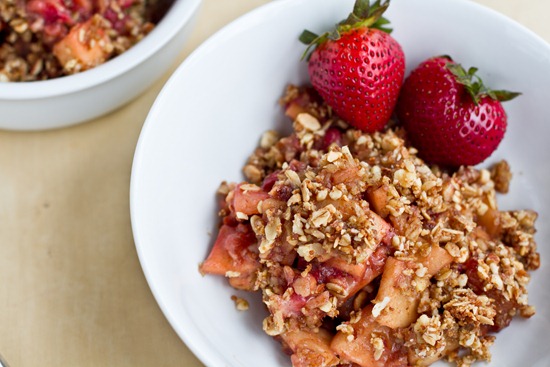 We had a wonderful time with our family this weekend, but our trip was shortened by a pesky website hacker!
Part of Eric's job involves supporting a couple major websites (that receive between 1-15 million hits per day), one of which got hacked on Friday. He spent all night Friday, Saturday morning, and Saturday afternoon fixing the security breach. Instead of staying overnight at my brother's like we planned, we had to leave late Saturday night so Eric could get back to work on Sunday.
It was a very short stay for 4 hours of driving, but it was still a nice visit. My niece and nephew LOVED the Spring Chick Cupcakes too. :)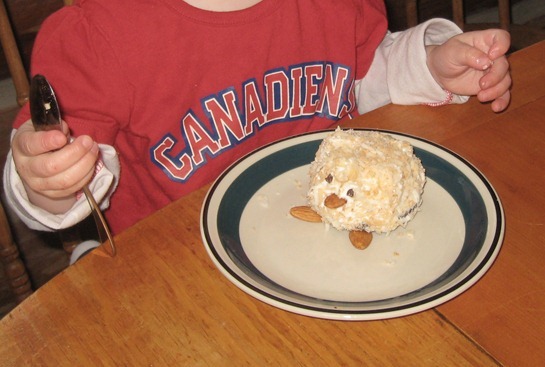 Cheep, cheep!
I was feeling bad for Eric Sunday morning because he wasn't having the most restful weekend and he was exhausted. I decided to surprise him with this breakfast apple crisp to cheer him up.
Who couldn't be cheered up by a warm apple crisp, I ask?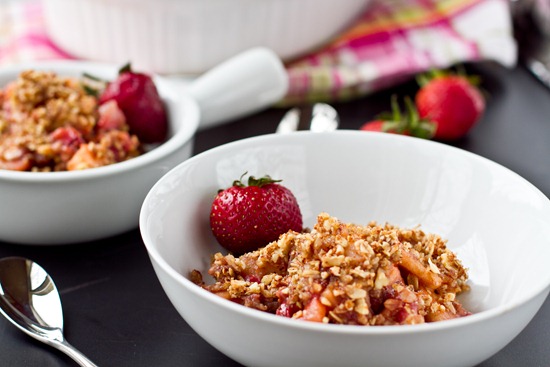 Strawberry Apple Breakfast Crisp
This isn't your grandma's apple crisp! It is flourless, all-natural, reduced in sugar, and vegan. I love the chewy topping thanks to the processed almond mixture. If you are looking for a traditional crisp recipe, this probably isn't the one for you, but we enjoyed it nonetheless. It could also be made gluten-free quite easy by using gluten-free oats.
Adapted from Kalyn's Kitchen and Sprinkled with Flour.
Yield: 6 servings
Filling:
3 lg. Granny Smith apples, peeled and chopped
2 cups sliced fresh strawberries
1/4 cup Sucanat (or regular sugar)
1/2 tsp ground cinnamon
1/4 tsp kosher salt
1 tbsp lemon juice
1 tbsp + 1 tsp arrowroot powder (or cornstarch)
1 tsp vanilla extract
Topping:
1 cup almonds, processed until chunky
1/2 cup regular rolled oats
1/4 cup Sucanat (or regular sugar)
1 tbsp pure maple syrup
2 tbsp extra virgin olive oil
Pinch kosher salt
1/2 tsp vanilla extract
Directions:
1. Preheat oven to 400F and grease a 1.4 L casserole dish. Peel and chop the apples and slice the strawberries. Place in a large bowl and mix with the rest of the filling ingredients. Stir well and set aside.
2. In a food processor, place 1 cup almonds into the bowl and process until chunky (see pic below). Add the rest of the ingredients and pulse for a few seconds until just mixed. You don't want to over-process this mixture so that it stays chunky. Pour 1/2 cup of this topping into the apple mixture and stir.
3. Pour the apple filling mixture into the prepared casserole dish and sprinkle on all the remaining topping over top.
4. Cover (with casserole lid or foil poked with holes) and bake for about 40 minutes at 400F. If you do not cover it, the topping will burn. Allow to cool for about 15 minutes before serving. Be careful because it will be super hot!
[/print_this]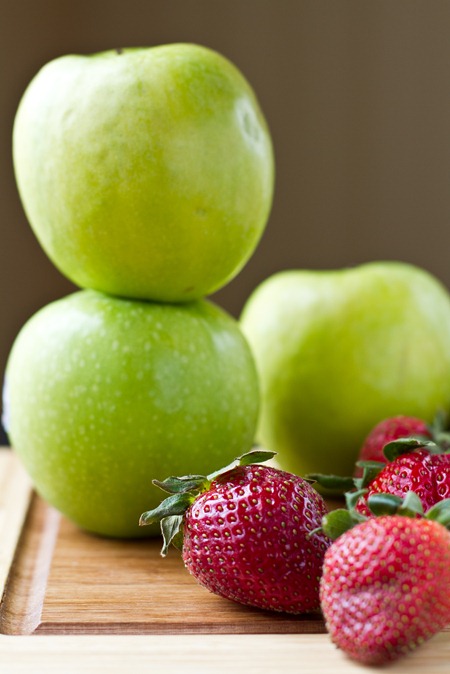 Chop, chop!
I timed the prep time for this recipe and it was about 25 minutes. Probably less if you aren't taking pictures. ;)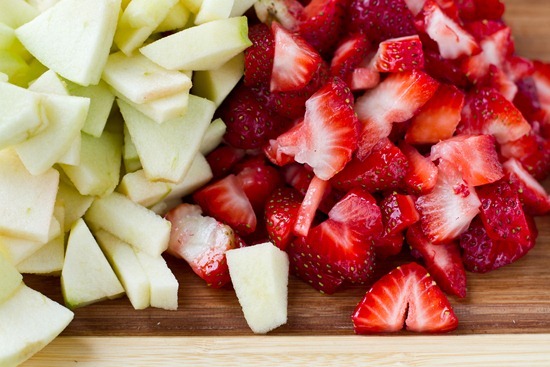 Mix all the filling ingredients into a large bowl and set aside.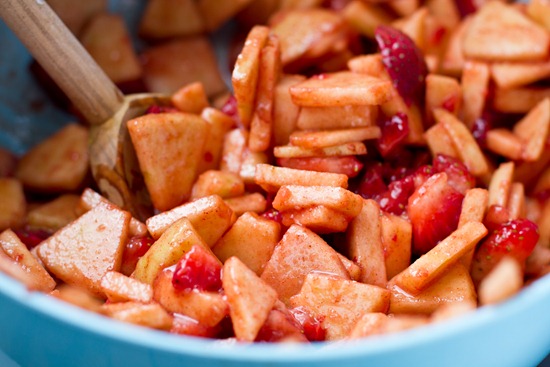 Now lightly process 1 cup almonds, until it looks like this: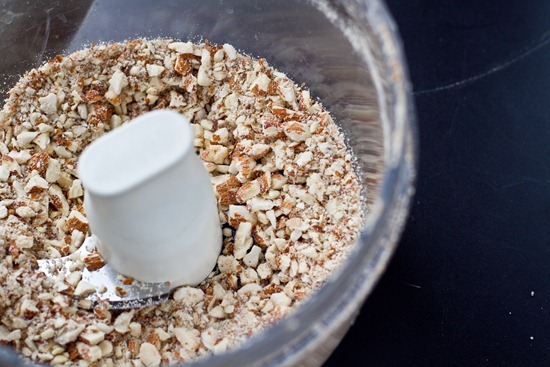 Pulse in the rest of the topping ingredients: oats, olive oil, vanilla, Sucanat (or sugar), pure maple syrup, and a pinch of salt.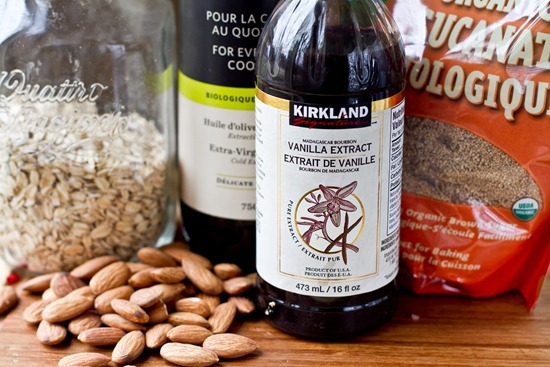 It will look very crumbly like this: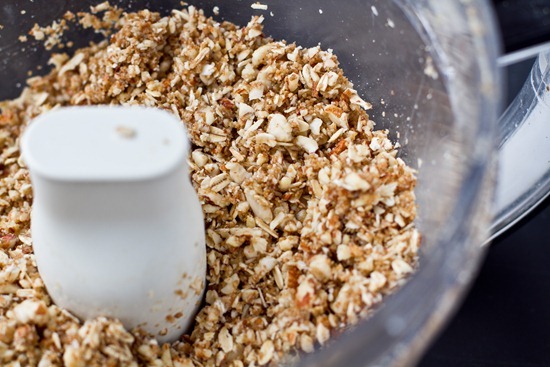 Take 1/2 cup of the topping and stir it into the apple filling. Pour into your prepared casserole dish.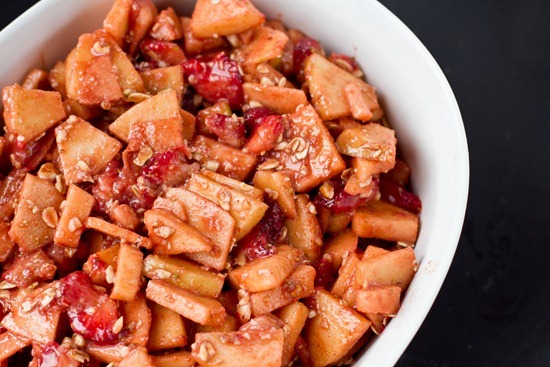 Sprinkle on the topping and bake COVERED at 400F for 40 minutes. If you do not cover it the topping will burn.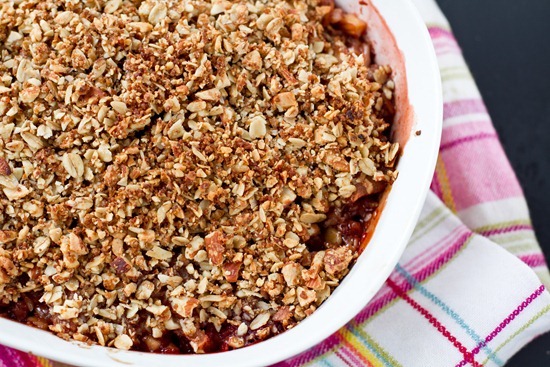 Voila! A healthier apple crisp that you can enjoy for breakfast.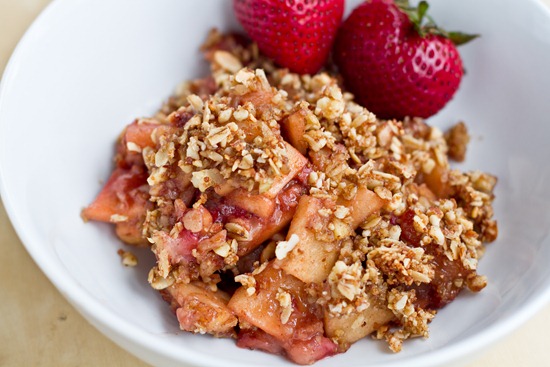 This crisp is by no means a traditional apple crisp in taste or texture, but we still enjoyed it. The almond topping is very chewy and provides healthy fats, protein, fibre, copper, calcium, magnesium, and B2. I liked that it wasn't very sugary and could be enjoyed for breakfast without weighing me down.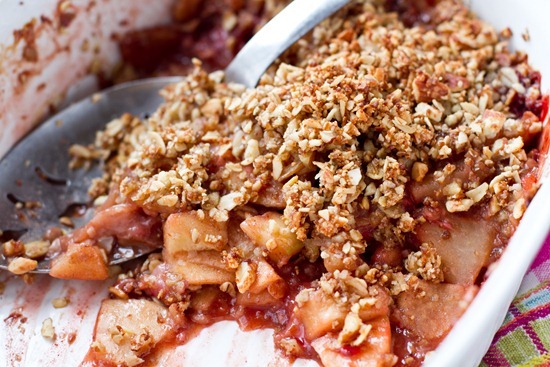 I'm feeling really behind already today, so I better get rolling! Have a good one. :)