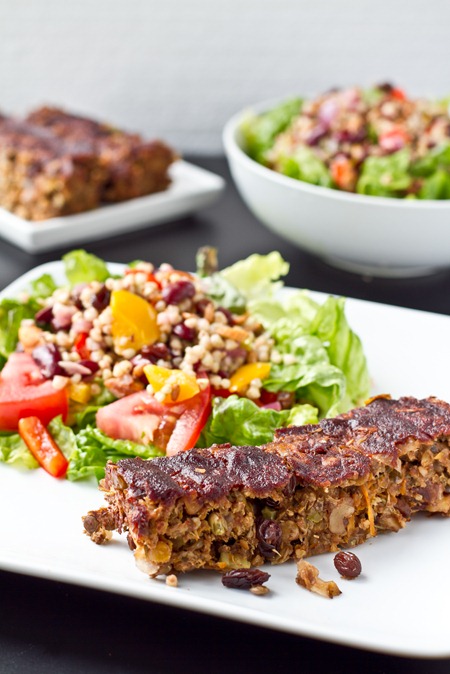 Despite what you may think, living with a food blogger is not always peachy! Aside from the new dishes, plentiful leftovers, and a freezer packed with goodies, there are dishes, messes, computer troubles, steep grocery bills, minor breakdowns, and taste-testings gone wrong.
Despite all of this, Eric's biggest complaint is that I rarely make the same dish more than once! In the name of new blog content, I try to make new recipes so I have fun things to post for you guys, but in the process I often leave fabulous recipes in the dust.
So last weekend, we came up with a few favourite recipes from our past and I said I would make a couple off this list each week to bring back some classics!
Currently on our favourites list:
The Ultimate Vegan Lentil Walnut Loaf, which I adapted from the Clean Food Cookbook (original cookbook recipe is here), is first on the list. Last night, I set out to make the loaf once again, but I decided to add sweet potato for a fun twist.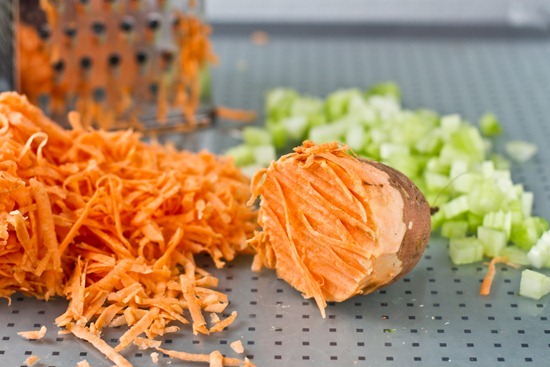 How can you go wrong with sweet potato? You just can't.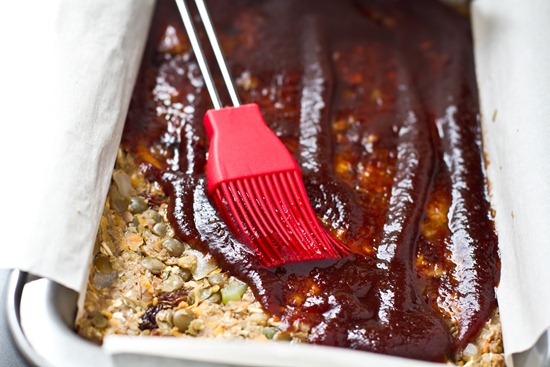 Ok, maybe there was that one time.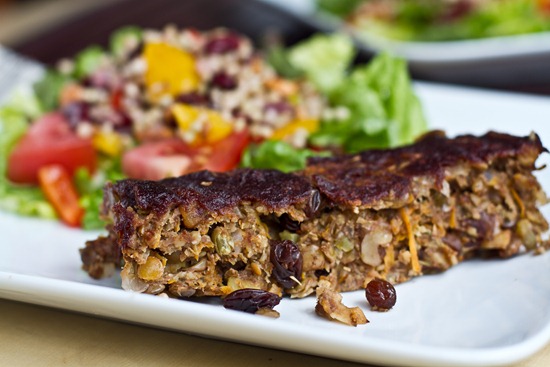 For brevity's sake, I won't type out the entire recipe again, but I will tell you what changes I made for this version:
Modifications to Ultimate Vegan Lentil Walnut Loaf:
3/4 cup grated sweet potato
1/2 cup raisins (instead of 1/4 cup)
Increased toasted walnuts to 1 cup (amped up the crunchy texture!)
Omitted carrot and apple
Added 1/2 tsp Italian seasonings
Increased thyme to 1.5 tsp
Added pinch of garlic powder
First version is here.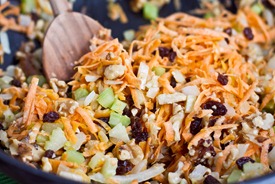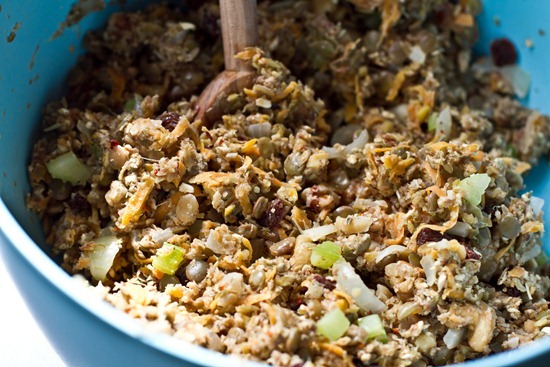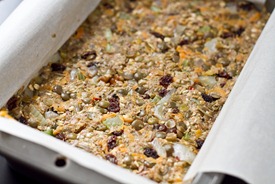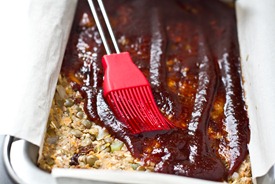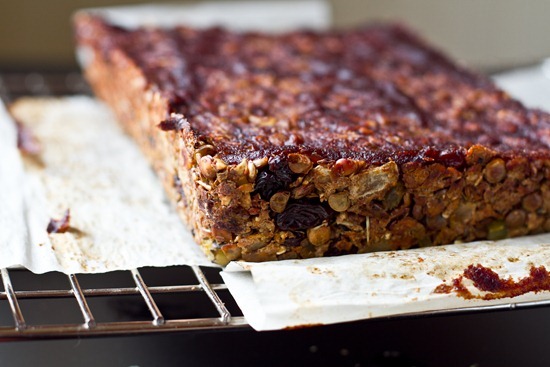 We usually have applesauce and sautéed greens on the side, but I was out of both, so I made a salad.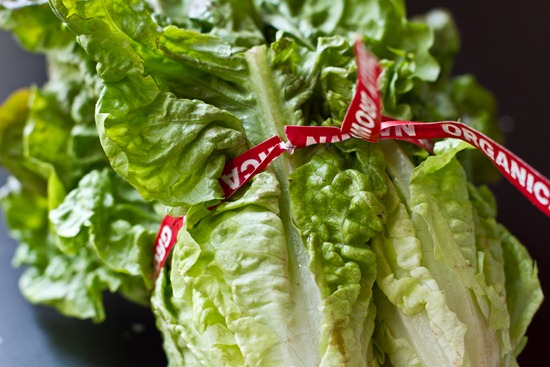 I sprinkled romaine with Energizing Protein Power Salad, added some chopped tomato, and homemade Better than bottled balsamic vinaigrette. It was delish!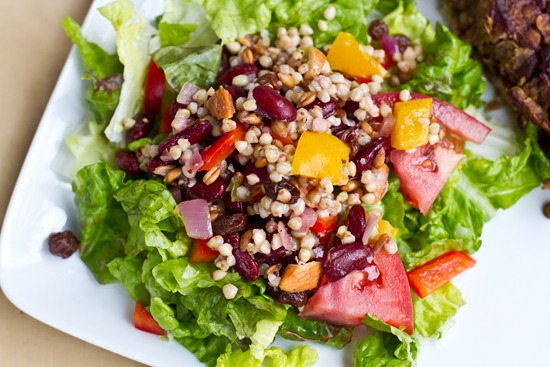 So which version did I like better?
The first version because it held together better. Taste wise? They both taste awesome. This version had a more crunchy and chewy texture thanks to the increased raisins and walnuts.
I'm thinking about all kinds of mix-ins you could use for this recipe. I'm sure it would work with many ingredients and it would probably be amazing with fresh herbs too.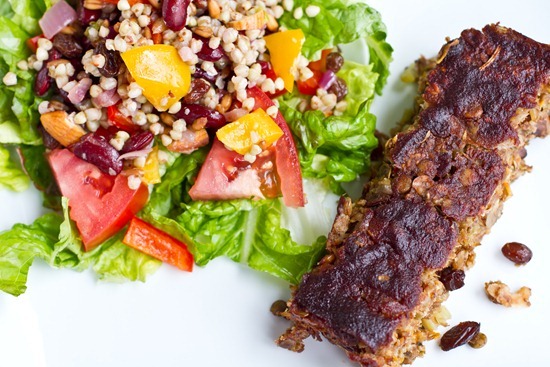 For breakfast, I started with a super green juice blend.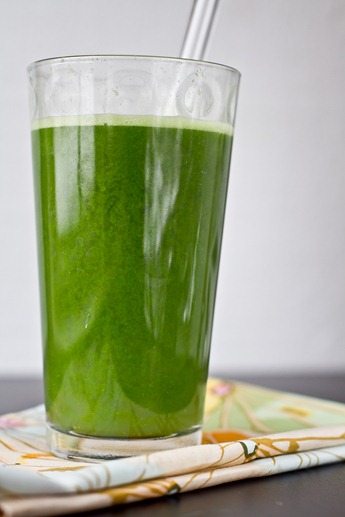 Cleansing Green Juice
1 apple
1 lemon
1 cucumber
1 cup Dandelion (blended in after)
Instead of juicing the Dandelion, I blended it in my Vita-mix with the juice. My juicer (Breville Fountain Juice Plus) does not juice greens well and I find it to be a waste because not much juice comes out. I prefer to juice 'worth while' veggies only and then blend in any greens afterwards. I feel like I get more bang for my buck this way. The clean up for 2 machines is not great though so I don't do this often!
Not long after, breakfast was calling my name from the fridge! Don't you love it when the breakfast fairy prepares breakfast for you?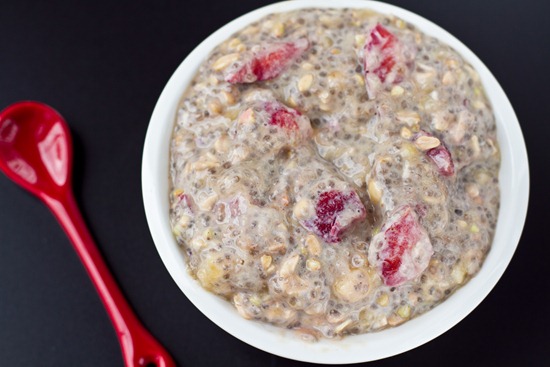 [print_this]
Strawberry Banana Crunch Vegan Overnight Oats
Ingredients:
1/4 cup regular oats
2 tbsp raw buckwheat groats (the 'crunch', optional)
1.5-2 tbsp chia seeds
1 cup non-dairy milk
1 banana, chopped
Pinch cinnamon
2-3 strawberries, chopped
Maple syrup, to taste
Directions: Mix all ingredients together in a bowl and place in the fridge overnight or for at least 2 hours. Serve cold in the AM without cooking.
[/print_this]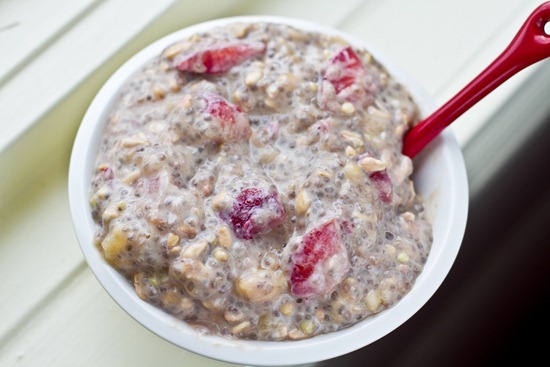 Yum.
Updates:
1) In case you missed it on the weekend, I have a brand new Search bar installed on the right side bar of the blog. If you have tried searching the blog before you probably were frustrated that it didn't work well. This new one is amazing and I hope that you will be able to find things much quicker! I'm very impressed with it so far. Go check it out and give it a try!
2) My Recipes page is up to date from the past week.
3) Check out this post for a homemade & all-natural drain cleaner (only two ingredients!) that I'm loving lately.
Happy Birthday to my Best Bud Allison! She is a new mommy, a new dentist, and one of the most awesome girls I know. XO