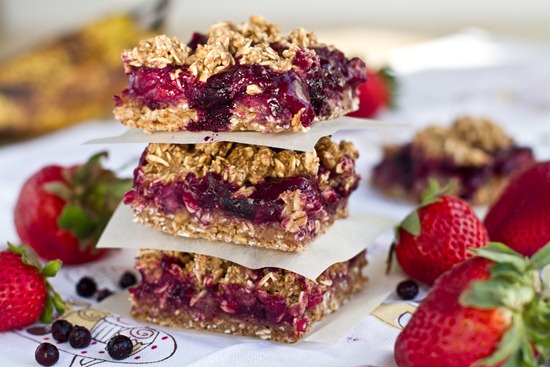 My doctor's appointment went well yesterday. After doing a physical exam (twisting and bending my back all around and also checking the back bones), the doc thinks that my bones and spinal discs are fine, but it is probably an aggravated sciatic nerve (given the location of the pain). Apparently this is fairly common and will just heal with time. While she can't be 100% sure without an X-ray, she doesn't like to do X-rays unless absolutely necessary and given that I am not in a ton of pain, she isn't overly concerned. Apparently, sciatic nerves can be stubborn healers so if it doesn't heal within another week or so, I'm going to look into seeing a physical therapist or chiropractor.
She gave me the go ahead for low impact exercise and I can start running when the pain is fully gone. It could be fine in 1 week, it could be 4 weeks, we really don't know. I drove straight from my appointment to the gym and cranked out a refreshing 30 minutes on the elliptical. Love the elliptical! I left with happy sweat. Nothing like an injury to make you thankful for exercise again!
Breakfast was bright and cheery just like my mood…
I had some Vegan Overnight Oats in the fridge and instead of eating them straight from the bowl or in a parfait, I made a modified version of Kath's Dough Boy smoothie. You simply add overnight oats (vegan or otherwise) into your smoothie to create a thicker and more doughy smoothie. It sounded like fun to me!
[print_this]
A Berry Doughy Smoothie
Adapted Kath's Dough Boy smoothie.
Vegan Overnight Oats (modified version):
1.5 tbsp chia seeds
1/4 cup oats
3/4 cup non-dairy milk
1/2 tsp almond extract (I like to pair almond extract with strawberries, but otherwise I use vanilla and cinnamon)
Directions: Mix together in a bowl and place in fridge overnight or for a couple hours until doughy.
Smoothie:
Directions: Blend the above ingredients together and pour smoothie into a bowl. Top with desired ingredients. I added a few tbsp of raw buckwheat, 1/2 berry oat bar, 1 kiwi, and some Dark Chocolate Almond Butter on top.
[/print_this]
Look what finally arrived in the mail on Monday- The long awaited Raw Buckwheat groats. I have been dying to try these since seeing them all over Ashley's blog.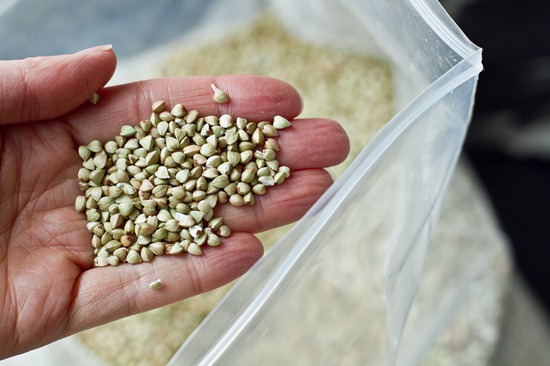 Many people believe that Buckwheat is a cereal grain, but it is actually a fruit seed related to rhubarb and sorrel making them an option for people sensitive to wheat. The best part is you can eat them RAW without cooking them. I saw Ashley eat them raw on her blog and I kept thinking, 'Isn't she going to crack her tooth on one of those things!?', but they really are softer than they look. Promise!
They have perfect amount of crunch to sprinkle on oatmeal, VOO parfaits, salads, Banana soft serve, etc. The flavour is also much, much better than the toasted buckwheat (kasha) that I tried a few weeks back.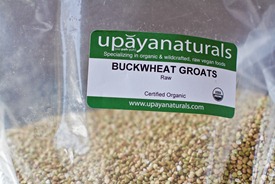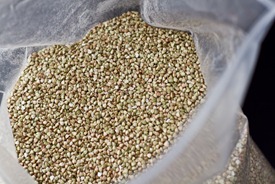 If you are in Canada, check out this amazing E-store called Upaya Naturals. It's a vegetarian and vegan's paradise, especially if you live in a small town like me and cannot find specialty products.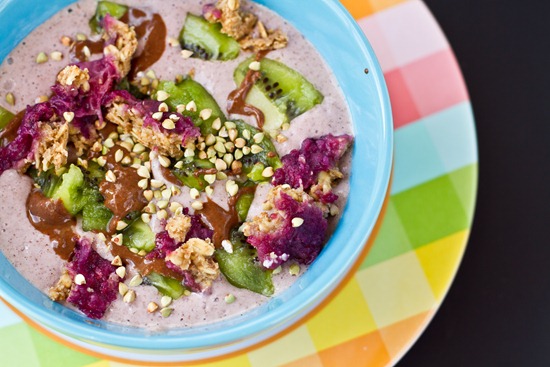 I topped the smoothie with buckwheat, 1/2 berry oat bar (below), 1 kiwi, and some Dark Chocolate Almond Butter. I did miss the chewiness of the vegan overnight oats, so next time I'm going to blend 2/3 of the VOO and then stir in the rest to get the best of both worlds.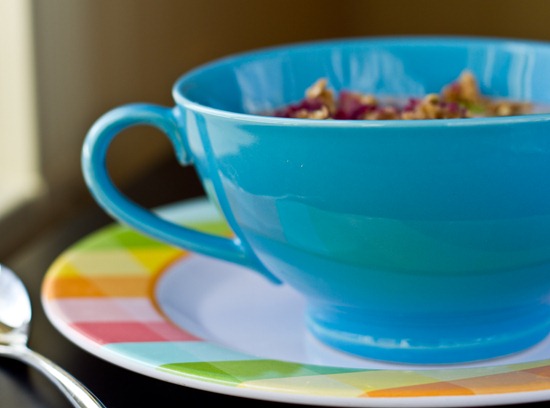 Good to the last spoonful.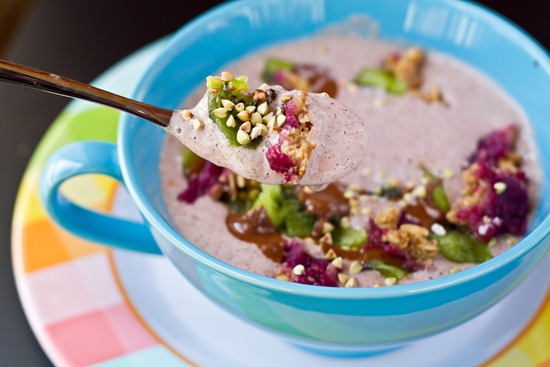 Now about those Berry oat squares!
I have been ogling this recipe on Susan's blog for a long time now and I finally remembered to make them. They have no refined flour, no white sugar, no added fat, no soy, and can be made gluten-free too. I enjoy them with breakfast crumbled over oats, as an afternoon snack, or a light treat after dinner. So versatile!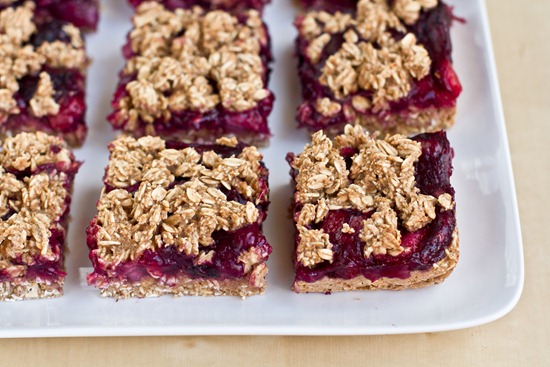 The wholesome flavours of the oats, maple, and berries really shine through and aren't hidden by too much sweetener. They are rustic, yet elegant and simple. I like that. Unfortunately, so does Eric.
And we're running out!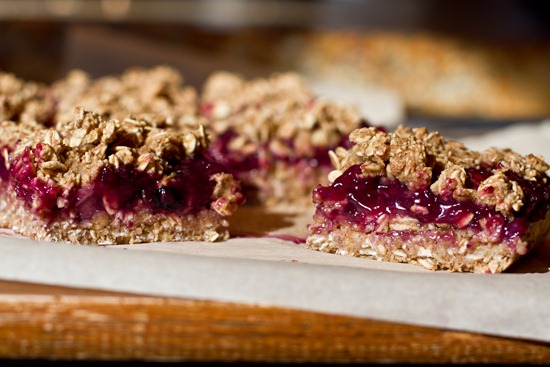 [print_this]
Berry Bliss Oat Squares
Vegan, soy-free, refined-sugar free, no added fat, and can be made gluten-free if you use GF oats.
Adapted from Susan.
Yield: 12 squares
Ingredients:
1 cup fresh blueberries
1 cup fresh strawberries, chopped
1 ripe banana, chopped
1/4 cup pure maple syrup
1 tsp pure vanilla extract
2 tbsp cornstarch mixed with 2 tbsp warm water
3 cups regular oatmeal, divided
1 tsp ground cinnamon
1 & 1/2 tsp baking powder
1/2 tsp kosher salt
1/2 cup + 3 tbsp (6oz) unsweetened applesauce
1/4 cup + 2 tbsp pure maple syrup
1/4 cup  + 2 tbsp water
1 tsp pure vanilla extract
1. Preheat oven to 375F and line a 8inch square pan with two pieces of parchment paper. In a small bowl mix together cornstarch with warm water to form a paste. Make sure all clumps are gone. Set aside.
2. Berry Filling: In a small saucepan, combine the berries, banana, and maple syrup. Bring to a boil and stir well. Remove from heat and stir in vanilla and the pre-mixed cornstarch. Whisk until all clumps are gone and set aside.
3. Base: Place 1.5 cups of oats into a food processor and process until a flour/fine powder forms. Add this processed flour, remaining 1.5 cup of oats, baking powder, and salt into large bowl. Stir. Now add in the wet ingredients (applesauce, maple syrup, water, vanilla) and mix well. Pour 2/3 of the batter into the prepared pan and push down firmly with fingers to smooth out. Grab the prepared berry filling and spread over the top of the oat base until smooth. Now crumble the remaining oat base mixture on top.
4. Bake for 30 mins. at 375F or until the top is slightly golden and firm. Allow to cool for at least 20 minutes before cutting into squares.
[/print_this]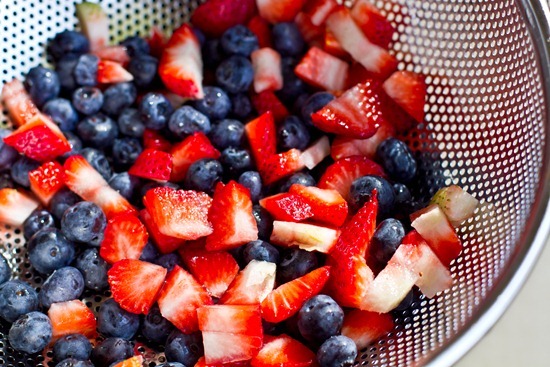 You are probably going to ask me if you can use frozen berries instead of fresh. I'm not sure to be honest. The original recipe didn't mention anything about using frozen berries. My guess is that frozen berries would produce more water when cooking, so you would probably have to add more cornstarch to thicken it. In my experience, frozen berries tend to be less sweet than fresh, so you might want to add more sweetener too.
The main point is to make sure the berry topping tastes good to YOU before spreading it on top! If it doesn't taste good, add a bit more sweetener and you will be fine.
It should have a thick jelly-like consistency: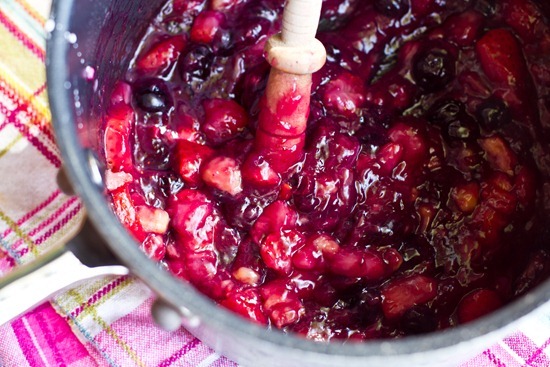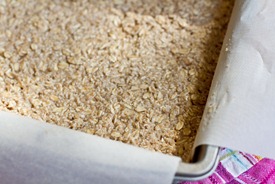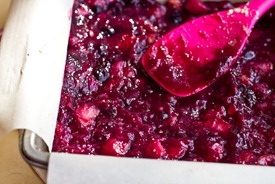 The whole process was very easy!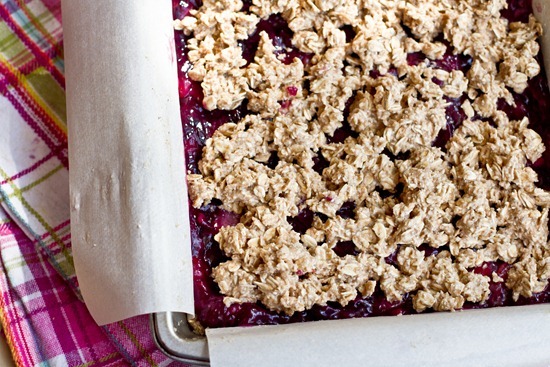 I really wasn't expecting much from these squares because they just seemed too good to be true…but I was really blown away!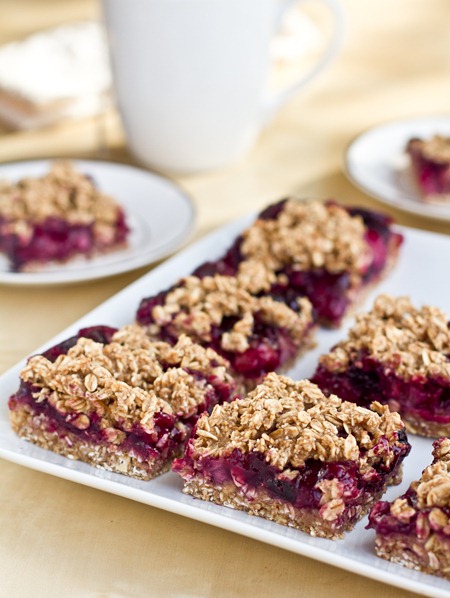 They remind me a lot of these squares I have made in the past:
Healthy Strawberry Oat Squares                  Buttery Apple Streusel Oat Squares
The only thing I might change next time is trying to replace the cornstarch with chia seeds. For some reason cornstarch doesn't seem to agree with my stomach too much. I wonder if chia seeds could act in the same thickening manner? It might be worth a shot.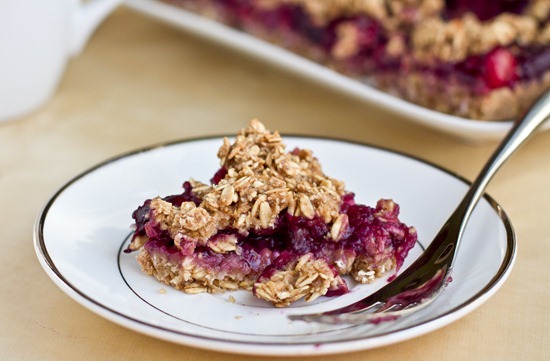 I am really excited to let you know that I received this awesome award from Best Health Magazine in the Eat Well category!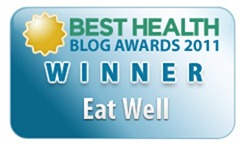 I can't thank you enough for your support and votes over the past month! Be sure to check out all of the fabulous contestants and winners here.
Enjoy your last day of March

(PS- We woke up to a blanket of snow this morning! Guess it was an April Fool's joke after all…)