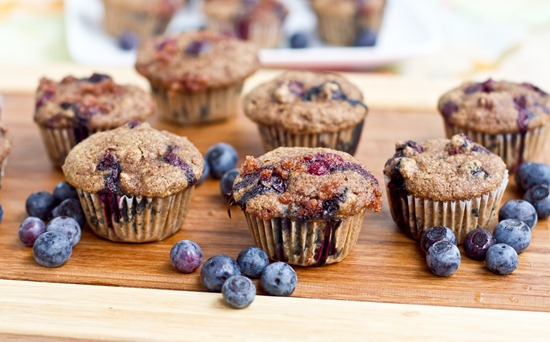 This is a tale of two recipes, both are blue, but one is better than the other!
Up first:
Grumpy Monster Breakfast Blues Sandwich
Inspired by: Old Man Winter
Serving size: Depends on how many people you live with
Ingredients:
~1 foot of fresh snow (pee free)
1 Fall on tailbone, or other body part
2 cups of ice (or bag of frozen peas)
A dash of Ibuprofen
1 or 2 yoga DVDs (with extra cheeze)
Directions: Unfortunately this recipe needs a bit of tweaking! Do not try this at home. ;)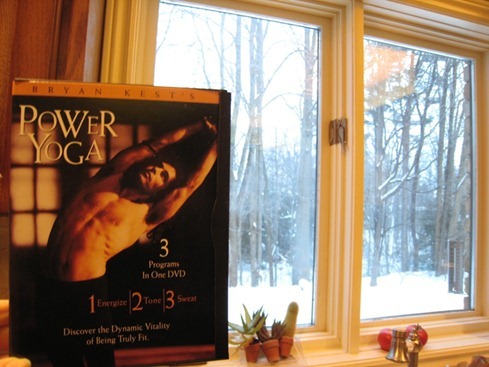 I'm trying my best to tame the grumpy-grumps this morning and stay POSITIVE!
My tailbone isn't in a ton of pain, just nagging discomfort, but if it keeps up I will have to visit my doctor. I also had to pause my half training, which is a bummer seeing as I'm in week 12 of my training and I've been working so hard all Winter.
But, such is life! What can ya do but roll with the punches and make the best of things.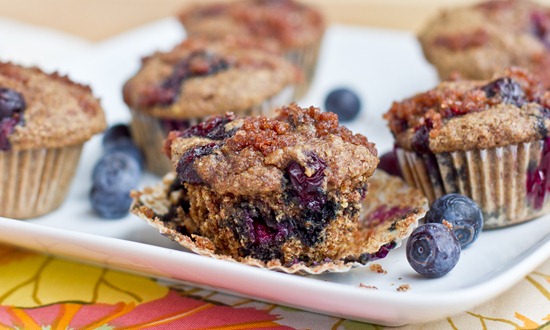 And by make the best of things, I clearly mean whole grain blueberry breakfast muffins to inject a little cheer into our stormy day!

Sometimes homemade food just makes everything better, doesn't it?
These are the perfect not-too-sweet breakfast muffin, bursting with juicy blueberries to jumpstart your morning.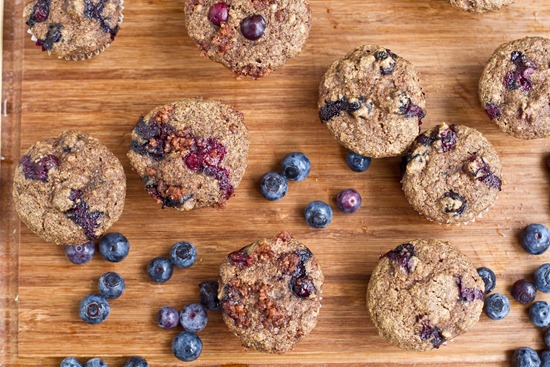 [print_this]
Mini Whole Wheat Blueberry Breakfast Muffins with Cinnamon Streusel
Whole grain, lightly sweet, and bursting with juicy blueberries, these are the perfect breakfast muffin to brighten up any morning. Enjoy alone or crumbled on top of a bowl of hot oatmeal or Vegan overnight oats. See my Blueberry muffin VOO below.
Lightly adapted from Eggless Cooking which was adapted from Eating Well.
Ingredients:
1 cup non-dairy milk
1 tbsp apple cider vinegar
1/4 cup ground flax seed
1 and 3/4 cups whole wheat pastry flour (OR 1 cup whole wheat + 3/4 cup all-purpose flour)
1 & 1/2 tsp baking soda
1 tsp ground cinnamon
1/4 tsp kosher salt
1/4 cup extra virgin olive oil (or vegetable)
1/2 cup pure maple syrup*
1 tsp pure vanilla extract
1/2 tsp pure almond extract (optional, but awesome)
1 & 1/2 cup fresh + sweet blueberries (frozen blueberries seem to make the muffins too moist)

Cinnamon Streusel topping

: 2 tbsp + 2 tsp Turbinado sugar, 1 tsp cinnamon, 2 tsp Earth Balance, 2 tsp flour, pinch salt.
Directions:
1. Preheat oven to 375F and line a muffin tin with liners. I used a mini muffin tin and made 24 muffins. In a small bowl, mix together the non-dairy milk and apple cider vinegar and set aside.
2. In a medium size bowl, whisk together the dry ingredients (ground flax, flour, baking soda, cinnamon, salt). In a small bowl, mix together the wet ingredients (oil, syrup, extracts, and the milk vinegar mixture).  Add the wet to the dry and stir until just combined.
3. Stir in the fresh or frozen blueberries until just combined. Spoon into paper liners. I filled the liners to the top in my mini muffin tins and I still had a bit of batter leftover. Make cinnamon streusel topping and sprinkle over top of batter.
4. Bake in the oven at 375F for about 15-20 minutes, until golden and the top of the muffin slowly springs back when pressed. Cool for at least 15 minutes before serving as the blueberries will be super hot!
[/print_this]
When I saw this blueberry muffin recipe on Eggless Cooking the other day, I squealed with excitement. Good looking vegan recipes can do that to a girl.
It also helps that the recipe is thrown together in just minutes flat…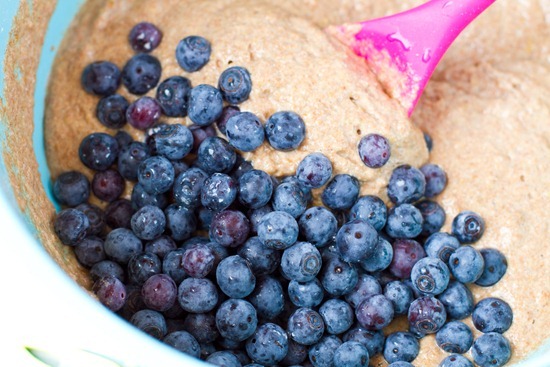 I tried half of my mini muffins with a streusel topping and half without the topping and I strongly, strongly suggest making the streusel topping. It gave these muffins a little sweet kick! The streusel recipe above is already doubled so it should cover all of your muffins if you make it.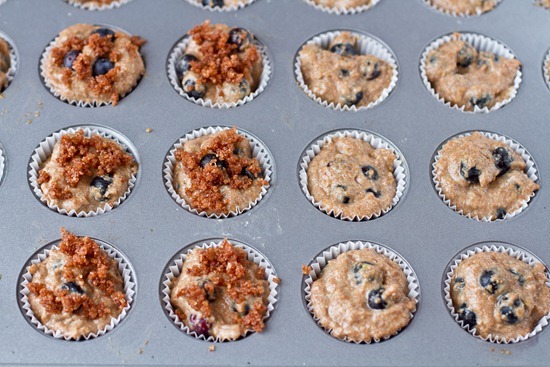 After baking for about 17 minutes, the result was a mini muffin just oozing with big juicy blueberries!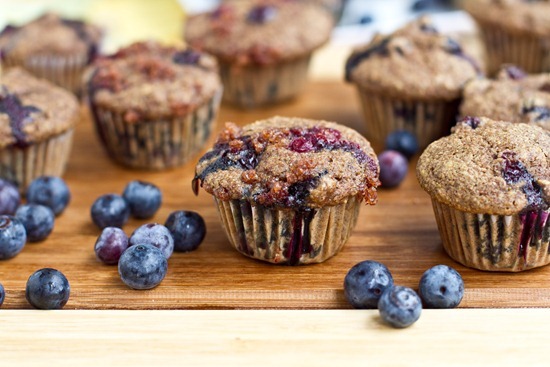 We just loved these muffins. They are fairly low in sugar so they won't give you a sugar crash in the morning which is always nice.
I was really excited for today's breakfast too…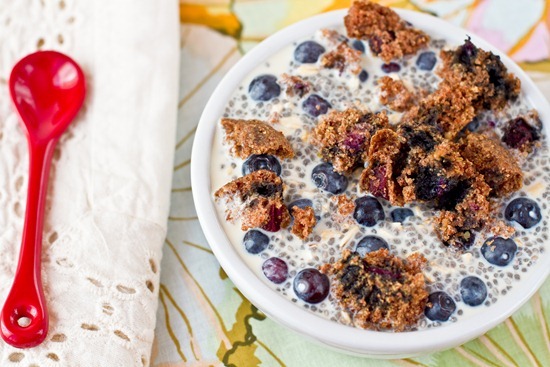 [print_this]
Blueberry Muffin Vegan Overnight Oats
Ingredients:
2 tbsp chia seeds
1/4 cup rolled oats
1 cup non-dairy milk
1/4 tsp cinnamon, or to taste
1/2 tsp pure almond extract (or vanilla)
1/2-1 tbsp maple syrup, or to taste
1/2-3/4 cup fresh blueberries (you might be able to use frozen but you'd have to decrease the milk)
3 mini blueberry muffins
Directions: In a small bowl, mix together the oats, cinnamon, and chia seeds. Add in the milk, syrup, and blueberries and stir well. Place in fridge overnight. In the morning, stir well and then crumble a few mini blueberry muffins on top. Serve without cooking and enjoy cold!
[/print_this]
One word for this breakfast: BLISS.
I've got some bakery work to tend to, followed by a dentist appointment, and some (final!) tax stuff. I'm getting all my business stuff organized this week and it hurts so good. Sometimes Spring cleaning isn't just for the house.
Toodles :)