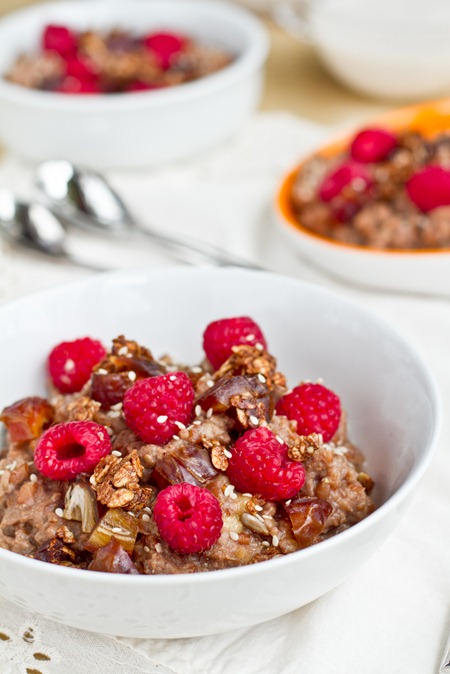 Last year, I had my first cooking attempt with wheat berries when I made the Back on Track Wheat Berry Salad.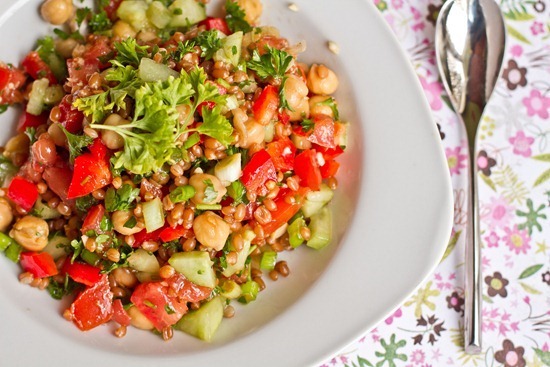 I fell head over heels.
(That is one of my favourite salads by the way!)
Wheat berries are chewy, versatile, and they pack a great nutritional punch.
And then I discovered spelt berries. I am a fan of spelt because it has a fabulous, wholesome, nutty flavour and it's also easier for my tummy to digest. I knew I had to try some out, so naturally I bought a 25 pound bag of them.
It was do or die.
During my experimentation, I discovered a few fun things:
1) Overnight spelt berries: I soaked the spelt berries overnight in water and discovered by morning they had softened up enough to be edible- even without cooking. Lately, I have been soaking spelt berries overnight and then sprinkling them on my salads, all without having to turn on the stovetop. It is a great time saver!
I soak a big batch on the weekend and I have been enjoying them all week on my lunchtime salads.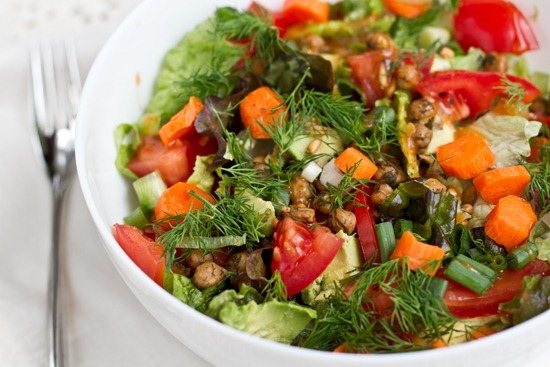 They are also fun mixed into some vegan overnight oats!
2) Great nutritional profile.
I looked up the nutritional information for both spelt berries and wheat berries.
Wheat Berries (1/4 cup, dry)
Spelt Berries (1/4 cup, dry)
160 kcals
1 g fat
0 g sodium
35 g carbs
6 g fibre
5 g protein
10% Iron
150 kcals
1.5 g fat
0 g sodium
32 g carbs
4 g fibre
6 g protein
10% iron
Their profile is almost identical, with a few small differences here and there. You can't go wrong with either wheat berries or spelt berries. I do find the flavour of spelt berries is a bit more nutty tasting though.
3) Versatility: Spelt berries (and wheat berries) can be used in all kinds of fun recipes like stuffing, porridge, pudding, rice pilafs, muffins, and more. I can't wait to experiment more with them!
This was my first attempt at making Spelt Berry Porridge which was inspired by a Wheat Berry Pudding recipe from Eating Well. I'm also assuming that you could substitute wheatberries in this recipe below if you wanted to!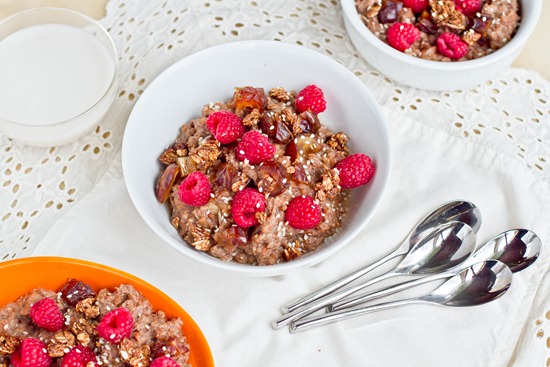 [print_this]
Spelt Berry Porridge with Granola, Dates, and Raspberries
This spelt berry porridge is a fun change-up of the normal oatmeal breakfast routine! Spelt berries have a wonderful chewiness to them and a delicious nutty flavour. This recipe below is customizable and all kinds of flavours and mix-ins would work here. Add your favourite fruit, nuts, seeds, granola, sweeteners, and nut butters as desired.
Inspired by Eating Well's Wheat Berry Pudding.
Yield: ~4 servings (about 4 cups) <—you can enjoy for a few mornings!
Ingredients:
1 cup dry spelt berries (wheatberries probably work too!)
3 ripe Bananas, 1 chopped and 2 mashed
2 cups + 2 tbsp non-dairy milk (I used Eden's organic soy)
2 tsp cinnamon
Pinch of nutmeg and ground cloves (optional)
1/4 tsp kosher salt
2 tsp pure vanilla extract
2 tbsp pure maple syrup, or to taste

Toppings

: Whatever you want! I used raspberries, granola, chopped dates, sesame seeds, drizzle of sweetener
Directions:
1. Rinse spelt berries in a colander. Place 1 cup uncooked spelt berries into a pot and add water to cover by 2 inches. Bring to a boil, cover, and simmer on low for about 35-45 minutes, or until tender (you still want them a bit chewy). You can do this step ahead of time. Drain and transfer into a food processor. Add two tbsp non-dairy milk and process mixture, stopping to scrape sides of the bowl, when necessary. You want some of the berries chopped and some of them whole (see processor pic below).
2. Scoop the chopped berries back into the pot along with 2 cups non-dairy milk, cinnamon, salt, bananas, optional nutmeg and ground cloves. Stir well and simmer on low for about 10 minutes until thick, stirring often. Remove from heat and stir in the vanilla and maple syrup.
3. Pour into bowls and add your desired toppings. I used dates, raspberries, and granola, but the sky is the limit! Makes almost 4 cups worth. Store leftovers in a container in the fridge. To reheat add a tablespoon or a bit more of non-dairy milk, stir, and microwave until hot.
[/print_this]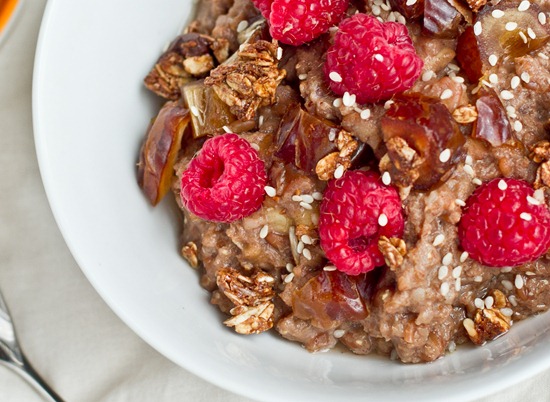 I just loved this Spelt Berry porridge…maybe even better than oats. It was just so chewy and really fun to eat.
After cooking the berries, rinse, drain, and then transfer to the food processor.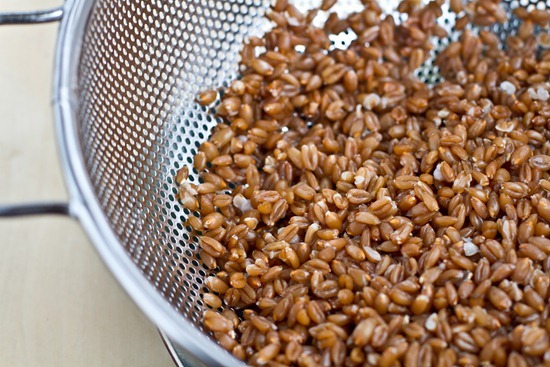 Add two tbsp of milk and pulse until you have achieved this consistency below. You still want some that are intact as they will provide a great texture in the porridge.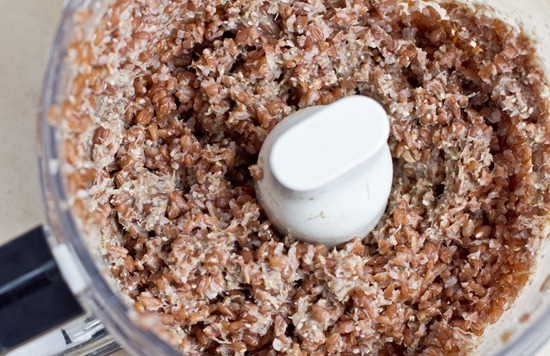 Chopping/processing the berries allows them to get really creamy when you cook everything in the pot with the milk.
Add the processed berries and rest of the ingredients into the pot (except vanilla and maple syrup).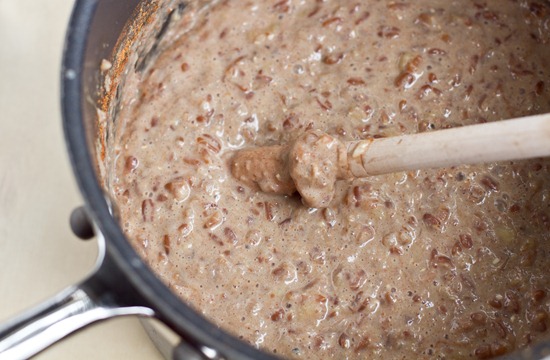 I decided to add three bananas because the recipe makes about 4 servings. I mashed two bananas (so their flavour could soak into the porridge) and also chopped 1 banana (for texture) and stirred everything together.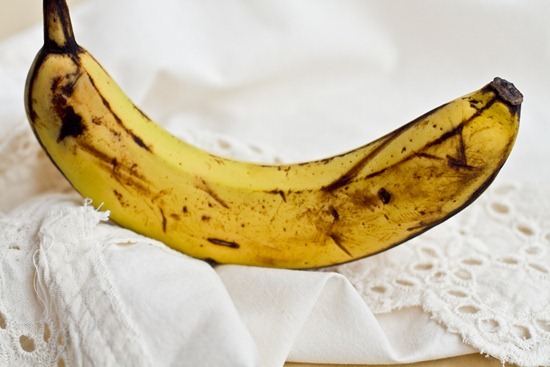 After 8-10 minutes of cooking on the stovetop, you will have this creamy deliciousness! Stir in your desired amount of sweetener and pure vanilla extract.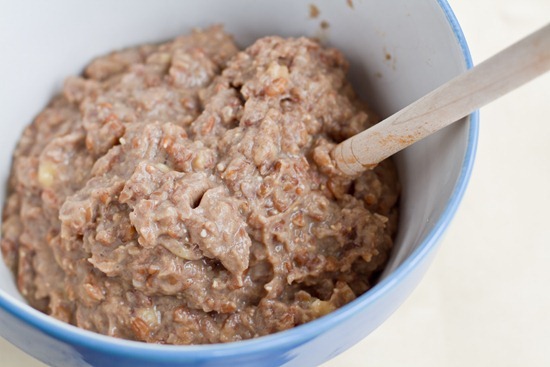 Add your desired toppings and enjoy!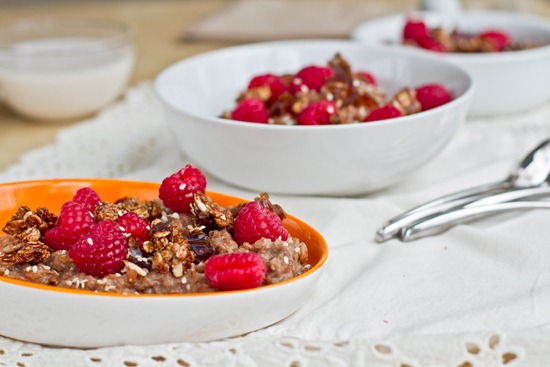 The great thing about this recipe is that you can make a batch on the weekend and then enjoy it for a few days! To reheat, just stir in a tablespoon of milk and reheat in the microwave or on the stove top. I find that it reheats very well.
I added raspberries, dates, granola, sesame seeds, and a bit of sweetener on top and it was delish.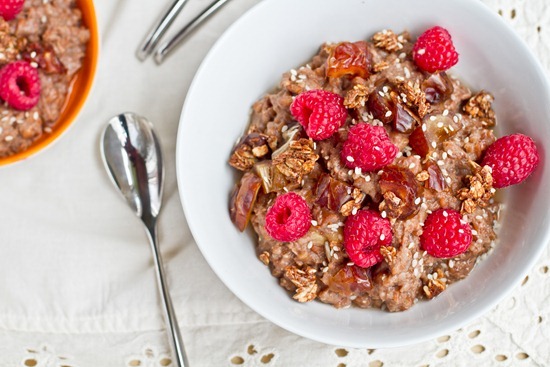 On a sad note, my thoughts go out to those inflicted by Japan's earthquake and Tsunami. I felt a bit silly for complaining about our snow and rain this week when I heard about what had happened. :\ It really puts things in perspective, doesn't it?
Canadian Red Cross is accepting relief donations here.