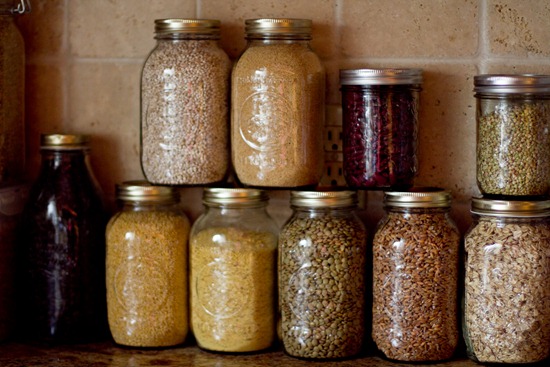 Recently, I have received emails from readers asking me tips for saving money on food, especially when buying organic items.
Over the years, I have gradually shifted to buying organic products whenever possible because I believe it is an investment in my health and the environment. Obviously, the downside to buying organic and high-quality foods is often the higher price tag!
But I have a secret-weapon…
I buy in bulk.
Of course, buying in bulk is not really a secret, but it never really sunk in until I opened the bakery. It was my bakery that taught me the beauty of buying in bulk because I was purchasing all of these expensive organic ingredients (Glo Bakery is 100% organic) and I had to find a way to still make a profit at the end of the day.
Along my journey, I also discovered that I could start buying a lot of our household food items in bulk and cut down our grocery bill substantially. My solution is now to buy larger quantities of food and shop less often.
Here are a few of my tips for buying in bulk:
1) Research organic wholesalers in your area.
In the Toronto area, there are a lot of wholesalers, but I zoned in on ones that provide mostly organic, whole foods/nutritious items, and local food options. For example, I wasn't interested in wholesalers for typical bakery goods like corn syrup or fondant. That narrowed down the list substantially!
I came across a few wholesalers that I now use on a regular basis:
2) Seek out a 'Buying Club' if you do not own a business in the industry.
One of the first things I noticed about many wholesalers is that many of them require you to have a business in the industry to be able to purchase from them. This wasn't a problem for me, but it will be a problem if you are simply a 'regular' consumer.
But, there is good news!
Some wholesalers, like ONFC, offer what is called a Buying Club.
What is a Buying Club?
Buying Clubs are groups of individuals and/or families who get together to buy directly from the wholesaler. Each member creates an order based on the ONFC Buying Club catalogue, and the club places a collective order to ONFC. We deliver the order to a club member's home where it is divided into the individual orders. Members then pick-up their orders and pay for their invoices.
The beauty of the buying club is that regular consumers can form small groups and buy in bulk without having to own a business in the industry! I know of a few readers who use this approach and it works well for them.
3) Once you find suitable wholesalers, request the catalogues and start price comparing.
I can't tell you how many hours I spent doing price comparisons and tedious calculations to find the best bang for my buck. It takes a lot of work, but in the end your wallet will be happy. The only downside is that many of the wholesalers I have come across are still 'old school' in the sense that they do not have computerized ordering systems online. This makes for slow ordering procedures and I look forward to the day when wholesalers like ONFC make online ordering possible.
To give you an idea, here are a few prices of some things that I buy in bulk:
11.3kg (25 pounds) Organic Dried Chickpeas = $31.75
11.34kg (25 pounds) Organic Pearled Barley = $22.13
11.34kg (25 pounds) Organic Shredded Coconut = $37.67
10 kg (22 pounds) Organic Peanut Butter = $70.28
When I think about how long these items last (grains/beans will last years), I am really amazed by how much money can be saved over time. This has also encouraged me to cut down the amount of canned items I buy because the price difference is also huge when comparing canned goods vs. dried goods.
4) Find out the minimum order for free delivery.
On average, the minimum order for my wholesalers is between $300-500 if you want to quality for FREE DELIVERY. This is why I prefer to order less frequently and in larger quantities, because free delivery is priceless when we are talking about 25-50 pound bags. The time it takes me to drive to my wholesaler (over 1 hour at least) and then load all of the items into my small car is just not worth it. Free delivery is where it's at!
Ordering less frequently does have a downside though- I need to always be on top of my stock and know what I have available and what I am running out of. Before I place an order, I always do a stock check (for both the bakery and home items).
5) Figure out how you will store the bulk items.
I buy just about everything now in bulk (except for produce, but we'll be switching to the CSA in the late Spring) and storage can become an issue with so many items. The best way for me to store my food in a safe manner is by using FDA-approved food bins. I buy my food bins from a great packaging company called Uline.
I stack the food bins by category such as grains (oats, couscous, quinoa, barley, amaranth, etc), protein (lentils, chickpeas, beans), dried fruit (dates, apricots, cranberries), nut butters, etc. It works out pretty well for me. I also take a permanent marker and clearly label the top and side of each pail.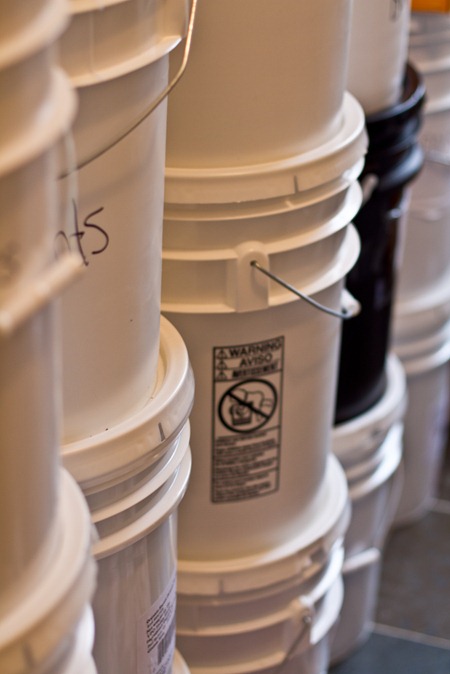 Now let me just say this- Food bins are a real pain in my ass!
And they aren't always great if you don't have the storage space. Right now, we are cramming our bins in our laundry room, which isn't ideal but it works for us now because it is close to the kitchen.
It does not make sense for me to keep my frequently used/personal food items only in a food bin. It just eats up a lot of time going back and forth every day. I like to have my frequently used items handy in jars.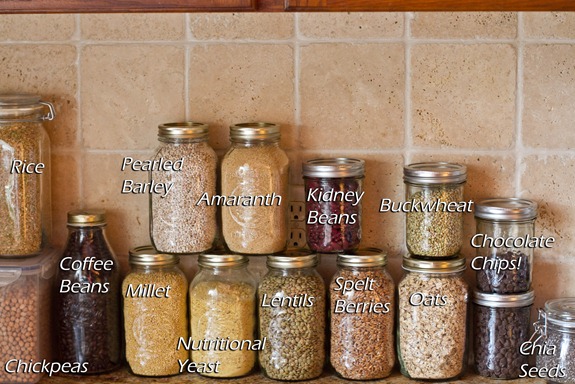 I prefer not to store them on the counter, so I clear a space in the cabinet to store the jars. I also used a permanent marker on the inside of the lid to write what the product is in case there is a chance I may forget.
6) Recycle the Delivery boxes
There can be a lot of packaging leftover when I have a delivery of food items. Wholesalers will throw a bunch of items into boxes whenever possible so it is easier for the driver to carry. Instead of having a bunch of useless boxes lying around, I now empty out the box immediately and give them back to the driver so they can be re-used in another delivery. This helps cut down on needless waste.
7) Find a CSA or hit up the Farmer's Market
When the season starts up again, we will be ordering another local CSA share. It is a great way to save money on local, organic produce and it also cuts down on grocery trips too.
8.) Bulk Bins
If you can't order from a wholesaler, try purchasing food from bulk bins in your grocery store or from bulk food stores like Bulk Barn. Both of these methods are often much cheaper and you can also purchase in the quantity that you desire.
As I typed up this post, I enjoyed a delicious breakfast…made in my kitchen for just pennies a bowl.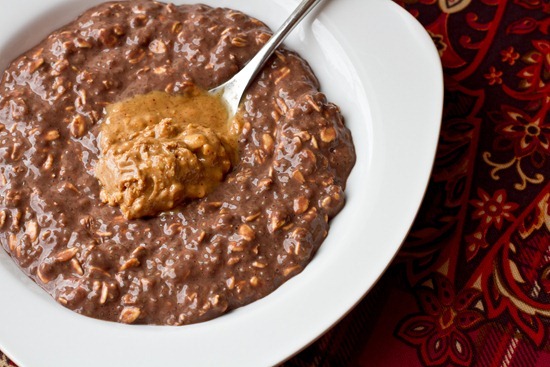 Chocolate Peanut Butter Cup Vegan Overnight Oats
Inspired by Live Well 360.
Ingredients:
1/3 cup oats
2 tbsp chia seeds
1 cup non-dairy milk (I used almond)
1 heaping tbsp carob powder (not the same as cocoa powder- carob is SWEET)
1/2 tbsp cocoa powder
1/2 tbsp maple syrup, or to taste
1 tbsp crunchy peanut butter
Directions: Mix the dry ingredients together in a bowl and then whisk in the wet ingredients. Place in fridge for 1 hour or overnight. Enjoy with a spoonful of peanut butter and a drizzle of sweetener.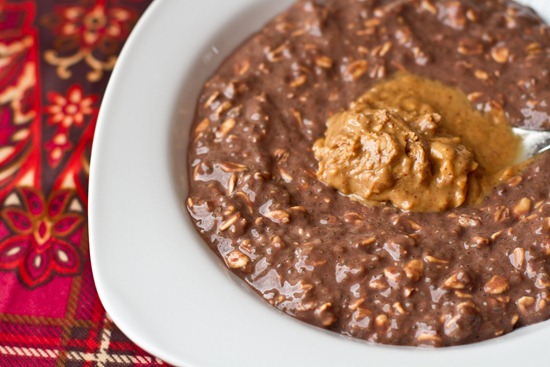 We're off to hunt for a dining room chandelier today. I have discovered that finding a chandelier is not an easy process!
I also appreciate your votes whenever you can, in the Best Health Blog Awards Contest. I am nominated in the Eat Well category. You can vote once a day until March 21st. Thank you in advance!