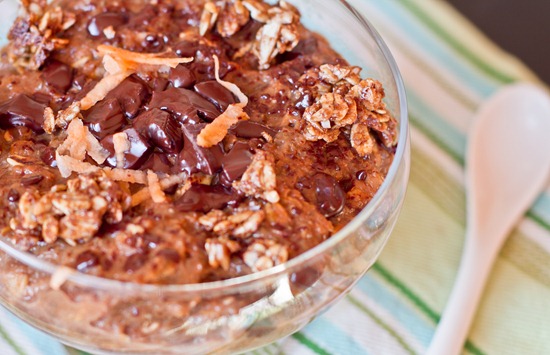 Last night as I watched American Idol draw out two long hours of results, I had some time to do some thinking.
I wanted to create a fun Friday breakfast to celebrate the approaching weekend, incorporating fresh sweet potato into my morning oatmeal. I wasn't in the mood to bake anything or for it to take longer than 10 minutes, so I decided that finely grating the fresh sweet potato into my oatmeal would be a sneaky way to cut down the cooking time that is normally required for such a tater.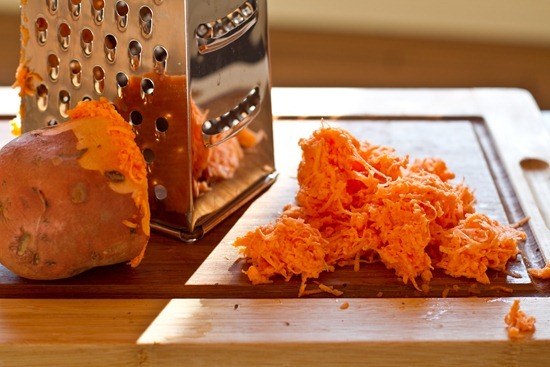 Oh, and it worked. It worked wonderfully!
And because I was already sneaking in some veggies into my breakfast, I decided that some chocolate was in order to round it out. It's all about the balance, right?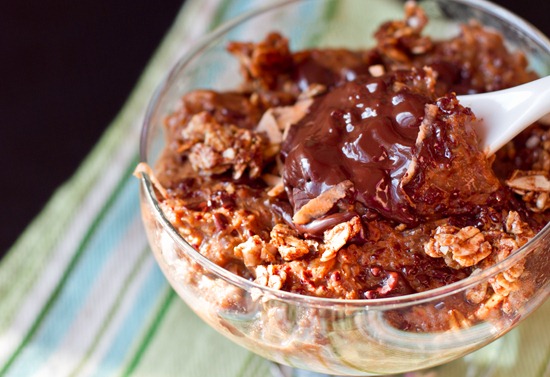 Normally, I am not a fan of overly sweet things in the morning, but I found that just a tablespoon of cocoa powder and 1/2 square of dark chocolate was enough to turn a normal bowl of oatmeal into something quite decadent, while still being nutritious and energizing.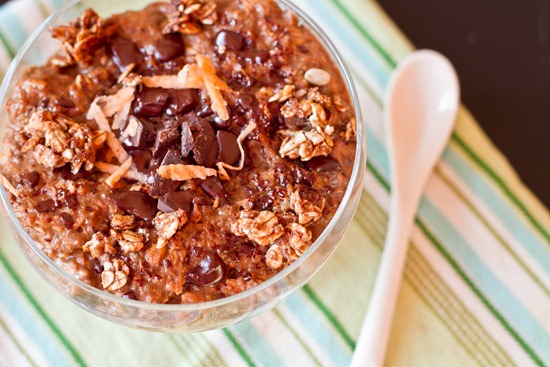 [print_this]
Double Chocolate Sweet Potato Oatmeal
Inspired by my Carrot Cake Oatmeal and Live Well 360.
Super chocolaty without a ton of sugar, this bowl of oatmeal is high in volume and taste. The grated sweet potato is a wonderful way to sneak a veggie into your morning routine!
Yield: 1 serving
Base Ingredients:
1/4 cup oats
3/4 cup finely grated sweet potato
1 tbsp chia seeds
1 cup non-dairy milk (I used organic soy)
Pinch of salt
1 tbsp maple syrup
1 tsp pure vanilla extract
1/4 cup water
1 tbsp + 1 tsp Dutch-processed cocoa powder
1/4-1/2 tsp ground cinnamon
Directions:
1. In a medium sized pot, stir together the oats, milk, chia seeds, and salt. Bring to a boil and reduce heat to medium. Now stir in the grated sweet potato and the 1/4 cup of water. Cook on medium, stirring often, for a few more minutes.
2. Stir in the cocoa powder and cinnamon, being sure to get out any clumps. When the mixture has thickened up nicely, stir in the vanilla and maple syrup and remove from heat. Pour into a bowl and top with a bit of dark chocolate or your desired toppings.
Toppings I used: 1/2 square dark chocolate, 1 tbsp Chocolate Crunch Dessert Granola, few shreds of sweet potato for garnish.
[/print_this]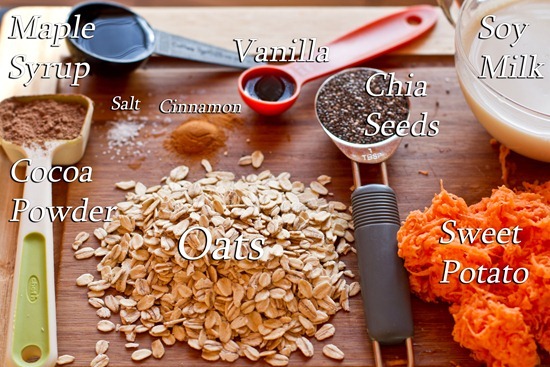 First, bring the oats, milk, chia seeds, and salt to a low boil and reduce heat to medium. Now stir in the finely grated sweet potato and 1/4 cup of water. Cook on medium, stirring frequently, for a few minutes.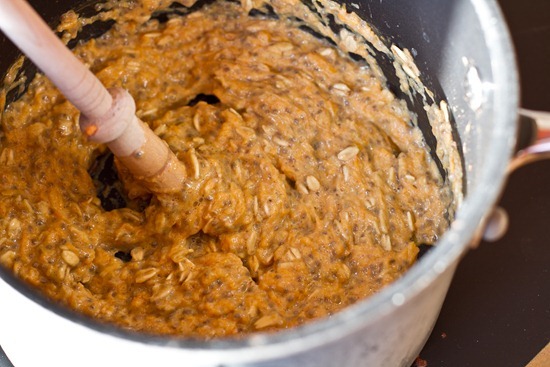 Now stir in the cinnamon and cocoa powder, making sure to get out all the clumps!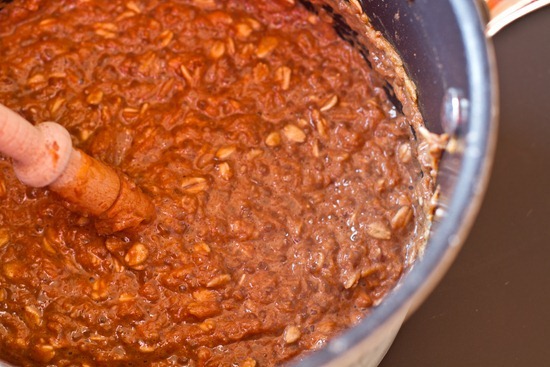 Chocolaty goodness!
Cook for a few more minutes, stirring frequently. Now add in the maple syrup and vanilla and remove from heat. Pour into a bowl and add your desired toppings!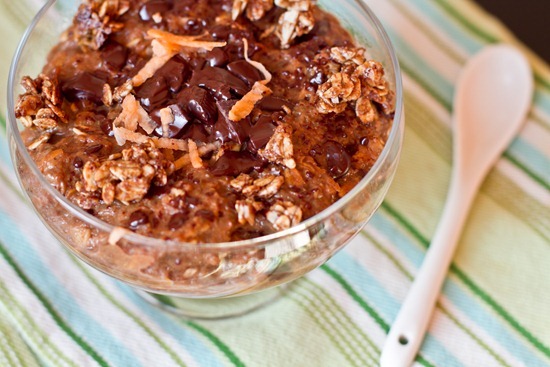 On top: 1/2 square chopped dark chocolate (it got all melty and wonderful!), a few shreds of sweet potato for garnish, and 1 tbsp of granola.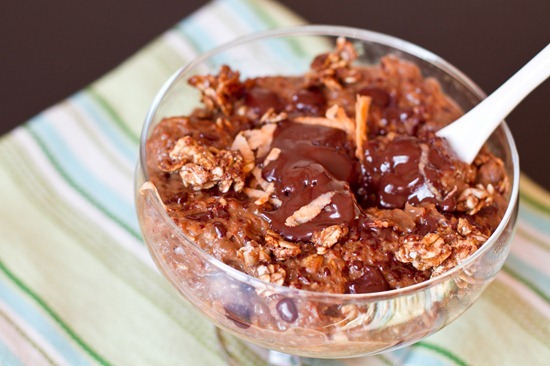 The result is a super chocolaty and decadent-tasting bowl of oatmeal with a ton of volume thanks to the sweet potato. It was just the right amount of sweetness for me, but of course you can always adjust to your own taste buds!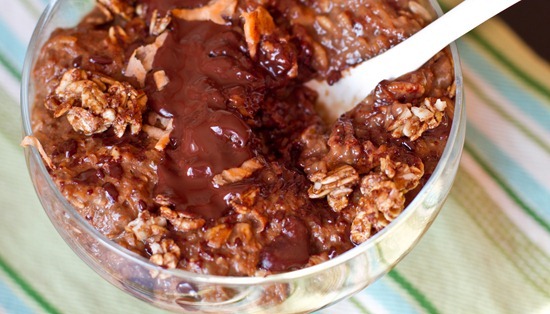 I've seen this blog survey making the rounds so I decided to fill it out myself (I also did this while watching American Idol last night!).
A-Z Survey
A. Age: 27
B. Bed size: King (as of 2011)…can't believe we waited so long! I think my legs are getting longer from all the stretching I do now.
C. Chore you dislike: Scrubbing tile floors
D. Dogs: growing up- Pepper + Jasmine….RIP!! Both muts, both amazing dogs. I can't wait to adopt my next one. I'm a huge, huge, huge dog lover. I was never a cat fan until Eric bought Sketchie! Now I love both cats and dogs, but I am still partial to dogs….shhhh.
E. Essential start to your day: Slippers
F. Favorite color: I can't pick just one so- Blue, Pink, Orange, Green. I love colour!
G. Gold or silver: Gold…I'm old school and it looks best with my skin tone. I prefer silver for house décor though.
H. Height: 5'4.5" (but with my stilettos 5'9"!)
I. Instruments you play(ed): Well, let me just say that my best friend and I were formerly (currently!?) known as the 'Squeak Sistas'…we rocked that Clarinet throughout school! Squeak!
J. Job title: Business owner/recipe developer/photographer/blogger/dish washer/molly maid.
K. Kids: Just Sketchie and our stuffed animals right now!
L. Live: Gorgeous green & hilly countryside…aka: The Sticks. We have 1 traffic light. Seriously. We did the big city thing for a couple years and did not enjoy the traffic headaches, pollution, and congestion.
M. Mom's name: OSGMOM….Or Lori.
N. Nicknames: Dawn (middle name), Angie/Ange, Granola (one of my friends started calling me this when I went vegan! ha), Martha, shots, Lulu, Lil Gal, Skirts, Lids.
O. Overnight hospital stays: None yet…*knocks on wood*
P. Pet peeves: Stinky feet, finding another person's hair in a hotel bathroom, pesticides on produce, finding used bandaids on the ground/swimming pool, when post office loses my parcels, Tigerblood, thinking I have a food in the fridge and finding out it is GONE!
Q. Quote from a movie: 'You guys look like a bunch of ice cream cones!' (Any guesses?)
R. Righty or lefty: Righty, but I used to try to teach myself how to be ambidextrous when I was young. no such luck.
S. Siblings: Sister Kristi, half-sis and half-bro: Kerrie and Chris, Step sis and step bro: Jennifer and Michael.
T. Time you wake up: Between 7-7:30am. Bedtime is 11:30-12:00 (we are both night owls and LOVE to stay up late, especially on weekends!).
U. Underwear: Oh I didn't think this was that kind of questionnaire!
V. Vegetables you don't like: Chard. That is the only one I can think of, so I guess I'm doing good!
W. What makes you run late: Traffic, Blogging, unexpected clothing freak-outs. I'm usually early though and hate to be late.
X. X-rays you've had: Teeth, pelvic area (when I had pelvic strain from running in 2009), Head (I fell on the ice and hit my head in 2008…outcome still unclear!).
Y. Yummy food you make: I'm really loving my spin-off oatmeals lately.
Z. Zoo animal favorites: The animals that are released back into the wild!
PS– My current American Idol Favs are: Paul, Pia, Haley, and Casey! What about you?
If you'd like, copy and paste this survey below and have a go at it! I love finding out about you guys.