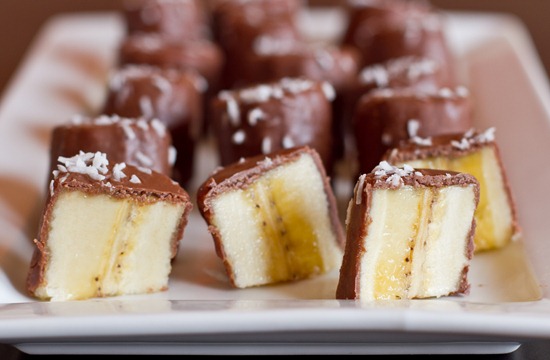 Remember last summer when I made Chocolate Covered Frozen Bananas?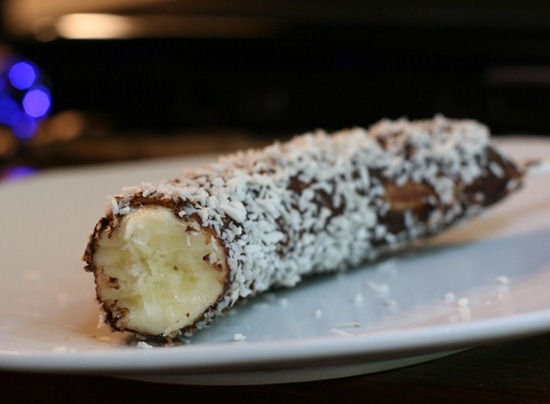 Covering a banana in chocolate and then snapping a picture of it proved to be a bit awkward for all parties involved. It was not my finest moment of photography.
Then I found out that Bon Appetit and Ashley from Never(home) Maker were making Chocolate Banana Bites. You know me, I love my bites and all things mini sized.
I have made…
Clearly, these chocolate covered banana bites were calling my name!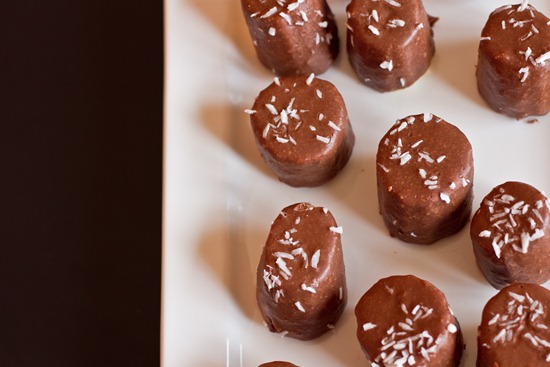 I ended up putting a fun twist on them and the result was an incredibly tasty treat when you want just a little bite of something to satisfy that sweet tooth. I just LOVE these things and I am so happy that I have a bunch stored in my fridge whenever I want a mini treat.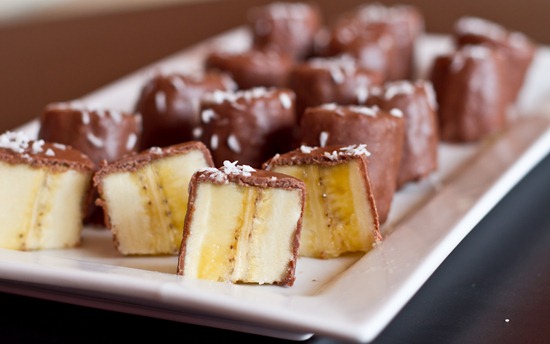 [print_this]
Chocolate Coconut Butter Banana Bites
Inspired by Bon Appetit & Never(home) Maker.
Ingredients:
2 & 2/3 cup unsweetened shredded coconut (yield: 1 cup coconut butter)
1/4 tsp kosher salt
1-2 tsp pure extract (I used 2 tsp peppermint extract)
2/3 cup sifted icing sugar (see note below)
1/2 cup chocolate chips + 1/2 tsp oil (I used coconut), melted
Bananas, peeled and cut into 1 inch pieces
Directions:
1. Line a baking sheet or plate with parchment paper or a non-stick mat. Make homemade coconut butter in a high-powered food processor, by processing 2 + 2/3 cup shredded coconut for about 8 minutes, stirring often. Once you have a very liquidy coconut butter, add in the salt, extract, and sifted icing sugar. Process until smooth.
2. Melt 1/2 cup dark chocolate chips with 1/2 tsp oil in the microwave for about 45-60 seconds, stopping to stir often. Stop while there are still chips left in the bowl and let the warm bowl melt the rest. Once all the chips are melted pour into the processor and process until combined. You can stop and scrape the sides as necessary. Pour this Chocolate coconut butter into a bowl.
3. Peel and slice the bananas into 1 inch pieces (I got about 6 pieces per banana). Using a fork, dip the banana into the chocolate coconut butter, gently tapping the side of the bowl to remove excess. Now carefully place onto prepared plate or baking sheet and place in the freezer for about 10-15 minutes to set. I make about 18 bites (3 large bananas) and then I poured the leftover (~3/4 cup) chocolate coconut butter into a jar. Store leftover coconut butter at room temperature.
Note: I also tried this recipe using liquid sweetener (maple syrup) instead of icing sugar and it made the coconut butter too thick and clumpy and did not work. I would recommend using the icing sugar to obtain the same results!
[/print_this]
The first thing you do is make your coconut butter. Alternatively, you can use 1 cup of store-bought coconut butter.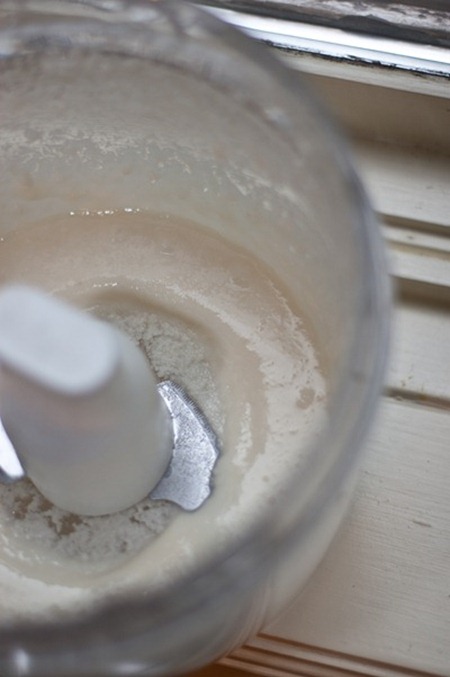 Keep in mind that not all food processors can make coconut butter! I have heard from many of you that tried making it and it never turned into butter, even after 30 minutes of processing. For best results you really need a high-speed processor (or blender) for it to work.
After 8 minutes of processing, I had drippy coconut butter.
Now add in kosher salt, sifted icing sugar, and your desired extract. I used peppermint and it was lovely.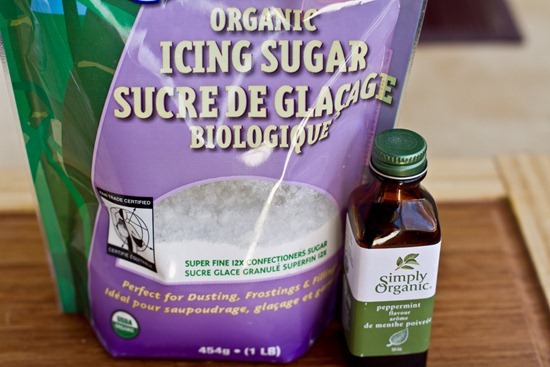 Process it all together and it will thicken up slightly.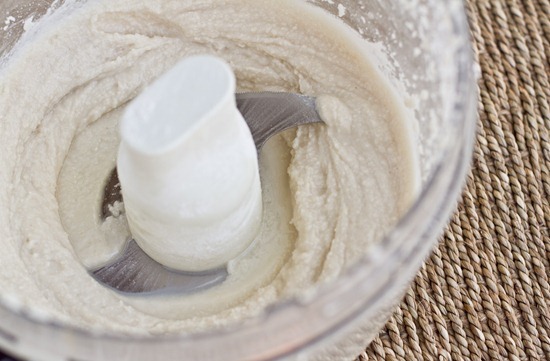 Now melt your chocolate and oil in the microwave and then process the melted chocolate and coconut butter mixture together.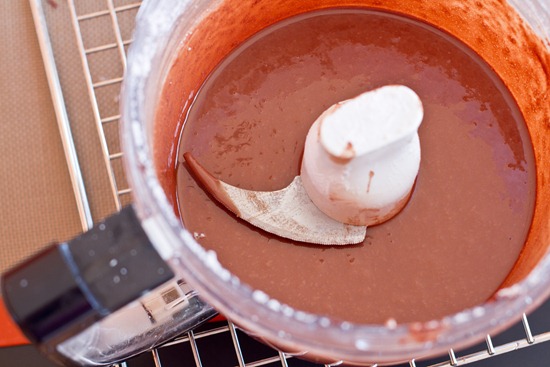 Pour into a bowl.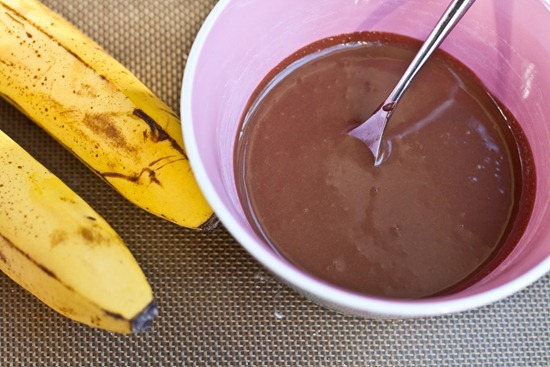 Peel and slice your bananas into 1 inch pieces.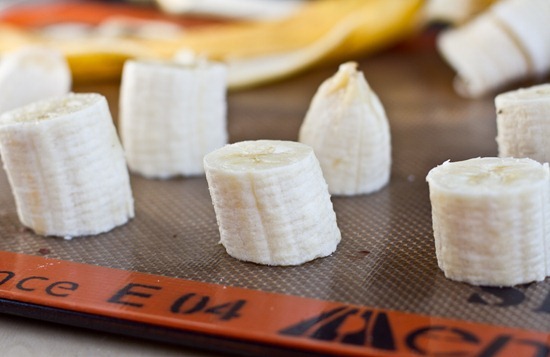 Using a fork, dip the bananas into the bowl of chocolate coconut butter. Gently tap off excess on the side of the bowl.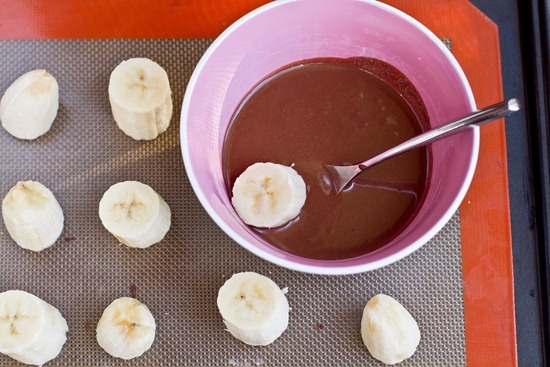 For the first trial that I made, I placed them onto a Silpat baking mat. This worked out great, except it created a ring of chocolate around the bites (which is no big deal), but I wanted to try using a cooling rack to see if that helped.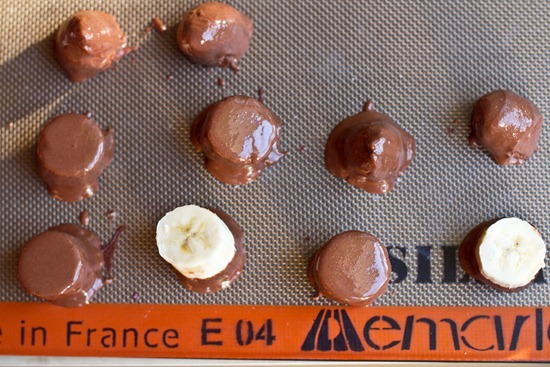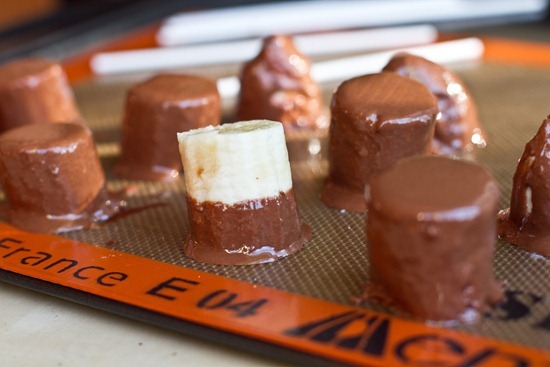 With a cooling rack, the excess was able to drip off, but honestly I prefer the first method because the cooling rack just made more steps and was messier in the end!!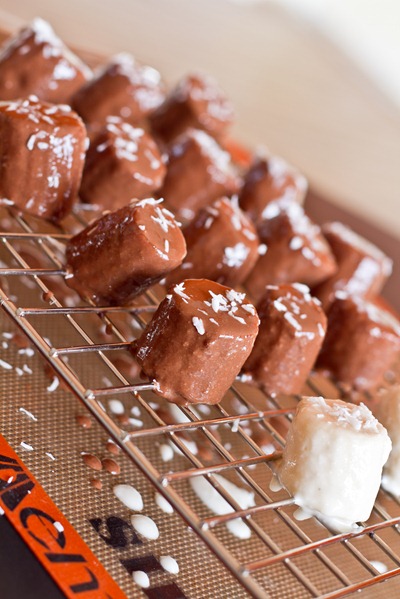 You can stick 'em if you like before freezing!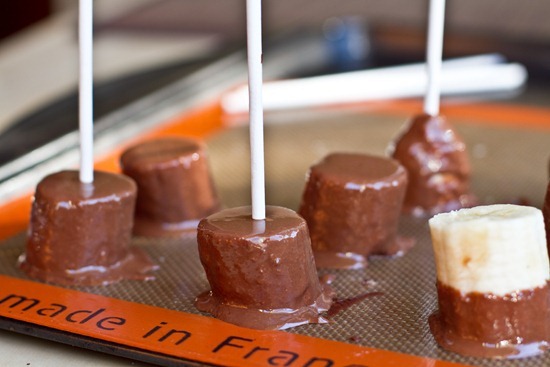 Freeze for 10-15 minutes until set.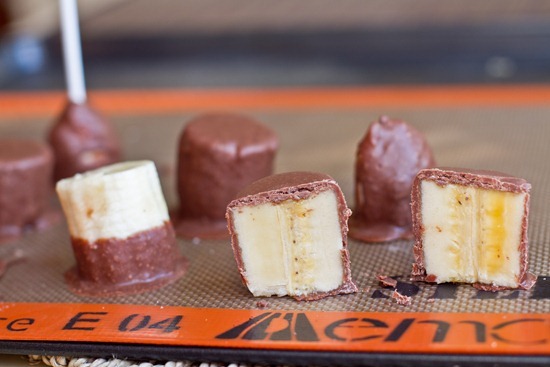 I found they were perfect after 15 minutes of freezing…the result is a solid exterior with a soft (but cold) pillowy banana interior. Yes pillowy. Mmm. I preferred them this way as opposed to completely frozen, but perhaps during the hot summer I will change my mind…
My little banana pops!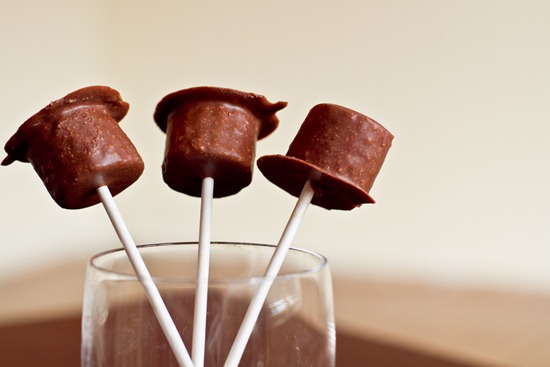 I had almost 1 cup of Chocolate Coconut Butter leftover so I put it in a jar and will store at room temperature. This will be great warmed up and poured over oatmeal or VOO!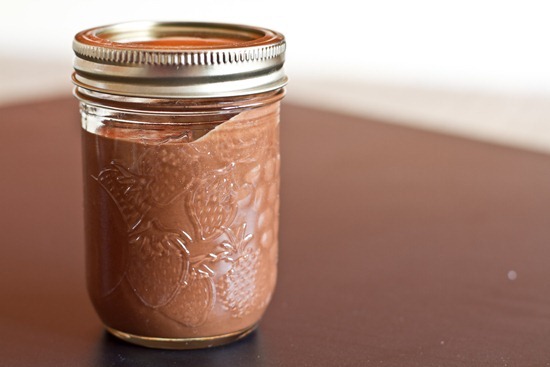 I used 3 bananas and made 18 bites. I'm storing them in the fridge in a container. They will also stay solid at room temperature too (thanks to the coconut butter which hardens up nicely!).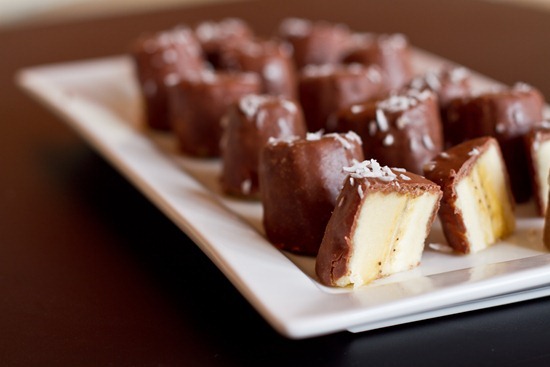 Mmm pillowy banana middles.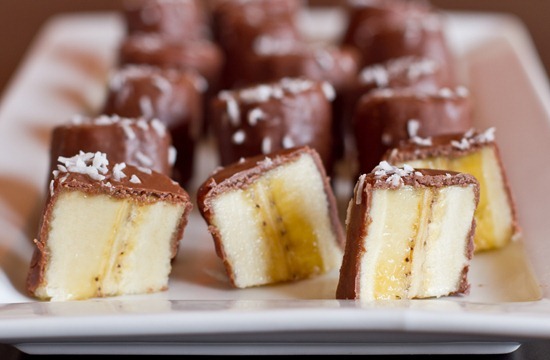 A delicious snack that is perfect for bite-sized indulgences whenever the craving strikes!
I also want to let you know about this BAKE SALE that is going on TODAY over at Sweet Tater Blog! I am auctioning off my Chocolate Crunch Dessert Granola or my Favourite Breakfast Granola to the highest bidder! Click the image below to be taken to the auction where you will find tons of delicious baked goods up for bidding!