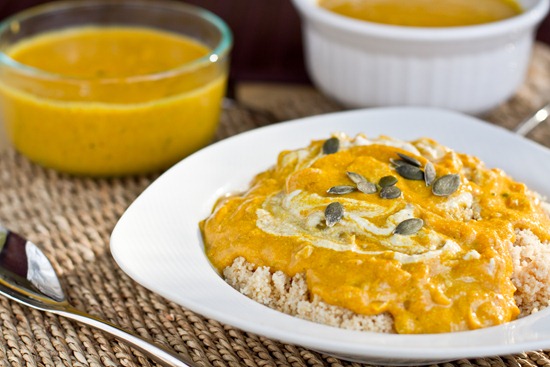 Here's the thing about this Creamy Pumpkin Soup recipe.
I'm not sure how I feel about it.
After my 11 mile training run on Monday, I couldn't get this soup down fast enough.
I was cold, I was clammy, and I needed food. I ended up doing half of my long run on the treadmill and then hitting the road for the last half (for my sanity!), finishing 11 miles in 1 hour 50 minutes and change. It was a difficult run and I struggled with endurance greatly after mile 9. The run dragged on and on. At this point in my training, it's still hard for me to believe that last year I ran 13.1 miles in almost the same amount of time (1:55:10)! I definitely do not feel trained to that level right now, but that just gives me something to train for this Spring! I'm currently eying the Marden Half (or possibly the 10k) at the beginning of April. Anyone running it?
When I returned from my run, I was feeling cold because it was drizzling outside and this soup really hit the spot. I oohed and awwed while I devoured it over a bowl full of hot couscous.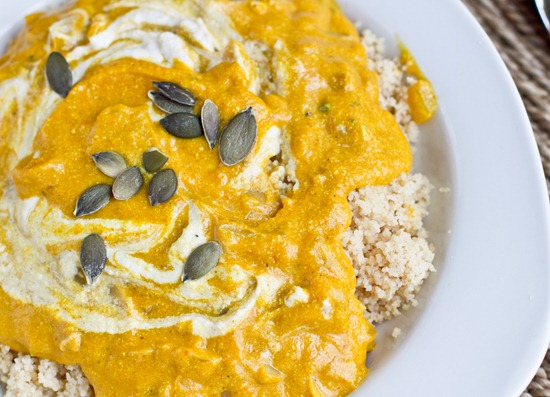 Fast forward to leftovers for dinner.
I thought the soup was still good, but it wasn't as amazing as I remembered it to be when I was so hungry I could eat the fridge. Note to self: Never judge a recipe based on how you feel after an 11 mile run. ;) Eric also thought it left a lot to be desired ('it needs more spices'- he claimed), but I thought I would post the recipe because I think it is a great template for you to play around with!
Next time, I will certainly double all of the spices because I agree with Eric, it was a bit bland. It may have been because I used a sad vegetable bouillon cube to make broth and the original recipe called for vegetable stock, preferably the homemade kind using fresh vegetables. I have a feeling that if I used a flavourful broth or a nice thick stock, this soup would have been taken to a new level. I did love how creamy this soup is thanks to the cashew cream sauce that I added at the last minute. The cashew cream sauce really took this soup to a a new level of comfort, satiety, and thickness and I would definitely recommend it!
Moral of the story: This is a decent soup, but it needs a bit of tweaking. Play around with the recipe and then let me know what you come up with! :)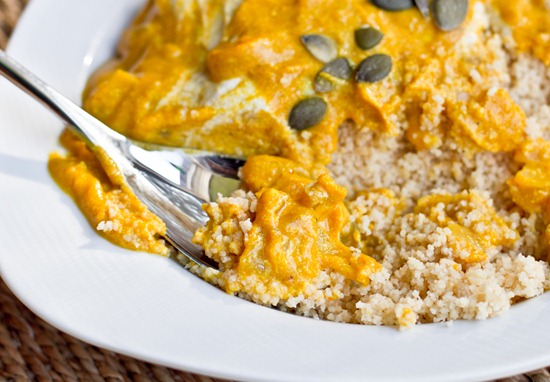 [print_this]
Creamy Pumpkin Soup with Couscous
Adapted from The Vegan Table Cookbook.
Yield: ~4 cups
Ingredients:
1 tbsp extra virgin olive oil
1 small onion, peeled & chopped finely
2 garlic cloves, finely chopped
1/2 tsp ground tumeric* (see note below about spices)
1/2 tsp ground ginger
1/2 tsp ground cumin
1/4 tsp ground cinnamon
1/4 tsp ground cardamom
1/8th tsp cayenne pepper
1 tbsp nutritional yeast (optional- gives a slightly cheesy flavour)
2 cups vegetable stock (store bought or homemade)
1 can pumpkin puree (15 oz) or 2 cups fresh, pureed
2 tbsp pure maple syrup (next time I may reduce this to 1 tbsp)
Juice from half a lemon (2 tbsp), or to taste
Cashew cream sauce (1 cup soaked cashews blended with 1/2 cup non-dairy milk) OR 1 cup non-dairy milk (it won't be creamy if you use milk though)
1 tsp kosher salt, or to taste + fresh black pepper
Directions:
1. Heat olive oil in a large skillet and add in the chopped onion and garlic. Cook on low to medium heat for about 5 minutes being careful not to burn. Add all the spices and stir well. Heat for a couple minutes on low.
2. Now add in vegetable stock, pumpkin puree, maple syrup, and lemon juice. Stir well. Simmer on low-medium heat for 15 minutes.
3. Make the cashew cream sauce by blending 1 cup of cashews that have soaked in water for at least 1 hour (this helps them blend better). Add in 1/2 cup of milk into the blender and blend until smooth. Scoop out and add 3/4 of this cashew sauce into the soup. Stir and reserve the rest for garnish on top of the bowl. Heat for another 5 minutes and then serve immediately over your favourite grain or with bread. Sprinkle with Pepita seeds if desired. Makes about 4 cups.
Note: We thought this soup was bland for our taste. Next time I would double the spices. I also think I would reduce the maple syrup to 1 tbsp as the sweetness tasted a bit strange to me. Adjust this soup to your taste and add the seasonings, lemon, and maple syrup slowly to taste.
[/print_this]
Do the sauté thang.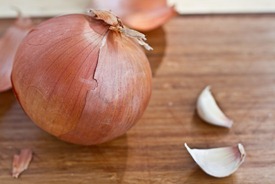 Assemble your spices…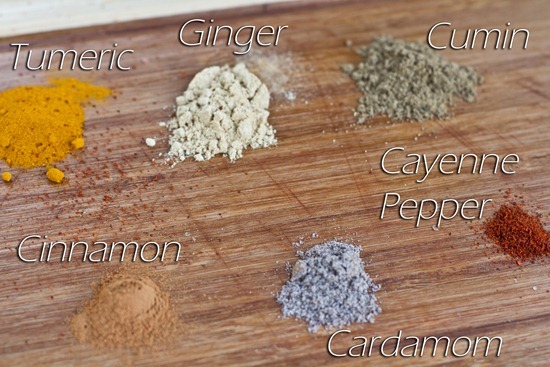 I love having Tumeric after a long run because it is supposed to have an anti-inflammatory effect! I like to think it helps my sore limbs.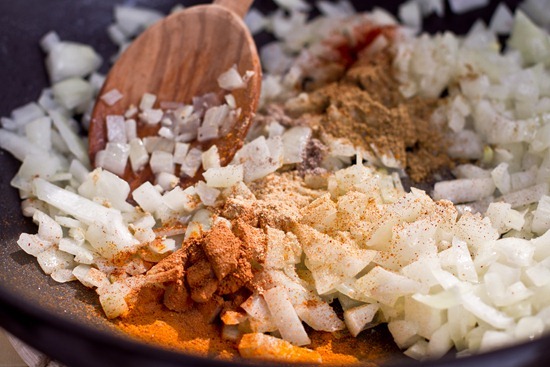 Mix well.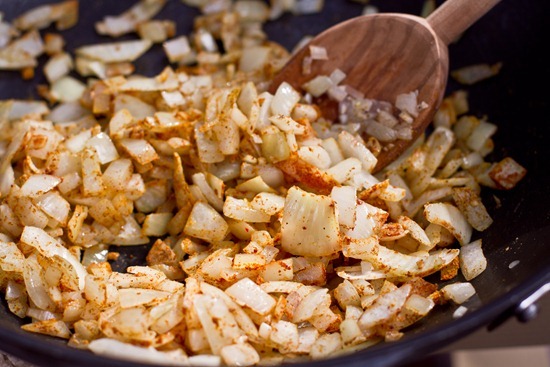 Add in the lemon, maple syrup, and pumpkin.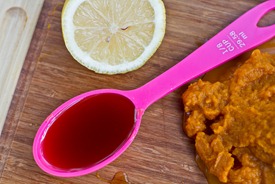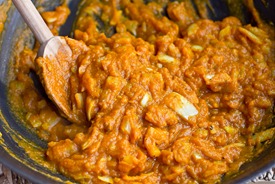 And vegetable stock. Simmer on low-medium for 15 minutes.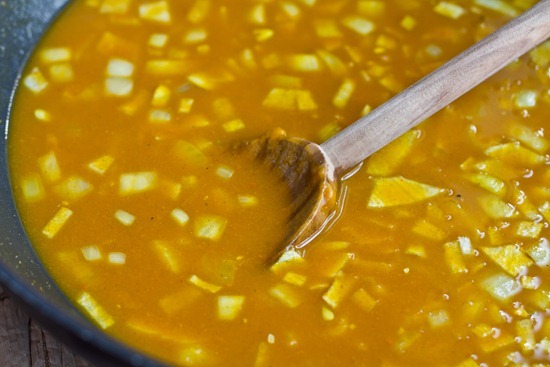 Make your cashew cream sauce.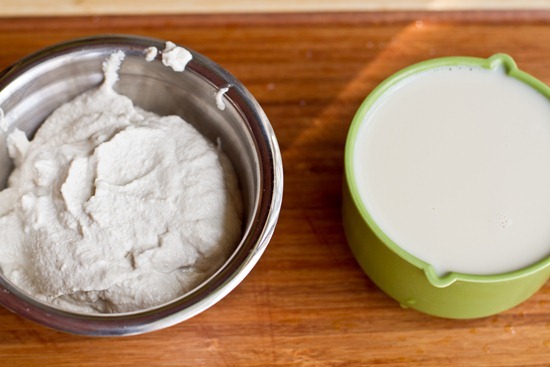 Add 3/4 of it to the soup.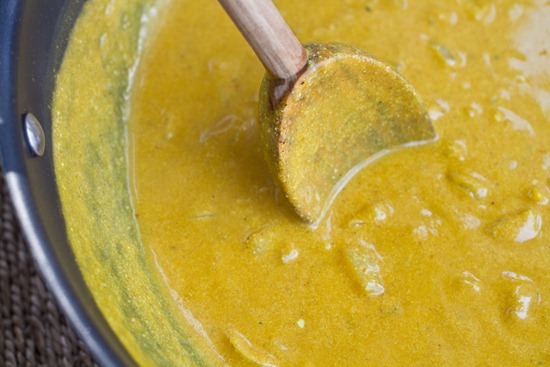 Serve piping hot over your favourite grain.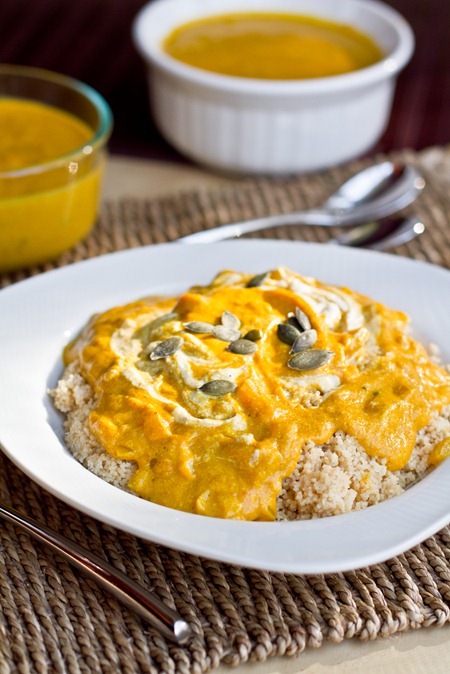 I served it over a bowl of couscous and I sprinkled on some Pepita seeds for some crunch.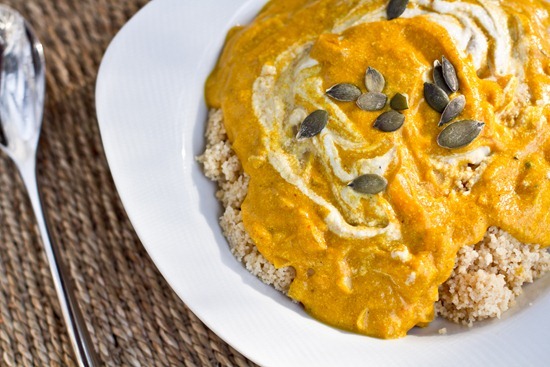 All in all a decent soup, but it needs some minor adjustments. If you end up making it, let me know how you like it and if you make any tweaks to the recipe.
Update: A couple of you suggested adding some curry powder to this soup…I think that might help amp it up a little!
Breakfast the next day was more pumpkin!