We've had a few snags and set backs during Reno-cation week and things are going much slower than expected. We're not too surprised though because this happens with every single reno project that we do! We've been going strong from about 9am until midnight most days this week and we still aren't done yet.
After spending the entire day yesterday painting the trim and ceiling (oh wow, I almost wrote 'sealing', I must be tired!), today we begin painting the COLOUR (Hint: it's BOLD!). We have been planning this colour since we moved into the house in 2008 and it is so exciting to finally see it coming to fruition!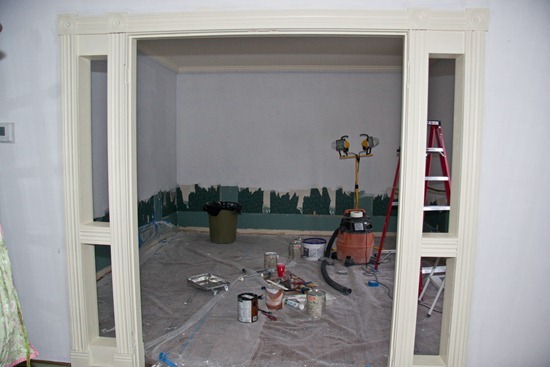 We matched the dining room trim colour to the trim in the kitchen so it would flow nicely from one room to another. (The trim doesn't look very nice in the picture above because it is next to harsh white primer!)
In the background of this photo you can see the kitchen trim + wainscoting. It is the same in the dining room. :)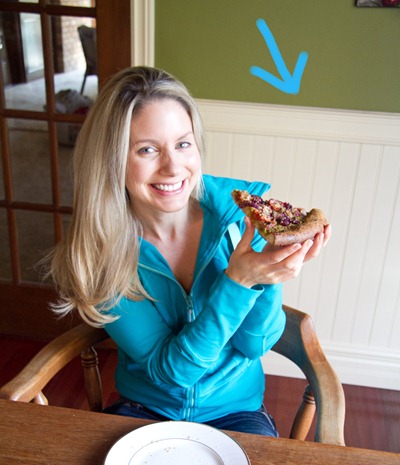 I have a feeling it will all come together in the end…
Sort of like this delicious Dal Makhni dish that I made earlier this week, adapted from Vegan Yum Yum.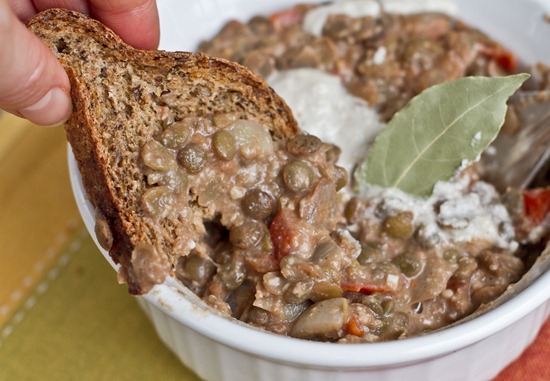 [print_this]
Vegan Dal Makhni
Adapted from Vegan Yum Yum.
Yield: 2 cups
Ingredients:
1 cup uncooked masoor dal (or French or green lentils- I used green)
2-3 cups water
2 tbsp extra virgin olive oil
1 cup chopped onion
1/4 tsp ground cinnamon (or 1-inch piece cinnamon stick), or to taste
1 bay leaf
1/4 tsp ground cloves, or to taste
1/4 tsp ground cardamom (or 2 green cardamom pods), or to taste
1 inch piece fresh ginger, peeled and minced (I only used 1 tsp b/c I don't care for ginger that much)
1 garlic clove, peeled and minced
1 and 1/4 cup tomatoes, diced
1/2-3/4 tsp kosher salt, to taste
1/2 cup water, to thin out
2/3 cup cashews
2/3 cup water
Directions:
1. Cook the lentils in 2 cups of water until tender, about 40 minutes. Bring lentils to a boil and then reduce to medium heat. Add more water when necessary to avoid burning (I think I used 3 cups water over the course of cooking the green lentils). You can prepare the lentils the night or morning before to save time.
2. Heat the oil in a large skillet. Add the onion and cook over medium-low heat, stirring often, for about 5 minutes. Now add in the spices (cinnamon, cardamom, bay leaf, and ground cloves) and cook for another 3 minutes or so.
3. Add in the minced ginger and garlic and stir well. Cook for another 2 minutes. Add in the tomatoes and salt, and cook until slightly reduced for about 5 more minutes.
4. Stir in the cooked lentils and additional 1/2 cup water, if needed, to thin out.
5. Make the cashew cream sauce by blending the cashews in a blender and then gradually adding the water to create a sauce. Stir this cream into the lentil mixture in the skillet, saving a little to add on top for serving. Makes two 1-cup servings.
[/print_this]
First things first, cook the lentils. You can do this ahead of time of course.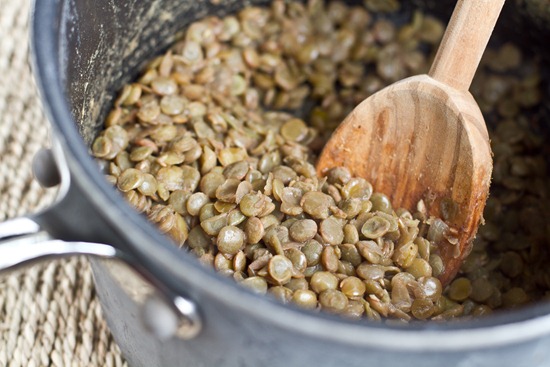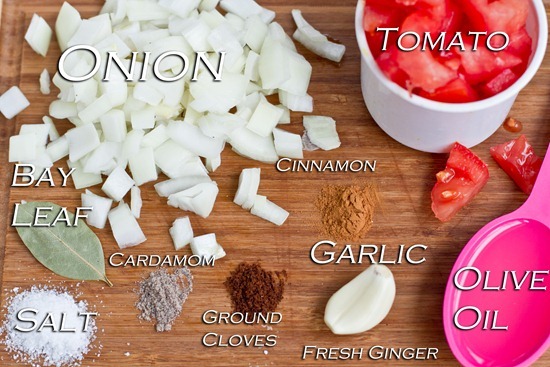 I used ground spices which are never as good as using fresh, but I didn't have the fresh spices on hand so I used what I had. You can always sub in fresh spices if you prefer (see recipe).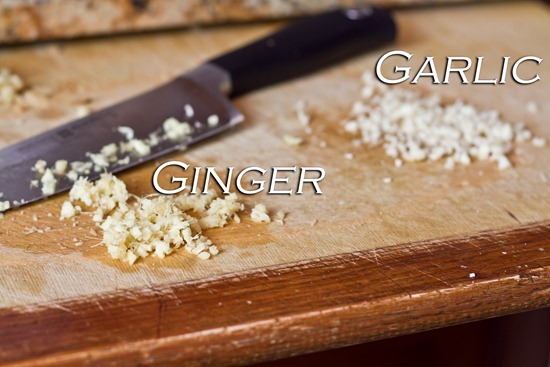 Sautee the onion for about 5 minutes and then add in the cinnamon, cardamom, bay leaf, and ground cloves.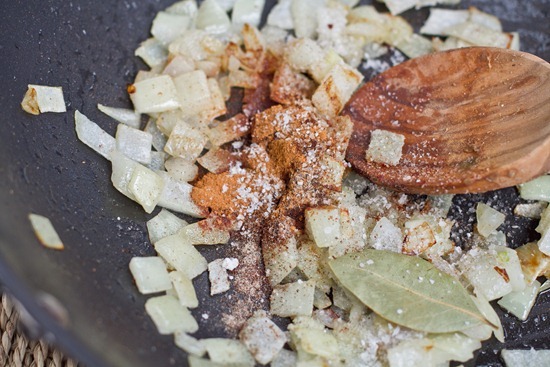 Now add in the garlic and ginger and cook for a few more minutes.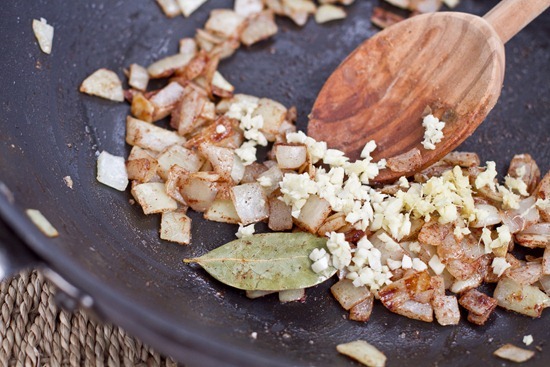 Stir in the tomatoes and cook for another 5 minutes.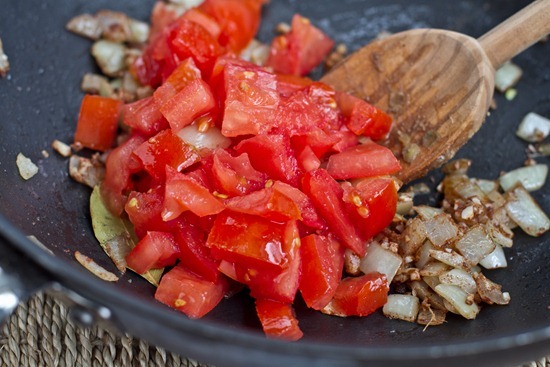 Meanwhile, make the cashew cream sauce by blending the cashews with water until smooth.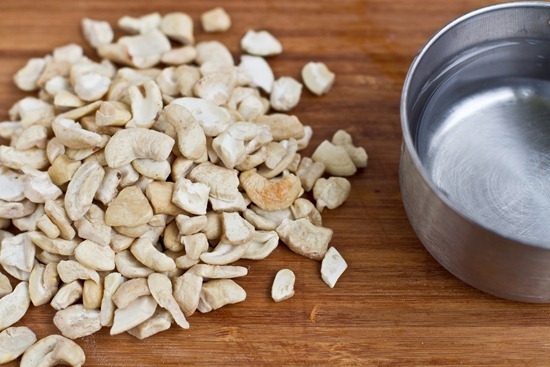 Stir in the cooked lentils.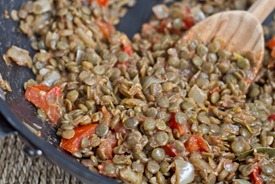 Stir in the cashew cream sauce, reserving a bit for serving.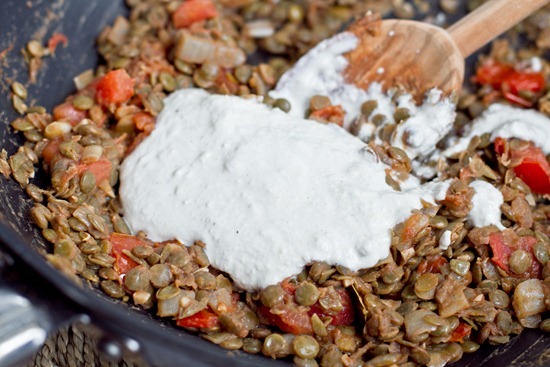 Cook for another few minutes and serve with a big hunk of bread!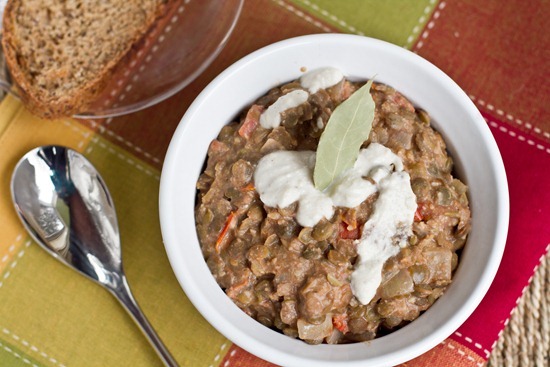 The cashew sauce made this dish so creamy and rich…I loved it. It was a delicious meal…I only wish I had doubled the recipe!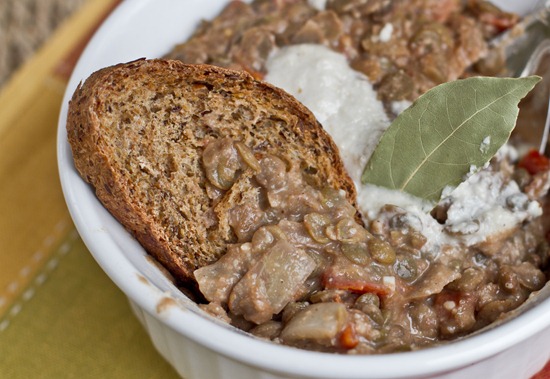 Well, I have some BOLD and FUN colour to paint now and I'm very excited! This is the fun part.

After the wall colour is done, we have wainscoting to paint and then install. I'm not sure if we will finish today, but I really hope we can!
Do you have any funny (or disastrous) reno stories to share? Feel free to link to before and after pics if you have some too!