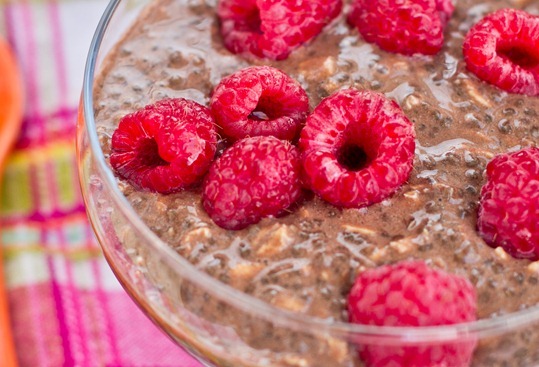 Day 5 of Reno-cation Week.
I'm weak.
I'm worn down.
Every muscle in my body hurts.
And I desperately need cookies to replenish my energy stores.
Unfortunately, the thought of mixing a bowl of batter makes my arms weep in protest. The one time I really need a fresh batch of chocolate chip cookies and a glass of almond milk, my body fails me. Anyone want to come cook/bake for me this week? :) I promise I won't make you do too much painting… ;)
We've been living off of Vegan Overnight Oats, toast, and cereal for quick meals in a pinch. Oh, and I did manage to make a Green Monster yesterday, but even that seemed like a lot of effort! I know the logical solution to this problem would be ordering take-out all week long, but we live in the sticks and no one will deliver to us.
Luckily, these vegan overnight oats are always great when you don't have the time (or energy) to turn on the stove. No matter how much putty will be glued to my hair by the day's end, I know that this bowl of bliss will comfort me all day long…(or at least until lunchtime, when I drown myself into a carbohydrate coma with cereal).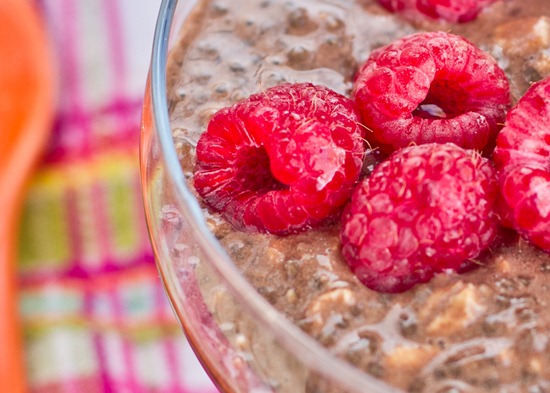 [print_this]
Raspberry Carob Vegan Overnight Oats
Yield: 1 serving
Base Ingredients:
1/3 cup regular oats
2 tbsp chia seeds
1 cup organic soy milk (or milk of choice)
1.5 tbsp carob powder
Sweetener, if preferred
Topping ideas:
Raspberries or other berries/fruit
Nuts/Seeds
Granola
Nut butter
Directions: In a bowl, mix together the dry ingredients (oats, chia seeds, carob powder). Whisk in the milk until all clumps are gone. Place in the fridge overnight or for at least 30 minutes. Stir well before adding on the toppings. Serves 1.
[/print_this]
This bowl does the trick in a pinch, but I long for warm weather when I can start making these again!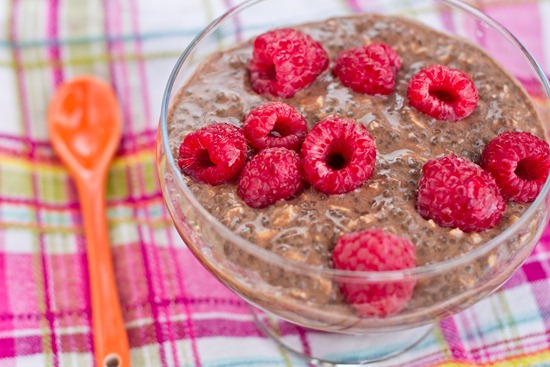 It also packs quite the nutritional punch too.
For the base ingredients:
352 kcals
15 grams fat (2g sat fat, 6000mg Omega-3, 1819mg Omega-6) <—thank you chia seeds!
45 grams carbs
18 grams fibre
16 grams protein
7 grams sugar
I have been using 2 tbsp of chia seeds in my VOO lately because it really amps up the protein, healthy fats, fibre, iron, calcium, magnesium, and antioxidants. I also love carob powder because it is sweet enough that I feel like I don't need to add any other sweetener (aside from the fruit, that is). For some info on carob powder, you can check out this post I wrote.
Reno-cation Update
We've been in the washing glue off walls–putty-patching-sanding cycle for almost 2 days now.  HEEEEELP!
We both agree that the worst part is washing the wallpaper GLUE off the walls! It took us several hours yesterday. Just when we thought we got all the glue off, we would find more sticky spots.
We're being very careful about getting all the glue off this time. In other rooms that we renovated, we missed some spots of glue and it caused a lot of grief because we had to go back and fix it once we started to paint.
Moral of the story: Wallpaper is EVIL!
Thanks to the sanding, my hair is a lovely shade of white and I've got so much drywall compound on me, I think Eric is going to start sanding me down.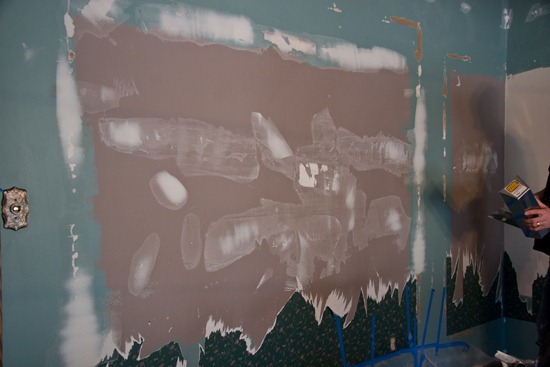 Sketchie on the other hand is still maintaining his beauty…!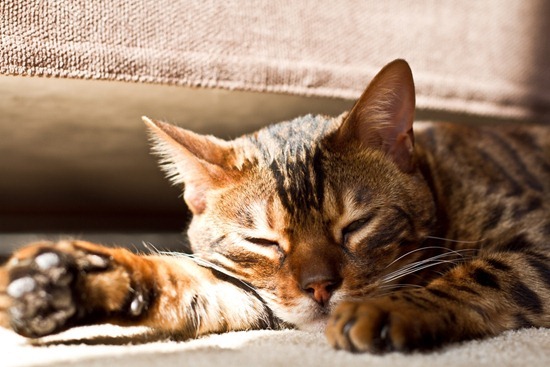 More Blog Awards
Thanks for your nominations and votes!
I'll be back with an insanely creamy vegan version of Dal Makhni. Oh yes…it's going to be a recipe to remember. I've already promised Eric I would make it tonight, so I guess I can't back out now…