We loved reading your comments in my Without Self-Love, I have Nothing post. Thanks for sharing your experiences!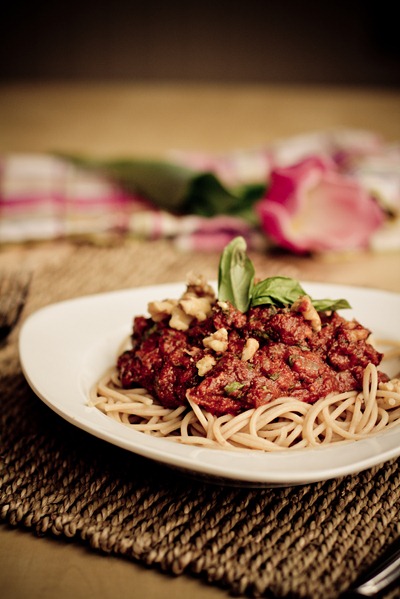 When Eric and I first started dating, we did all of the traditional things that we thought we were supposed to do on Valentine's Day. We went to the crowded restaurants with long wait times and mediocre food. He bought me the over-priced roses and a box of chocolates. I wrote him a sappy poem and I bought him cologne. We often felt pressure to have a 'perfect' day.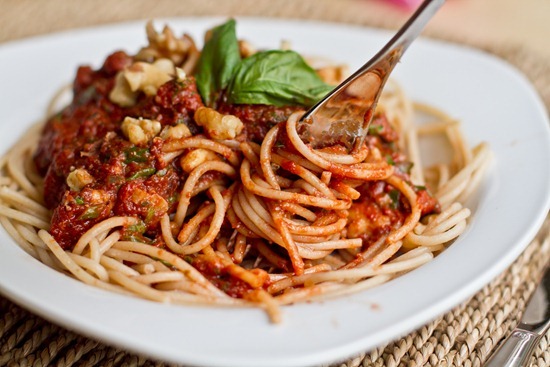 Then, we realized that we're not perfect, so we would never fulfill this expectation that we placed on ourselves. But, we could do it our way! We started making homemade silly cards complete with inside jokes. We got each other a thoughtful gift, but we didn't go overboard. We enjoyed delicious meals in the comfort of our own home, made together. When we did this, we started to enjoy the holiday a lot more.
The perfect Valentine's Day to us, is really the imperfect one.
I can't think of a more perfect way to be imperfect than to enjoy a messy bowl of pasta that leaves red sauce in the corner of your mouth and a few stains on your shirt. And if you're lucky, your partner will remove it for you..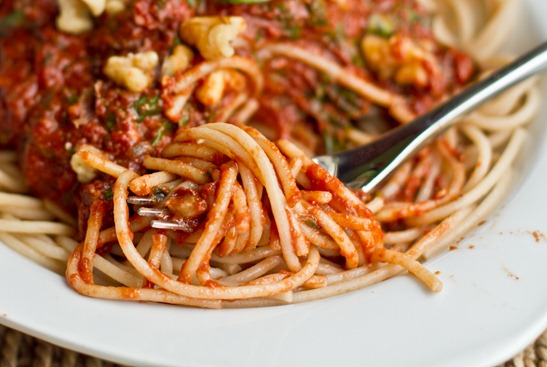 [print_this]
Tomato Walnut Basil Pasta
Yield: 3.5 cups sauce
Ingredients:
One 28oz can crushed tomatoes (I used Utopia organic, salted)
2 tbsp extra virgin olive oil
1/2 medium onion, diced (yield: 1 cup diced)
3 garlic cloves, minced
1 tsp dried oregano
Pinch red pepper flakes
1/2 cup packed fresh basil leaves, stems removed &chopped finely
1 tsp kosher salt, or to taste
Freshly ground black pepper, to taste
1/2 cup nutritional yeast
2 large handfuls spinach, roughly chopped
1/2-3/4 cup walnuts, roughly chopped
Pasta of your choice (I used Kamut spaghetti)
Directions:
1. Chop onion and garlic. In a large skillet, heat 2 tbsp of olive oil. Add in the onion and cook over low-medium heat for about 5 minutes. Add in the minced garlic and cook on low for another 4-5 minutes until the onion is translucent.
2. Add in the oregano, salt, and black pepper. Stir well. Cook on low for a few minutes. Now add in the 28oz of crushed tomatoes, chopped basil, and nutritional yeast. Stir. Bring to a low boil and then simmer on low for about 5 minutes. Meanwhile, cook your pasta.
3. Stir in the chopped walnuts and the chopped spinach. Cook for about 10 minutes longer on med-low. Serve over pasta and garnish with basil leaves and additional walnuts. Makes about 3.5 cups sauce.
[/print_this]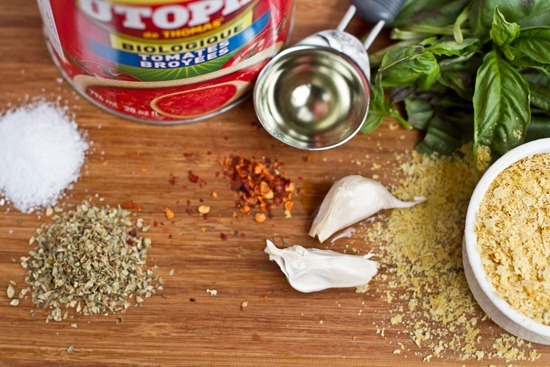 Making this sauce is very easy and it turned out quite delicious. The walnuts were absolutely amazing in this pasta sauce and I would not recommend leaving them out! They really brought the sauce to a whole new level and gave it a wonderful texture and flavour.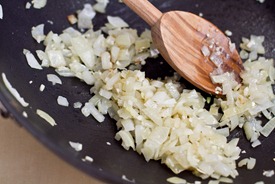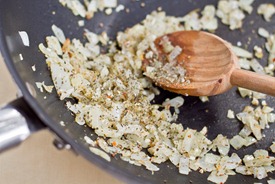 I'm sure you will ask me if you can leave out the nutritional yeast and I would say of course! The flavours will change though, so make sure you adapt the sauce to suit your preference.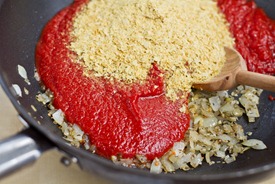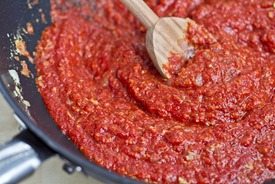 The spinach was a fun add-in at the last minute. It is a great way to sneak in some GREEN Monsters.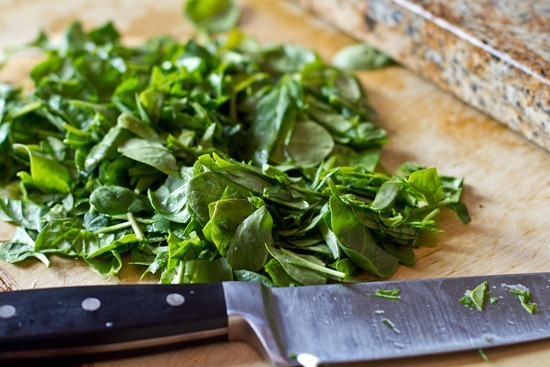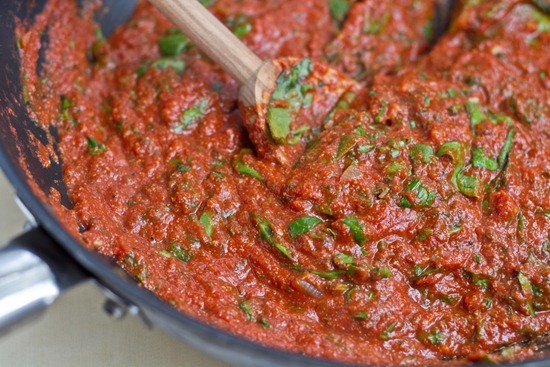 The walnuts were our favourite part about this recipe. I thought it would give the pasta sauce a great texture and nutty flavour and it worked wonderfully!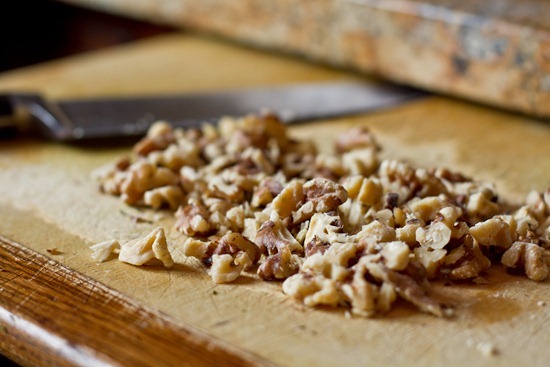 Garnish with some fresh basil leaves and more walnuts and serve!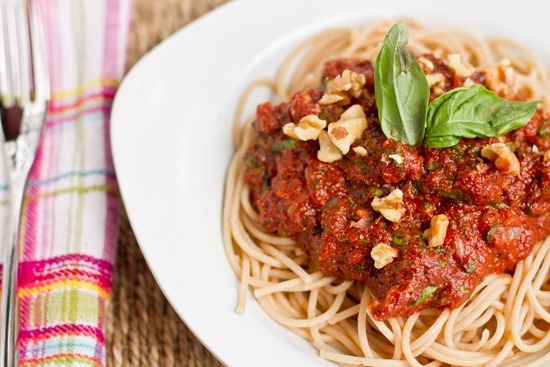 Love.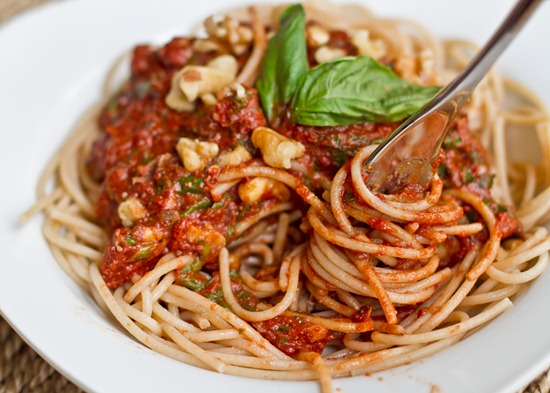 It is also a heart-healthy dish to Go Red For Women. 

Glo Bakery Update:
Glo Bar variety packs will be for sale tomorrow, Feb 16th at 10am EST.
Have a great day!