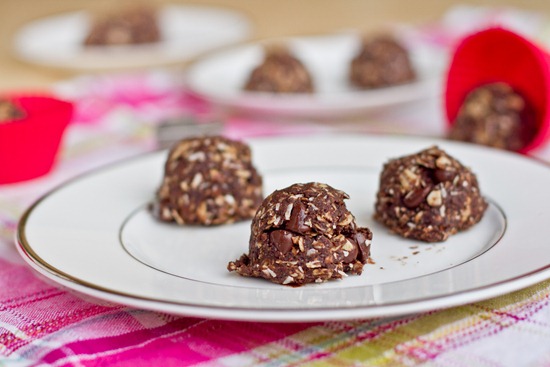 I think I picked the right week for my Fall Back in training because my cold symptoms seem to have progressed into the stomach flu.
…Never a fun way to start the weekend, especially when we have a lot of fun things planned.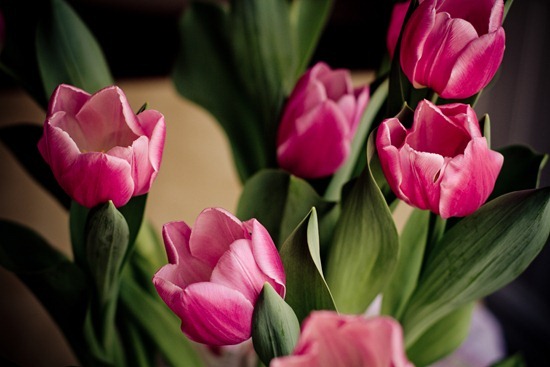 These early Valentine's Day Tulips helped cheer me up though! Eric brought these home from work on Friday night because he knows I've been feeling under the weather. Tulips are one of our favourite flowers because they remind us of Spring. :)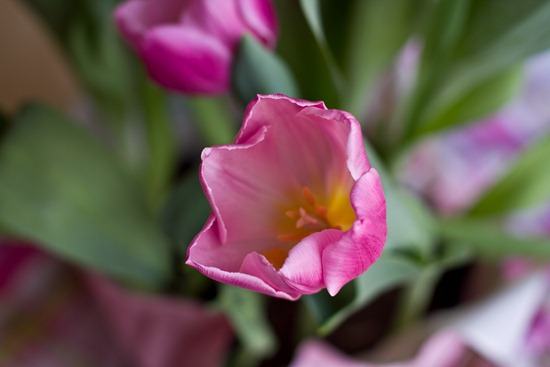 I'm going to try and save the bulbs after the flowers die so I can plant them outdoors in the Fall.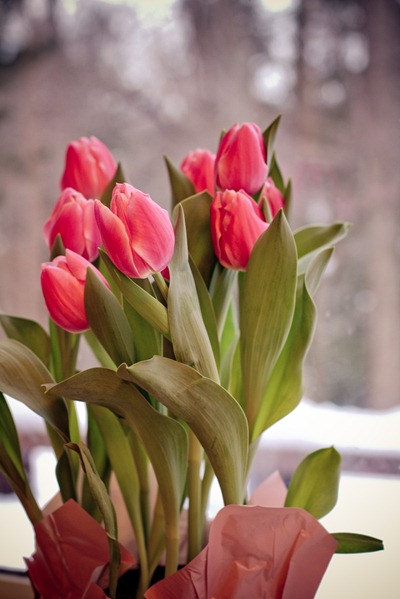 I hope I don't kill them soon. I don't exactly have a green thumb!
I was not in the mood to bake today (that's when you know I'm really not feeling myself). Lucky for me, Eric already planned on baking his next pick for the Valentine's Day Recipe Contest, so I got to read snuggled up on the couch while he slaved away in the kitchen. Well, he did ask for some photography help, but it was pretty quick for this recipe. ;)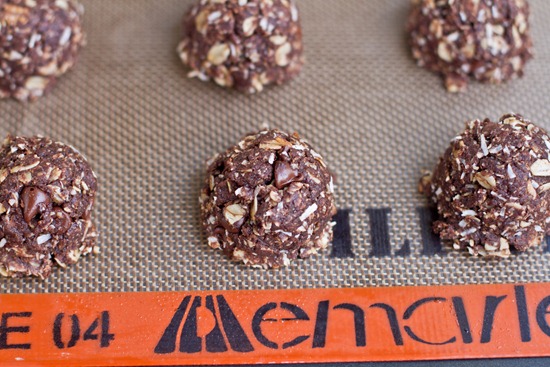 [print_this]
Two Bite Double Down Dark Chocolate Brownies
The name of this recipe had Eric hook, line, and sinker! Jessica says, 'These vegan two bite brownies have the sweet chocolate flavour of a brownie (but not too sweet) with the goodness of whole wheat, oats and the antioxidant powers of dark chocolate. They make a perfect high fibre well balanced dessert. Serve on a plate of homemade raspberry jam for a black forest cake affair.'
Adapted from Jessica.
Yield: 20, two-bite brownies.
Ingredients:
1 cup large flake oatmeal
1/2 cup + 1/3 cup whole wheat flour
1/3 cup cocoa powder, sifted
1/2 cup brown sugar, lightly packed
1/4 tsp baking powder
1/4 tsp baking soda
1/2 tsp kosher salt
1/3 cup Almond Milk (or a tiny bit more if batter is dry)
2 tbsp maple syrup (or other liquid sweetener)
1 T ground flax
1/3 cup coconut oil, softened (or olive oil)
1  tsp pure vanilla extract
1/4 tsp Almond extract (optional)
1/4 cup unsweetened shredded coconut
1/4 cup dark chocolate chips, or more if desired
Directions:
1) Preheat oven to 350F and line a baking sheet with parchment or a non stick mat.
2) In a large bowl sift dry ingredients together (oats, flour, cocoa powder, baking soda, baking powder and salt), set aside.
3) In a medium bowl whisk together maple syrup, ground flax, non dairy milk, oil, and vanilla.
4) Add wet to dry and stir well. Once mixed, stir in coconut and dark chocolate.
5) Drop a tablespoon onto non-stick cookie sheet using a retractable ice cream scoop (holds 1 tbsp) or by forming a ball with your hands. Eric packed the dough into the scoop and then tapped on the side of the bowl as he pressed the release.
6) Bake for 12 mins. at 350F, then transfer onto wire rack for cooling. Yield: 20, two-bite brownies.
[/print_this]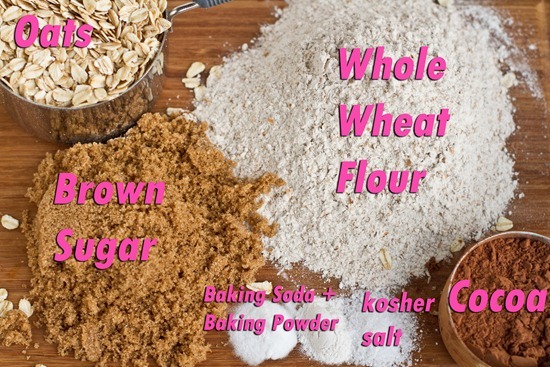 Mise en place!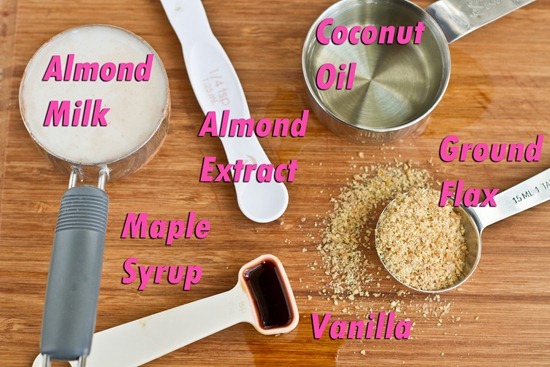 The maple syrup is invisible because it was an add-in at the last minute when Eric didn't think the dough was sweet enough. ;)
Mix dry and wet separately and then stir together. Make sure to sift the cocoa powder too.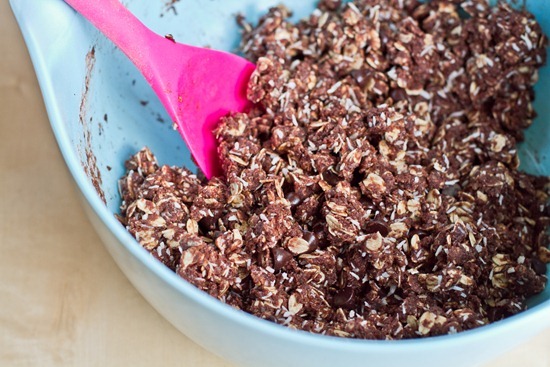 Fold in the chocolate and coconut. Eric says, 'Then eat lots of dough to determine if you need more chocolate.'
Using a retractable ice cream scooper (this was Eric's tip!) or your hands, portion into balls and gently shape.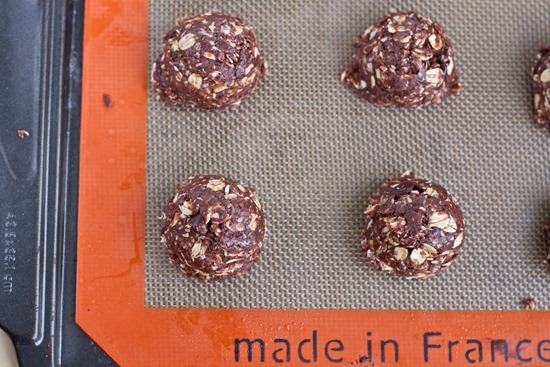 Eric made 20 brownie bites.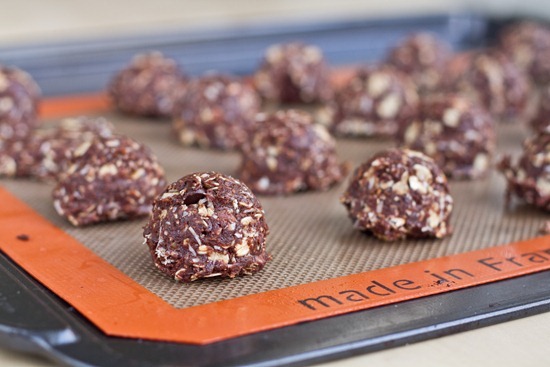 I think he wins for the most perfectly shaped brownie bites ever.
Bake for 12 minutes at 350F.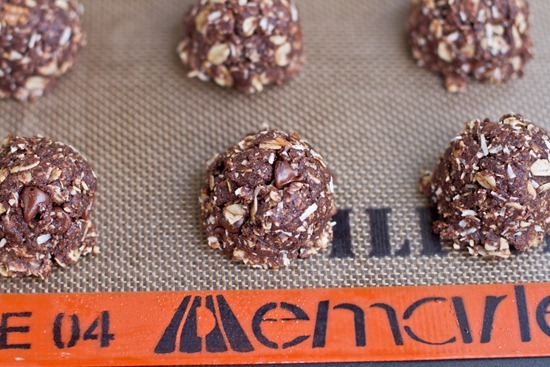 You can also flatten the cookie dough and cut them into hearts, as shown below. Eric preferred the bites though because they are nice and thick to bite into.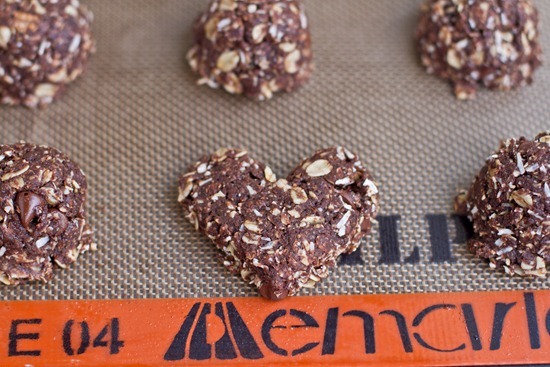 Nice work hubby!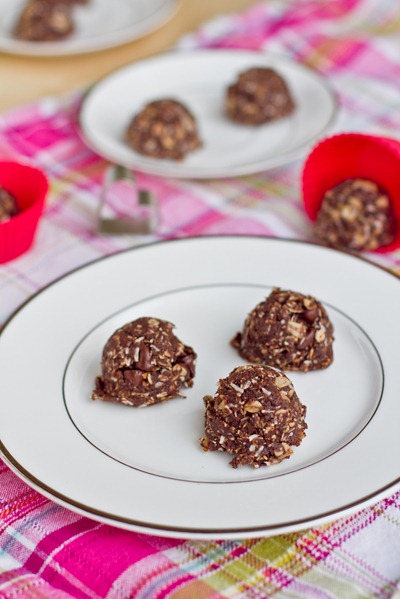 Eric's review:
Soft and chocolaty, but not over-powering from sweetness
Wholesome and nutty- he liked the whole wheat flour
A perfect 2-bite size
Would be good with ice cream and LOTS of chocolate sauce ;) hehe
When my tummy is feeling a bit better, I will definitely be trying some with some Banana Soft Serve.
If there are any left, that is!
Congrats to Jessica for the winning recipe. Please email me at angela [at] ohsheglows.com to claim your prize. :)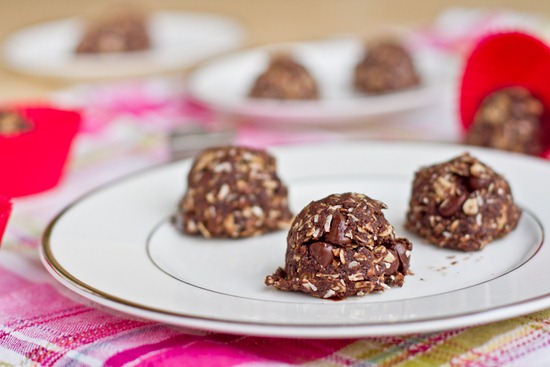 For the rest of the Valentine's Day recipes, be sure to check out the photo collection on my Recipes Page. My two favourites are here and here.
I'd like to start a new book this weekend. Anyone read any good books lately? I'd like something fiction for a change. :)