I finally got around to ordering a new pair of Brooks Adrenaline GTS 10's!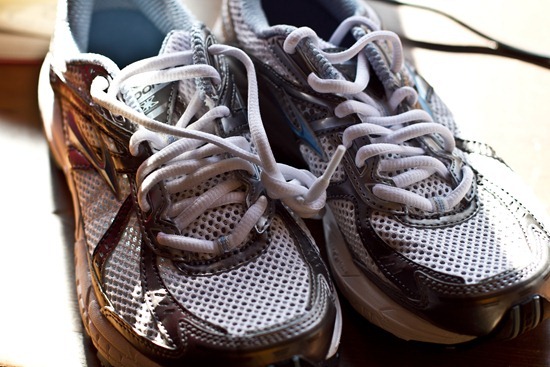 Stank-free and blinding white. ;)
I discovered Brooks Adrenaline last Spring when I had a special fitting done at Fit 2 Run in Sarasota, Florida. I suffered from chronic blisters for a couple years and it caused me a lot of frustration not knowing why I kept getting bad blisters with every pair that I tried.
My fitting told me two important things:
1) Contrary to what I thought, I am not a severe over-pronator. My feet are actually fairly neutral (with slight over-pronation only), so the sneakers for over-pronation that I was buying were incorrect for my feet.
2) I have a very narrow foot. My heels swim in normal width sneakers. Hence: bad heel blisters!
The beauty of the Brooks Adrenaline? They come in a special narrow width and they hug my heels like a glove! I've had many fittings, but the one I had at Fit 2 Run was the only one that solved my problem. I highly recommend them if you are in Florida. This week is my Fall Back Week in my half marathon training, so it is the perfect time to gradually break them in.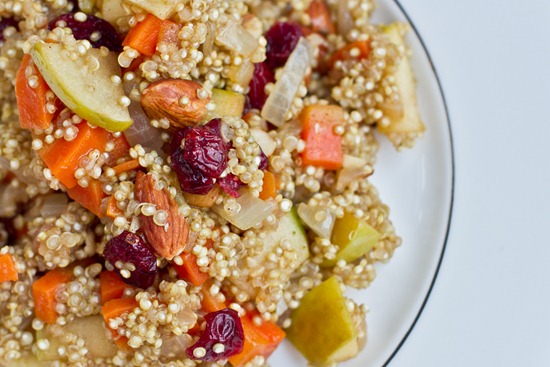 And there really is no gracious way to go from talking about feet to food, so I will just get right to it before I put my foot in my mouth. Today's recipe is courtesy of Elizabeth who is the first winner in the Valentine's Day Recipe Contest! Eric said he picked this recipe because no one would expect him to pick a non-chocolate dish. I love the mental games he plays. He will be selecting two more (or possibly 17) recipe entries by tomorrow, so stay tuned.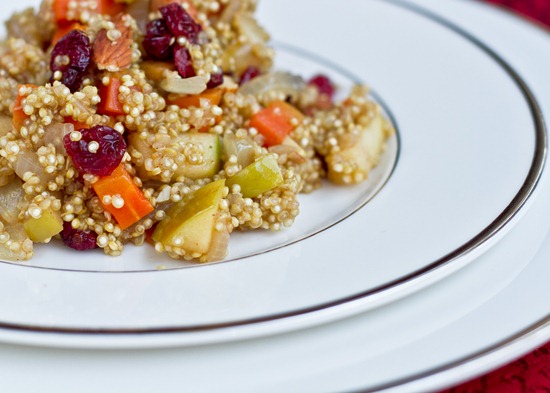 [print_this]
Lovely & Light Cranberry, Apple, and Almond Quinoa
Elizabeth says, 'I served it for my anniversary dinner with my boyfriend (along with strips of maple tempeh — so delicious — and with raspberries and dark chocolate squares for dessert), and I shaped the quinoa servings into hearts, which would also work for V-Day. I know most people think Valentine's Day and they think chocolate (and by most people I mean me), but you have to have SOMETHING to offset all that richness!'
Lightly adapted from Elizabeth.
Yield: ~3-4 cups
Ingredients:
1 cup uncooked quinoa, washed well
1 tablespoon +1 tsp olive oil, divided
1 cup chopped onion
1 cup diced carrot (I used 1 medium)
2-3 garlic cloves, minced
2 cups vegetable broth
1/4-1/2 tsp kosher salt, to taste
1/2 tsp cinnamon
1 1/2 cups diced Granny Smith apple, not peeled (one large apple)
~20 almonds, toasted
1 tsp. vanilla
1/2 cup dried cranberries (could also be delicious with dried cherries)
black pepper, to taste
1 tbsp pure maple syrup
Directions:
1. Heat 1 tbsp olive oil in pan over medium heat. Add chopped onion, carrots and garlic and sauté until the onion is translucent. Add broth, quinoa, salt, and cinnamon and bring to a boil. Reduce heat to simmer, cover and let sit for 20 minutes or until liquid is gone. Be sure to keep an eye on it and stir it often so it doesn't burn. Remove from heat; stir to fluff.
2. Meanwhile, heat oven to 350F and toast almonds. Roughly chop toasted almonds.
3. Heat 1 tsp olive oil in a nonstick pot or skillet. Add chopped apple and vanilla and sauté for about 5 minutes until apple starts to turn golden in colour but before it gets mushy. Add apple, almonds, cranberries and pepper to quinoa and mix thoroughly. Serve hot or cold, as a main dish or a side with a protein source. Makes about 3-4 cups.
[/print_this]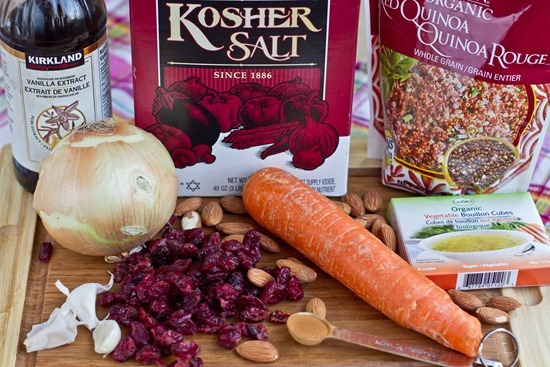 This dish is packed with nutritious ingredients!
I started out by using red quinoa because I thought it would be festive for Valentine's Day.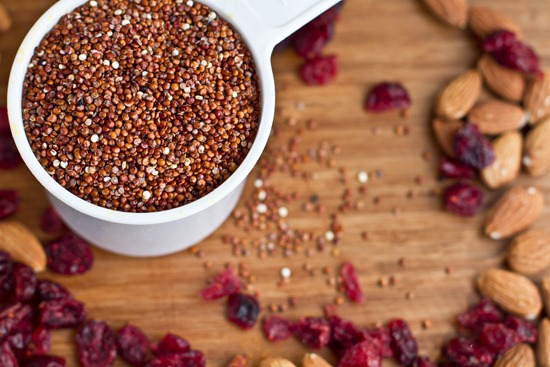 Unfortunately, my red quinoa never got fluffy…even after 30 minutes of cooking! I have no idea why it remained crunchy and would not cook. Has this ever happened to anyone else before?
Because of my wonky red quinoa, I had to start over from scratch. It was a bit soul-crushing!
Sauté the onion, carrot, and garlic: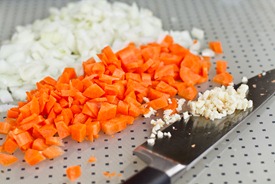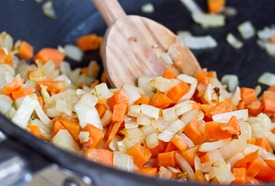 After the onion is translucent, add in the broth, quinoa, salt, and cinnamon: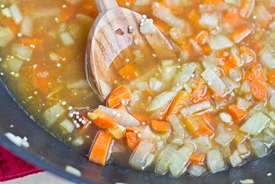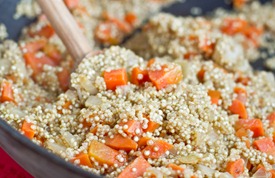 Bring to a boil and then cover and simmer for 20 minutes. Be sure to check it often and stir so it doesn't burn.
Meanwhile, toast your almonds in the oven and cook the apple on the stovetop: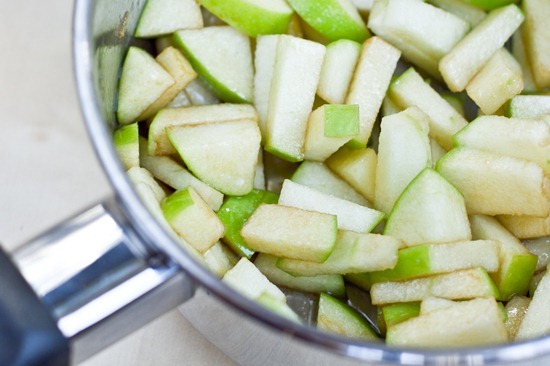 After the quinoa is cooked, stir in the cranberries, almonds, and apple…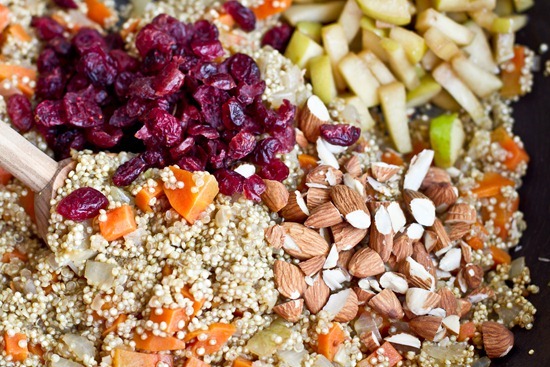 Bright & Beautiful!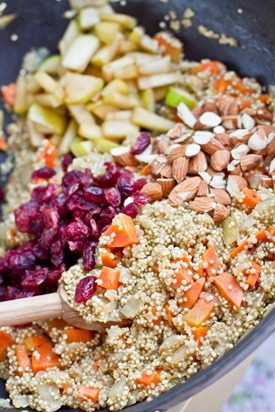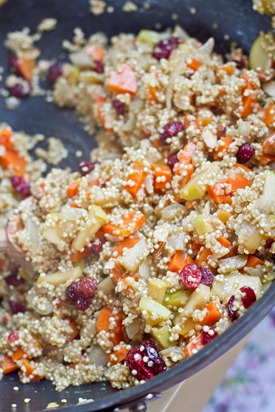 Luckily, this quinoa got really fluffy like it should.
When I first tried it, I decided it needed a bit of sweetness to offset the vegetable broth flavour, so I stirred in 1 tablespoon of pure maple syrup. It really brought together all of the flavours nicely.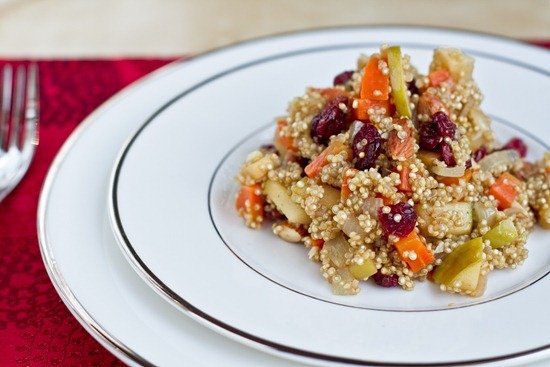 This dish is very light and it would make a great lunch dish. It reminds me a lot of the Mandarin and Maple Quinoa Salad that I made a while back. You can enjoy it warm, at room temperature, or even cold. It is quite versatile.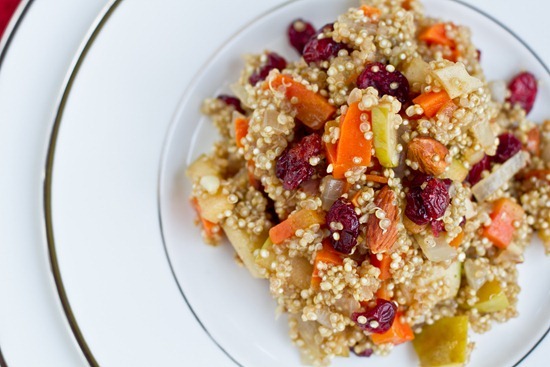 Eric and I served it as a side dish and then we had a hunk of the Ultimate Lentil Loaf leftover from our party on the weekend. It was a great meal! Thanks Elizabeth, please email me to claim your Glo bakery loot!
Update: Just tried the leftovers and they were fantastic straight out of the fridge!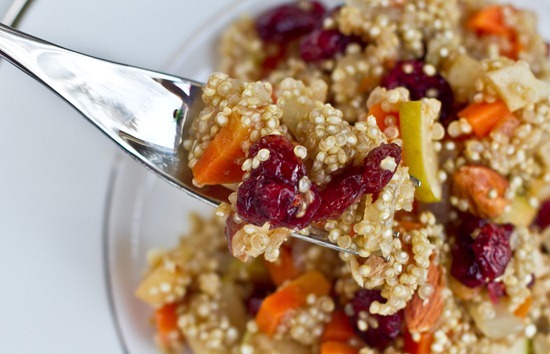 I'll be back Friday with a flourless double chocolate cookie recipe that changed my life and rocked my world. I actually made it in December 2010, but I didn't get a chance to post about it before Christmas and it fell off my radar. I figure Valentine's Day is a great time to whip it out. muhuhaua.
If you want to prepare in advance you will need the following ingredients: ground flax, shredded coconut, brown sugar, cocoa powder, baking powder, baking soda, salt, almond butter, almond milk, vanilla extract, and chocolate chips.
One thing is for sure: It is always best to be prepared when chocolate cravings strike!