Good morning!
Those Valentine's Day recipes are looking delicious so far! Eric is going to have a very hard decision on his hands. I caught him drooling over the recipes this morning and he promptly told me that he might have to pick '10 or 30' recipes, instead of 2.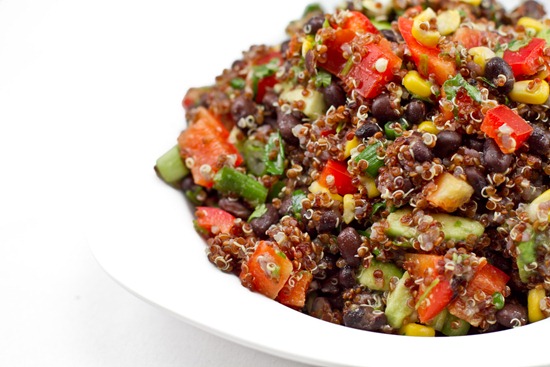 Yesterday, I had a wonderful speed run. As I mentioned in my Tempo run post, I love intervals.
I used to hate the idea of speed work because I thought it was one long, exhausting sprint the entire workout, but that just isn't true. Speed work is simply a succession of hard + easy intervals on the treadmill, road, or track, often run in 400 metre/0.25 mile intervals.
They are quick, productive, and are great for those days when you don't have a lot of time!
Hal Hidgon explains:
1) If you want to run at a fast pace, you need to train at a fast pace several days a week.

2) An interval workout usually consists of fast repeats separated by walking or jogging.

3) Run the 400s at about your pace for 5-K, or 10-K.
Yesterday, my Speed training looked like this:
Jog Interval = 6.0 mph (10 min/mile) for 400 metres/0.25 mile
Speed Interval = 7.5 mph (8 min/mile) for 400 metres/0.25 mile
REPEAT 8 times for a total distance of 4 miles (37 mins). I paused for a water break in between each mile.
I really love the intervals because I get to 'rest' every 400 metres, so it really helps me push hard during my speed interval. I'm hoping the Tempo runs and Speed work will help offset the fact that I am training for this half marathon mostly indoors.
And after a tough workout, there is nothing more I love to do than to help my body 'recover'…wink, wink.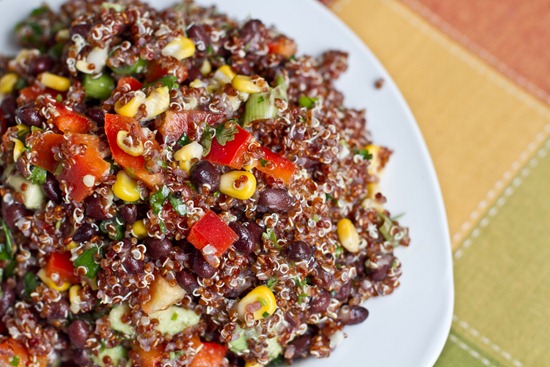 [print_this]
Red Quinoa and Black Bean Vegetable Salad
Light, fresh, and packed with protein and healthy fats, this tangy salad will have you dreaming of Spring and Summer.
Inspired by Epicurious.
Yield: ~5 cups
For the salad:
1 cup uncooked Red quinoa
1 (14oz) can black beans, drained and rinsed
1 red pepper, chopped
1/4 cup fresh Cilantro, finely chopped
2 Green Onions, chopped
1 cup fresh corn (optional) *see note
1 small avocado, chopped into 1 inch pieces
For the dressing:
4-5 tbsp of fresh lime juice (Juice from 2 small limes)
1/2 tsp kosher salt, or to taste
1/2 tsp Freshly ground black pepper
1 garlic clove, minced
1/4 cup fresh Cilantro, finely chopped
1/4 cup extra virgin olive oil
1/2 tsp ground cumin, or more to taste
Directions:
1. Cook 1 cup Red Quinoa according to package directions.
2. While quinoa is cooking, prepare the chopped vegetables and whisk together the dressing.
3. Allow quinoa to cool after cooking for about 5 minutes. Fluff with a fork. Add the beans and vegetables and toss well.
4. Drizzle dressing over salad and toss well with salt and pepper to taste. Bring salad to room temperature before serving. Keep fresh in a sealed container for 1-2 days. Makes about 5 cups.
Note: I defrosted and drained frozen corn before adding it to the salad, but the result was rubbery corn. I would suggest using fresh corn only, if the season applies, otherwise I wouldn't bother with the frozen stuff.
[/print_this]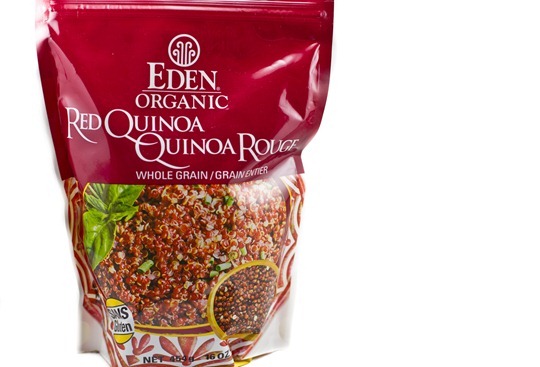 Grab that beautiful cup of Red Quinoa and cook it according to package directions.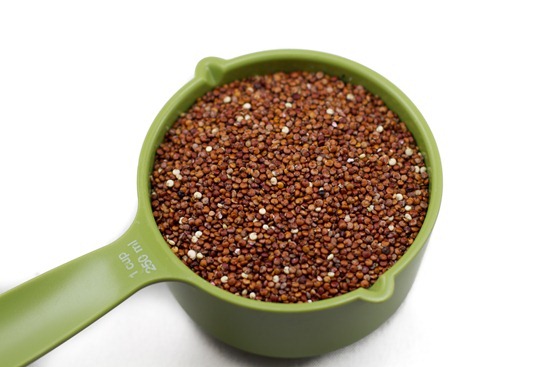 Red Quinoa is so much more fun than the regular kind!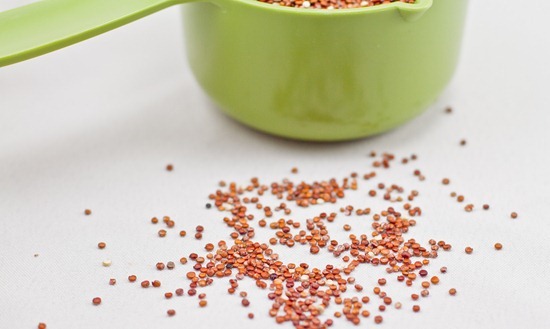 Chop your vegetables and rinse and drain the black beans…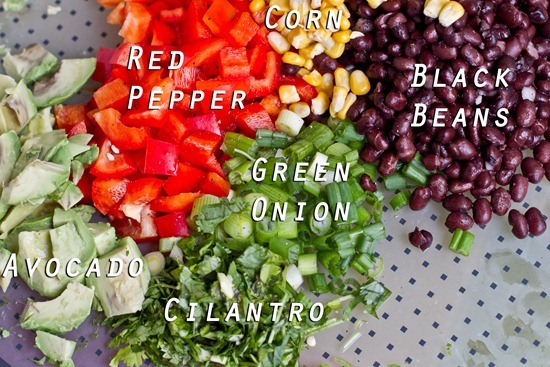 Assemble the dressing ingredients: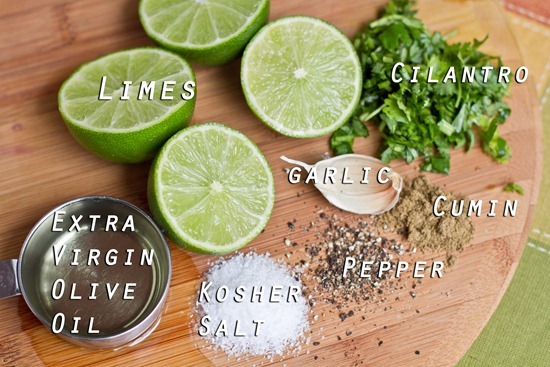 Juice the limes to make 4-5 tablespoons.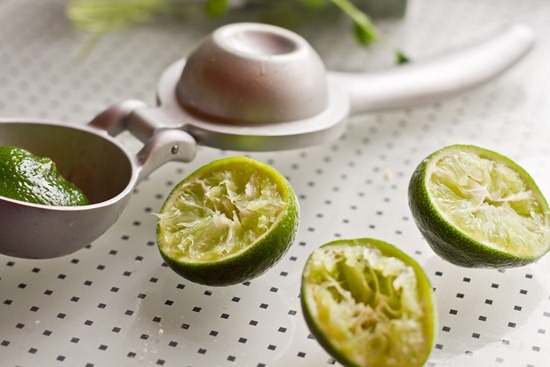 Add all dressing ingredients into a bowl.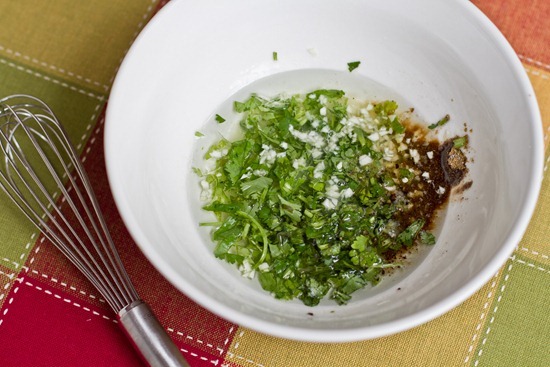 Whisk away!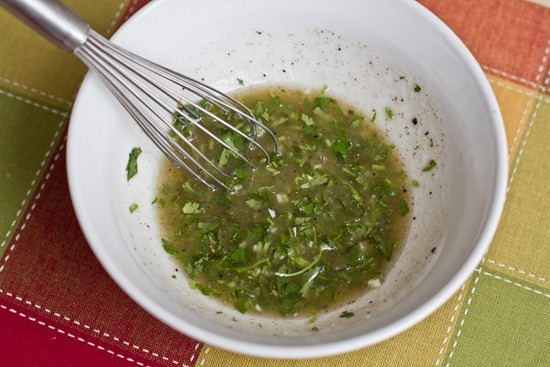 When the quinoa is cooked, add in the chopped vegetables and beans and stir well.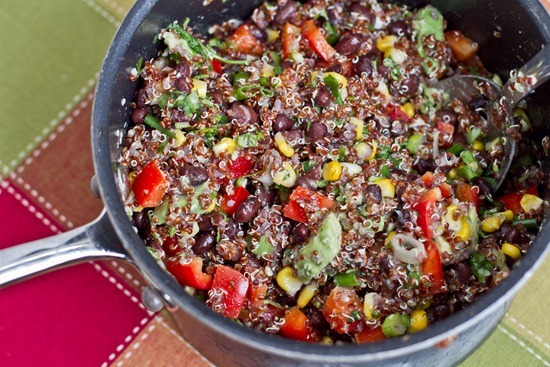 I just dumped everything into the cooking pot, but I supposed you could transfer it to a bowl if you wanted to!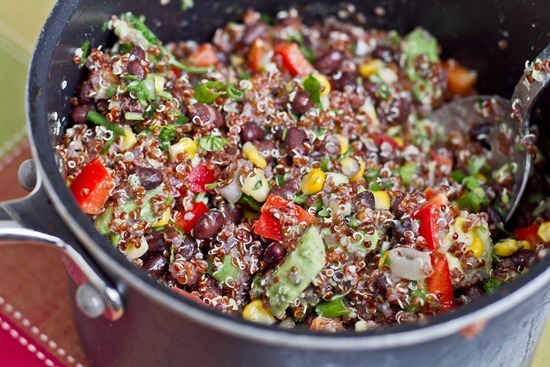 Pour on the dressing and mix. Serve at room temperature.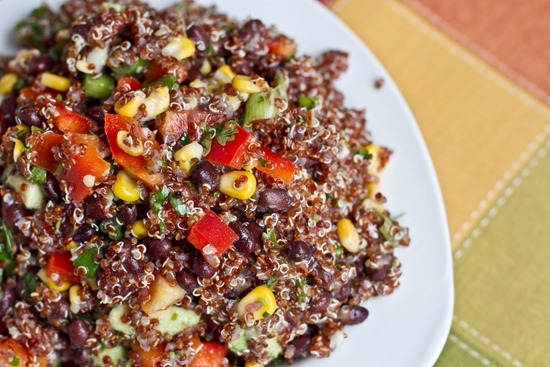 This salad is irresistible! It is light, fresh, and has a wonderful tangy kick from the lime juice. It also makes a great lunch and has a lot of staying power thanks to the protein-rich black beans and quinoa and healthy fats from the avocado and olive oil.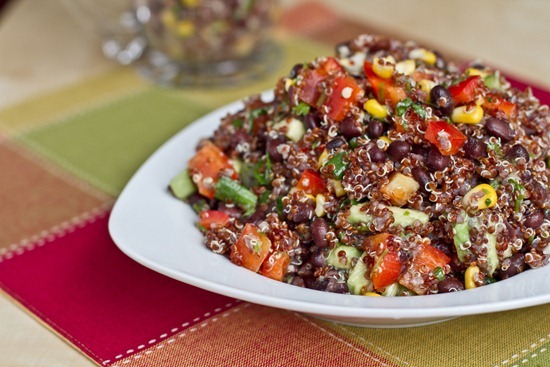 Store in the fridge for up to 2 days.
Here's to a healthy weekend ahead!
It's time to have a productive Friday of work to kick off the weekend. Have a good one!