I'm glad that you guys are excited about the thumbnail feature! I am such a visual person with recipes and I need to see pictures whenever possible. I finished inserting all the thumbnails and links last night so things are looking quite good on the Recipes page now. I didn't even die from boredom like I thought I would. Check out the sea of Vegan overnight oat parfaits under the Breakfast section. Mmm.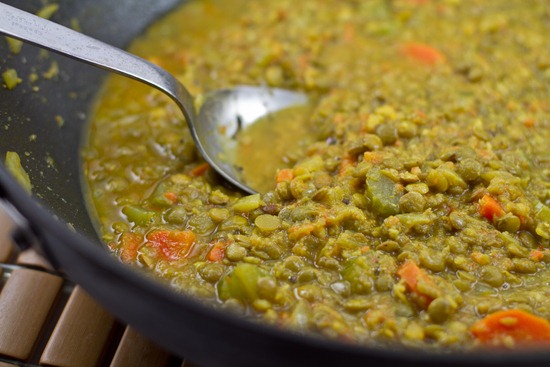 I have procrastinated talking about this soup for a week now and I'm not sure why. It's not that I didn't like this soup- in fact, I love this soup and I have made it 3 times already- but it is just a bit homely looking and may instill fear in those who first see it (my husband).
But regardless, this is damn good comfort food. It even got the seal of approval from Eric, a former non-curry lover.
The good news is, OSG is a safe place for homely looking soups. There will be no judgment, only acceptance with open arms…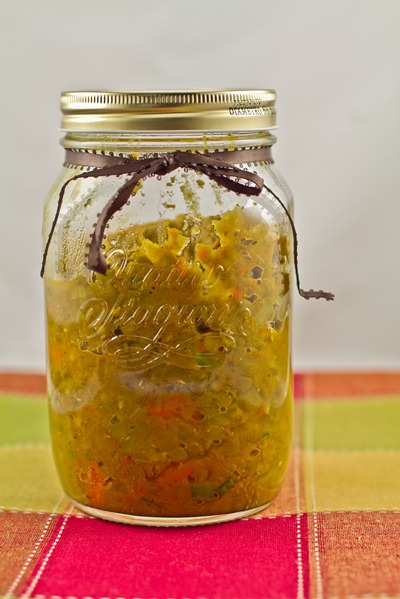 And a bell jar and cute bow for good measure.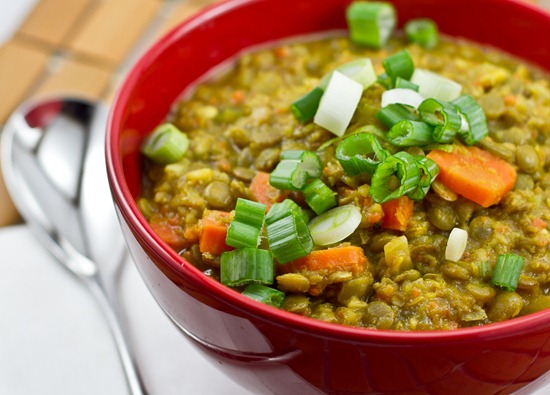 [print_this]
Curried Lentil Soup
Ultra thick, stick-to-your-bones, and spicy, this protein-packed comfort soup will warm you on even the coldest day. It also makes a great post-workout meal. Be sure to add in the curry slowly and adjust to taste as curry powders vary in flavour and heat.
Adapted from Bon Appetit.
Yield: ~4-5 cups
Ingredients:
2 tablespoons olive oil, divided
1.5 cups chopped onion (approx 1 medium onion)
1 large carrot, chopped
2 large garlic cloves, finely chopped
1 celery stalk, chopped (optional)
1.5-2 tablespoons curry powder (I used Arvinda's)
1 cup uncooked green lentils, rinsed and picked over
4 cups water
1 tablespoon fresh lemon juice
Kosher salt & black pepper, to taste (I think I used 1/2 tsp?)
2 green onions, thinly sliced
1 lemon, cut into 6 wedges
Directions:
1. Heat olive oil in heavy large skillet or pot over medium heat. Add chopped onion, optional celery, and carrot and sprinkle with salt and pepper. Cook until onion is translucent, stirring occasionally, about 5 minutes or so.
2. Add finely chopped garlic and stir until vegetables are soft but not brown, about 5 minutes longer. Reduce heat if necessary to avoid burning.
3. Add curry powder. I started with 1.5 tablespoons. Now, add the rinsed uncooked lentils and 4 cups water. Season with a sprinkle of kosher salt and pepper, add in lemon juice, and bring to a boil. Reduce heat to medium and simmer until lentils are tender, about 30 minutes.
4. When lentils are tender, I poured about half of the soup into my blender and I blended the soup for a minute. I did this to create a very thick texture. After blending, stir the soup back into the skillet/pot and you will have a very thick soup with some chunky pieces left from the soup you did not process.
5. Season to taste with salt, pepper, and additional curry powder, if desired. Sprinkle with thinly sliced green onions and serve with lemon wedges.
Makes about 4-5 cups.
[/print_this]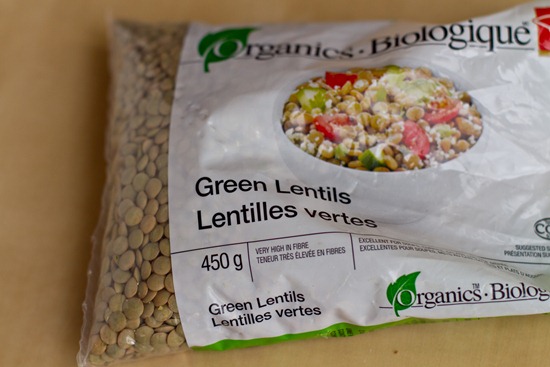 The first time I made this soup, I made a mistake and cooked the lentils beforehand. When I added in the 4 cups of water and cooked lentils, it was a huge mess because there was nothing to soak up the water. Please do not repeat my mistake. I still have a huge container of watery soup in my fridge and I'm not sure what to do with it…
The beauty of this soup is that you don't cook the lentils beforehand, not only saving you a step, but also making sure there is something to soak up the 4 cups of water you will put into the pot!
It all makes perfect sense to me now.
Chop your onion, carrot, 2 garlic cloves, and celery stalk.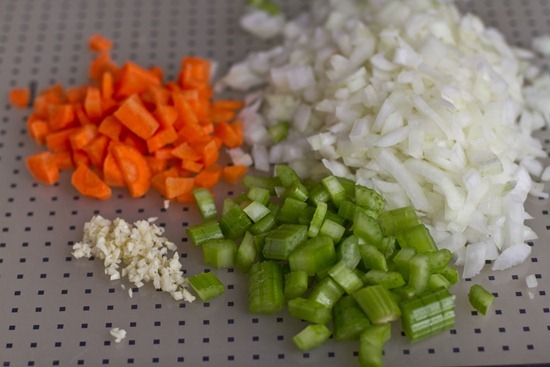 Gather 2 tablespoons of Extra Virgin Olive Oil and your desired curry powder.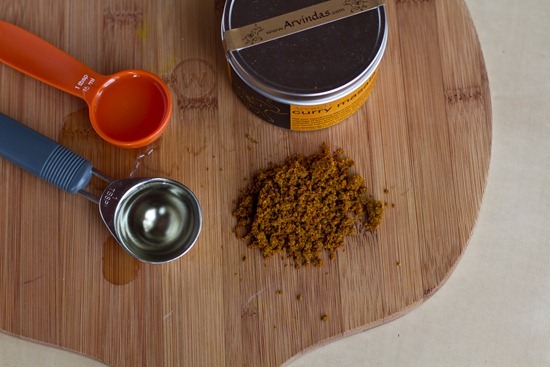 I love Arvinda's Curry Masala.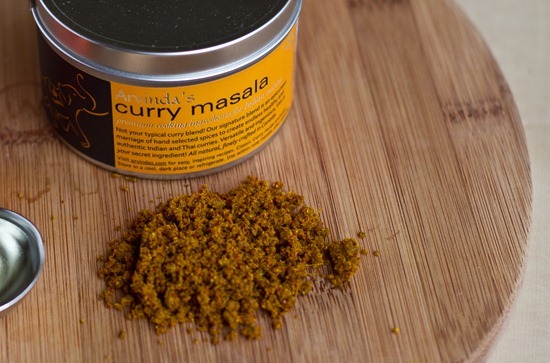 Sauté everything in a very large skillet or pot for about 10 minutes.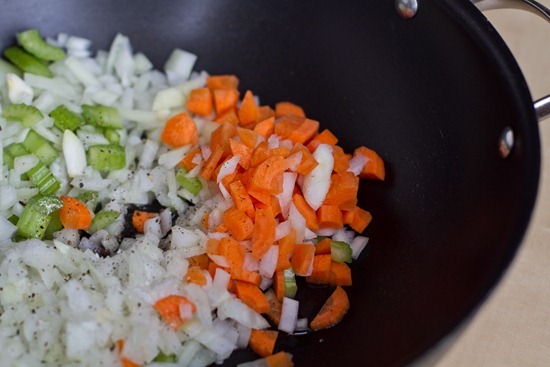 It will look nice and translucent when it is ready.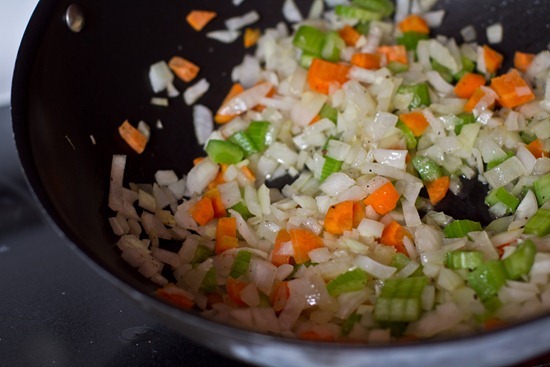 Stir in the curry powder…
FYI- The rest of the pictures below were taken in my light box at nighttime. (Post is coming on the light box!)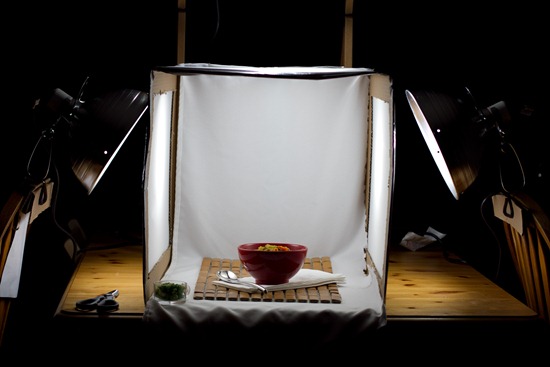 Be sure to add in the curry slowly and adjust to taste as curry powders vary in flavour and heat.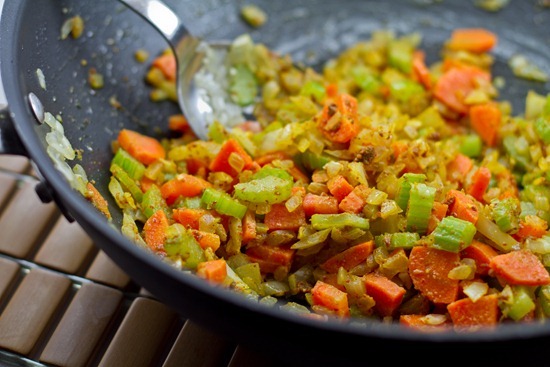 Add in the rinsed lentils and 4 cups of water.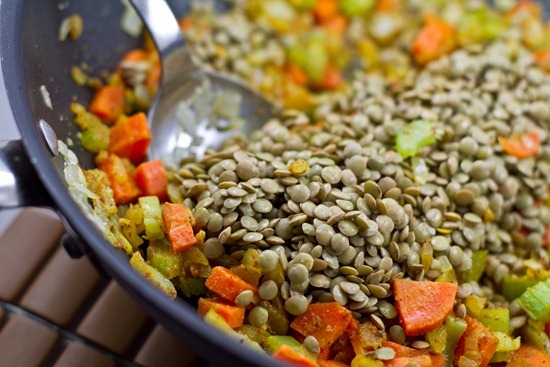 Stir well. You may think you did something wrong at this point, but don't worry because the lentils will soak up the water as they cook!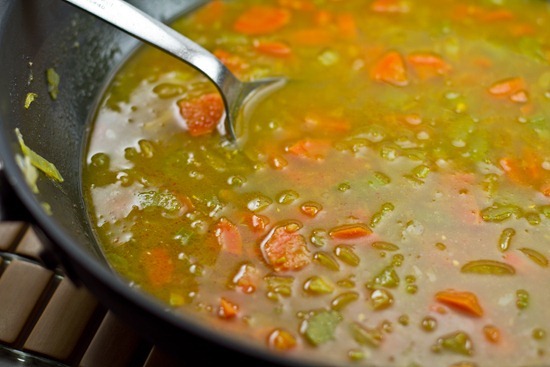 Bring to a boil and simmer on low-medium for 30 minutes or so until the lentils are tender.
I poured half of the mixture into my blender and pureed half of the soup. This is optional, but it creates a beautiful thick soup.
Add it back into the skillet and stir…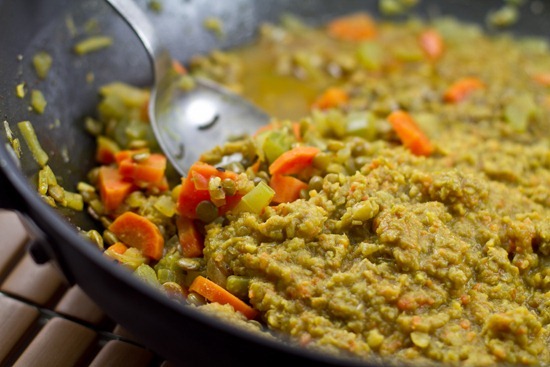 Initially, I wasn't happy with the light box pictures, but Eric adjusted the top light last night and it seemed to help. I will be doing a post on the light box soon though. I'm just trying to play around with it a bit more before I give my thoughts on it.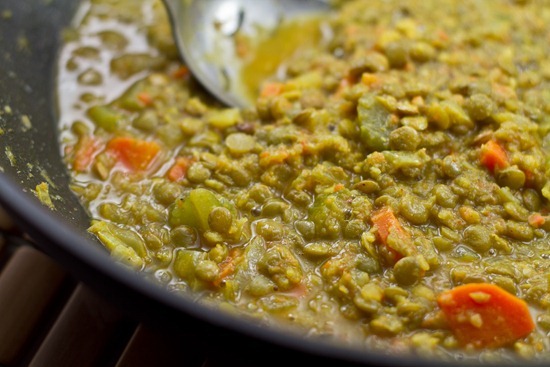 Thick and lovely.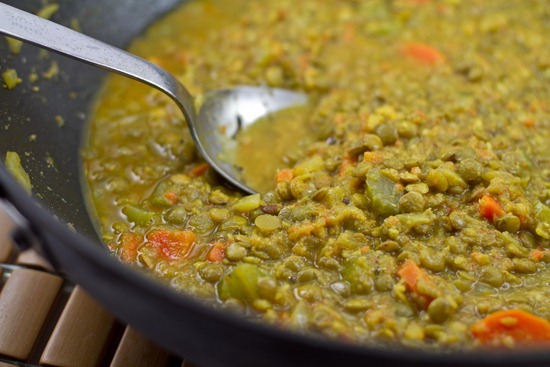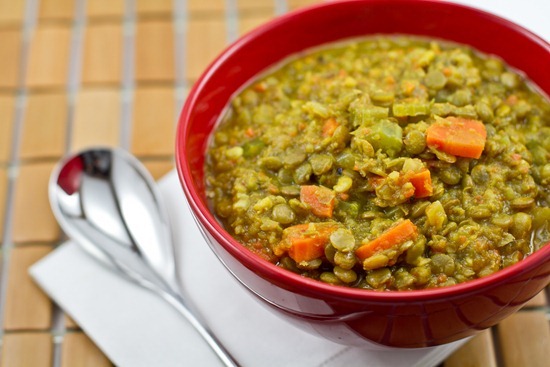 Garnish with some green onions and serve with lemon wedges.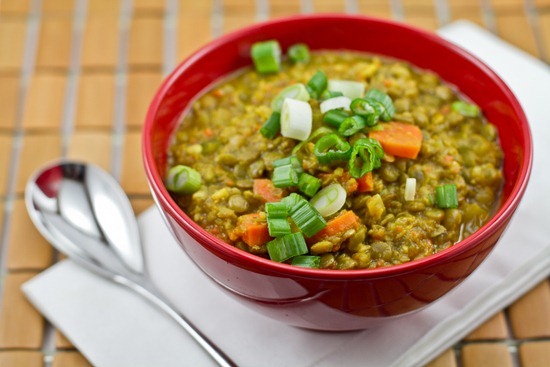 Every time I make it, I curse myself for not doubling the batch. It goes fast!
This weekend, we enjoyed a bowl of this soup for lunch after coming in from shoveling snow. We were sweating by the time we finished our bowls. Smoothies ensued.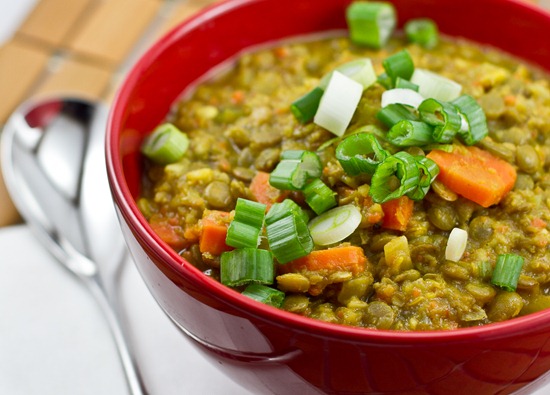 Store leftovers in a jar in the fridge. Add a bow if you think it looks a bit sad.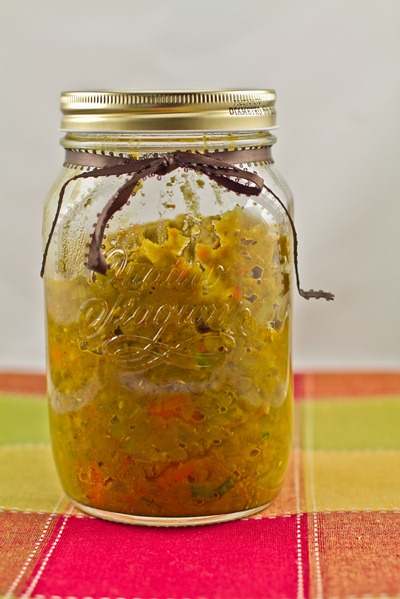 Just make sure to hide it from others… They will act like it looks homely, but secretly, they just want to eat it all.