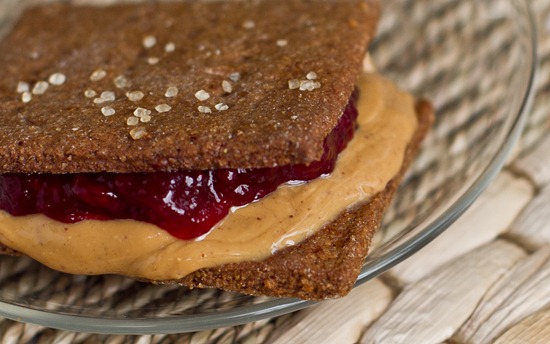 Happy Friday to you!
I just wanted to let you guys know that my spam checker is marking some comments randomly as 'spam' and I am not sure what is going on. I have approved several spam comments from the past few days and I will keep a close eye on it. I'm sorry if that was happening to you and you didn't know why! I will monitor the situation and report to the computer authorities if necessary (aka Eric).
Today, we talk homemade graham crackers. For the second time.
I've been quite smitten with homemade graham crackers ever since I fell in love with them back in December after adapting a recipe from Ashley.
Last week, I was feeling frisky and I made a PB + J graham cracker sandwich using two homemade graham crackers, raspberry jam, and peanut butter.
I think this photo speaks for itself…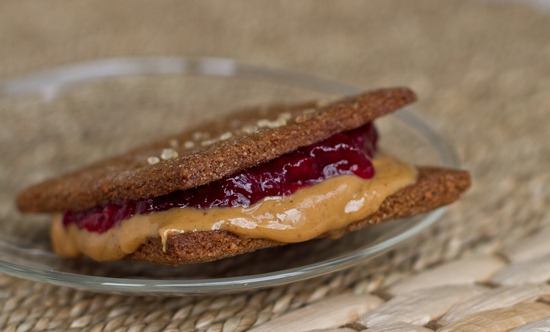 I just loved how the peanut butter, jam, and graham flavours all went together and I was instantly hooked!
And then I started to imagine how delicious a peanut butter graham cracker would be….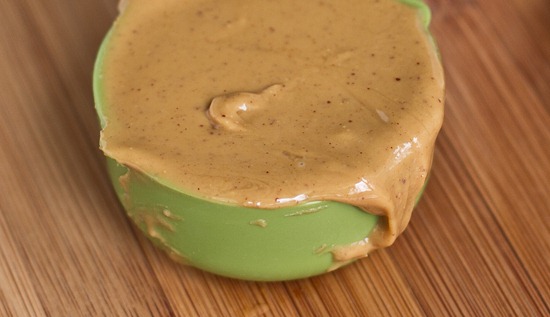 Three trials later, I am happy to share my favourite version with you.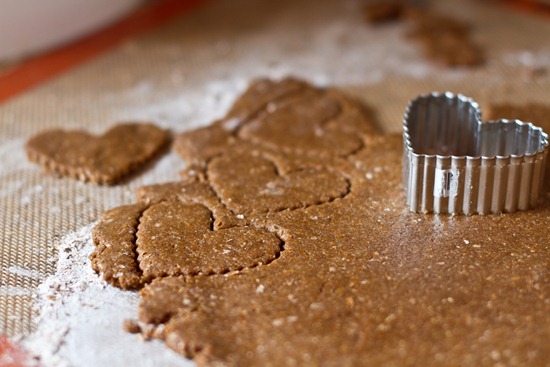 [print_this]
Peanut Butter Graham Crackers
Crispy, flavourful, lightly sweet, with a hint of delicious peanut butter flavour, these vegan PB graham crackers will have you coming back for more and more! Enjoy them plain, with nut butter and jam, or make delicious homemade s'mores. They have a nice crumb and an authentic graham cracker texture when using whole wheat pastry flour.
Adapted from Homemade Graham Crackers, Edible Perspective's graham crackers, & VCTOTW.
Ingredients:
DRY:
1.5 cups whole wheat pastry flour
1 tbsp sugar
2 tbsp Sucanat (brown sugar might work)
1/4 tsp baking soda
1/8th tsp ginger
1 tsp ground cinnamon
1/2 tsp kosher salt
WET:
2 tbsp Extra virgin olive oil
2 tbsp almond milk
3 tbsp smooth Peanut Butter
2 tbsp Maple syrup
2 tbsp blackstrap molasses
modified flax egg (1/2 tbsp ground flax + 1 tbsp warm water, mixed)
Directions: Preheat the oven to 350F and line a baking sheet with parchment paper or a non-stick mat.In a small bowl or cup mix together the modified flax egg: 1/2 tbsp ground flax and 1 tbsp warm water. Set aside for 5 minutes so it can gel up.
In a large bowl, whisk together the dry ingredients and make sure everything is combined very well. In a small bowl, whisk together all the wet ingredients, including the flax egg, but give the flax egg a good stir before mixing it in. Add the wet mixture to the dry mixture and stir well with a spoon and then set the spoon aside and get in there with your hands and squeeze the dough together with your fingers. Try to just mix it until combined and avoid over mixing it.
Form the dough into a ball and place it on a very lightly floured counter. Be sure not to use too much flour or it will dry out the dough. Separate the dough into two equal balls and roll out each separately. Lightly flour a rolling pin and begin rolling out the dough until you have a rectangle that is about 1/8 inch thick. The dough cracks quite a bit (this was true for all trials that I did), so try not to roll it too thin or it will fall apart. I also find that the more I work with the dough, the less it cracks. Once your dough is rolled out you can use cookie cutters, a pizza slicer/pastry slicer, or even a knife to cut the shapes you want.
Now pull away the scrap dough around the edges and set aside. Using a flat spatula/pancake flipper, carefully slide it underneath each cracker and place the cracker onto the baking sheet about 1 inch apart. Grab your scrap dough and roll it out and repeat the cookie cutting process. Place onto baking sheet. Grab a fork and pierce each cracker a few times so it has air holes.
Sprinkle with turbinado sugar (or coarse sugar/white sugar) and bake for 15-18 minutes, rotating the pan 180 degrees half way through the baking time. There is no need to flip the crackers during baking.  The amount of time you have to bake will depend on how thick they are. The crackers should be slightly firm when coming out of the oven. They are much better crisp than chewy, so err on the side of cooking longer, but keep a watchful eye on them.
Allow the crackers to cool on the baking sheet for about 10 minutes. They will firm up quite a bit as they cool. Enjoy plain, with nut butter and jam, or make s'mores! They are highly versatile and absolutely addicting.
Makes about 18-24 medium sized crackers.
[/print_this]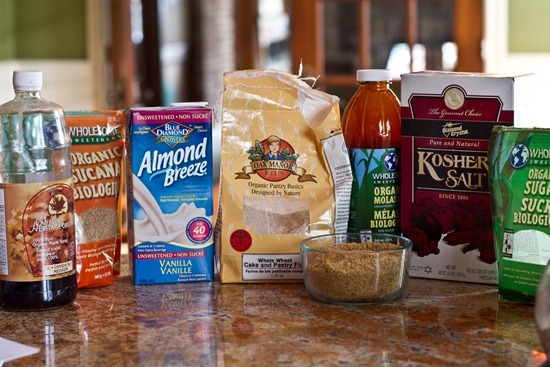 These graham crackers are quite fun to make. First you mix the modified flax egg and then set aside.
Now, grab those dry ingredients…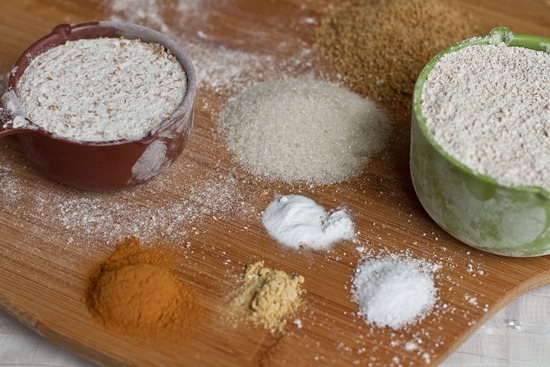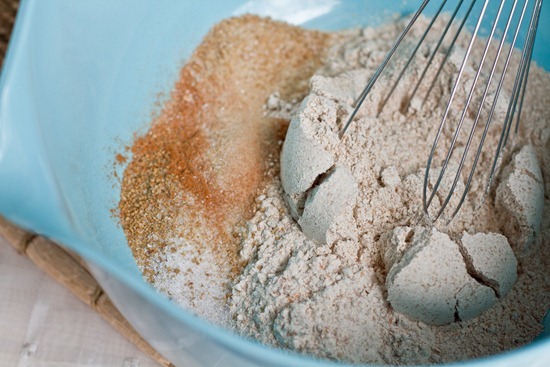 Whisk together.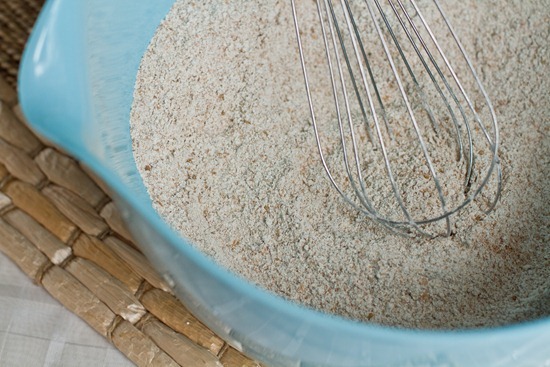 Assemble the wet ingredients and the gelled up flax egg.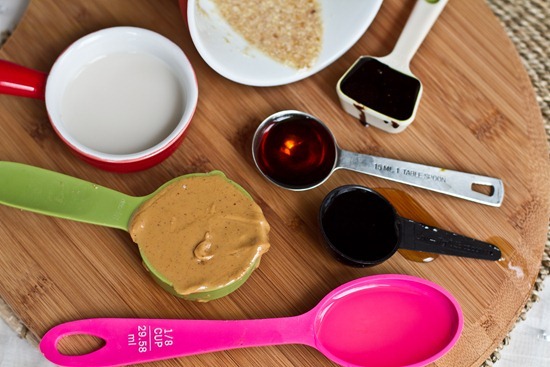 Add to a bowl.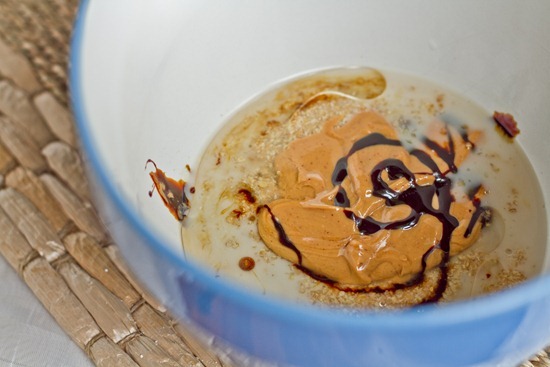 Whisk.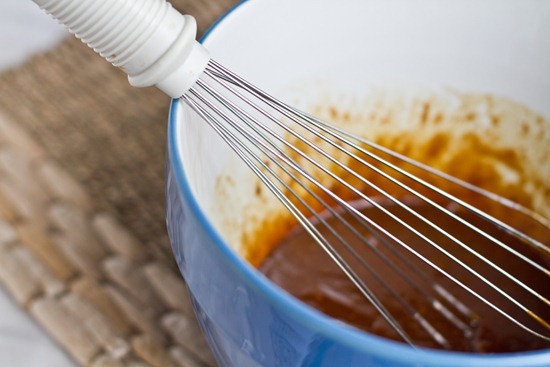 Add wet to dry..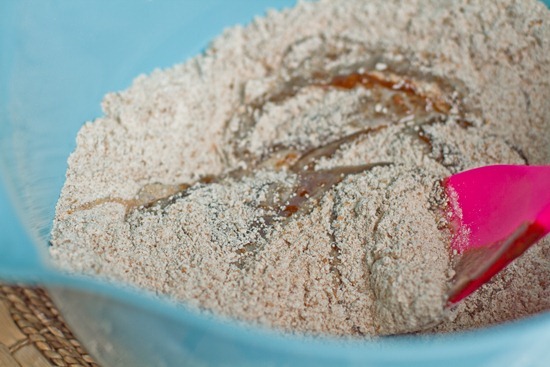 It will be very thick and you will have to get in there with your hands to mix in the ingredients fully.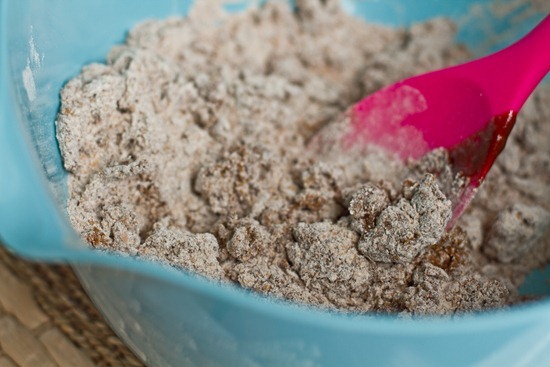 Squeeze the dough in your hands until most of the flour is mixed in.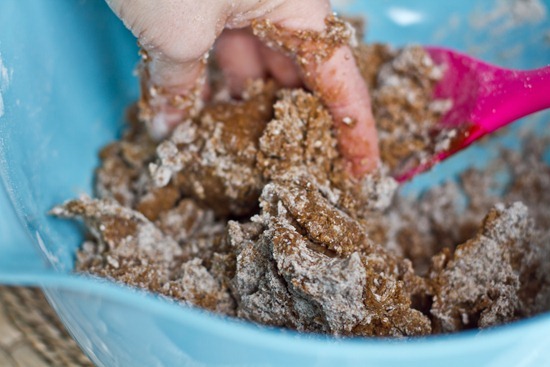 Form a ball.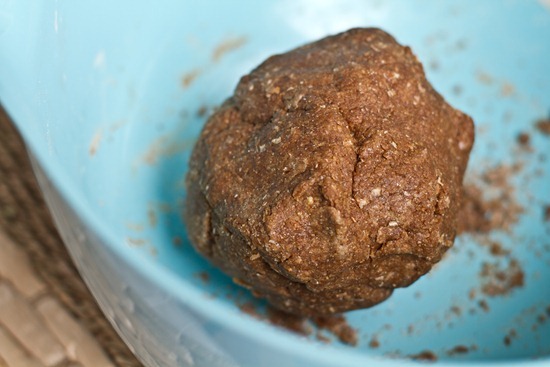 Break the ball in half and then roll out on a floured surface. I used my new Silpat mat that I got at Christmas and it was a great non-stick surface for rolling dough!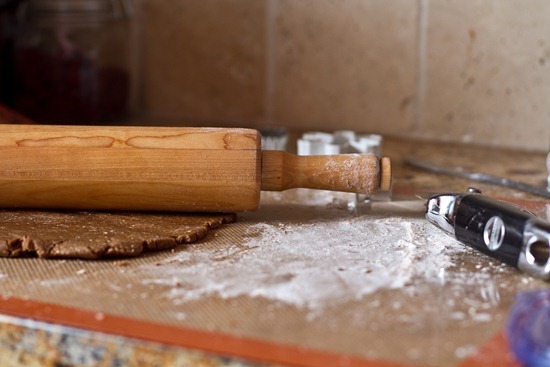 The only thing I do not like about the dough is that it cracks a bit (this was true for all trials that I did), so try not to roll it too thin or it will fall apart.
Use cookie cutters if preferred.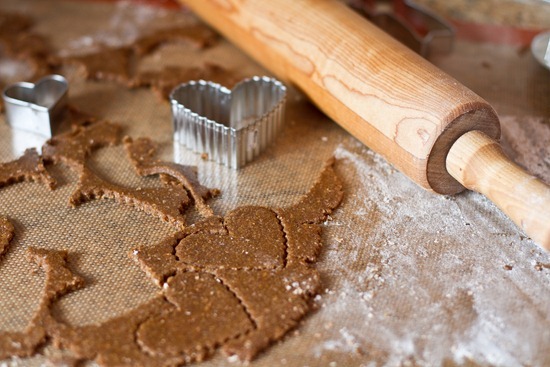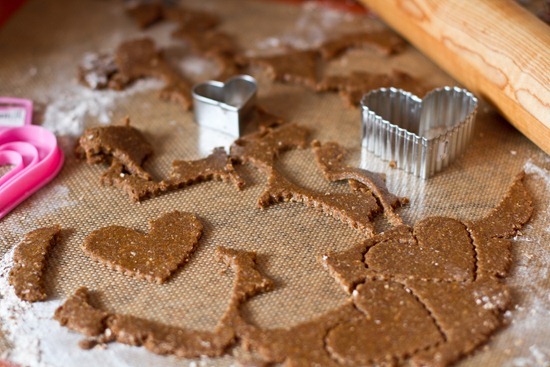 You can even make cute little hearts for Valentine's Day!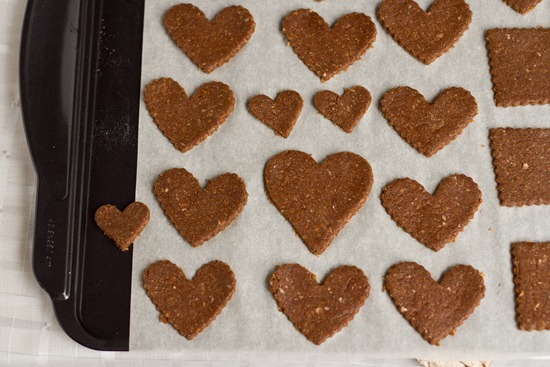 Or maybe you'd rather stab a square with a fork…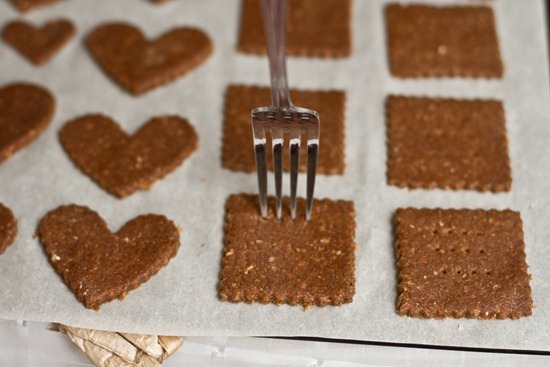 Place in the oven for 15-18 minutes at 350F. Rotate half way through. The amount of time you have to bake will depend on how thick they are. The crackers should be slightly firm when coming out of the oven.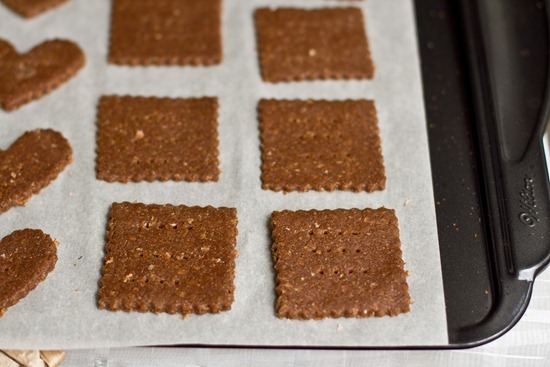 Allow to cool for about 30 minutes. The graham crackers will really crisp up during this time.
The result is a delicious homemade graham cracker with a hint of peanut butter flavour!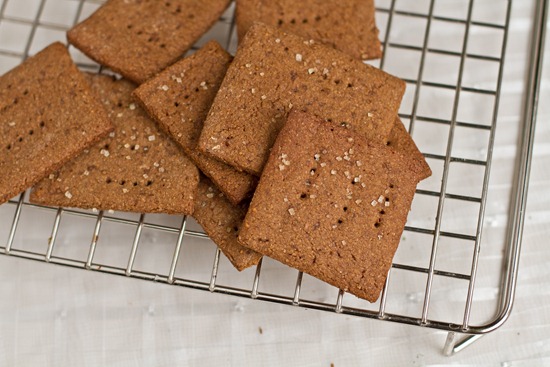 Peanut Butter S'more anyone?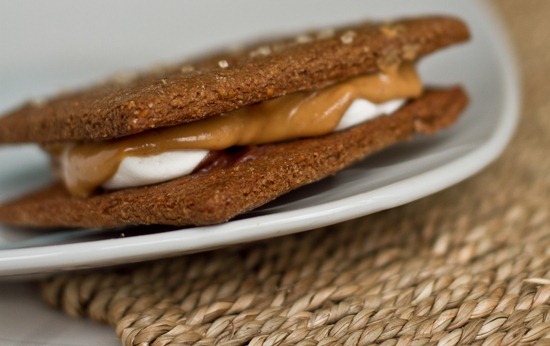 Or maybe PB + J?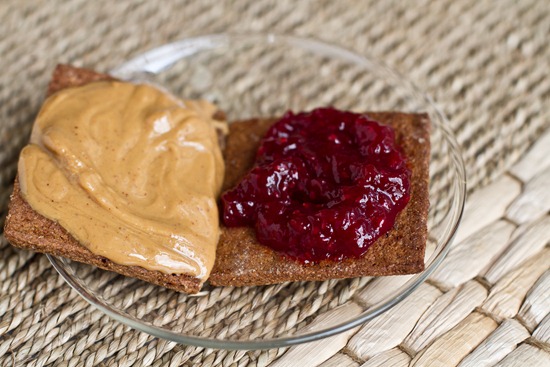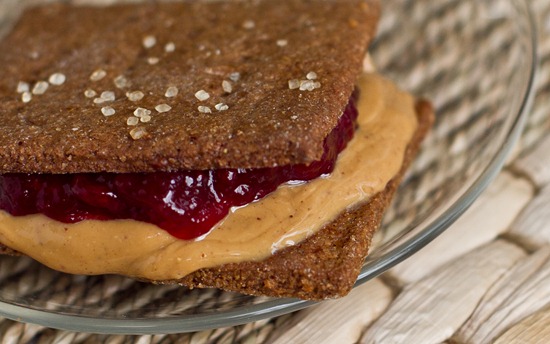 They are pretty insane.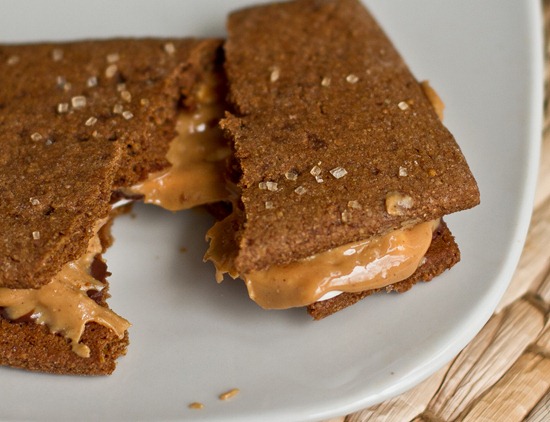 I think I slightly prefer this version over the last ones I made. This version has less of a molasses flavour to allow the peanut butter flavour to come through and it just seems to work really well.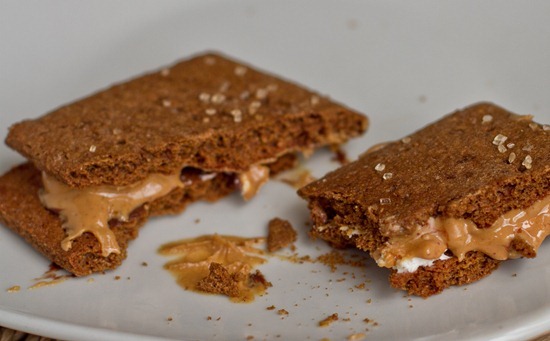 Have a great start to your weekend!