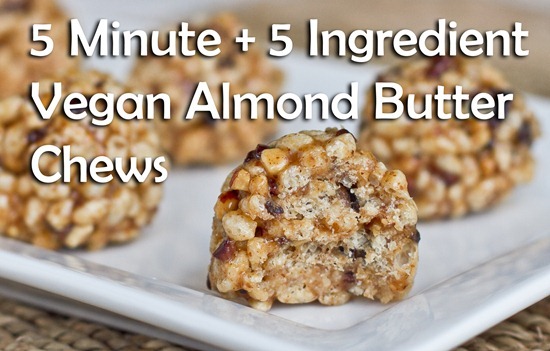 Last week, I finally replenished my Almond Butter stash after being without it for a few months. I really don't know how I survived that long! I actually need to start making my own again too.
But the good news is, Almond Butter (crunchy, all-natural) is now back in my life and I can return to a normal human being.
Well, I guess that's relative.
Anyways, I am willing to turn a new leaf in 2011 where I shall not be without my dear Almond Butter for this long.
This is a promise to myself.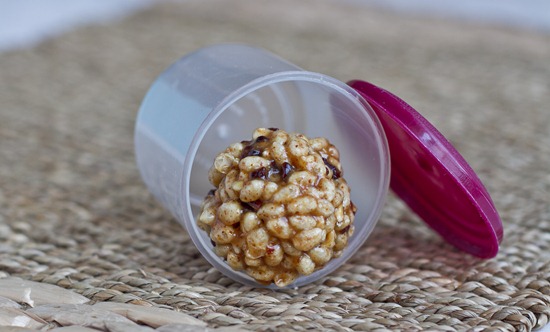 For this recipe idea I challenged myself with several requirements:
Portable
Less than 5 minutes to prepare
5 Ingredients or less
Around 100 calories
No-Bake
Vegan
1 Bowl
Easily adapted to wheat/gluten-free
It was a tall order, but I was willing to take the challenge!
Amazingly, I was satisfied with the first trial. That rarely happens! It must be the magic of the Almond Butter.
I'm telling you, 2011 is going to be a lucky year…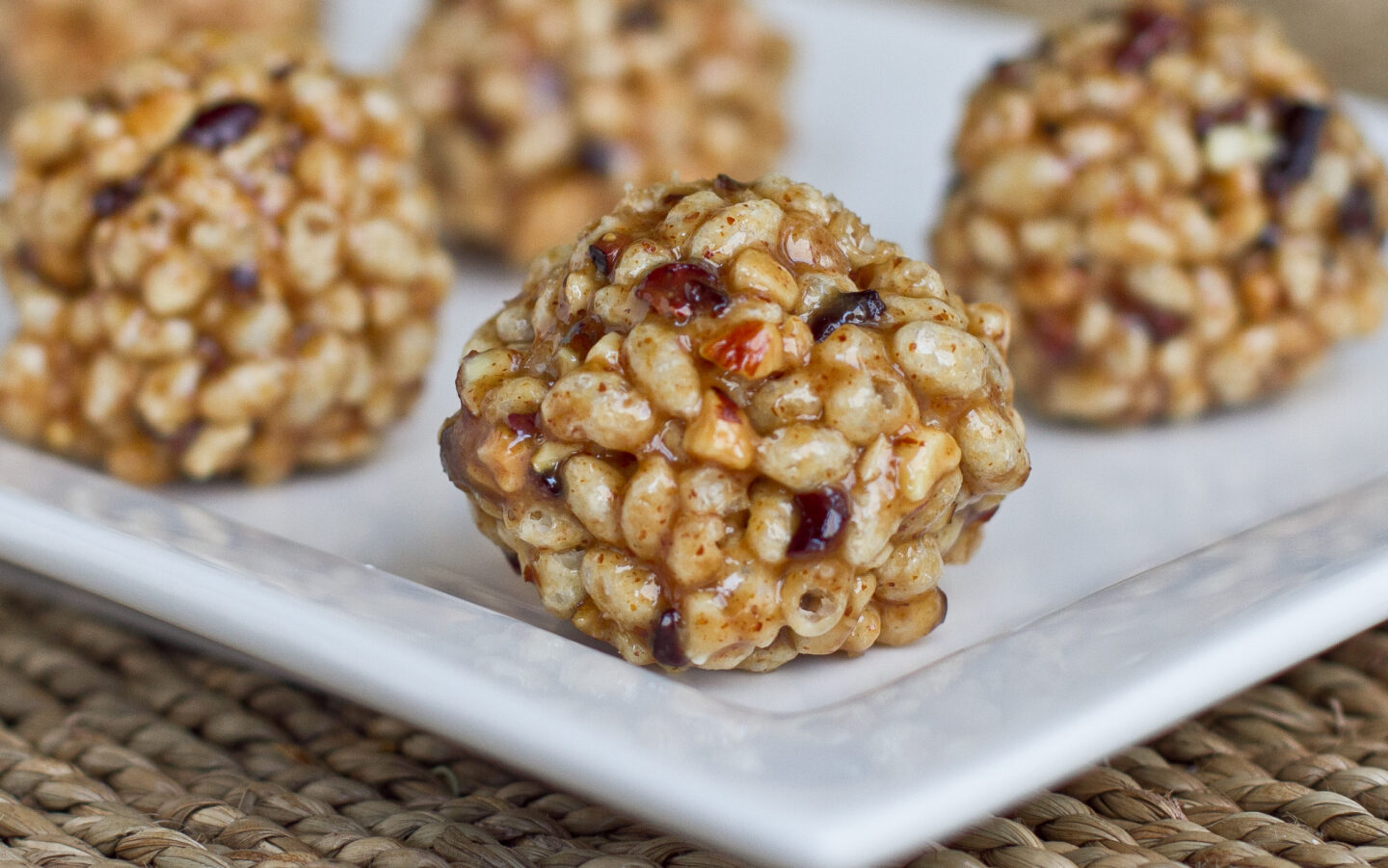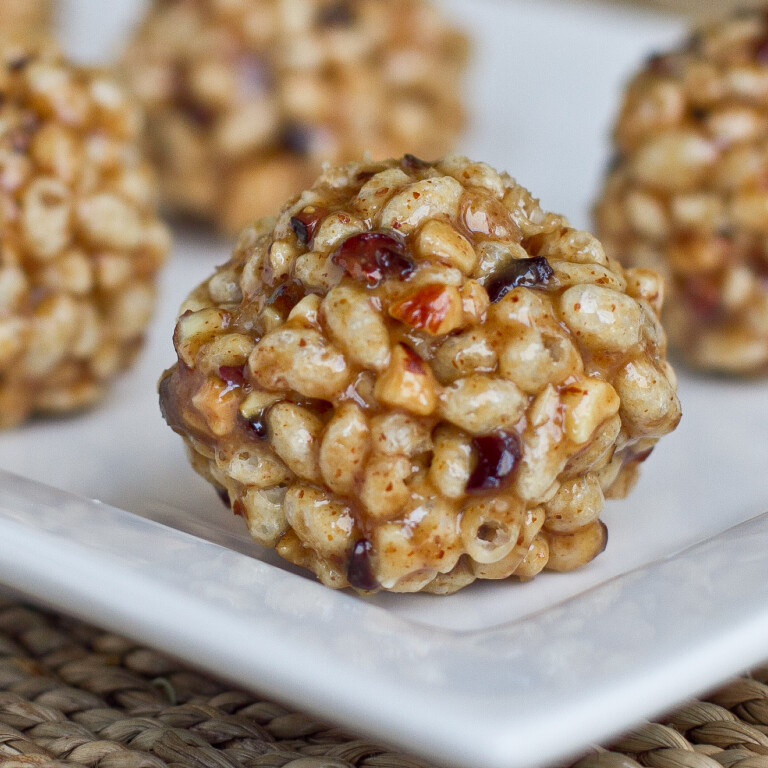 5 Minute + 5 Ingredient No Bake Vegan Almond Butter Chews
Vegan, gluten-free, soy-free

Yield

7 golf-ball sized chews
Prep time

Cook time

0 minutes
Chill time

5 mins
Total time

These Almond Butter Chews could not be any easier and they make a simple pre-workout snack for about 100 calories each. They take 5 minutes to whip up, use just 1 bowl, and do not require an oven! You could even make them gluten-free quite easily too. I use the Nature's Path Rice Crisp cereal that just happens to also be Gluten-Free.
Ingredients
1/4 cup chunky all-natural almond butter
1 tsp pure vanilla extract
1 cup rice crisp cereal (I use GF Nature's Path)
3 tbsp organic brown rice syrup (honey might work, but I'm not sure how it will hold together)
1 tbsp cacao nibs (or chopped chocolate)
Directions
Line a plate with parchment paper.
In a medium sized bowl, stir together the almond butter, brown rice syrup, and vanilla. Microwave on high for 35-45 seconds. Stir well and immediately add in the rice crisp cereal and cacao nibs (or chopped chocolate). Stir very well until fully mixed.
Wet hands thoroughly and shape the mixture into 'golf-balls'. Press mixture together firmly so it will hold.
Wet hands after each ball is formed so the mixture will not stick to your hands. Place the balls onto parchment paper and freeze for 5 minutes. You can keep these chews in the freezer in a sealed container. I really enjoy them straight from the freezer. They remain nice and chewy.
Tip:
For nut-free option, use sweetened sunflower seed butter.
Nutrition Information
(click to expand)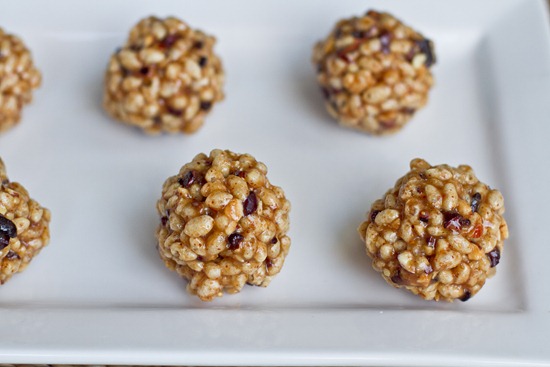 I have been using this Nature's Path Rice Crisp for a few years now and it never lets me down!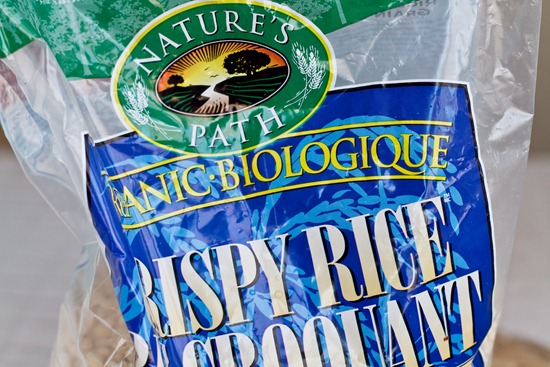 It also happens to be Gluten-Free to boot.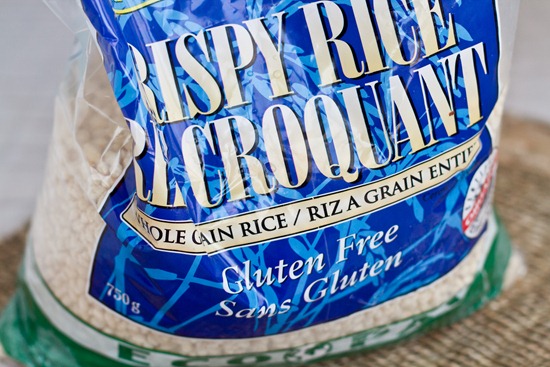 Gather up the 5 ingredients…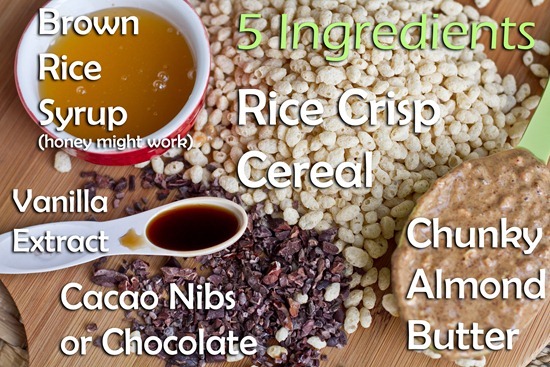 Mix the wet ingredients together (Almond butter, vanilla, and brown rice syrup)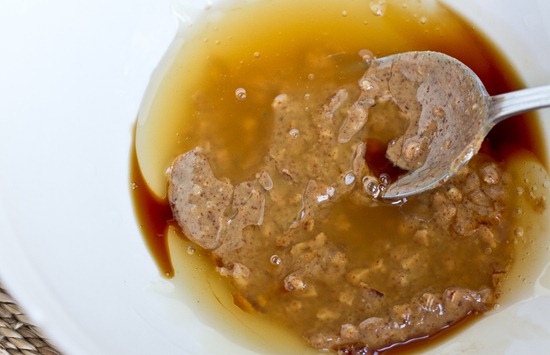 I'm always asked where to find Brown Rice Syrup. You can find it at Whole Foods and at Loblaws/Superstore in the natural food aisle near the honey. I use Lundberg's organic Brown Rice Syrup.
Brown Rice Syrup is made from brown rice and is thus a great alternative to refined sugar because it has a lower glycemic index and it also does not produce spikes in blood sugar like simple sugar. As a result, brown rice syrup delivers a steady and consistent energy supply. I fueled a half marathon using brown rice syrup once!
Stir well.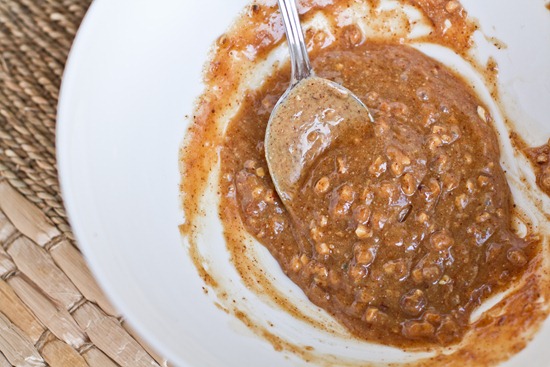 Heat in microwave on high for 35-45 seconds. Stir.
Now mix in the dry ingredients (rice crisp and cacao nibs or chocolate)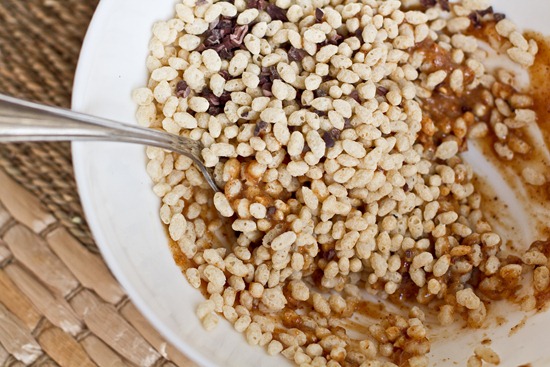 Make sure to stir very well so that you coat all of the rice crispies!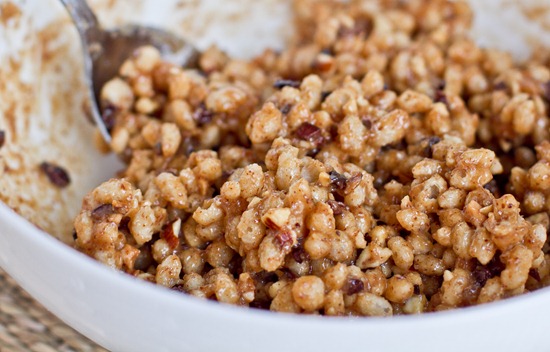 Now wet your hands very well and form into balls. You will have to keep wetting your hands after you make each ball so the mixture won't stick.
I made 7 large chews.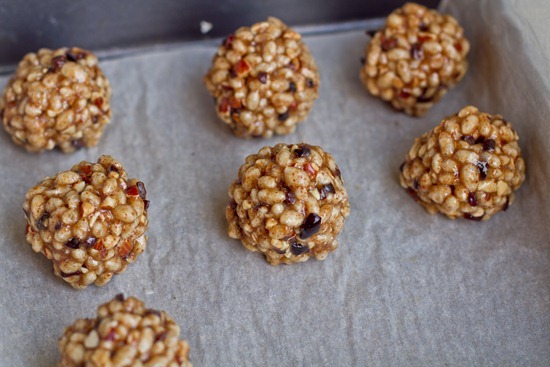 Freeze for 5-10 minutes.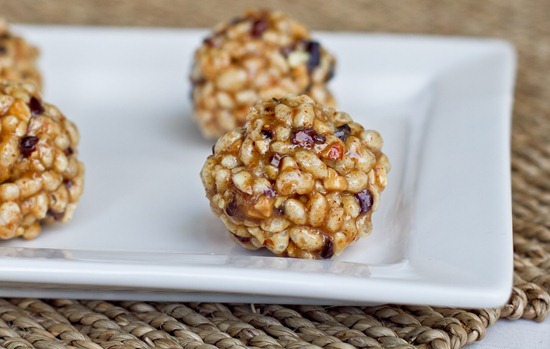 and enjoy!
Eric and I absolutely went wild over these Almond Butter Chews. I love them straight from the freezer. They are chewy, sweet (but not too sweet!), crunchy, and they pack a wonderful Almond Butter Flavour.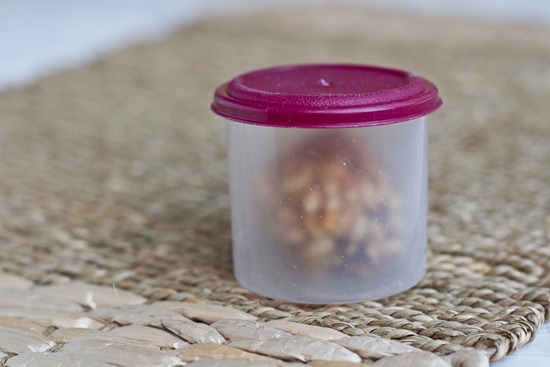 It is a great pre-workout snack when you just need something small and you don't need a large snack or meal. I popped one in my bag and enjoyed it before a Body Pump class and it was just enough fuel to carry me through until I had a post-workout snack.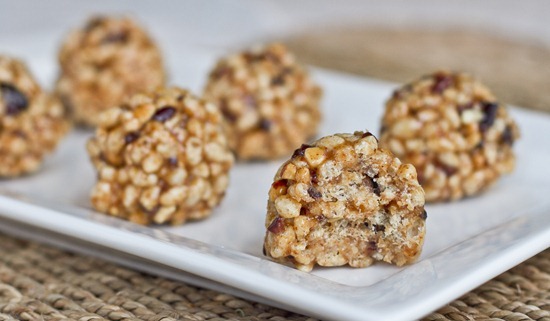 You might also be interested in my Chocolate PB Chew recipe too!