Do I ever have a delicious vegan meal for you to kick off 2011!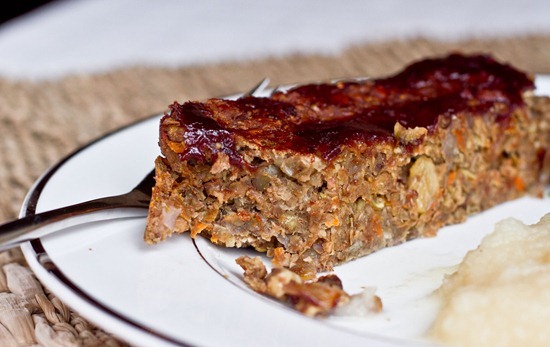 I must admit, this lentil loaf gave me a few grey hairs over the past couple days.
I made 4 trials of this lentil loaf.
I tried the Lentil Apple Walnut Loaf from Clean Food cookbook and also the old-fashioned Lentil Loaf from The Vegan Table Cookbook, in addition to a couple others. I was on a mission to find my perfect lentil loaf!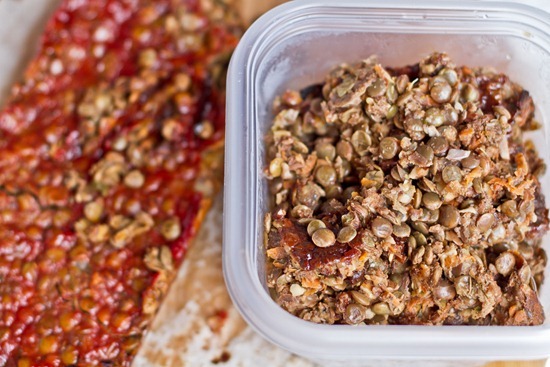 This one below is from The Vegan Table: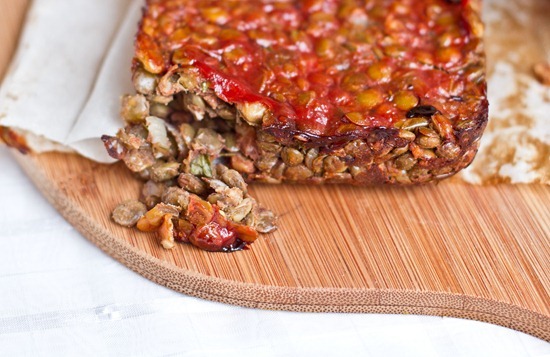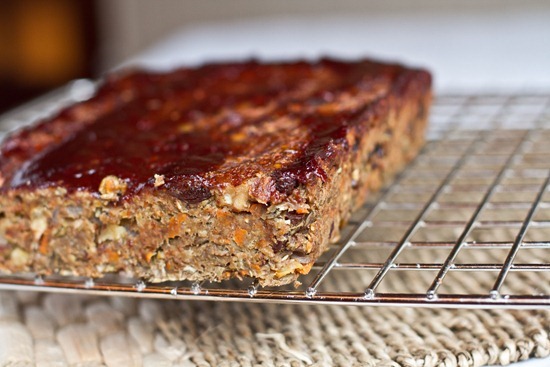 I had problems with binding, so I decided to process (in food processor) 75% of the cooked lentils to help it stick together. I also ground up some oats to make oat flour and added some flax in addition to some other modifications. Good things happened!
Note: This recipe below has been updated and improved! Feb. 2016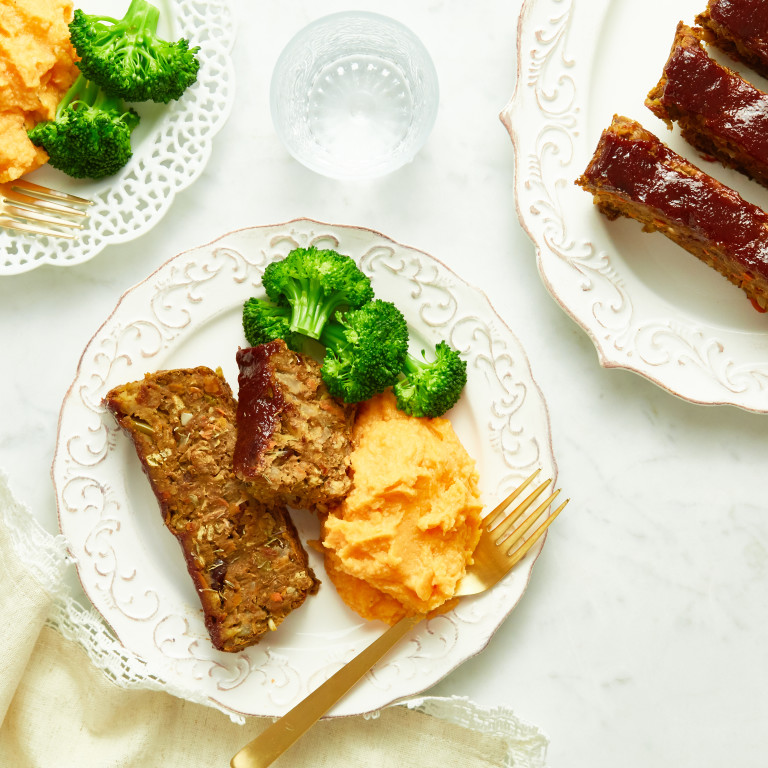 Ultimate Lentil Walnut Loaf

Yield

8 slices
Prep time

Cook time

Total time

This lentil walnut loaf is so delicious, you'll find it hard to resist. Raved about by readers, husbands, children, and recipes testers alike, many claim it's better than traditional meatloaf. The beauty of creating a lentil loaf (as opposed to a meatloaf) is that you can taste the mixture as you go without having to worry about the raw meat. This results in a perfectly seasoned loaf and, trust me, the batter tastes so good! Lentil loaves can be temperamental, so it's best to follow the directions exactly as written as I've tested this multiple ways. Even minor changes to this recipe can result in a loaf that doesn't stick together as well. I love to serve this loaf with my stunning Cauliflower Carrot Mash, applesauce, and/or steamed broccoli or greens. This lentil loaf is inspired by Terry Walters' Clean Food Lentil Loaf recipe.
Ingredients
For the Lentil-Walnut Loaf:
2 (14-ounce/398 mL) cans of lentils, drained and rinsed

*

1 cup walnuts, finely chopped
2 teaspoons (10 mL) extra-virgin olive oil
2 cups finely chopped sweet onion
3 garlic cloves, minced
1 cup finely chopped celery
1 cup grated carrot
1/3 cup peeled and grated sweet apple
1/3 cup dried cranberries (chopped) or raisins
2 teaspoons fresh thyme (or 1 teaspoon dried thyme)
1 teaspoon dried oregano
Fine sea salt, to taste (I use about 1 teaspoon)
Freshly ground black pepper, to taste
3 tablespoons ground flax
1/2 cup oat flour
1/2 cup spelt bread crumbs (or bread crumbs of choice)
1/4 teaspoon red pepper flakes (optional)
For the Balsamic-Apple Glaze:
1/4 cup (60 mL) ketchup
2 tablespoons (30 mL) unsweetened applesauce or apple butter
2 tablespoons (30 mL) balsamic vinegar
1 tablespoon (15 mL) pure maple syrup
Directions
Preheat the oven to 325°F (160°C). Grease a 9x5-inch loaf pan, and then line it with a piece of parchment paper cut to fit the length of the pan.
If using canned lentils, rinse and drain them in a colander. If using lentils cooked from scratch, follow the directions in the note below. After draining, add them into a very large bowl and mash the lentils with a potato masher. The goal is to create a lentil paste while still leaving about 1/3 of the lentils intact.
Spread the chopped walnuts onto the baking sheet. Toast the nuts for 8 to 12 minutes until fragrant and lightly golden. Set aside to cool.
Increase the oven heat to 350°F (180°C).
Add the oil into a large skillet, and increase the heat to medium. Stir in the onion and garlic and season with a pinch or two of salt. Cook for 4 to 5 minutes until the onion softens.
Stir in the celery and carrot, and continue cooking for another few minutes.
Finally, stir in the grated apple, dried cranberries (or raisins), thyme, oregano, 1/2 teaspoon salt, and black pepper. Cook for a couple minutes longer.
Into the bowl with the mashed lentils, stir in the walnuts, ground flax, oat flour, and bread crumbs until combined.
Stir in all of the veggie mixture until combined. Add the red pepper flakes, if using. Taste and add more salt (I usually add another 1/2 teaspoon). If the mixture seems dry, add a tablespoon or two of water and mix again.
Press all of the lentil loaf mixture into the prepared loaf pan. Pack it down as firmly as you can as this will help it hold together after cooling.
In a small bowl, whisk together the ketchup, applesauce, vinegar, and maple syrup until combined. Using a pastry brush (or simply a spoon), spread all of the glaze over top of the lentil loaf.
Bake the lentil loaf, uncovered, at 350°F (180°C) for 50 to 60 minutes until the edges start to darken and the loaf is semi-firm to the touch. Place the loaf pan directly onto a cooling rack for 15 minutes. Then, slide a knife around the ends to loosen, and carefully lift out the loaf (using the parchment paper as "handles") and place it directly onto the cooling rack for another 30 minutes.
After cooling, carefully slice the loaf into slabs. Serve immediately. The loaf will continue to firm up as it cools. Some crumbling is normal if sliced while warm.
Tip:
*

If you'd like to make lentils from scratch, swap the two cans of lentils for 1 cup of uncooked lentils. Add the lentils into a pot and cover with water. Bring to a low boil over high heat, reduce the heat to medium-high, and then simmer the lentils uncovered for 20 to 30 minutes until tender. Drain well.
Nutrition Information
(click to expand)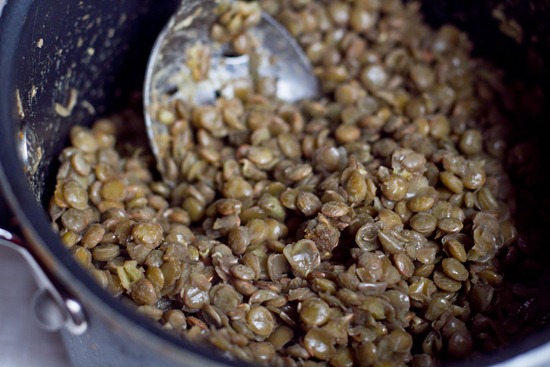 When the lentils are finished cooking (and cooling), take 75% of the lentils and process them in a food processor until almost smooth.
While the lentils are cooking, prepare the rest of the recipe.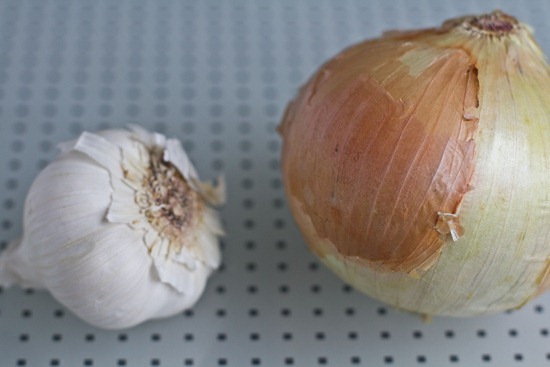 Sautee your garlic and onion.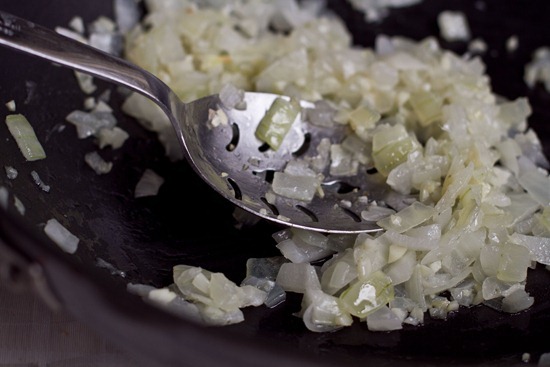 Add in the grated carrot and optional celery or green onion.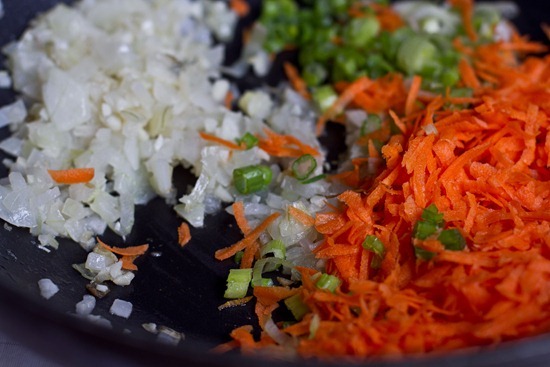 Mix well and cook over low heat for several minutes.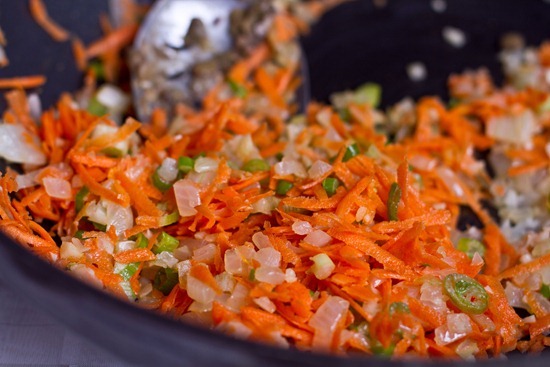 Add in the grated apple, raisins, and chopped walnuts (do not chop the walnuts as small as shown below- it was from an earlier trial).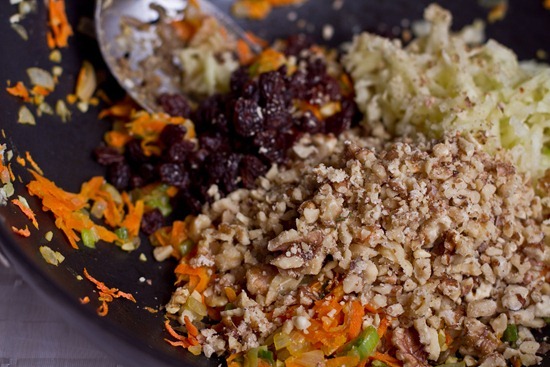 Cook for a couple minutes.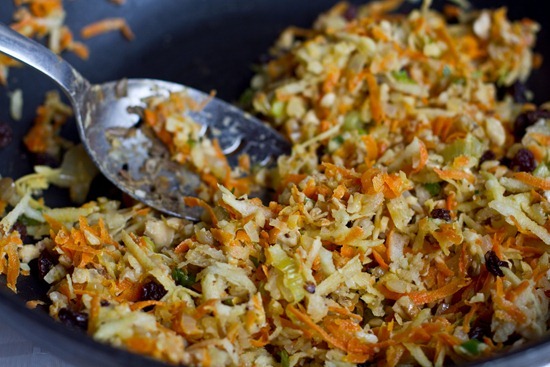 Add in kosher salt, Thyme, and black pepper.
In a large mixing bowl, mix the flax, lentils (processed and non-processed), breadcrumbs, veggie mixture, oat flour (I processed 1/2 cup regular oats), and ground flax. Stir well.
It will look like this: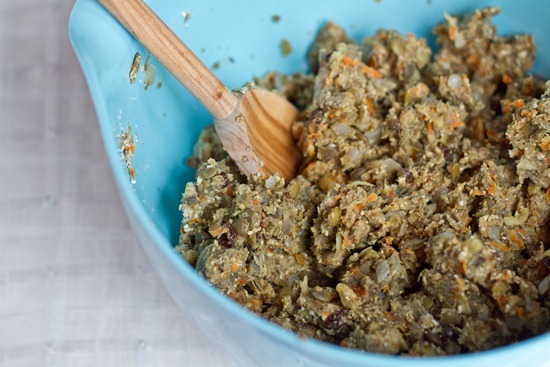 Press firmly into a loaf pan lined with parchment paper.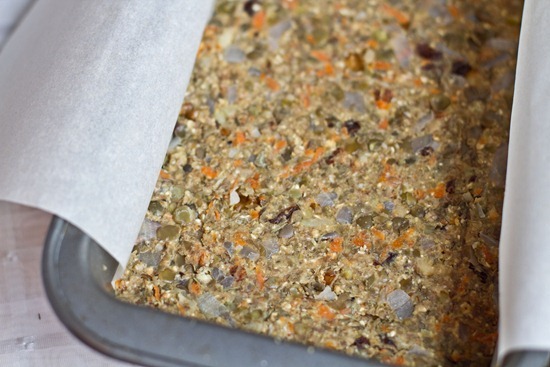 When I pressed it into the pan, I immediately knew that this loaf would hold together thanks to the ground oats, flax seed, and processed lentils.
It was much different than the previous trials…(note how crumbly it looks even in the pan before baking)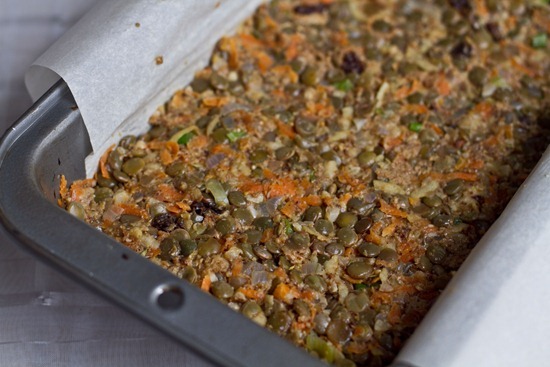 Now spread on the glaze: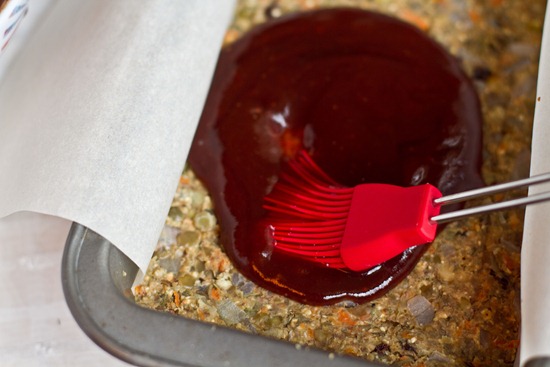 Perfecto!
Now bake for 45 minutes at 350F, uncovered.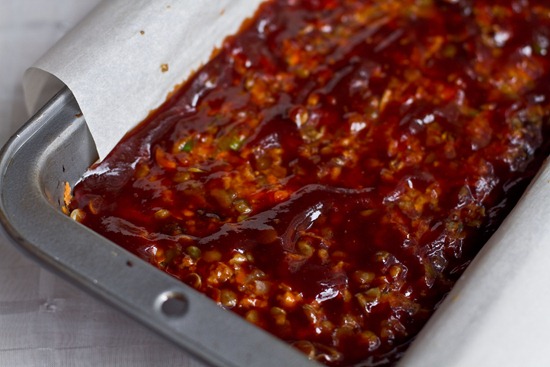 Cool for 10 minutes.
Makes about 8 thick, mouth-watering slices. I knew that this loaf was a crowd pleaser when Eric got really excited over it! He said he would take this over meatloaf any day.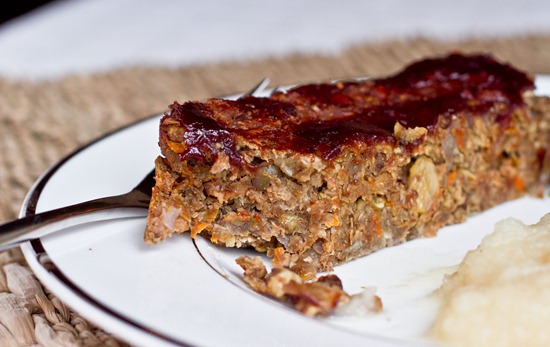 We enjoyed our lentil loaf with sautéed spinach greens and applesauce! Quick, easy, and delicious.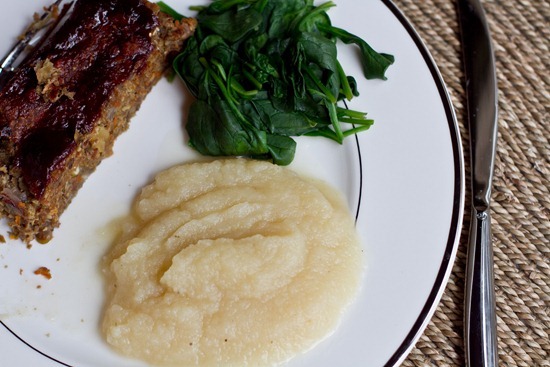 I did a HUGE happy dance when this lentil loaf turned out. Eric and I both agreed that it is the best vegan loaf we've ever tried. I hope you enjoy it too! It makes a wonderful New Year's meal if you aren't feeling the Black Eyed Peas.
It is delicious, chewy, crunchy, and topped with the most addicting sweet glaze.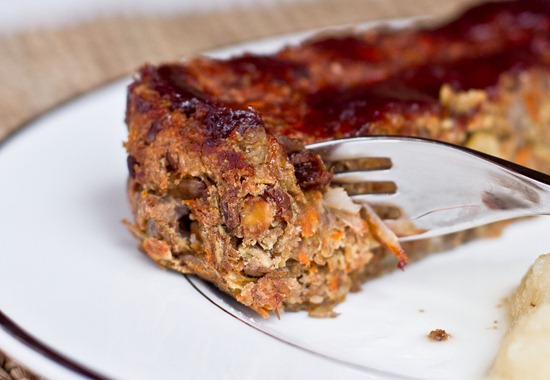 As for the crumbly leftovers from the previous 3 trials?
Eric suggested they would make a great vegan taco filling! I think that is a great idea. I'm going to freeze a bunch of it too.
Have a great start to 2011!